I ended up going on a hike to Bastei Bridge because I had to work from Germany (Saxony) for a few days in April. Close to the end of the week, a German colleague shot the obvious question during lunch:
What did you plan for this weekend?
My colleagues and I didn't have anything planned, so we asked for advice:
You should go to Bastei, it's not too far. Perfect for a walk. Beautiful. You will love it!
It seemed nice enough, so that's what we did. I actually didn't pay much attention to the rest, because I like surprises, so I left my colleagues to take care of the details.
---

Beginning the hike to Bastei Bridge
On Saturday morning, with a lot of sun in the sky and without much preparation we left for Bastei, by car. I casually took only good shoes, a bottle of water, sunglasses, and a Claritine pill, because my nose decided that spring has arrived.
We left the car where we were directed to park it, and saw a colorful village on the other side of a river, at the bottom of a great mid-cliff mid-hill forest. It was going to be more climbing than walking.
The hike to Bastei actually started by a river crossing quickly done by ferry. They come frequently and can carry a lot of passengers. However, the waiting time was still enough for us to remark that we were among the few to not have hiking boots, big bags, and walking sticks…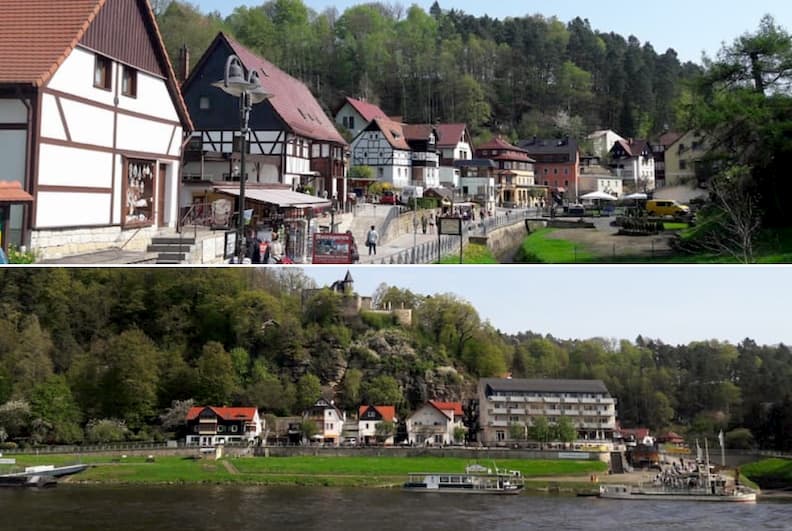 Ferry across the Elbe River, from Rathen
1 November to 14 May: Open from Monday to Friday between 04.30 and 23.45 and on Saturday and Sunday between 05.30 and 23.45. 15 May to 31 October: Open from Monday to Friday between 04.30 and 00.45 and on Saturday and Sunday between 05.30 and 00.45.
One-way tickets cost € 1.20 for adults and € 0.50 for children.
Two-way tickets cost € 2.00 for adults and € 0.80 for children.
Website
---

The so-called 40-minute hike to Bastei Bridge
We went for the smallest tour, supposed to be 40 minutes if we are to believe the sign at the bottom of the stairs going up into the forest. As you advance, the way gets more and more abrupt, but you can take your time, there is a new beautiful view at every turn. Such a good excuse to catch your breath for a moment!
The more you advance, the more interesting it gets. Every time you think you arrived at the top, you turn around a rock to discover a new place, even higher and greater than the last one.
From time to time, we could see some writings carved in the rocks, but sadly my German is limited to Hallo and Danke schön.
Saxon Switzerland National Park
Open 24h. Very crowded around noon, though, so plan ahead. The entrance is free of charge.
See on map
---

At one point, an old-style wooden fence appeared, and a stand. For € 2.00, you can enter in the fenced area and go walk on an iron footbridge connecting one rock peak to another. Among the beautiful sights, you'll get to see from there, there is that of a majestic stone bridge lost in the woods one hundred meters away.
At a distance, in a different direction, you can also see a monk statue on the top of a rock, standing above the treeline. Every now and then, you can spot other climbers going on a hike to Bastei Bridge.
In several places, there are some holes in the rocks. Thus, they make a small platform where people throw coins and try to make them stay on it. It is feasible without too much difficulty.
Felsenburg Neurathen
Open 24h. Tickets cost € 2.00.
Address: 01824 Lohmen, Germany | See on map
---

The Bastei Bridge
After exiting the paid area, you can take another good look at the stunning view of the valley below. Then, you can go on the stone bridge. From there, one can see some old tiny steps carved into the rock creating some stairs for the daredevils. Luckily, you can't access them, and it would be crazy to try!
More than an hour after leaving the village, we arrived at the highest point on our hike to Bastei Bridge. (There, you can find a hotel to have a drink, an ice-cream or even a meal.) The place is actually a plateau and you can get there by car. But why would you want to miss the fun of the climb?
---

Going back from the hike to Bastei Bridge
Going back, we could have chosen the same 40-minute hike to Bastei bridge, but we decided to go for a bit more. I highly recommend you do the same.
Without really understanding the signs (yes, we might be bad at this), we used a good logic plan that I cherish: By going right, you can't be wrong.
The path continued on a road, but we went exploring. By following the small tracks, to stay as close as possible to the valley that we saw from the bridge (on the right side, of course), we arrived at a wonderful viewpoint allowing us to have one last look at the Bastei stone bridge and its surroundings. This was definitely the most beautiful scenery yet and with the satisfaction of being almost alone in the place.
We eventually took a path that leads you to some stairs going down between the rocks, to a gorge, and some amazing small clearings. The first part of the hike to Bastei Bridge was about having an open view of the valley, while the second was about feeling small between the walls of rock. For me, this was the best part. It really cuts you from reality and you feel immersed in an adventure film taking place in some enchanting places.
Making the trip in this order was luckily the best idea. It wasn't too warm to climb in the morning. Plus, the cold of the rocks and the humidity of the moss was highly appreciated during the afternoon. At noon the sun was now giving his best.
The trip finished by following a river where you can rent a rowing boat or a pedal boat. Then, you come back to the village where fish restaurants seem to be the specialty.
---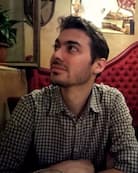 Mathieu is the husband of Mirela The Travel Bunny. A French engineer, Mathieu is currently living in Bucharest, Romania. He is a curious cat and enjoys discovering new places and how various things work. Pizza and tiramisu expert.

When asked to say something about himself, Mathieu chose to be a man of few words. So he said: "Something."

You too can become a guest blogger on The Travel Bunny. Just submit a free guest post.
Are you going on a hike to Bastei Bridge or some other place? Read this!
Backpacking in the mountains: A guide for newbie hikers
Travel checklist for your hiking backpack
What camping supplies do I need?