One of the gems of the Black Sea coast, Balchik is a must-see while traveling to Bulgaria. Whether you are spending a holiday in one of the all-inclusive hotels on the Bulgarian seaside or traveling from neighboring Romania, a day trip to Balchik shouldn't be skipped!
There are lots of cool things to do in Balchik, and it's a nice, romantic destination for couples. However, I can assure you from personal experience that it's great for traveling with family or friends, too.
So keep reading to discover the best things to do in Balchik, Bulgaria!
---

A bit about Balchik's history
Before I tell you about what to do in Balchik, let me get a bit into the site's history. The city of Balchik is a Thracian settlement, which was then a colony of the Ionian ancient Greeks. Later in time, it turned into a Greek-Byzantine and Bulgarian fortress and then went under Ottoman occupation. Under the Ottomans, Balchik received its current name.
Following the liberation of Bulgaria (1878), Balchik became the center of a rich agricultural area, and, even later, a popular seaside destination.
After the Second Balkan War (1913), the town took the name of Balcic, becoming a part of the Kingdom of Romania. This is when Balchik became the location of the summer residence of Marie, Romania's Queen at the time.
Between the two Wars, Balchik was also a favorite destination for renowned Romanian painters. Many of their works reflect the scenery of this beautiful town by the shore.
In 1940, however, Romania had to give up Balchik back to Bulgaria, in accordance with the Treaty of Craiova.
---
Why not travel to Balchik for the weekend?
You can also spend a few days or a weekend right in Balchik. This is perfect for you especially if you are looking for a hotel that doesn't tie you to its restaurants with hearty meals, three times per day.
Last Spring I went to Balchik with my fiancé, my parents, and a couple of family friends. There, we stayed at Hotel Regina Maria Spa Design in comfortable sea view rooms. While it is a four-star hotel, you have to keep in mind that it is the Bulgarian seaside, which means it's also quite affordable. Balchik visitors every year choose to stay here and leave excellent reviews after their vacations.
The Hotel Regina Maria Spa Design also has a nice restaurant, wonderful for dinner, but also for events. (While we were there, on one night it was all booked for a wedding.)
Breakfast is included, and you have several options to choose from each morning. It is also served on the terrace when the weather is warm enough.
If you're wondering what to do in Balchik Bulgaria in the morning, enjoy your coffee while listening to the sea, in the shade of the vegetation-covered terrace. (If we had woken up earlier, we could have also seen the sea, but oh, well, can't win them all!) Because of this, staying at the Hotel Regina Maria Spa Design can be one of the best things to do in Balchik, too.
We really enjoyed our stay at Hotel Regina Maria Spa Design, and I recommend you choose it, as well, if you're searching where to stay in Balchik.
Hotel Regina Maria Spa Design
The hotel is by the sea, really close to the Balchik Botanical Gardens and Queen Marie's Summer Palace. Rooms are air-conditioned and individually furnished, and provide a private balcony.
Guests have free access to the indoor and outdoor pools and all other spa facilities (sauna, steam bath, fitness room). There is an additional cost for massages. The in-house restaurant features European cuisine.
Book Hotel Regina Maria Spa Design via my affiliate, Booking.com, and then go out to discover the best things to do in Balchik.
---
Best things to do in Balchik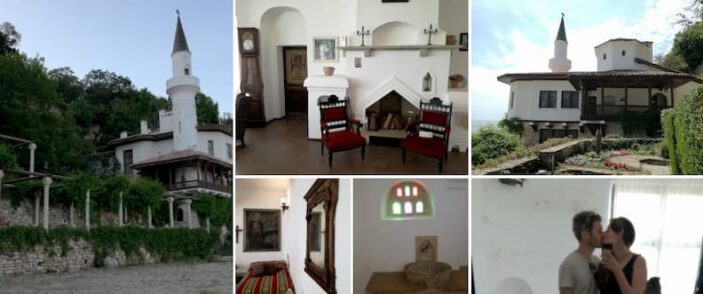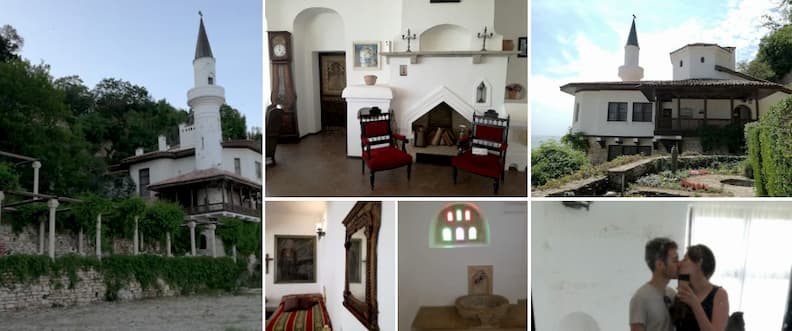 1. Visit Queen Marie's Summer Palace
Built by King Ferdinand of Romania for his wife, Queen Marie, the Summer Palace in Balchik was finalized in the year 1926.
Though named a palace, the construction is quite small, the size of a vacation villa by the seashore. However, it is worth visiting for its architecture — the Palace of Queen Marie is a unique blend of local, Gothic, and Islamic styles. It even has a minaret, but it was added solely for the design. A visit here is one of the best things to do in Balchik.
The rooms still have their original furnishings, but there is also an exhibit with local archaeological finds. And speaking of exhibits, besides Queen Marie's paintings, the Summer Palace also houses various temporary art exhibitions. Thus, even long after her death, Queen Marie remains a patron of the arts.
It may seem weird, but I really appreciated seeing a bathroom from that time while visiting Queen Marie's Palace in Balchik. You don't get to see this often when you're visiting a castle or a palace.
(Or at least I haven't, from the ones I've been to so far. This kind of visits are usually about luxurious bedrooms, grand halls, and beautiful attires… but they're so rarely about the inhabitants' hygiene!)
I also liked the wooden terrace, offering a lovely view of Balchik's seaside. All in all, you can tell why visiting Queen Marie's Palace is one of the best things to do in Balchik.
---


2. Explore the Botanical Gardens of Balchik
Queen Marie's Summer Palace is actually inside the terraced Botanical Gardens of Balchik. If the castle isn't that interesting to you, you can choose to visit only the Botanical Gardens and discover over 600 species of flora.
There are two entrances in the Botanical Gardens: one from the beach, and one from the top. While it may seem easier to go down instead of climbing, I recommend you choose the entrance from the beach.
Once you enter, you can take a left to the Palace of Queen Marie. Or you can go right to admire a beautiful rose garden, and to discover the chapel of Sveta Bogoroditsa. As the gardens were meant to imitate the labyrinth of Crete, the chapel was also built to look like a 15th-century church from the Island.

In Spring, make sure you climb to the top for the incredible tulips. They really come in all sorts of colors, shapes, and sizes. And no matter the season, that's also where you'll find the cacti and the greenhouse.
Watch your fingers, though: no matter how restless or curious you are, don't test how prickly the cacti can be! Mathieu couldn't help it, and I had to pull so many minuscule needles out of one of his fingers!
Besides the flora, inside the Botanical Gardens of Balchik, you can also find a wooden watermill, a waterfall, and a large number of benches hidden in intimate nooks to take a rest. And the top will offer some nice views of Balchik's seaside. These are just some of the reasons I think a visit here is one of the best things to do in Balchik.
---


3. Drop by the Queen's Winery House
Inside the Botanical Gardens, right at the top of the stairs, you climbed from the beach, you'll find the Queen's Winery House. It's the perfect time and place to take a break in the shadow, admire the view, befriend the cats, and taste the wine.
And, if you don't feel like drinking on an empty stomach, next door they're offering free tastings of Bulgarian sweets. So you get to try Bulgarian beverages and sweet treats, two of the best things to do in Balchik!
If you enjoy the dry or sweet honeyed wine, don't be scared to ask about the price. A bottle costs kind of what you'd pay for a good bottle of wine at a mid-range priced restaurant. Some say it's higher than the market, but you can also get some great deals.
And, since you're enjoying the wine tasting, why not try something different than grape wine? Mathieu and I really enjoyed a bottle of fig wine we bought from there. At home, we kept it cool, and it was great on a hot summer day!
If you ever wish to drink their wine again but aren't planning to return to Bulgaria anytime soon, I have a tip for you. The Queen's Winery House online store is available 24/7! So you can enjoy one of the best things to do in Balchik from the comfort of your home.
Botanical Gardens and Queen Marie's Summer Palace
As I told you earlier, it's up to you what to visit in Balchik: you can visit both or you can opt to only explore the Botanical Gardens of Balchik.
The complex is open all year round, between 08.30 and 18.00. However, to enjoy the flowers in bloom (which, let's face it, is one of the best things to do in Balchik's Botanical Gardens), I suggest you visit sometime between May and October.
Tickets for the entire complex cost 10 leva for adults or 2 leva for children between ages 7 and 18 years. Visiting only the Botanical Gardens costs 5 leva for adults and 1 lev for children with ages between 7 and 18 years. In both scenarios, children under the age of 7 have free access.
At the entrance, they accept leva, euro, and the Romanian leu (RON), like in most places on the Bulgarian seaside. It's worth checking the displayed prices in all currencies and trying to convert before paying, you might save some money!
---
Tours to discover the best things to do in Balchik
If I've convinced you to visit Balchik, Bulgaria, but you're not quite sure how to get there, I suggest you book a tour to experience the best things to do in Balchik.
I recommend the Varna-Aladzha Monastery-Balchik-Kaliakra Cape Tour. Aladza Monastery is built in stone and it's truly remarkable, and Kaliakra Cape is one of the most beautiful historic capes of Europe. You get great value for money with this tour, as it highlights the most important things to see at Bulgaria's seaside.
PS. Alternative names found on the web: Balchick, Balckic, Balkic. Don't do that, you know better! :))
---

Mirela Letailleur is a Romanian travel blogger living in the South of France. She writes on The Travel Bunny travel blog about affordable travel in Europe, creator of unique free travel guides, local travel expert. Problem solver. Wannabe coffee guru.
More Bulgaria travel inspiration after the best things to do in Balchik
Ideas for an amazing vacation in Bulgaria
Visit Bulgaria's seaside cities (with map)
Learn what to eat in Bulgaria