One of the gems of the Black Sea coast, Balchik is a must-see while traveling to Bulgaria. Whether you are spending a holiday in one of the all-inclusive hotels on the Bulgarian seaside or traveling from neighboring Romania, a day trip to Balchik shouldn't be skipped!
There are lots of cool things to do in Balchik, and it's a nice, romantic destination for couples. However, I can assure you from personal experience that it's great for traveling with family or friends, too.
So keep reading to discover the best things to do in Balchik, Bulgaria!
Top things to do in Balchik Bulgaria
Disclosure: Some of the links below are affiliate links. This means that at no extra cost to you, The Travel Bunny will earn a small commission if you click through and make a purchase. Thank you!
---

A bit about Balchik's history
Before I tell you about what to do in Balchik, let me get a bit into the site's history. The city of Balchik is a Thracian settlement, which was then a colony of the Ionian ancient Greeks. Later, it turned into a Greek-Byzantine and Bulgarian fortress and then went under Ottoman occupation. Under the Ottomans, Balchik received its current name.
Following the liberation of Bulgaria (1878), Balchik became the center of a rich agricultural area, and, even later, a popular seaside destination.
After the Second Balkan War (1913), the town took the name of Balcic, becoming a part of the Kingdom of Romania. This is when Balchik became the location of the summer residence of Marie, Romania's Queen at the time.
Between the two Wars, Balchik was also a favorite destination for renowned Romanian painters. Many of their works reflect the scenery of this beautiful town by the shore.
In 1940, however, Romania had to give up Balchik back to Bulgaria, following the Treaty of Craiova.
---
Why not travel to Balchik for the weekend?
You can also spend a few days or a weekend right in Balchik. This is perfect for you especially if you are looking for a hotel that doesn't tie you to its restaurants with hearty meals, three times per day.
Last Spring I went to Balchik with my fiancé, my parents, and a couple of family friends. There, we stayed at Hotel Regina Maria Spa Design in comfortable sea-view rooms. While it is a four-star hotel, you have to keep in mind that it is on the Bulgarian seaside, which means it's also quite affordable. Balchik visitors every year choose to stay here and leave excellent reviews after their vacations.
The Hotel Regina Maria Spa Design also has a nice restaurant, wonderful for dinner, but also for events. (While we were there, on one night it was all booked for a wedding.)
Breakfast is included, and you have several options to choose from each morning. It is also served on the terrace when the weather is warm enough.
If you're wondering what to do in Balchik Bulgaria in the morning, enjoy your coffee while listening to the sea, in the shade of the vegetation-covered terrace. (If we had woken up earlier, we could have also seen the sea, but oh, well, can't win them all!) Because of this, staying at the Hotel Regina Maria Spa Design can be one of the best things to do in Balchik, too.
We truly enjoyed our stay at Hotel Regina Maria Spa Design, and I recommend you choose it, as well, if you're searching for where to stay in Balchik.
Hotel Regina Maria Spa Design
The hotel is by the sea, really close to the Botanic Garden Balchik and Queen Marie's Summer Palace. Rooms are air-conditioned and individually furnished and provide a private balcony.
Guests have free access to the indoor and outdoor pools and all other spa facilities (sauna, steam bath, fitness room). There is an additional cost for massages. The in-house restaurant features European cuisine.
Book Hotel Regina Maria Spa Design and go out to discover the best things to do in Balchik.
---
10 best things to do in Balchik Bulgaria
Visitors can enjoy a wide variety of sights and activities in the lovely town of Balchik, which is located on the Black Sea coast of Bulgaria. Everyone will find something they enjoy in Balchik, from the breathtaking Balchik gardens and majestic Balchik Palace with its patron Regina Maria to the lovely beaches and regional cuisine. Enjoy the town's rich cultural past by going to the Ethnographic Museum and St. Nicholas Church, or travel outside to the adjacent nature preserves and Cape Kaliakra to experience some of Bulgaria's natural splendor. Balchik is the ideal place to go if you want to have an unforgettable holiday, whether you want to unwind or go on an adventure.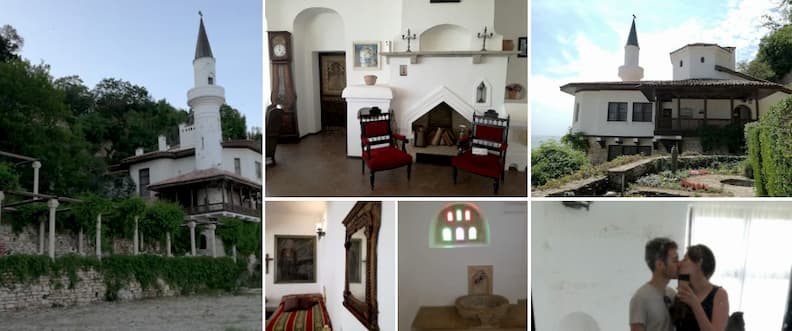 1. Visit Queen Marie's Summer Palace
Built by King Ferdinand of Romania for his wife, Queen Marie, the Summer Palace in Balchik was finalized in the year 1926.
Though named a palace, the construction is quite small, the size of a vacation villa by the seashore. However, it is worth visiting for its architecture — the Palace of Queen Marie is a unique blend of local, Gothic, and Islamic styles. It even has a minaret, but it was added solely for the design. A visit here is one of the best things to do in Balchik.
The rooms of the Balchik palace Bulgaria still have their original furnishings, but there is also an exhibit with local archaeological finds. And speaking of exhibits, besides Queen Marie's paintings, the Summer Palace also houses various temporary art exhibitions. Thus, even long after her death, Queen Marie remains a patron of the arts.
It may seem weird, but I appreciated seeing a bathroom from that time while visiting Queen Marie's Palace in Balchik. You don't get to see this often when you're visiting a castle or a palace. (Or at least I haven't, from the ones I've been to so far. These kinds of visits are usually about luxurious bedrooms, grand halls, and beautiful attires… but they're so rarely about the inhabitants' hygiene!)
I also liked the wooden terrace, offering a lovely view of Balchik's seaside. All in all, you can tell why visiting Queen Marie's Palace is one of the best things to do in Balchik.
---

2. Explore the Botanical Gardens of Balchik
Queen Marie's Summer Palace is actually inside the terraced Botanical Gardens of Balchik. If the castle isn't that interesting to you, you can choose to visit only the Botanical Gardens and discover over 600 species of flora.
There are two entrances to the Botanical Gardens: one from the beach, and one from the top. While it may seem easier to go down instead of climbing, I recommend you choose the entrance from the beach.
Once you enter, you can take a left to the Palace of Queen Marie. Or you can go right to admire a beautiful rose garden and discover the chapel of Sveta Bogoroditsa. As the gardens were meant to imitate the labyrinth of Crete, the chapel was also built to look like a 15th-century church from the Island.

In Spring, make sure you climb to the top for the incredible tulips. They come in all sorts of colors, shapes, and sizes. And no matter the season, that's also where you'll find the cacti and the greenhouse. Watch your fingers, though: no matter how restless or curious you are, don't test how prickly the cacti can be! Mathieu couldn't help it, and I had to pull so many minuscule needles out of one of his fingers!
Besides the flora, inside the Botanical Gardens of Balchik, you can also find a wooden watermill, a waterfall, and a large number of benches hidden in intimate nooks to take a rest. And the top will offer some nice views of Balchik's seaside. These are just some of the reasons I think a visit here is one of the best things to do in Balchik.

Drop by the Queen's Winery House
Inside the Balchik Botanical Garden, right at the top of the stairs, you climbed from the beach, and you'll find the Queen's Winery House. It's the perfect time and place to take a break in the shadow, admire the view, befriend the cats, and taste the wine.
And, if you don't feel like drinking on an empty stomach, next door they're offering free tastings of Bulgarian sweets. So you get to try Bulgarian beverages and sweet treats, two of the best things to do in Balchik!
If you enjoy dry or sweet honeyed wine, don't be scared to ask about the price. A bottle costs kind of what you'd pay for a good bottle of wine at a mid-range priced restaurant. Some say it's higher than the market, but you can also get some great deals.
And, since you're enjoying the wine tasting, why not try something different than grape wine? Mathieu and I fell in love with a bottle of fig wine we bought from there. At home, we kept it cool, and it was great on a hot summer day!
If you ever wish to drink their wine again but aren't planning to return to Bulgaria anytime soon, I have a tip for you. The Queen's Winery House online store is available 24/7! So you can enjoy one of the best things to do in Balchik from the comfort of your home.
Botanical Gardens and Queen Marie's Summer Palace
As I told you earlier, it's up to you what to visit in Balchik: you can visit both or you can opt to only explore the Botanical Gardens of Balchik.
The complex is open all year round, between 08.30 and 18.00. However, to enjoy the flowers in bloom (which, let's face it, is one of the best things to do in Balchik's Botanical Gardens), I suggest you visit sometime between May and October.
Tickets for the entire complex cost 10 leva for adults or 2 leva for children between ages 7 and 18 years. Visiting only the Botanical Gardens costs 5 leva for adults and 1 lev for children between the ages of 7 and 18 years. In both scenarios, children under the age of 7 have free access.
At the entrance, they accept leva, euro, and the Romanian leu (RON), like in most places on the Bulgarian seaside. It's worth checking the displayed prices in all currencies and trying to convert before paying, you might save some money!
---

3. Walk along the promenade
Taking a stroll down the promenade and admiring the breathtaking views of the Black Sea is one of the most pleasurable things to do in Balchik, Bulgaria. Visitors can make use of the promenade's several kilometers of length along the town's shoreline to breathe in the clean sea air and take in the gorgeous sight.
Panoramic views of the Black Sea and the rocky coastline are available as you stroll down the promenade. It's difficult to look away from the captivating visual spectacle created by the sea's crystal-clear waves as they glisten in the sunlight. Along the route, you'll also pass by many neighborhood cafés and eateries where you can pause for a revitalizing beverage or a delectable meal while taking in the scenery.
The Balchik pier, a structure that juts out into the water and offers a great vantage point for taking in the view, is one of the promenade's attractions. The town's shoreline can be seen far out in both ways from the end of the pier, as well as the gorgeous port with its fishing boats gently bobbing in the sea.
The promenade is a wonderful area to people-watch and take in the local ambiance in addition to the breathtaking vistas. Locals going about their daily business, fishermen mending nets, and families taking advantage of the sunshine and sea breeze can all be seen. Wherever you turn, the town's laid-back and welcoming atmosphere is apparent, making it a warm and appealing location to visit.
---
4. Visit the Ethnographic Museum
The Ethnographic Museum in Balchik is a great place to learn more about the local history and culture. The intriguing collection of exhibits at this Balchik museum housed in a typical Bulgarian home highlights regional crafts, attire, and customs.
The museum's collection of traditional garments from Bulgaria is among its attractions. The vibrant and deftly embroidered apparel provides a window into the region's rich textile traditions as well as the social and cultural importance of clothes in Bulgarian society. Visitors may learn about the skills and methods that have been passed down through the years by seeing the museum's exhibitions on regional crafts including weaving, ceramics, and woodcarving.
Another intriguing component of the museum is its exhibitions of regional cultures and traditions. From wedding traditions to harvest celebrations, these exhibitions give insight into the local people's daily lives and culture. Visitors may learn about Bulgarian heritage via song, dance, and folk art, as well as rites and superstitions passed down through the generations.
However, the museum's actual building may be its most striking aspect. The typical Bulgarian home has been well-kept and repaired, giving visitors a look into the area's architectural design and building methods. Visitors may get a taste of what life was like for Bulgarian families in the past thanks to the interior decoration of the home, which has traditional furniture and antiques.
---
5. Go to the beach in Balcik Bulgaria
Balchik has multiple gorgeous beaches, each with its distinct features and attractions. Whether you're searching for a peaceful location to sunbathe, a place to swim in the crystal-clear waters of the Black Sea, or a length of sand to play beach volleyball, Balchik has it all.
Central Beach, located directly in the center of Balcic Bulgaria, is one of the most popular beaches. This beach is great for families with children since it has shallow seas and lots of areas for sandcastles and activities. There are also several cafés and restaurants around where you may get a cool drink or a bite to eat.
White Rocks Beach, located just outside the town center, is another famous beach in Balchik. This private and serene beach has spectacular cliffs and crystal-clear seas, which provide tourists with a magnificent background for their beach vacations. Swimming and snorkeling are two of the most popular water activities here, and there are various hiking paths nearby for those who wish to explore the rough coastline on foot.
Ikantalaka Beach is a hidden treasure worth checking out for anyone looking for a more off-the-beaten-path day at the beach. Nestled in a natural cove and flanked by rocks and lush foliage, this pristine beach is an excellent location for swimming, sunbathing, and admiring the natural beauty of this region of Bulgaria.
---

6. Take a boat tour
Taking a boat trip is one of the best ways to discover Balchik's coast if you enjoy history, and the outdoors, or are just seeking a different approach to seeing the city.
At Balchik, there are many different boat tour options, from quick outings to lengthy excursions that explore the most isolated parts of the coastline. Trips to surrounding coves and bays, sunset cruises, and even dolphin-watching tours are some of the most well-liked excursions.
A Balchik boat tour's opportunity to view the magnificent Palace of Queen Maria from the sea is one of its attractions. The palace was constructed in the early 20th century as the summer home of the Romanian queen, and because of its exquisite architecture and landscaped grounds, it has become one of the most well-liked tourist destinations in the area.
A boat excursion in Balchik also offers the chance to get up and personal with some of the local species. Dolphins, sea turtles, and diverse fish species are just some aquatic animals that call the Black Sea home. You could even be fortunate enough to spot whales or sharks off in the distance depending on the time of year. The Bulgaria Balchik boat tour operators will be pleased to point out any important sites along the journey and be informed about the local animals.
There are alternatives for snorkeling and diving trips for those travelers looking to mix their boat tour with a little excitement. These excursions take tourists to some of the greatest underwater exploration locations in the area, where they may swim with vibrant fish and discover the rocky seafloor. In addition to ensuring safety, knowledgeable guides are available to share facts about the surrounding marine species.
---
7. Visit St. Nicholas Church
For anybody interested in the history and culture of the area, a trip to the St. Nicholas Church in Balchik is a must-do. This stunning Orthodox cathedral, which lies in the center of the city, is a symbol of the area's strong spiritual tradition and a must-see destination for tourists.
The interior walls and ceilings of the St. Nicholas Church are decorated with breathtaking frescoes, which have earned the church worldwide acclaim. These frescoes, which rank among Bulgaria's finest, serve as a showcase for the talent and craftsmanship of the country's artists. The paintings, which portray episodes from the Bible and the lives of the saints, will astound visitors with their exquisite intricacies and brilliant hues.
St. Nicholas Church is well-known for its stunning architecture in addition to its paintings. Raised in the 19th century, this church displays a distinctive fusion of Byzantine and Bulgarian architectural elements. The edifice's front is embellished with fine masonry and complex sculptures, while the inside is decked with elaborate furnishings and vibrant mosaics.
The St. Nicholas Church, however, is a location of spiritual significance for the neighborhood as well as a historical and cultural monument. Visitors are welcome to attend services that are frequently held in the church to witness the elegance and solemnity of Orthodox liturgy when they travel to Balchik Bulgaria.
---
8. Try the local cuisine
Trying the local food is one of the finest ways to learn about the culture when visiting Balchik Bulgaria. The area is renowned for its flavorful and filling foods, which are a reflection of its illustrious past and diverse cultural heritage.
Banitsa, a savory pastry constructed with layers of filo dough with a filling of cheese, spinach, or other ingredients, is one of the most well-liked foods in Balchik. It is ideal to eat this dish hot and straight out of the oven. It is frequently offered for breakfast or as a snack.
Kebabche, a sort of grilled meatball prepared with minced pig or beef and seasoned with a combination of spices, is another Balchik delicacy that you simply must taste. Both residents and tourists enjoy kebabche, which is typically served with a side of grilled veggies like peppers or tomatoes.
Try tarator, a cold soup prepared with yogurt, cucumbers, dill, and garlic, for a tasty and healthy choice. This dish, a mainstay of Bulgarian cuisine, is ideal for warm summer days.
Balchik is also known for its fresh delicacies caught from the Black Sea. Calamari, fish, and mussels are some of the most often consumed seafood meals.
A powerful alcoholic beverage derived from fermented fruit called rakia should also be tried to go with your meal. This drink, which is a significant component of Bulgarian culture (and Balkan culture, in general), is frequently consumed with meals or on its own as a digestif.
Those who travel to Balchik should sample the local food at one of the area's numerous traditional taverns or restaurants. These establishments provide a comfortable and friendly atmosphere to enjoy a delicious meal, frequently paired with live music, traditional dances, and/or other entertainment.
Find out more about what to eat and drink in Bulgaria
---

9. Take a day trip to Cape Kaliakra
A day excursion to Cape Kaliakra is a necessity for Balchik tourists wishing to explore the surrounding area. This lovely peninsula, about 20 kilometers from Balchik Bulgaria offers stunning views of the Black Sea and is home to a 4th-century medieval fortification.
Visitors to Cape Kaliakra can tour the stronghold remains, which provide insight into the region's rich past. The castle was erected to defend the shoreline from invaders and was occupied by a variety of cultures over the ages, including the Romans, Byzantines, and Bulgarians.
After seeing the stronghold, guests may take a stroll around the rocky cliffs, taking in the breathtaking views of the sea and the jagged coastline. Throughout the journey, various observation platforms provide wonderful photo possibilities as well as an opportunity to take in the natural beauty of the region.
The opportunity to watch the local dolphins that dwell in the seas below is one of the attractions of a visit to Cape Kaliakra. These joyful animals are frequently sighted frolicking in the surf, presenting tourists with a one-of-a-kind and fascinating experience.
For those interested in the area's natural heritage, Cape Kaliakra is home to some unique and endangered plants and wildlife. Travelers can join guided tours to learn more about these local species and the conservation efforts underway.
In addition to its natural and historical charms, Cape Kaliakra also provides tourists with an exciting variety of outdoor activities. Hiking, horseback riding, and fishing are only a few of the activities available, making it an ideal getaway for anyone seeking adventure.
---
10. Go hiking in the nearby nature reserves
Outdoor enthusiasts must add exploring the local natural areas to their list of things to do in Balchik Bulgaria. There are several reserves in the region, such as the Baltata and the Batova Reserves, that allow visitors to get a close-up view of the area's natural splendor.
Baltata Reserve is not far from Balchik, and it's home to a sizable white willow forest, besides several other tree species. Visitors can stroll on foot through the forest, soaking in the sights and sounds of the surrounding animals.
The wetlands in the Baltata Reserve are one of its attractions since they offer a haven for a variety of birds and other aquatic creatures. To understand more about these species and the distinctive habitat they live in, visitors can join a guided tour of the wetlands.
Another well-liked location for hikers and environment enthusiasts is the Batova Reserve. This preserve is close to Balchik Bulgaria and provides a variety of hiking paths, each with a distinct length and degree of difficulty. The pathways weave through the reserve's wooded slopes and provide breathtaking panoramas of the surroundings.
Visitors to the Batova Reserve may go trekking as well as animal watching. Many creatures, including deer, wild boar, and foxes, as well as several bird species, call the reserve home.
Visitors have the opportunity to get away from the bustle of the city and take in the natural beauty of the region at both the Baltata Reserve and the Batova Reserve. These reserves have plenty to offer everyone, whether you're an expert hiker or just seeking to take a walk through the woods.
---
Are there cheap things to do in Balchik?

Yeah, there are many cheap things to do in Balchik Bulgaria. Walking down the seafront or going to St. Nicholas Church, for instance, are both free things to do. Moreover, eating street cuisine, going to the beach, and visiting local markets are all inexpensive ways to pass the time. It's also free to visit several of the nearby nature preserves and hiking trails. Overall, there are many affordable ways to enjoy Balchik on a budget.
---
What can you do in Balchik for free?
In Balchik, several activities are cost-free. You could, for instance, take a lovely walk along the beach promenade and take in the stunning views of the Black Sea, go to one of the town's public parks, like the Horizont Park or the Palace and Botanical Gardens, discover the nearby markets and bazaars, or just unwind and take in the atmosphere of this quaint seaside town. Also, several of the historical landmarks and institutions, such as the Ethnographic Museum and St. Nicholas Cathedral, provide free entry days or hours.
---
Tours to discover the best things to do in Balchik
If I've convinced you to visit Balchik Bulgaria, but you're not quite sure how to get there, I suggest you book a tour to experience the best things to do in Balchik.
Then, not far from Balchik, I also recommend the Varna-Aladzha Monastery-Balchik-Kaliakra Cape Tour. Aladza Monastery is built in stone and it's truly remarkable, and Kaliakra Cape is one of the most beautiful historic capes in Europe. With this tour, you get great value for money, as it highlights the most important things to see at Bulgaria's seaside.
PS. Alternative names found on the web: Balcic, Balchick, Balckic, Balkic. Also, this is how it's written in Bulgarian: балчик or балчик болгария.
---

Mirela Letailleur is a Romanian travel blogger living in the South of France. She writes on The Travel Bunny travel blog about affordable travel in Europe, creator of unique free travel guides, local travel expert. Problem solver. Wannabe coffee guru.
More Bulgaria travel inspiration after the best things to do in Balchik
Ideas for an amazing vacation in Bulgaria
Visit Bulgaria's seaside cities (with map)
Learn what to eat in Bulgaria