We arrived in Ghent Belgium from the Netherlands with a rental car. After a week of visiting cities like Leeuwarden, Delft, Gouda, and Makkum, I was no longer surprised by the architecture of the town's medieval center we saw on our afternoon in Ghent. I was already used to the narrow houses lined up along the elegant canal, all similar in shape and style, but each different from the neighbors'.
Disclosure: Some of the links below are affiliate links. This means that at no extra cost to you, The Travel Bunny will earn a small commission if you click through and make a purchase via this quick guide to visiting Ghent. Thank you!
As we were a group of two couples, we rented an exceptional two-bedroom apartment, which was more spacious than we actually needed for two nights: the Post Apartment.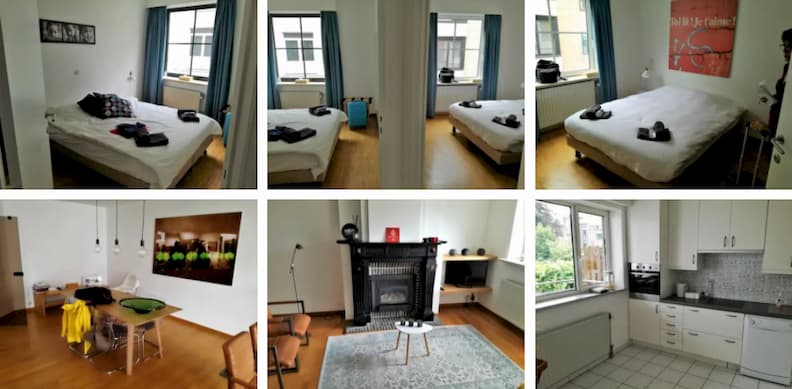 ---
Traveling back in time on an afternoon in Ghent
We began our afternoon in Ghent armed with umbrellas and eager to explore the city. Under the fine rain and in the dim light of the gray sky, I found it hard to shake the feeling that it was getting dark even though it was only noon.
After we passed the area that surrounded our apartment – with tram lines, regular shops, and locals caught up in their daily lives – and arrived in the historic area of Ghent, we went back in time. Maybe three or four hundred years ago, but I was definitely not in the present anymore.
Everywhere I looked, there were the same houses with roofs drawn like on the squares of a math notebook, guarding the canals, all from the same Dutch-Belgian family, but each with its own je ne sais quoi. Bridges with amazing views of the city, lots of windows, buildings painted in one hundred shades of gray and beige or in another hundred shades of going from flashy red to brick-red, over which history has left its fingerprints at different moments in time. It all made me think of one thing: lace!
---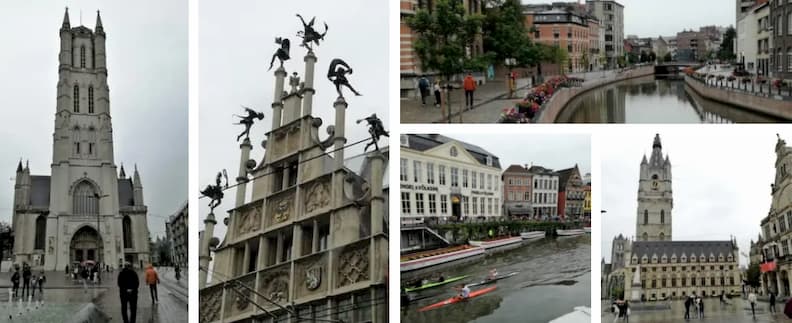 What to see on an afternoon in Ghent
On our afternoon in Ghent, we admired from the outside the three landmarks that dominated the old center through their sheer height: Saint Bavo Cathedral, the Belfort (Belfry), and Saint Nicolas Church. After that, we checked out Korenmarkt (city square), the former post office that was transformed into a commercial center, the royal opera house in a building called the Groot Huis (Great House), the imposing Stadthuis (City Hall), and, of course, Gravensteen Castle, the castle of the counts built in 1180.
As in almost every city I visited, there is one favorite place I would return to any time. In Ghent, it is the promenade area on the banks of the Leie canal, near the former medieval port. The two keys, named Graslei and Korenlei, abound in picturesque houses bearing the symbols of the guilds of craftsmen, fishermen, sailors, or traders from the past centuries. After admiring the art of their crafts above, you'll find cafés on their ground floors that are tributary to the present days.
During our walk through this Belgian city, we encountered numerous chocolate shops, with an overwhelming variety of shapes and tastes.
We also saw from a distance the small electric bus of the town hall for free tours of the historical center and also a generous range of student-guided walking tours, mostly in English, Spanish or French. Another option to spend an afternoon in Ghent is to go on a small cruise with one of the numerous canal boats leaving from the Saint Michel Bridge. Speaking of which, Saint Michel Bridge is an excellent place to get a great view of Ghent!
We also caught a nice event from the local cultural life: a street show put in scene by an amateur dance school. About 50 people of all ages were waltzing in a circle to the delight of passers-by.

After about four hours of walking during our afternoon in Ghent, it was finally time for our first Belgian beer tasting. We stopped at the De Dulle Griet traditional brewery, with over 500 beer assortments under the same roof. Then, we tested one of the hundreds of restaurants in the city. I can't remember its name or what I ate, but I associate it with the Tripel Karmeliet beer, which was by far my favorite. Cheers!
You can also treat yourself to an afternoon tea in Ghent!
---

Doina Văduva is the mother of Mirela, The Travel Bunny. The two share musical names: while Mirela's is composed of musical notes, Doina is a song of longing in Romanian folklore, unique to our country.
Now a retired engineer, Doina is enjoying her newly-discovered free time by catching up with her reading and exploring the world with my dad.
You too can become a guest blogger on The Travel Bunny. Just submit a free guest post.
Other articles to read on The Travel Bunny travel blog
Visit Ghent, Belgium: Quick travel guide
Visit Brussels: A brief travel guide
Day trip in Bruges (Brugge) with Belgian beer & chocolate