Surrounded by an almost circular canal with a few branches, Bruges (Brugge) is also called The Venice of the North. A representative UNESCO heritage site thanks to its well-preserved medieval buildings, this Belgian city simply invites travelers to wander. You can go on a day trip to Bruges and explore classic markets surrounded by old buildings, the canals guarded by narrow houses, bridges that offer unique views. You'll want to keep walking and walking just to see what comes up around the corner.
This Belgian city is quite small and you can see almost everything there is to see on a day trip to Bruges itinerary. (Although, it should take you about two to properly visit some museums.)
Disclosure: Some of the links below are affiliate links. This means that at no extra cost to you, The Travel Bunny will earn a small commission if you click through and make a purchase for your 1 day itinerary to visit Bruges. Thank you!
---

How to cover more ground on a day trip to Bruges
In order to cover a larger area on our day trip to Bruges, we went against our nature and searched for an organized tour that included transportation. We had a choice between horse carriages and buses with transparent roofs. Although the horses were very pretty, we decided to go on the bus. We simply found it more convenient: it was half the price of a carriage ride and it lasted twice as long. It also included an hour-long guided tour, so everyone could enjoy listening to all sorts of interesting information in their earphones, in their language of choice.
---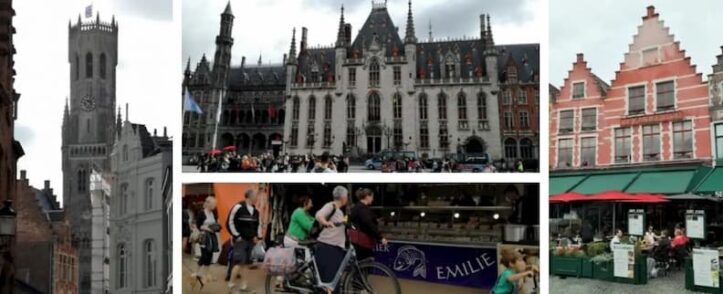 What we saw on our day trip to Bruges
We actually started our day trip to Bruges very early, arriving by car on the highway that connects Bruges and Ghent. After leaving the car in an underground parking lot, we went up to the surface and found ourselves right in the Grote Markt (the Market Square).
We were lucky enough to find the Grote Markt completely deserted at dawn when we chose to explore Bruges. This grand cobblestone square is surrounded by brightly-colored, fairytale-like houses. It is also guarded by the imposing Provincial Hof building, the Belfort (Belfry of Bruges), and the Basiliek van het Heilig Bloed (Basilica of the Holy Blood). I strongly suggest you visit the Basilica which is said to hold a vial with the blood of Jesus and/or go up the 366 steps of the Bruges Belfry for a panoramic view of the entire city, especially if you're only spending one day in Bruges.
The silence of the Grote Markt only lasted as long as it took us to go inside one of the many cafés and restaurants in Bruges around the market, to have some cappuccinos and wonderful Belgian waffles. When we went back outside, we suddenly stepped into a general buzz and constant movement of tourists that came out of nowhere. Probably on their own day trip to Bruges, the other travelers seemed carefree while admiring and photographing the buildings or themselves with the buildings in the background or just searching for a terrace or café to have breakfast on a Sunday morning.
On the guided tour we got to see "live", although from a distance, the main attractions of the Bruge's medieval center: the City Holl (City Hall), The Church of Our Lady, the old Fish Market and, on the east side of the old town, some of the legendary windmills.
---

Belgian beer or Belgian chocolate? Why not both!
Tired of the hundreds of moving pictures that scrolled over the window of the bus, we decided to take a break and try some new flavors of Belgian beer. Therefore, we headed to an outdoor terrace on the picturesque shore of one of the canals that were constantly crossed by boats full of tourists. Unfortunately, we found all the tables outside already taken so we went inside, where we were surprised by a unique decor: there were pipes everywhere, just like in a real brewery! And that's because it was the Bourgogne de Flanders Bar, as we later found out on our day itinerary. 🙂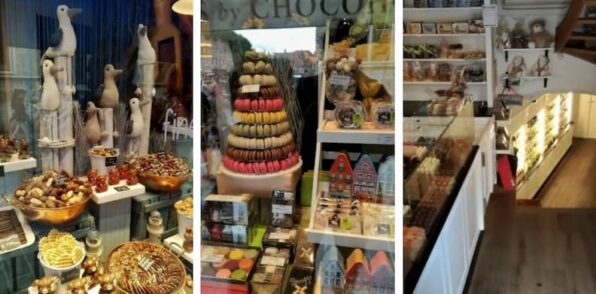 We ended our day trip to Bruges with the regret of not having visited any of the museums dedicated to beer, chocolate, or fried potatoes. We did raid the chocolate shops in Bruges, though. There were so many and with windows decorated so nicely, that it was difficult to decide where to begin. I tasted some pralines and some strawberries in chocolate, which caught my eye while a pretty lady was just putting them on display: a line of red beads with white tips, a line of red beads with black tips, and so on… they were all delicious!
---
Top Bruges day trips, tours, activities, and experiences
---
Who suggests this Bruges day trip

Doina Văduva is the mother of Mirela, The Travel Bunny. The two share musical names: while Mirela's is composed of musical notes, Doina is a song of longing in Romanian folklore, unique to our country.

Now a retired engineer, Doina is enjoying her newly-discovered free time by catching up with her reading and exploring the world with my dad.
You too can become a guest blogger on The Travel Bunny. Just submit a free guest post.
Other travel blog articles you should read on The Travel Bunny
Best things to do in Bruges
Visit Brussels: A brief travel guide