From Albania, we continued to travel to Montenegro's seaside.
We arrived near the seaside in the afternoon on a really hot day. Ana and I were sitting on the grass, in the shade, while Tim was looking for a place to stay. But everything was booked, so we had to search in several towns until we found something.
We ended up staying in Buljarica Beach, one of the few places still not yet suffocated by tourists.
Travel to Montenegro's seaside
---
Is it safe to visit Montenegro?
Despite its turbulent past, Montenegro is a safe destination. But you should constantly be on the lookout for local frauds and crimes and take precautions to safeguard your property and yourself. It is always a good idea to remain vigilant and take precautions to secure your things because, like many other cities across the world, Montenegrin cities might experience problems with petty theft, begging, and pickpocketing.
In general, before visiting a new place, it's wise to conduct some research and check with the local authorities or the embassy of your country.
---
How much does a beach holiday in Montenegro cost?
Montenegro is a hidden treasure in the Balkans and it is no secret that it is becoming more and more sought after by travelers. But one of the best things about this country is that it is still relatively cheap compared to other European destinations.
Accommodation in Montenegro ranges from cheap hostels and guesthouses to luxury resorts. Prices start from around €10-15 per night for a basic hostel room and go up to €100 or more per night for a luxury hotel room.
Restaurant food in Montenegro is also very affordable. A meal at a local restaurant will typically cost around €7-15, and you can find delicious local food at street vendors for even less.
Transport in Montenegro is relatively cheap. A bus or train trip from one city to another will usually cost you around €5-10.
Overall, Montenegro offers excellent value for money. You will find that you can explore this beautiful country without worrying about prices in Montenegro. And with its stunning natural beauty, fascinating culture, and friendly locals, Montenegro is definitely a destination worth visiting!
---
How do you get around in Montenegro?
Getting around Montenegro is relatively easy, with a variety of transport options available.
One of the best options is by car, as it allows you to explore the country at your own pace and see some of the more remote areas that are not easily accessible by public transport. It is also easy to rent a car in Montenegro if you are not coming with your own car. You have several international and local car rental companies at your disposal.
Buses are another option to travel to Montenegro. The bus system is well developed, with regular routes connecting all major towns. Buses are generally comfortable and reliable and are also the cheapest option.
Trains are less frequent in Montenegro but can be a good option for traveling between larger cities such as Podgorica and Bar. However, the train network is not as extensive as the bus network, and trains are less frequent.
Another option is by boat. There are several popular routes for tourists, such as the one from Bar to the beautiful island of Sveti Stefan.
In general, Montenegro offers a variety of transport options for getting around the country, be it by car, bus, train, or boat. It's very easy to find a mode of transport to travel to Montengro that suits your budget and travel style.
---

Buljarica Beach
We shared a very small room in Buljarica Beach, with a narrow double bed and a single bed. Around the bed, we had only the room necessary for one person to pass. And the hotel was kind of kitschy.
However, the family running it was very nice. They actually lived in Romania at one point but were established in Buljarica Beach because it was more profitable to them.
Travel to Montenegro's seaside to get engaged!
The owner's wife was very funny. I could hear her always complaining about her son, who lived in Berlin and was about our age could not find a proper woman. She wanted a hard-working one "like those from Romania". The lady also wanted to put either Ana or me in touch with him, to become friends over Skype, and hopefully get married soon! We never did get in touch with the guy, but I'm sure his mother found him a bride quite quickly, given all the financial advantages she kept listing.
Despite the matchmaking part, it was a quiet place to stay, with an excellent breakfast. Message me to put you in touch when you travel to Montenegro's seaside. 😉
---
The advantages of Buljarica Beach
We were within walking distance from the lovely, and (surprisingly!) not-so-crowded beach.
The beach is quite rocky, so I strongly advise you to wear some special rubbery shoes. If you don't pack your own from home, you'll be able to buy them from one of the stands close to the beach when you travel to Montenegro's seaside.
Underwater, it's as rocky as on dry land. And there are also sea urchins, plus some fish and some vegetation. You can try a bit of snorkeling, just for fun!
---

Petrovac
In the afternoon, when it's a bit less sunny, you go from Buljarica Beach to Petrovac on foot. On the northern side of the beach, there is a path that crosses the rock, through a wooded area.
You'll first come across Lucice beach. You'll quickly notice this is a nicer beach, with a water slide, but it's also super-crowded. Personally, I found the number of people and the noise a bit annoying.
After that, you will reach Petrovac, a significant port and a commerce hub in the Middle Ages, which was governed during the course of several civilizations. Today, Petrovac is a well-liked travel destination for vacationers who come to take advantage of its pleasant climate, gorgeous beaches, and rich cultural history.
In Petrovac, you'll find nice places to eat or to grab a drink. The accommodation options are more upscale, and colleagues who have stayed longer when they chose to travel to Montenegro's seaside have said that it's quite affordable.
After a late lunch, the way back to Buljarica Beach may seem long, but don't worry, you'll find lots of places to take a rest and admire the surrounding area from up high.
You can always return to Petrovac's harbor for the daily boat rides to Budva.
---

Boat ride to Budva and back
In case you want to return to Petrovac early in the morning, you'll be able to get on the boat ride to Budva, one of the most amazing and well-known cities to travel to on Montenegro's seaside.
As with the Komani Lake ferry ride, remember to look for some shade. Wear sunscreen and a cap, hat, or scarf on your head, and stay hydrated. This is a long boat ride and you'll be getting lots of sun. Also, take your bathing suit under your clothes, as there will be several stops for swimming.
Please mind that this rather small boat to Budva travels fast and you might get a bit seasick, like my friend Ana did. If you know you are a bit sensitive to this, I advise you to take some pills with you or to swallow one in advance just in case when you travel to Montenegro's seaside.
Still, you will be amazed by the wonderful views from the sea of the rocky mountainside, and you'll be enjoying some interesting stops along the way.

Sveti Stefan
During the Budva boat ride, at one point you will go around a large rock, with lovely old buildings crowded at the top. This is Sveti Stefan, a little island known for its gorgeous beaches and upscale hotels, connected to the mainland by a small isthmus. You will not be able to get off the boat, so you'll have to admire it from a distance when you travel to Montenegro's seaside.
This small fortified village was initially built to protect around twelve families from the Turk attacks, in the 15th century. Its population grew to around 400 inhabitants during the next three centuries, becoming a true village. However, during the communist period, the Yugoslav government acquired it and turned it into a five-star hotel resort, and the former inhabitants were relocated to the mainland.
In the '60s and the '70s, the place was a favorite of celebrities, such as Princess Margaret, Orson Welles, Sophia Loren, and Elizabeth Taylor, among many others.
Sveti Stefan's decline came with the breaking of Yugoslavia. But, luckily, the government wanted to revive the old fortified village and, through an international bid, the contract was given to Aman Resorts for a period of 30 years. The resort was then refurbished and reopened in 2009, under the name of Aman Sveti Stefan Resort.
The investment has proven successful, as Aman Sveti Stefan resort won the Gallivanter's Guide award for Hotel of the Year in 2010. It has also regained some of its attractiveness to celebrities, as well, as Novak Djokovic chose Sveti Stefan for his wedding.
---

Budva Stari Grad (Budva's Old Town)
We were left in Budva's agglomerated harbor, full of small boats and people swimming dangerously close to them. From there, we stopped to drink some freshly squeezed juice, hoping Ana would feel better afterward. The sellers are really friendly and they actually know what fruit combinations to suggest for seasickness, so the recovery is fast.
We walked towards the wall taking us to the Stari Grad, or the Old Town, with its winding lanes and ancient walls. The town also has a number of museums and art galleries.
Budva is renowned for its beaches, cultural attractions, and long history, having been inhabited from prehistoric times. Over the years, it has been controlled by a number of civilizations, including the Romans, Byzantines, Venetians, and Austro-Hungarians. Today, travelers from all over the world frequently travel to Budva.
I was amazed by how everything reminded me of Italy's fortified towns from the Tuscany area. You'll see similar stones on building walls, plus narrow, lovely, and colorful streets, and even the same warm yellowish light when you travel to Montenegro's seaside.
In case you don't know, I am in love with Italy, and hope to one day live somewhere under the Tuscan sun. So, I really, really adored Budva! You should definitely go there when you travel to Montenegro's seaside.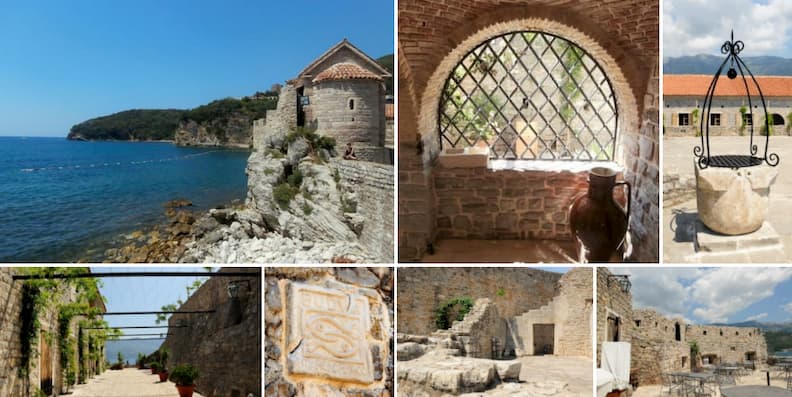 Budva's Citadel
While in Budva, don't skip visiting the Citadel, a medieval fortification perched on a hill above the Old Town. It was constructed in the ninth century, and over the years, it has undergone several renovations. It provides sweeping views of the Adriatic Sea and its surroundings.
Besides the wonderful views of the city and its surroundings, Budva Citadel attracts visitors with its library and various museums, including the Museum of Budva and the Museum of the Citadel. It's one of the best Budva hidden gems to discover when you travel to Montenegro's seaside!
The admission price is €2.50, and the ticket is shaped like a postcard, with nice images of the site, and explanations regarding the various parts of the building.
Budva what to see: Budva's Citadel
Open from 09.00 to 00.00 (May – October) or from 09.00 to 17.00 (November-April).
Tickets cost €2.50 and look like a postcard with information about the Citadel.
Address: Budva, Montenegro
---

Sveti Nikola Island
After picking you up from the Montenegrin city of Budva and before returning to Petrovac, the boat will make a stop at Sveti Nikola island. This little island is a popular location for swimming, sunbathing, and other water sports because of its sandy beaches and pristine seas. A number of upscale hotels, eateries, and other tourist attractions are also located on the island, but not where your Budva cruise will make a stop.
On Sveti Nikola Montenegro, you can spend some time on the beach or go for a swim, enjoying the waves. You can also do some snorkeling if you brought your water goggles for your travel to Montenegro's seaside. Just look how beautiful Sveti Nikola is:
While on the beach, do be careful where you sit, as some of the pine trees on this small island have hornet nests! You wouldn't want to get stung by a humongous wasp when you travel to Montenegro's seaside!
---
Montenegro secret places: Sveta Nedelja Island
On the way back, there will be some final lingering next to Sveta Nedelja Island, where you will be able to admire a small stone church, but from a distance. When we went, we could also admire a girl who was sunbathing topless at the base of the island.
---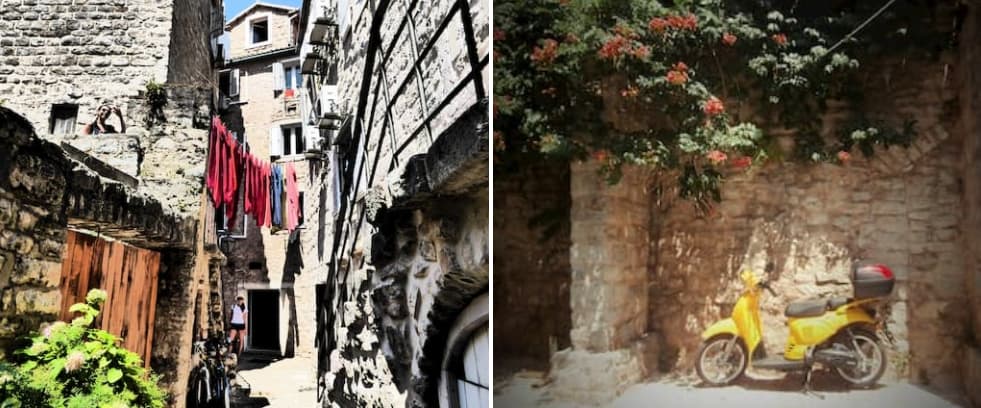 What part of the Budva boat ride would you like best?
Admiring Sveti Stefan and Sveta Nedelja islands from the boat?
Exploring the enchanting streets of Budva and visiting its citadel?
Or perhaps the swim on Sveti Nikola island?
---

Mirela Letailleur is a Romanian travel blogger living in the South of France. She writes on The Travel Bunny travel blog about affordable travel in Europe, creator of unique free travel guides, local travel expert. Problem solver. Wannabe coffee guru.
More inspiration for your Montenegro what to see list
Travel to Kotor Bay: breathtaking views and tranquil hideouts
Visit Bulgaria's seaside cities (with map)
The ultimate Balkans travel bucket list