After visiting Budva, one of Montenegro's most popular cities, we continued to travel to Kotor Bay. We made our way to Lovcen National Park, to Njegos Mausoleum, where, besides an amazing construction, we found some amazing views over Kotor Bay.
---

Travel to Kotor Bay and stop in Lovcen National Park
The National Park is located on the rocky side of the Dinara Alps and it takes its name from Mount Lovcen. The mountain rises quite steeply from the edge of the Adriatic Basin, closing the bays of Boka Kotorska.
Mount Lovcen is a symbol of Montenegro, and it's considered sacred ground. The anthem of Montenegro says Lovcen is our Holy Altar.
As you cross the Lovcen National Park, you will discover stunning sights over the surrounding mountains, but also over Kotor Bay.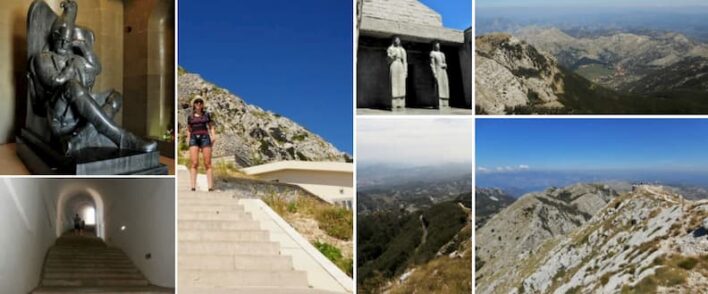 Njegos Mausoleum on Mount Lovcen
In the Lovcen National Park, you can visit the tomb of the poet, philosopher, prince-bishop and statesman Petar II Petrovic Njegoš. Born in Njeguši, a village at the base of Mount Lovcen, he was the one who turned it into a symbol of national identity. After his death, Njegoš was buried in a mausoleum on the top of Mount Lovcen.
Njegos Mausoleum is the highest in Europe. After climbing the 461 stairs which take the guests from the parking lot to the Mausoleum and the summit of Mount Lovcen, one finds themselves at 1,749 m above sea level.
A path at the rear side of the building leads to a vantage point over Kotor Bay. It is said that the view from here made George Bernard Shaw exclaim in amazement: Am I in paradise or on the moon?! So you see why you must stop here when you travel to Kotor Bay!
Njegos Mausoleum
Open daily from 08.00 to 18.00. Tickets cost € 3.00. Elevation: 1.749 m
Address: Njegos Mausoleum, Montenegro | See on map
Check out the Award-Winning Day Trip to Lovcen National Park!
---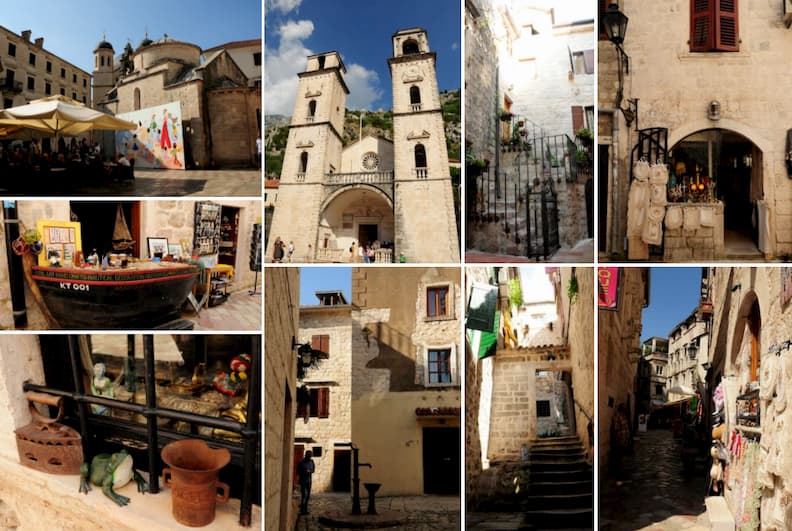 Kotor Old Town
You just can't travel to Kotor Bay and not stop to see Kotor's Old Town!
We entered the town of Kotor through the gate of the Gurdic Bastion and made our way on the narrow, charming, cobblestone streets to St. Luke's Church and Svetog Tripuna Cathedral. After visiting, we had lunch in the square just outside the latter, at Pizzeria Sara.
I know, the rule of thumb is to never eat next to the tourist attractions, but it was very hot outside, we had walked a lot and we just wanted to sit down, rest, eat and drink something cold. The food was ok, and we had a nice view of Kotor's Cathedral while we enjoyed our lunch
Pressed by time, we couldn't afford to delay the climb to Kotor's castle anymore. So… at 3 pm, when the stones were burning from the heat, we started going up the stairs.
St. Luke's Church
Address: Trg Sv. Luke, Stari grad, 85330 Kotor, Montenegro | See on map
Tel. +382 69 369 994
Svetlog Tripuna Cathedral
Address: 85330 Kotor, Montenegro | See on map
Tel. +382 32 336 242

3.155 steps to the Castle of San Giovanni
It was a long way to reach the top, but I think it seemed very tiring mostly because of the heat. Otherwise, the steps are built to be quite comfortable during the climb and most of them are in good shape.
About halfway up, you can stop and the Roman-Catholic Church of Our Lady of Remedy.
The views of the Old Town and Kotor Bay are stunning, but you don't really need to go all the way up to be amazed. I went to the top because I was curious about what was on the other side and was utterly disappointed: yellowish grass, some rocks and… lots of goats. And that was it.
So at least you know what to expect if you choose to go to the top when you travel to Kotor Bay.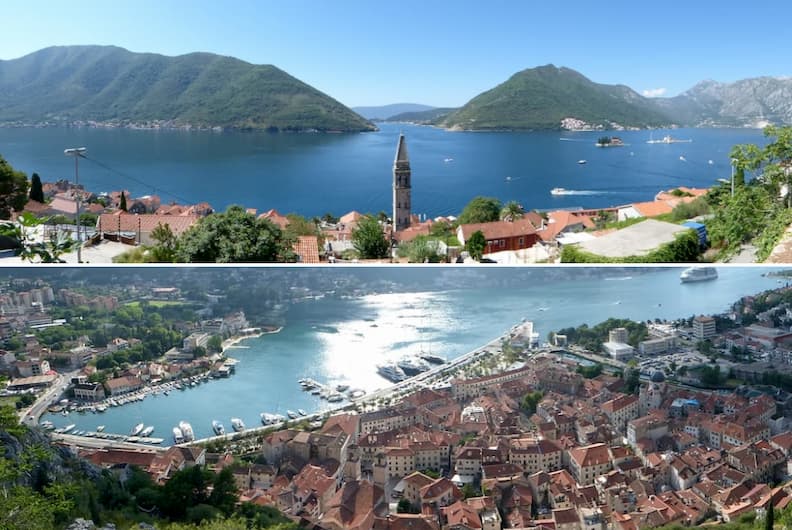 I strongly suggest you get some water with you from the town before you start climbing the stairs. You will be able to buy water along the way because there are a lot of locals selling it, but the closer you get to the top of the stair, the steeper the price you have to pay. In my opinion, it's a waste of money, as you can simply refill your own bottle from one of Kotor's many fountains for free before this hike.
Castle of San Giovanni
Open between 08.00 and 20.00. The entrance is free of charge.
Address: St. John Fortress, Rd. to the Fort of St. Ivan, Špiljari, Montenegro | See on map
---

Quirky stuff to see when you travel to Kotor Bay
Despite multiple Google searches, I was unable to find the reasons behind two of the most photographed exhibits of Kotor: the tree with eyes, staring at you as you enter the city through the Gurdic Bastion, and the red-haired doll fishing off the walls of the Old Town.
If you happen to know anything, please, please drop me a line!
---

Night in tiny Perast when you travel to Kotor Bay
After visiting the Old Town of Kotor, we found ourselves in the evening looking for accommodation in Perast. It was lucky we found two rooms because the town is more or less just a street, with buildings on one side and Kotor Bay on the other.
After checking in, we had a small bite to eat and then I joined Ana and Tim on their terrace, to have a drink and chat a bit before getting a good night's sleep.
Next day, after breakfast, but before checking out, all three of us went for a swim. We just crossed the street and jumped into the water!
While in Perast, don't skip a boat ride to visit St. George (Sveti Juraj /Sveti Đorđi) and Our Lady of the Rocks (Gospa od Škrpjel), the churches built on one of the small islands one can gaze at from Perast. We didn't get to see them on our travel to Kotor Bay and I'm still sorry for it.
Perast paints a very different picture during the day. From a tranquil town, it transforms into a wasps' nest as it gets overcrowded by tourists traveling by bus, in large numbers. That is why we were quite quick to depart to Croatia.
St. George (Sveti Juraj /Sveti Đorđi)
Island in Boka Bay, Perast.
Address: Perast, Montenegro | See on map
Our Lady of the Rocks (Gospa od Škrpjel)
Island in Boka Bay, Perast.
Address: E65, Montenegro | See on map
This article is also available on GPSmyCity.
---

Mirela Letailleur is a Romanian travel blogger living in the South of France. She writes on The Travel Bunny travel blog about affordable travel in Europe, creator of unique free travel guides, local travel expert. Problem solver. Wannabe coffee guru.
More wanderlust inspiration for when you travel to Kotor Bay
Visit Bulgaria's seaside cities (with map)
The ultimate Balkans travel bucket list