In this article, I will speak about the pros and cons of traveling to Dubrovnik, Croatia, as discovered during our short stay there.
Dubrovnik was the place where I was going to part ways with Ana and Tim. I planned a two-night stay before taking the plane to Bucharest, with a short stop in Belgrade (Serbia). They, however, planned to drop me in Dubrovnik and skip it altogether, because it hadn't sparked up their interest enough to add it to their list.
Traveling to Dubrovnik pro con list
Disclosure: Some of the links below are affiliate links. This means that at no extra cost to you, The Travel Bunny will earn a small commission if you click through and make a purchase. Thank you!
---
About Dubrovnik
The lovely city of Dubrovnik is located on the coast of the Adriatic Sea. The city is renowned for its magnificent architecture, fascinating past, and picturesque natural surroundings.
The Old Town, a UNESCO World Heritage Site that is home to a variety of medieval churches, palaces, and walls, is one of the city's most well-known attractions. The Old Town's meandering cobblestone lanes and charming squares make it a terrific destination to explore on foot.
Along with its historical landmarks, Dubrovnik is renowned for its stunning beaches and pristine seas. Due to its proximity to several hidden coves and sandy beaches, the city is a well-liked vacation spot for sunbathers and beach-goers.
Boat tours to adjacent islands like Lokrum and Mljet are another well-liked pastime in Dubrovnik. These excursions give you the chance to discover the lovely Adriatic Sea and view the city from a new angle.
---
Is it safe to visit Dubrovnik?
Dubrovnik is a safe place to visit. Similar to any place you visit, it's a good idea to be aware of your surroundings and follow some basic safety guidelines, such as watching your things and avoiding lonely or remote regions at night.
In general, Dubrovnik is a hospitable and safe city, and the great majority of tourists have a safe and happy trip there. The city has a significant tourism economy and a low crime rate, and the local government takes measures to assure the security of visitors.
Speak with your hotel or tour guide if you have any worries about staying safe while visiting Dubrovnik; they can provide you with more detailed information and recommendations.
---
What you need to know before going to Dubrovnik
It's a good idea to conduct some research and familiarize yourself with the area and its attractions before visiting Dubrovnik. Before your journey, you might wish to be aware of the following:
Dubrovnik is located on the Adriatic Sea in Croatia.
The climate is Mediterranean, with hot, dry summers and warm, wet winters. May through September, when the weather is nice and sunny, is the best time to visit Dubrovnik.
Dubrovnik is a renowned tourist destination, and the city may become rather crowded during the high season. If you want to avoid crowds, go during the shoulder season (April, October, and early November), when the weather is still nice and the people are lower.
The Croatian kuna was the local currency of Dubrovnik until January 2023, when the country switched to the euro. The majority of the city's shops and attractions take credit cards, but it's a good idea to keep some cash on hand for minor purchases or to use at local markets and street sellers.
As mentioned just above, Dubrovnik is a safe city to visit, but you should always be alert to your surroundings and practice basic safety precautions. Keep an eye on your valuables and avoid carrying big sums of cash, especially in busy situations.
---

Pro: Hostel Dubrovnik, in Komolac
My third hostel experience on the Balkan road trip was while I was traveling to Dubrovnik. I found this hostel while browsing Hostel World. I was trying to find accommodation with good reviews, not too far, but not central, and at a good price.
It was actually a difficult task to find it, because, unlike other places in the Balkans, traveling to Dubrovnik is more expensive, with a bed in a shared hostel room reaching a price higher than some bed and breakfast rooms from other countries (e.g. Bulgaria).
But anyway, I found the place, reserved the room, then my friends took me there once we arrived in Croatia. They liked Komolac, it was a really peaceful place. The hostel was fully booked by then, so they searched for a room offered in the nearby houses.
Komolac made them change their mind about exploring Dubrovnik for the afternoon, thinking it was a good spot to recharge their batteries before continuing their drive.
Komolac is a tiny Croatian village located just outside of Dubrovnik. The town is well-known for its picturesque position, with stunning views of the Adriatic Sea and surrounding farmland.
Komolac is a popular tourist location for those looking to get away from the noise and bustle of Dubrovnik. The town features a variety of wonderful B&Bs, guesthouses, and hostels where tourists may unwind and take in the scenery.
Hostel Dubrovnik
A short bus ride away from Dubrovnik Old Town, in quiet Komolac. It is close to the sea, but also provides a swimming pool. Near several restaurants and three supermarkets. Free Wi-Fi, lockers, towels, and car parking. Rent a bike and laundry service available. Check-in is from 17.00 to 23.00 and check-out is by 10.00. Cancellation policy: 72 hours before announced arrival.
Address: Tenturija ul., 20236, Komolac, Croatia
Tel. +385 92 198 8790
---
Pro: Dubrovnik's location
The city's breathtaking environment is one of the key attractions. The Adriatic Sea city of Dubrovnik is surrounded by stunning natural surroundings, including the city's historic walls, adjoining islands, and nearby mountains.
Due to its location, the city is a fantastic spot to engage in outdoor pursuits including swimming, hiking, and boating. The historic city walls are a well-liked location for trekking and provide breathtaking views of both the city and the sea. The adjacent islands, such as Lokrum and Mljet, are also well-liked stops for boat excursions since they provide isolated beaches, pristine waterways, and stunning natural beauty.
---
Con: Everyone is traveling to Dubrovnik
The attractiveness of Dubrovnik is among its biggest drawbacks. Due to its popularity, Dubrovnik may get highly crowded during the summer months.
As a result, it may be challenging to take in the city's attractions and sites because of crowded conditions and lengthy queues. For instance, the city's medieval walls are a well-liked tourist destination, but during the busy season, it can be challenging to completely appreciate the experience.
In the busiest months of the year, it can be challenging to secure lodging due to the city's popularity. Finding a place to stay might be difficult during the summer because many of the city's hotels and guesthouses are already booked. The cost of lodging may also increase as a result, making traveling to the city during the busy season more expensive.
The effect Dubrovnik's fame has on the city is another drawback. The city's infrastructure and resources are taxed by the significant tourist traffic, and some residents feel that the city is being overrun by visitors. The whole experience of visiting the city may suffer as a result of friction between residents and tourists.
---

Pro: The streets of Dubrovnik
We took the bus to Dubrovnik and spent the afternoon wandering the streets. Anyone visiting Dubrovnik should make time to explore the city's streets. Dubrovnik's alleys are a truly hidden gem with their meandering cobblestone lanes, ancient architecture, and breathtaking seaside vistas.
Stradun, which passes through the center of the Old Town and is solely open to pedestrians, is one of the city's most well-known streets. The Bell Tower, the Rector's Palace, and the Orlando Column are just a few of the ancient structures that border Stradun. The street is a terrific spot to wander and people-watch because it is home to many stores, eateries, and cafés.
Placa, a charming area next to the city's main entrance, is another famous street in Dubrovnik. The Sponza Palace and the Church of St. Blaise are two of the ancient structures that surround Placa. The square is a terrific spot to unwind and take in the bustling ambiance of the city because it also has a lot of outdoor cafés and eateries.
Dubrovnik is a very clean town, with wonderful old buildings, extremely well maintained. It was a feast for the eyes to explore the narrow passageways and cobbled streets while traveling to Dubrovnik.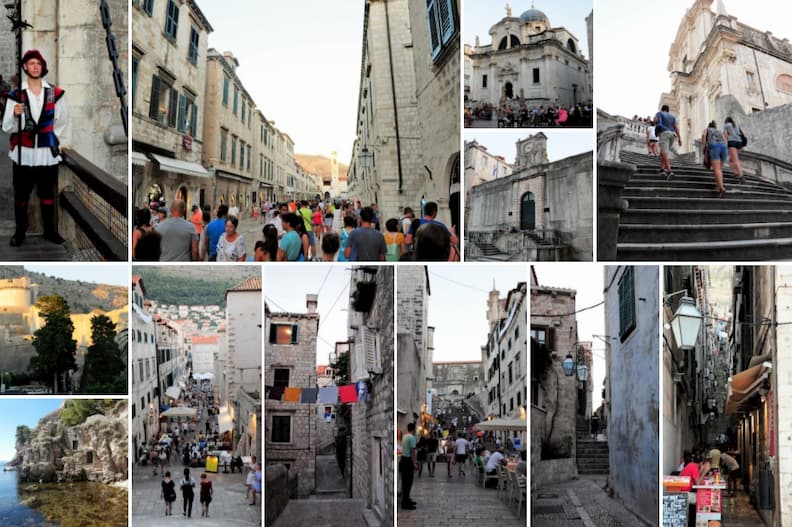 ---
Con: The merchants and performing artists
Visitors to Dubrovnik Croatia may experience dissatisfaction with vendors and performers in the city. There are many street artists and vendors in the city known for its colorful street culture, and the continuous presence of these people is overwhelming.
The pushy nature of the sales tactics used by the merchants and performers in Dubrovnik is a problem. Numerous of these people may be rather forceful when trying to sell their goods to unwary travelers. This may cause some unpleasant interactions and be especially annoying if you have no interest in making any purchases.
I am sorry to say, but never in my life have I seen artists refusing to perform on the street if you wish to take a photo without paying first. Let me appreciate it, then I will reward you, but don't ruin my experience because you'll look unfriendly, and avid for money, and I will avoid you. Even more so if I am trying to take a photo of what's behind you and you start yelling at me that I have to pay first because you just happen to be in the way.
Another bad experience, not long after that while I was traveling to Dubrovnik. We arrived in town during Dubrovnik's annual Summer Festival and there was a show in a square, in a public space. The place was very crowded so we tried to find an emptier area. We soon discovered why it was so: a woman who had spread her merchandise on the street in front of her shop was rudely shooing anyone who was approaching the street next to her merchandise (in a public space, I repeat) unless they wanted to buy something.
Sure, maybe some will say these are exceptions, as I've read some really nice things about Dubrovnik's inhabitants. But seeing several performing artists plus the shopkeeper behave that way in under 4 consecutive hours doesn't really make one want to go traveling to Dubrovnik anytime soon.
---

Con: Eating at Restaurant Amoret
In the evening, after visiting the harbor area, we stopped in a square at a nice-looking restaurant. My friends ate regular stuff, I chose a dish with a mix of seafood. I figured it was a good place to eat it, as the harbor is just one street away.
However, the next morning I felt incredibly weak, so I thought taking some vitamins might help. After Ana and Tim left, I went on a walking tour but felt worse and worse, and eventually felt sick. I returned to the hostel and spent most of my last day in bed, feverish, sleeping. It felt like any slight movement was a great effort. I forced myself to drink some water now and then to avoid dehydration.
After many pills and almost 20 hours of tormented sleep, I finally felt well enough to continue my journey, and get on my flight.
It was a terrible experience, I had never gone through something similar before, nor after traveling to Dubrovnik. I wish nobody has to face this during their travels or everyday life.
Disclaimer regarding Restaurant Amoret

I wrote a review to Amoret's facebook page and got a customer-friendly reply, which is always appreciated. Exact quote available below:

"Dear guest did you know that the ownership changed in Amoret, and we are doing everything different then in the past, I am really sorry about what happened in the old Amoret, we are still the old restaurant Amoret in name only, with best regards owner Toni Ban"

When I will come to talk about this experience in Dubrovnik, I shall mention that some things might have changed, but it is up to everyone to make their own choice. Personally, I will apply a saying we have in Romanian: once you've burned yourself, you'll even blow in yogurt to cool it before tasting it.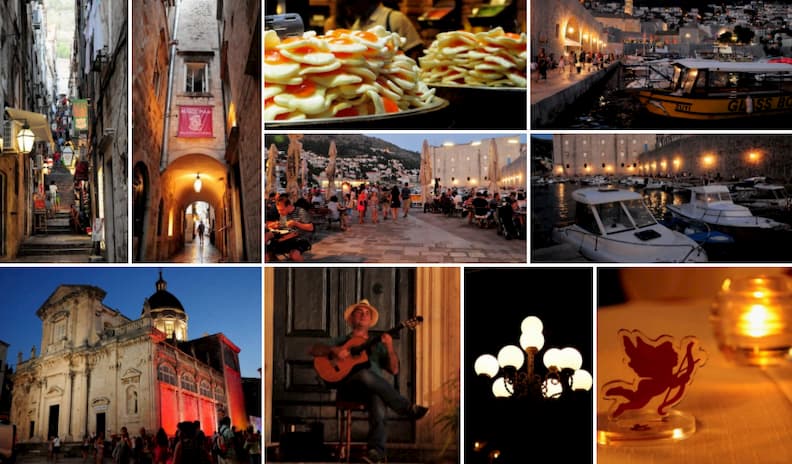 ---

Pro: Game of Thrones walking tours
For followers of the well-known TV program, Game of Thrones walking tours in Dubrovnik are a must-do experience. Several seasons of the series were filmed in Dubrovnik, which has breathtaking coastline scenery and exquisite medieval architecture. The city is full of well-known landmarks that viewers will recognize.
The Kings Landing Tour, which brings tourists to some of the most well-known filming locations in the city, is one of the most well-liked Game of Thrones walking tours in Dubrovnik. The trip includes visits to the city walls, where several exterior shots were taken, and the city's central plaza.
The Walk of Shame Tour, which takes people to the areas where Cersei Lannister's iconic walk of shame was filmed, is another well-liked Game of Thrones walking tour. The visit includes stops at the Lovrijenac Fortress, which served as the Red Keep in the program, and the city's medieval cathedral, where the show's creators constructed a duplicate of the Great Sept of Baelor.
There are so many Game of Thrones walking tours to choose from which will take you to the spots where the famous series was filmed! They are very interesting and informative, and should also give albums with photos of where you are and how it looked in Game of Thrones. They're a must for GOT fans traveling to Dubrovnik!
---
Con: Game of Thrones walking tour guide
While Dubrovnik Game of Thrones tours may be a fascinating and entertaining way to learn about the city, the tour's quality might vary depending on the guide. Personally, I was dissatisfied with my guide on my most recent Game of Thrones tour in Dubrovnik.
Plus, the tours are kind of crowded and you might get lost, just like I did. I got sick and stopped. But nobody noticed me because they were staring at what the guide was showing. Eventually, I could hear nothing in my earpiece, as they were out of range.
When I looked around, I couldn't find them anymore. I didn't even know how to give them back the device. I understand, maybe a lost paying customer doesn't really matter enough to go looking for them, because the tours are fully booked anyway. But perhaps the device should have had enough value for their business to return. Just saying.
---
Con: High cost of living in Dubrovnik
The high cost of living in Dubrovnik is another drawback. In comparison to other regions of Croatia, the city is relatively pricey, and costs for lodging, dining, and activities can be high.
This obviously makes it difficult to stay within your travel budget, especially if you're traveling to Dubrovnik during the busiest time of year.
---

Pros & cons of traveling to Dubrovnik: Conclusion
Traveling to Dubrovnik is attractive for its fascinating history, magnificent architecture, and breathtaking natural surroundings. The old Croatian city does, however, have advantages and disadvantages, just like any other destination.
Maybe I got unlucky. I truly hope I got unlucky. Because the city is gorgeous, but the people who are running businesses in it have ruined my one encounter with it. It left me with the impression of a place where people are so used to getting tourists and money from tourists that they think they can behave however they want. Because people will still come, and they'll still leave their money there, regardless of what they're getting for it.
Will I ever go back to Dubrovnik? Who knows…? Only time will tell. But I can say one thing for sure: there are many other gorgeous places in Croatia that attract me a lot, and I'd like to give those a go before I ever try traveling to Dubrovnik again.
This article is also available on GPSmyCity.
---

Mirela Letailleur is a Romanian travel blogger living in the South of France. She writes on The Travel Bunny travel blog about affordable travel in Europe, creator of unique free travel guides, local travel expert. Problem solver. Wannabe coffee guru.
After traveling to Dubrovnik, you'll enjoy reading
Ultimate Balkans travel bucket list
Travel to Montenegro's seaside & discover its hidden gems
Adventure awaits: The amazing Balkan road trip!