If you're taking a plane to southeastern Europe, odds are pretty high to have a layover in Belgrade, Serbia. When I flew from Dubrovnik to Bucharest, I had a few hours to spare in this wonderful Serbian city. Based on my own experience, here's some advice on what to do in Belgrade in one afternoon.
---
Try the Couchsurfing App
When you're short on time and by yourself, Couchsurfing's App (on Android or iOS) is the best option to find some locals to go exploring or to grab a drink.
There are also lots of tourists like yourself who are looking for some good company. On the bus back, for example, a girl started chatting to me and it turned up that earlier she had been with another Couchsurfing group, drinking a beer at a place just next to the bus stop!
Of course, setting up on your own and wandering around is perfectly ok, too. Maybe even preferable if you wish to have some quiet, before returning to the crowded airport.
But anyway, as I was saying, I took to the Couchsurfing app, got on the bus from the airport to Belgrade, and was met up by Miodrag upon my arrival. He had also set up a meeting with an American guy, Daniel.
Mio took the two of us on some streets, showed us a bit of the sights, but without too many details, as time was short. Afterward, he led us to see the pedestrian area of Belgrade in one afternoon.
---
Where to eat in Belgrade
The pedestrian area is a cobblestone street, with lovely restaurants on both sides. Their terraces are very animated and covered by brightly-colored flowers. And some of them even have traditional live music shows.
There is a great variety of places and dishes here, so you will definitely find something to your liking if you visiting Belgrade in one afternoon.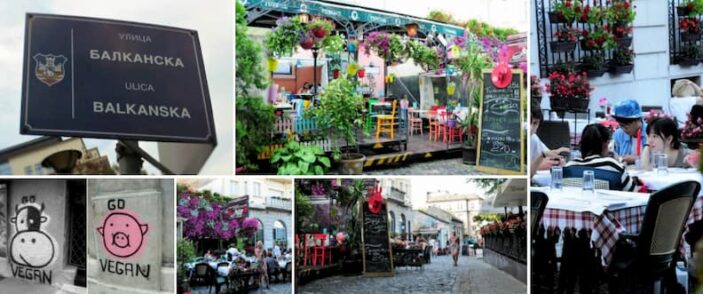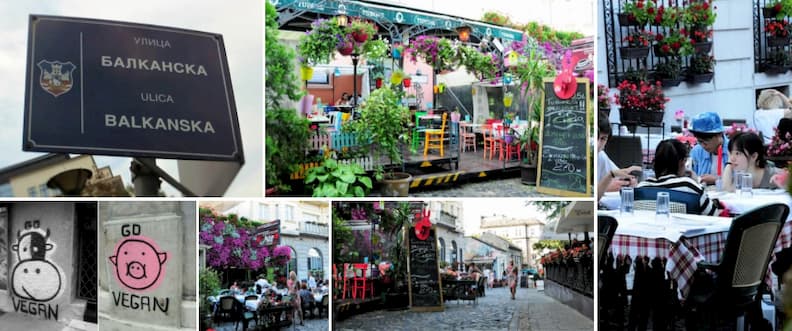 ---
What to do in Belgrade in one afternoon
So this is what to do in Belgrade in one afternoon, in my opinion. It isn't much, I know. Then again, the time interval is kind of short, too.
But there's just so much to see, you should definitely go for a longer visit. I know I will!
---
Disappointed by Air Serbia
Luck seemed to have left me for good during my last days of traveling through the Balkans. I mean, sure, my afternoon in Belgrade was great! Little did I know that while I was having a great time in the city someone was rummaging through my luggage!
I took Air Serbia for both flight segments and checked in my backpack to be able to travel easily to Belgrade and back. When I arrived in Bucharest and got my luggage, I discovered my backpack's top torn, then tied to look normal, and some items went missing.
At Otopeni, I could only get remote contact information. So I wrote to them, got a very late corporate reply, but nothing got solved.
I was very sad about this, as I had bought my Dad a beautiful (though kind of expensive) Croata tie for his birthday. I was sorry to have not been home at the time and was so happy to have finally found a gift he might have liked. Unfortunately, it was stolen from my luggage while flying with Air Serbia.
---

The end of my Balkan road trip
Despite the sad ending, I loved discovering Belgrade in one afternoon and this was the trip of a lifetime! I mean, I already want to do it again and I keep telling everyone to come (or go) visit the Balkans. They have a lot to offer: friendly locals, beautiful scenery, a great variety of stuff to eat, great places to go hiking in nature, plus a lot of hidden gems surprising you at almost every stop you make along the way. Not to mention you'll find stuff to fit any budget!
So come on, what are you waiting for? Plan your trip to the Balkans!
---

Mirela Letailleur is a Romanian travel blogger living in the South of France. She writes on The Travel Bunny travel blog about affordable travel in Europe, creator of unique free travel guides, local travel expert. Problem solver. Wannabe coffee guru.
You will also enjoy reading
Ultimate Balkans travel bucket list
Adventure awaits: The amazing Balkan road trip!
Airline travel lingo explained