If you're taking a plane to southeastern Europe, odds are pretty high to have a layover in Belgrade, Serbia. When I flew from Dubrovnik to Bucharest, I had a few hours to spare in this wonderful Serbian city. Based on my own experience, I'll share with you some advice on what to see in Belgrade in one afternoon.
Belgrade in one afternoon
---
Is 1 day enough for Belgrade?
It all depends on what you want to do in Belgrade and how much free time you have. One day in Belgrade may not be enough time to see everything the city has to offer, but it may be enough time to explore some of the city's biggest attractions and get a sense of the place.
If you don't have much time and want to make the most of your visit to Belgrade, you may concentrate on seeing the city's prominent attractions and monuments, such as the Belgrade Fortress, Kalemegdan Park, and the Church of Saint Sava. You may also sample some local food, such as ćevapi, and spend some time exploring the city's lively nightlife.
In the end, whether one day in Belgrade is enough depends on your unique interests and objectives.
---
Is Belgrade a walkable city?
Belgrade is considered to be a walkable city. The city center is compact and simple to traverse on foot, with many of the key sights and attractions within walking distance of one another. There are also various pedestrian-only streets and places around the city, as well as parks and green spaces where you may enjoy a leisurely stroll.
However, bear in mind that Belgrade may be fairly steep in certain locations, so walking about the city may not be appropriate for everyone. Furthermore, the city's sidewalks can be small and uneven in some spots, making walking difficult for persons with mobility issues. Overall, Belgrade is a walkable city, and touring on foot is a terrific way to explore the city and get a sense of its culture and way of life.
---

What to see in Belgrade in one afternoon
If you just have one afternoon in Belgrade Serbia, there are some sites and attractions that you should not miss:
Belgrade Fortress
The Belgrade Fortress, a medieval stronghold perched on a hill overlooking the confluence of the Sava and Danube rivers, is one of the city's most recognizable sights. The castle has a long and rich history, having been constructed and rebuilt several times by various kings and civilizations over the years. Today, the stronghold is a major tourist site, with beautiful views over the city and various museums, galleries, and other cultural attractions.
---
Church of Saint Sava
Another must-see attraction in Belgrade is the Church of Saint Sava, the world's biggest Orthodox church before the building of the People's Salvation Cathedral in Bucharest. The church, named for the Serbian Orthodox Church's founder, is an architectural marvel with a gigantic dome, complex stone carvings, and stunning murals. Visitors can go up the church's bell tower for panoramic views of the city.
---
Kalemegdan Park
If you enjoy parks and open spaces, make a point of visiting Kalemegdan Park, which is located near the Belgrade Fortress. This sprawling park is a favorite destination for both locals and tourists, with magnificent gardens, strolling routes, and open green areas. The park also has various museums and galleries, as well as a zoo, making it an excellent family attraction for one afternoon in Belgrade.
---
Belgrade is well-known for its active nightlife, in addition to its many monuments and sites. The city boasts a booming bar and club culture, with several alternatives. Belgrade has it all, whether it's a busy pub, a fashionable cocktail bar, or a buzzing nightclub.
Overall, even if you only have one day to explore Belgrade, there is no shortage of things to see and do. Belgrade has something for everyone, from historic sites and cultural attractions to gorgeous parks and thriving nightlife.
---
Try the Couchsurfing App
Couchsurfing.com is a social networking site and hospitality service that links tourists with locals who are prepared to host them in their own homes. The concept behind Couchsurfing is to allow individuals to travel more economically by staying with locals rather than paying for a hotel or hostel. It also allows tourists to interact with locals and learn about the culture and way of life in the locations they visit.
The Couchsurfing app is a popular way for tourists to save money while having unique and authentic travel experiences. It can also be an excellent method for locals to meet new people and learn about other cultures. However, it is essential to exercise caution when utilizing the site and to take precautions to ensure your safety and well-being.
When you're short on time and by yourself, Couchsurfing's App (on Android or iOS) is the best option to find some locals to go exploring or to grab a drink.
There are also lots of tourists like yourself who are looking for some good company. On the bus back, for example, a girl started chatting to me and it turned up that earlier she had been with another Couchsurfing group, drinking a beer at a place just next to the bus stop!
Of course, setting up on your own and wandering around is perfectly ok for spending one afternoon in Belgrade, too. Maybe even preferable if you wish to have some quiet, before returning to the crowded airport.
But anyway, as I was saying, I took to the Couchsurfing app, got on the bus from the airport to Belgrade, and was met up by Miodrag upon my arrival. He had also set up a meeting with an American guy, Daniel.
Mio took the two of us on some streets and showed us a bit of the main attractions in Belgrade, but without too many details, as time was short. Afterward, he led us to see the pedestrian area of Belgrade in one afternoon.
---
Where to eat in Belgrade
There are many pedestrian-only streets and locations in Belgrade that are off-limits to automobiles. Knez Mihailova Street, Belgrade's primary pedestrian and retail street, is one of the most well-liked pedestrian zones in the city. A terrific spot to wander, people-watch, and shop, the street is dotted with stores, cafés, restaurants, and other establishments.
Skadarlija, a lovely cobblestone street dotted with eateries and pubs, is another well-liked pedestrian area in Belgrade. Skadarlija is an excellent spot to get a bite to eat and enjoy the vivid culture of the city because of its bustling environment and traditional Serbian food.
We went to eat on Skadarlija where the terraces are very animated and covered with brightly-colored flowers. And some of them even have traditional live music shows!
There is a great variety of places and dishes here, so you will definitely find something to your liking if you visit Belgrade in one afternoon.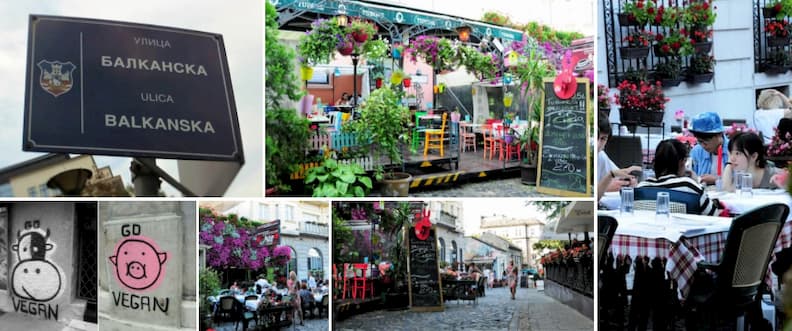 So this is what you can do in Belgrade in one afternoon, in my opinion. It isn't much, I know. Then again, the time interval is kind of short, too.
But there's just so much to see, you should definitely go for a longer visit. I know I will!
---
Disappointed by Air Serbia
Luck seemed to have left me for good during my last days of traveling through the Balkans. I mean, sure, my one afternoon in Belgrade was great! Little did I know that while I was having a great time in the city someone was rummaging through my luggage!
I took Air Serbia for both flight segments and checked in my backpack to be able to travel easily to Belgrade and back. When I arrived in Bucharest and got my luggage, I discovered my backpack's top torn, then tied to look normal, and some items went missing.
At Otopeni, I could only get remote contact information. So I wrote to them and got a very late corporate reply, but nothing got solved.
I was very sad about this, as I had bought my Dad a beautiful (though kind of expensive) Croata tie for his birthday. I was sorry to have not been home at the time and was so happy to have finally found a gift he might have liked. Unfortunately, it was stolen from my luggage while flying with Air Serbia.
---

The end of my Balkan road trip
Despite the sad ending, I loved discovering Belgrade in one afternoon and this was the trip of a lifetime! I mean, I already want to do it again and I keep telling everyone to come (or go) visit the Balkans. They have a lot to offer: friendly locals, beautiful scenery, a great variety of stuff to eat, great places to go hiking in nature, plus a lot of hidden gems surprising you at almost every stop you make along the way. Not to mention you'll find stuff to fit any budget!
So come on, what are you waiting for? Hurry up and plan your trip to the Balkans!
---

Mirela Letailleur is a Romanian travel blogger living in the South of France. She writes on The Travel Bunny travel blog about affordable travel in Europe, creator of unique free travel guides, local travel expert. Problem solver. Wannabe coffee guru.
After one afternoon in Belgrade, you will also enjoy reading
Ultimate Balkans travel bucket list
Adventure awaits: The amazing Balkan road trip!
Airline travel lingo explained