With an interesting past and a tumultuous present, Hong Kong was and remains one destination worth seeing in Asia. A vibrant mix of east and west, the city has so much to offer that it will be challenging to pick and choose to plan your 2 days in Hong Kong itinerary.
Is Hong Kong expensive?
Yes, Hong Kong has held one of the first 3 spots of the most expensive cities in the world in recent years. That's why seeing the city on a budget can prove to be difficult but it's not impossible.
2 days in Hong Kong on a budget
An important airline hub, Hong Kong can be visited on a short layover or as a short detour from more tropical places like Da Nang in Vietnam, Bali in Indonesia, or Phuket in Thailand.
Keep reading to find out what to do in Hong Kong in 2 days!
Disclosure: Some of the links below are affiliate links. This means that at no extra cost to you, The Travel Bunny will earn a small commission if you click through and make a purchase. Thank you!
---
How to get to Hong Kong
The Hong Kong international airport is an important regional passenger's hub, for destinations in China and the rest of Asia. Because of that, getting here won't be too difficult in most parts of the world if you're planning to visit Hong Kong in 2 days.
---
Best place to stay in Hong Kong for 2 days
As mentioned, Hong Kong might not be the first destination that comes to mind when you want to travel on a budget, especially in Asia.
Prices are high especially when we talk about rent, apartments, and accommodation options, so you shouldn't expect to find Hong Kong hotels or even hostels in the $10 per night range.
Look for cheaper accommodation options on the Kowloon side, where you can find places like the Hop Inn for a very affordable price.
In the mid-range price area, the Mini Hotel Central or Mia Casa in Kennedy Town are both good options to consider for a stay in Hong Kong Island. They will place you in the center of the action, and you will save money on transportation.
---
Getting around Hong Kong on a budget
Public transportation in Hong Kong is very well organized, clean, and offers plenty of options for getting around and going almost anywhere.
The MTR (subway) will get you fast to most parts of the island, but also to Kowloon, New Territories, or even on Lantau Island. Buses are good options as well and can be the perfect substitute for a hop-on-hop-off tour because you can get to see the city while you get from one point to the other.
The tram runs only in the northern part of the island and is the cheapest, yet slowest means of transportation.
No matter how you choose to get around during your trip to Hong Kong, you will need to buy an Octopus Card from any convenience store (7-Eleven or Circle K) and store money on it. This card can be used in any means of transportation, but you can also pay with it at the supermarket. Factor it in your 2 days in Hong Kong budget.
---
2 days in Hong Kong itinerary
Day 1 in Hong Kong

Splurge on breakfast on the beach
Head to Causeway Bay in the morning and hop on bus number 40 towards Stanley Beach. Get off at Repulse Bay and walk down to the beach where you will find one of the most laid-back cafes: the Coffee Academics. Enjoy a healthy breakfast and a cup of coffee with a sea view and once you're done, explore the Tin Hau Temple only steps away.

Go for a city walk and admire the beautiful murals
Once you're back on the Northern part of the island, start your city walk from Causeway Bay and head towards Central, with Sheung Wan as your final destination.
Pass by the colorful building in Wan Chai at the intersection of Johnston Rd. with Wan Chai Rd., admire the Blue House, take the glass elevator in Hopewell Center all the way to the last floor and get a panoramic view for free, stroll through Hong Kong Park, do some window shopping in Central, step inside Man Mo Temple, and stop to take some pictures with the murals in Sheung Wan.
Since you are in the area, go to the Antique Market on Cat Street – a much better option than the Ladies Market in Kowloon when you're choosing things to see in Hong Kong in 2 days.

Watch the sunset from The Peak
Once sunset approaches, head to Central, in front of the City Hall, and take bus number 1 all the way to The Peak. Make sure to bring some drinks and food from a local supermarket, because prices are higher at the restaurants and convenience stores at the Peak.
Go on a stroll on Lugard Road, and get ready to be blown away by the beauty of the city as night falls.
Make sure to check the exact time of the sunset, and be there 30 minutes before it is scheduled.
---
Day 2 in Hong Kong

Won Tai Sin Temple and the Chi Lin Nunnery
Today you will be exploring the mainland part of Hong Kong, the more authentic area in town. Take the bus or the MTR and head to Diamond Hill from where you can visit one of the most beautiful temples in all Hong Kong: the Chi Lin Nunnery.
Surrounded by skyscrapers, the nunnery is an oasis of calm and tranquility, where you can even enjoy a tea ceremony by a lake.
A few minutes away, you will find the Won Tai Sin Temple, one of the most important Buddhist temples in Hong Kong. You can light some incent, stroll through the hidden garden, or even see a feng shui master.
The flower market
The next stop on your 2 days in Hong Kong itinerary will be the Flower Market Road close to Prince Edward MTR station, from where you can walk all the way Yau Ma Tei and step from one street market to the other.
Hundreds of types of flowers, trees, and ornaments, but also clothing, souvenirs, and accessories, will be set in front of your eyes.

The Avenue of Stars and the Star Ferry
As night falls, head towards Victoria Harbor on the Tsim Sha Tsui (TST) side, to take part in the Symphony of Light – a light and music display that takes place daily from 8 PM.
The best place to enjoy the show is from the Avenue of Stars, the local Hollywood Walk of Fame set on the harbor front.
To end the night in style, hop on the Star Ferry (the public transportation ferry) from TST to Central or Wan Chai and have another breathtaking view over the city from the sea.
And that's the best itinerary to spend 2 days in Hong Kong on a budget!
If you're still looking for things to do in Hong Kong, read about the best watersports in Hong Kong.
---
Eating in Hong Kong on a budget
The price of food in Hong Kong can be extremely high when you choose to eat at westerner places, but you can get away with a quarter of the price when eating local.
Hongkongers like their food a lot, thus everywhere you go there will be at least a few restaurants to choose from. Try the steamed dumplings, won ton noodle soup, beef brisket, or the fried rice in any local canteen and you will love it.
Don't leave without drinking a ying-yang coffee – a delicious mix of black tea, coffee, and milk.
A great place worth going to for good food and low prices is Electric Road just outside of Tin Hau MTR station.
The check will include a service charge and you don't have to leave a tip.
---
Currency, banks, and ATMs
The local currency in Hong Kong is the Hong Kong Dollar, a currency packed to the US dollar. When planning a trip to Hong Kong, it's good to keep in mind that you can pay by card at almost any restaurant. However, it's advisable to carry some cash as well, and you can easily find ATMs to withdraw some whenever necessary.
---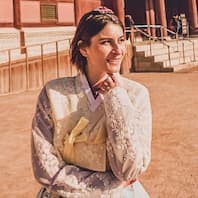 Ingrid is a travel blogger and book lover constantly searching for places and experiences that bring joy to life. She is originally from Romania, currently living the expat life in Seoul, South Korea, after 2 years in Hong Kong.
You can follow her stories on IngridZenMoments.
You too can become a guest blogger on The Travel Bunny. Just submit a free guest post.
More tips to spend 2 days in Hong Kong on a budget
Budget hotels & cheap hostels: Top 10 survival tips
5 tips to avoid paying commissions when you travel
Tips to spend smarter this travel season