In February, we bought our beautiful Bavaria 350 sailboat in the South of France. After the lockdown we spent in France, we worked on it a bit, and then we set sail. Puzzle, our Bavaria 350 Lagoon, safely took us from Saint-Raphaël in France to Piraeus in Greece, along the Italian coast. Our trip is now over and we are getting ready to switch from liveaboards to landlubbers once again. Sadly, we can't afford to take Puzzle back to France and keep her in one of the expensive ports on the French Riviera, which is why we are putting our Bavaria 350 for sale in Greece.
With the limited experience, we had when we got Puzzle, we quickly discovered that a Bavaria sailboat is swift and easy to sail. Furthermore, our wonderful sailboat proved time and time again that it is very strong and safe. We felt protected not only while heeling but also during strong winds and big waves. I mean, we even stayed aboard this Bavaria350 during one of the strongest medicanes in recent history and both us and the boat made it through in one piece!
---
Surveyor's opinion when we found this Bavaria 350 for sale
When we bought Puzzle in February 2020, we hired a surveyor. With him, we took the sailboat out at sea, and then also out of the water. He explained to us that as this Bavaria 350 Lagoon was built in 1993, it is way better than production boats from younger generations. It was made before manufacturers cut costs, which also meant cutting corners. He assured us that older generation Bavaria boats are manufactured from high-quality materials, both inside and outside.
According to our surveyor, while recent sailboats are sometimes more accessibly priced, they are less durable and not as strong. Plus, their interiors are made with cheaper materials that look good but they don't last as much and what they gained in looks, they lost in safety. (This is also confirmed by other sailors discussing this subject on many Facebook sailing groups.)
The interior furnishings of our Bavaria 350 Lagoon create a cozy and welcoming atmosphere. Its interior is not only elegant but also functional. This Bavaria sailboat comes with a lot of storage space, but also with integrated handles and accommodation rails that help keep you safe at sea, whether you're following the coastline or crossing oceans.
---
Bavaria 350 for sale: Technical sailboat specifications
| | |
| --- | --- |
| Length overall | 11.15 m |
| Length hull | 10.75 m |
| Beam | 3.60 m |
| Draught | 1.65 m |
| Weight (approx.) | 5,000 kg |
| Engine | 29 hp Volvo Penta IPS changed in December 2017, approx. 350 hours at the moment |
| Fuel | Diesel, 135 L tank |
Sailing boat Bavaria 350 for sale
Bavaria 350 boats are built by Bavaria Yachts, designed by Axel Mohnhaupt.
---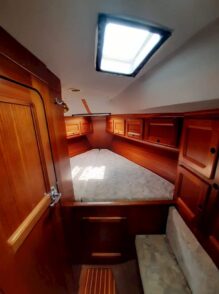 Bavaria 350 for sale: Fittings & equipment
Deck
Teak in cockpit
Pulpit, pushpit, guardrail
Deck was covered in an old non-slip sticker that was worn out. Replaced with cork manufactured for boat decks in June 2020. Advantages: durability, traction, sound-proofing, insulation.
Tensioners and lines rerouted to the cockpit
2 working winches with 2 speeds, self-tailing
2 genoa winches with 2 speeds, self-tailing
1 winch for mainsheet, self-tailing
Anchor box and halyard boxes
3 locker seats in the cockpit
Foldable cockpit table
Swimming platform with swimming ladder
Cockpit shower
Manual bilge pump
Ventilator head
Navigation lights.
---
Rigging & sails
Fixed rigging changed in June 2020
Double spreader rigging
Mainsail – mast reefing system with retractable lazy jack and cover.
Furling reefing for the genoa
Kicker
Besides the mainsail and the genoa, the boat also has a storm sail and a never-used spinnaker with sock.
---
Hull, rudder & ballast
Anti-corrosive cast iron keel
Antifouling from November 2020
Streamlined rudder with fore balance
Steering pedestal with an integrated single-level engine control
3-blade propeller
S/S wheel with leather cover.
Sandwich laminate
Sandwich laminate, a material with a comprehensive history of testing in practical application behind it — for example, in the aeronautics industry, and in mine-sweepers and ice-breakers built according to stringent military specifications — has been used in above-water applications and for the deck.
The intermediate sandwich layer is additionally inserted, considerably increasing the buckling resistance of the outer skin. The low heat conductivity of the inserted core material prevents the build-up of condensation water, making the Bavaria 350 Lagoon more comfortable.
Kevlar fabric
The increasing number of reports of sailing yachts colliding with heavy flotsam at night prompted the manufacturers to consider an effective penetration protection of the hull.
The use of Kevlar fabric in the outer laminate of the foreship above and below the waterline has achieved a high level of penetration resistance. Kevlar is well known for its use in the production of bulletproof vests.
The first layer of the laminate of the hull — after the fine isophthalic acid gelcoat — is produced from isophthalic acid resin in conjunction with powder bonded glass matting.
The combination of isophthalic acid resin and powder bonded glass matting creates a waterproofing layer that seals the laminate against the absorption of water and prevents the occurrence of damage by osmosis.
Impact edge
The keel flanges of the Bavaria 350 sailboats are laminated to double the requirement specified by Germanischer Lloyd and is also fitted with an impact edge. This construction triples the crucial impact speed safety factor, cutting out costly repairs.
Unidirectional S-glas
The danger of touching the ground has also been taken into account through the reinforcement of the floor timber, which also exceeds the regulations of Germanischer Lloyd.
By integrating unidirectional lays of extremely strong S-glas into the flanges of the bottom brace, its elastic deformation on running aground is reduced. This way, additional security against damage to the interior is achieved.
---
Instruments
Echo sounder installed on steering pedestal
Boat VHF station next to the navigation table + portable VHF
Helm autopilot
Electric windlass.
---
Electrical system
12V sockets
2x90W solar panels mounted on a strong stainless steel arch
Wind generator mounted on the same arch
2x145Ah domestic batteries changed in September 2020.
Inverter with 2 12V sockets and 4 USB ports
Electric bilge pump
---
Water supply
2 fresh water tanks (approximately 320 L)
Electric pressure water pump
Hot water
---

Interior arrangement of our Bavaria 350 for sale in Greece
Galley
Top-opening fridge that keeps the cold from spilling out when accessing contents
Gimballed gas oven + stove
Two deep round sinks with covers to increase working space.
Navigation area & saloon
Instrument board next to the navigation area
2 comfortable sofas that can be used for sleeping during passages
Foldable table with storage space for bottles
Speakers
Cabins
2 double cabins, one fore and one aft
Heads
2 heads, one fore and one aft
Both have Galley Maid toilets fitted with Jabsco manual pumps & rounded sinks
The one aft has a shower tap and an electrical pump for the greywater evacuation
Blackwater tank installed in June 2020, connected to the aft toilet.
---
Bavaria 350 for sale with the following extras
Tender
2hp Yamaha outboard
Coastal life raft for 4 people, bought in June 2020
2 inflatable life vests with lights
4 foam life jackets
Cockpit shade
Mosquito nets with velcro. (Can be removed without traces if considered unnecessary.)
---
After careful consideration, we are putting our Bavaria 350 for sale in Greece at €50,000 in the Attica region.
For more details/photos or to schedule a visit, please contact me by email or give me a call at +40 722 501 931.
Note: The Bavaria 350 for sale in Greece has a French flag and is EU VAT paid.
Bavaria 350 for sale in Greece

BAVARIA 350 TECHNICAL SPECIFICATIONS Length overall: 11.15 m Length hull: 10.75 m Beam: 3.60 m Draught: 1.65 m Weight (approx.): 5,000 kg Engine: 29 hp Volvo Penta IPS (changed in December 2017, approx. 350 hours at the moment) Fuel: Diesel, 135 L tank Built by Bavaria Yachts, designed by Axel Mohnhaupt. BAVARIA 350 FITTINGS & EQUIPMENT DECK - Teak in cockpit - Pulpit, pushpit, guardrail - Deck was covered in an old non-slip sticker that was worn out. Replaced with cork manufactured for boat decks in June 2020. - Tensioners and lines rerouted to the cockpit - 5 self-tailing winches - Anchor box and halyard boxes - 3 locker seats in the cockpit - Foldable cockpit table - Swimming platform with swimming ladder - Cockpit shower. RIGGING & SAILS - Fixed rigging changed in June 2020 - Double spreader rigging - Mainsail – mast reefing system with retractable lazy jack and cover - Furling reefing for the genoa - Kicker. Besides the mainsail and the genoa, the boat also has a storm sail and a never-used spinnaker with sock. HULL, RUDDER & BALLAST - Anti-corrosive cast iron keel - Antifouling from June 2020 - Streamlined rudder with fore balance - Steering pedestal with integrated single-level engine control - S/S wheel with leather cover. Sandwich laminate Sandwich laminate, a material with a comprehensive history of testing in practical application behind it — for example, in the aeronautics industry, and in mine-sweepers and ice-breakers built according to stringent military specifications — has been used in above-water applications and for the deck. The intermediate sandwich layer is additionally inserted, considerably increasing the buckling resistance of the outer skin. The low heat conductivity of the inserted core material prevents the build-up of condensation water, making the Bavaria 350 Lagoon more comfortable. Kevlar fabric The increasing number of reports of yachts colliding with heavy flotsam at night prompted the manufacturers to consider an effective penetration protection of the hull. The use of Kevlar fabric in the outer laminate of the foreship above and below the waterline has achieved a high level of penetration resistance. Kevlar is well known for its use in the production of bulletproof vests. The first layer of the laminate of the hull — after the fine isophthalic acid gelcoat — is produced from isophthalic acid resin in conjunction with powder bonded glass matting. The combination of isophthalic acid resin and powder bonded glass matting creates a waterproofing layer that seals the laminate against the absorption of water and prevents the occurrence of damage by osmosis. Impact edge The keel flanges of the Bavaria 350 are laminated to double the requirement specified by Germanischer Lloyd and are also fitted with an impact edge. This construction triples the crucial impact speed safety factor, cutting out costly repairs. Unidirectional S-glas The danger of touching the ground has also been taken into account through the reinforcement of the floor timber, which also exceeds the regulations of Germanischer Lloyd. By integrating unidirectional lays of extremely strong S-glas into the flanges of the bottom brace, its elastic deformation on running aground is reduced. This way, additional security against damage to the interior is achieved. INSTRUMENTS - Echo sounder installed on steering pedestal - Boat VHF station next to the navigation table + portable VHF - Helm autopilot - Electric windlass ELECTRICAL SYSTEM - 12V sockets - 2x90W solar panels mounted on a strong stainless steel arch - Wind generator - 2x145Ah domestic batteries changed in September 2020 - Inverter with 2 12V sockets and 4 USB ports - Electric bilge pump WATER SUPPLY - 2 fresh water tanks (approximately 320 L) - Electric pressure water pump - Hot water INTERIOR ARRANGEMENT The interior furnishings of our Bavaria 350 Lagoon create a cozy and welcoming atmosphere. However, it's not only elegant but also functional. This Bavaria sailboat comes with a lot of storage space, integrated handles, and accommodation rails that help keep you safe at sea, whether you're following the coastline or crossing oceans. GALLEY - Top-opening fridge that keeps the cold from spilling out when accessing contents - Gimballed gas oven + stove - Two deep round sinks with covers to increase the working space. NAVIGATION AREA & SALOON - Instrument board next to the navigation area - 2 comfortable sofas that can be used for sleeping during passages - Foldable table with storage space for bottles - Speakers CABINS - 2 double cabins, one fore and one aft HEADS - 2 heads, one fore and one aft - Galley Maid toilets fitted with Jabsco manual pumps & rounded sinks - The one aft has a shower tap and an electrical pump for the greywater evacuation - 115 L blackwater tank installed in June 2020, connected to the aft toilet. EXTRAS - Tender - 2hp Yamaha outboard - Coastal life raft for 4 people, bought in June 2020 - 2 inflatable life vests with lights - 4 foam life jackets - Cockpit shade - Mosquito nets with velcro. (Can be removed without traces if considered unnecessary.)
Product SKU: Bavaria 350 Lagoon
Product Brand: Bavaria Yachts
Product Currency: EUR
Product Price: 50000
Price Valid Until: 2021-12-31
Product In-Stock: InStock