Even if you've never visited Europe before, you're aware that it's an amazing travel destination. And since you're on this page, you're probably thinking about visiting Europe. But let's face it: Europe is not known as a cheap travel destination.
For the budget traveler, it's actually quite a challenge to visit the old continent. However, traveling Europe on a budget is possible. And, with proper planning and my tested advice, you will also learn how to travel Europe on a budget by the end of this article.
Disclosure: Some of the links below are affiliate links. This means that at no extra cost to you, The Travel Bunny will earn a small commission if you click through and make a purchase. Thank you!
---

Why should you travel Europe on a budget?
Before we tackle all the obstacles to planning your cheap Europe trip, let's dream a bit about the wonders of Europe. In short, here's what's waiting for you when you travel to Europe:
Historic buildings and sites, true gems of the past
Picturesque streets to wander on from sunrise to sunset
Beautiful mountains and white sandy beaches to spend time outdoors
Wonderful cuisine, which can be found not only in restaurants but also in the street
Award-winning wine, even in less-known European countries
Huge amounts of beer, with lively festivals dedicated to it.
There are numerous other things to do in Europe. Those are only some of the reasons why Europe is where I always end up planning my next trip. There are so many countries with cities rich in history and wonderful landscapes that it's difficult to consider going farther when there's still so much to see here. I kind of feel the need to leave no stone unturned before heading to new horizons.

Learn to travel Europe on a budget with The Travel Bunny
If you've been following The Travel Bunny blog, you've probably noticed that I'm a budget traveler myself. It doesn't matter if I'm traveling solo, with Mathieu, or with a group of friends. I will always choose to travel on a shoestring budget because the more money I save the more things I can do and the more places I get to visit.
Years of traveling for cheap in Europe have helped me gain a lot of experience in the field of budget travel planning. That is why I believe this travel guide I put together will provide you with valuable information on how to travel Europe on a budget.
Read on to learn how to travel more and spend less when you visit Europe!
---

When is the best time to visit Europe on a budget?
While Europe is great to visit at any time of the year, the first thing to consider when planning your budget-friendly trip to Europe is when it's cheaper to visit. Taking into consideration the availability and price of flights, accommodation costs, and how crowded popular destinations can get, the best option to travel to Europe on a budget is visiting during the colder months. In other words, plan to visit Europe between November and March.
Although you won't be able to take long strolls in the parks or enjoy going on a boat cruise, booking a trip in winter will get you cheaper flights to Europe, affordable accommodation, and lower ticket prices to visit museums and other tourist attractions. Choosing to visit Europe during its low season will make your money go a long way. It's your best option while traveling Europe on a budget.
After the colder months, your next best option is to book your Europe trip in spring, in April or May, or in autumn, in September or October. While the prices are slightly higher than in winter, the weather is better for spending time outside. And, when compared to spending summer in Europe, you're still saving a lot of money!

When to skip travel Europe on a budget?
The best option for your budget is to avoid traveling to Europe during the summer months and during the winter holidays when it's high season. In those periods, there are lots of people heading to Europe, and you'll find that airfare prices skyrocket, while hostels and hotels more than double their prices. Even so, European cities are packed with tourists, and everything is booked.
Keep in mind to avoid the holiday season if you're visiting Europe in winter. Prices are higher during the holidays, as people living in Europe travel themselves to ski resorts or other popular destinations in the cold season. Christmas markets also attract a lot of tourists.
---

What's the cheapest way to travel Europe?
When you travel Europe on a budget, there are several ways to get from A to B: budget airlines, buses, trains, car sharing, hitchhiking, or booking a tour.
If you search and book in advance, you will discover it's easy to find cheap transportation or amazing deals no matter the way you choose to travel Europe. And just like that, traveling Europe on a budget isn't as big an issue as you may have imagined!
How to easily find budget transport in Europe
Use flight aggregators/transportation search engines. Use flight aggregators/transportation search engines to quickly compare prices and choose the most affordable route when planning your travel itinerary.
Book your tickets in advance. Book your tickets in advance, to get better deals and to find a place when it's most convenient for you.
Check for discounts. Check for any discounts which may apply when you make your booking. E.g. discounts for students, seniors, groups, or families traveling with children under a certain age.
Use the free Honey Google Chrome extension. Join Honey to automatically find coupon codes and get discounts when booking your travels online or doing any other sort of online shopping.
If you're on a really tight budget, try spending more time in each destination and less time traveling from one city to the next. While you may reduce the number of European cities you'll visit, you will get to discover more in each one. It's just a matter of perspective that will help you as you travel Europe.

How to find cheap flights to Europe
There are so many airlines which make traveling long-distance in Europe on a budget possible. But how do you find the best flight deals for traveling to Europe without spending too much time tackling this task?
Well, with flight aggregators like Google Flights, Omio (former GoEuro), Skyscanner, Momondo, Expedia, and Kayak you're just a few clicks away from your cheap flight to Europe. While Omio offers the option to also search not only for flights, but also for trains and buses, Momondo has all of Europe as a destination, and Skyscanner allows you to set your destination as Anywhere.
This kind of tool makes it infinitely easier for you to choose the most affordable place to fly to in Europe and design your itinerary from that starting point.
As for Kayak, I'm adding it to the list because it's Mathieu's go-to website when looking for cheap flights. However, he rarely books using Kayak. Normally, he just spots the cheapest option and then books it at a lower price on the airline's official website.
Oh, and another great flight search website I've recently come across but haven't yet tested is Escape. It color-codes the flights leaving from your current location to everywhere in the world, green pointing out the cheapest available plane tickets at the time of your flight search.

How to find cheap plane tickets beyond flight aggregators to travel Europe
Check the official websites. Usually, you can find some really good deals available on flight aggregators. However, it's good to always check if an airline has cheaper flights to Europe on its official website. Search if they are offering any deals or if there are any discount codes that weren't mentioned by the flight comparison websites.
Browse in incognito/private mode. I have heard and read stories about flight ticket prices increasing with each new search. Try browsing and booking while having your browser in incognito / private mode. Better to be safe than sorry!
Set up airfare alerts. If you can't find cheap flights to your dream destination in Europe, set up airfare alerts for different airlines, and be patient. Wait to be notified when flight ticket prices go down to book your ticket(s).
Choose a different starting point. If the prices for plane tickets stay the same or keep increasing for your dream destination in Europe, choose a different place as the starting point of your Eurotrip.
Then, just hop on a connection flight with a budget airline like Aigle Azur, Blue Air, Eurowings, EasyJet, Flybe, Norwegian Air, Ryanair, Vueling, or Wizz Air. European budget airlines offer cheap flights which can cost under € 20. But please read their airline restrictions carefully when you book your cheap flight, to avoid paying unnecessary extra fees.
You can also find cheap connections by using trains and buses to travel in Europe from A to B on a budget. However, in Romania, in my home country, I found out that taking a plane can sometimes be more cost-efficient than going by train to the same destination. So, to save money, it's best to check all your options before making a decision.
Book your flights early. It may be cost-efficient to choose the above-option right from the start. The earlier you book your flights, the cheaper your plane tickets are going to be. (Yes, I know about those late booking seats, sold cheaper just to fill all the planes. But are you willing to risk it when it comes to your budget for visiting Europe?)

Choose to travel light with only a carry-on bag
Baggage fees can increase the cost of your initially cheap flight to Europe. In addition, you risk your checked bag to get lost, damaged or stolen, which can give you an off-start when you travel to Europe.
Traveling with carry-on luggage comes with several other advantages, besides saving money. To make packing light easier, you should check out my essential guide to the ultimate carry-on packing list. It will help you pack like a pro in no time and be on your way to travel Europe!

How to travel Europe on a budget by train
Traveling in Europe by train has the advantage of actually seeing more of the countries you're visiting, instead of the somewhat similar airport scenery and plane interiors. Exploring Europe at a slower pace also supports sustainable travel, and it's a good option to consider if you have time to spare during your Eurotrip.
However, choosing to visit Europe by train isn't always the cheapest option out there. While it is the most affordable option for short distances, train travel tends to be more expensive for longer journeys. Not to worry, though: there are several rail passes which can make train travel in Europe more budget-friendly if you book your tickets in advance!
You can read this comparison between international train passes, as part of my Athens travel guide. Though focusing on railway services in the countries from southeastern Europe (Balkans), I also mention some options valid for budget train travel in all of Europe.

How to find cheap train tickets to travel Europe
Consider booking an overnight train. To save money and time, consider taking an overnight train. You'll save money on accommodation for one night, and you'll save time by getting to your next destination in Europe early.
Book your trip well in advance. To get the best possible deal on your train tickets in Europe, book your trip well in advance. Prices tend to increase as the departure date gets closer and the number of available seats gets lower.
Check if you're eligible for any discounts. Are you a student or a senior citizen? Are you traveling in a group and/or with children? Then you may be able to save some money when booking your train tickets to travel Europe!

How to choose cheap bus travel to travel Europe
Tried and tested by many, traveling through Europe by bus may be the most affordable option to explore the old continent. It may not be as comfortable as traveling by train, and it will definitely take longer than traveling by plane, but it's a lot cheaper to go by bus in Europe.
There are several companies offering buses to travel Europe cheaply. Below, I have listed the bus companies in alphabetical order, to make your research and selection easier:
Busabout
Busabout is a hop-on / hop-off bus service, offering various routes to travel in Europe. I first learned about it from an Australian girl, whom I met in a hostel in Dubrovnik. She was booking her next destination only 2 or 3 days in advance, depending on accommodation costs and availability, so Busabout offers a lot of flexibility. She also told me she noticed that while most Europeans had no idea of it at the time, Busabout is very popular with Australian travelers.
Busabout is a popular option for solo travelers. Besides coming with a guide, your hop-on / hop-off pass may also include some group activities, which can help make mingling a lot easier, especially if you're shy.
A disadvantage of Busabout is that you are limited to visit only their available routes. If you wish to wander off the beaten path, you will have to look for a different way to get there. That's an extra cost you should consider when planning your Europe travel itinerary budget.
---
Eurolines
Eurolines combines the national bus services available in the countries from Europe. They're not as comfortable or flexible as other bus services in Europe. On the other hand, Eurolines has the advantage of offering more routes.
Therefore, Eurolines can provide you with more freedom when choosing your destinations to travel Europe, but it will be more difficult to change the date/time of your ticket or cancel it in case you change your mind.
---
Flixbus
The most popular option for traveling Europe by bus is, without a doubt, FlixBus. Their buses are comfortable, they offer a lot of space for your luggage, you have wi-fi to stay entertained during your ride, and you also have electrical outlets to charge your electronics as you go.
Flixbus covers 28 European countries with over 20,000 destinations to choose from. And the best part? Ticket prices start as low as € 5.00!
Those looking for a bit more flexibility while visiting Europe should check out Flixbus's Interflix Euro bus pass. With it, you can choose to travel to 5 cities over 3 months or less. And it costs only € 99.00. The Interflix Pass offers probably the cheapest transport option in Europe. That's why it's a popular choice with spontaneous budget travelers.
---
Megabus
Megabus is probably the cheapest option for traveling through the UK. To travel Europe in other areas, it's under the Flixbus umbrella. However, for discovering England, Scotland, and Wales, it's probably the most convenient, with tickets starting even as low as £ 1.00.
For traveling through the UK, compare Megabus with National Express to get the best possible deal.

How to travel in Europe by car and on a budget
If you're most comfortable when traveling by car, then you should definitely consider this a viable option for when you visit Europe. Another advantage to travel by car in Europe is that you'll get to explore small cities and the countryside more than by train or by bus.
There are three alternatives to explore Europe by car: renting a car, using BlaBla Car or a similar service, and hitchhiking. Below, you'll find all three options to visit Europe by car detailed.

Renting a car to travel Europe
For people in the US mostly, to cut costs on renting a car in Europe is to know how to drive a stick. Renting a car with an automatic transmission will cost more.
Another thing to keep in mind is the extra costs of crossing with the car to another country or dropping it off in a different city. For example, I recently checked for renting a car for four days from Constanța, Romania. Dropping the car off in Constanța means renting the car for well under € 100. Dropping the car off in Bucharest leads to costs just under € 500. So we'll be renting the car to explore the seaside and the Danube Delta, return it to Constanța, then take a train back to Bucharest.
When planning your budget for visiting Europe, don't forget to take into consideration all the extra fees for renting a car. This can anything from insurance, bridge/road tolls, and fuel to parking fees. For example, in Romania, you pay a vignette which costs € 28 per year, offering you access to all our roads (minus the bridge toll to the seaside), while to get from the South of France to Monaco will mean paying more than that in just one day. And while in Romania we consider a 10 RON parking fee per day high for the capital city (thus, a bit under € 3.00), for visiting Paris or Monaco you may not even cover one hour of parking with the same amount of money.
While there are many downsides to renting a car in Europe, in some countries or places it's worth it to gain extra freedom. And some parking is free. Therefore, do your research for your destination before making the decision to rent a car in Europe. After that, you can compare prices just like you would for flights with a website like Expedia.
Renting a car to travel Europe is a very good option for families and groups.

Using BlaBlaCar to travel in Europe
If you are searching for the cheapest way to travel Europe, you should definitely consider BlaBlaCar. It is a widely-spread car-sharing service which is very popular in Europe. This carpool service has become so popular that when you are searching for directions, Google Maps lists BlaBlaCar as a mode of transport, next to driving, buses, and walking.
Is BlaBlaCar the best choice to travel Europe in your case?
BlaBlaCar works on a review system similar to the ones on Airbnb or Couchsurfing, so you can learn in advance about other people's experiences. However, to play it extra safe, you can also share your live location with a friend via Facebook Messenger or Whatsapp during the car ride.
As for BlaBlaCar being the right choice, this service is useful to you if:
You're traveling solo and you have your own car, and you want to take other people to keep you company and cut costs while you travel to your destination.
You are looking for an affordable and friendly way to visit Europe. You get to meet a local who can show you the sights and/or meet a fellow traveler.
Search and you will find car rides for prices as low as € 5!
The ride-share service BlaBlaCar is a popular choice with backpackers.

Travel Europe by hitchhiking
If you're traveling in Europe on a really tight budget, you should consider hitchhiking to travel Europe cheaply. However, every time you hitch a ride, you take a risk, because you know nothing about the driver and their possible companions. At the same time, you also know nothing about the driving skills of that person, so you may waste a lot of time if they are a slow driver or you may risk your life if they aren't careful while on the wheel.
You may end up with a great road companion, of course. However, on the idea of wish for the best, but prepare for the worst, trust your gut and get out if anything feels wrong to you. And before you get in, make sure a close friend or a family member know where you are going and kind of when you should arrive there if all goes well. As with BlaBlaCar, you can also share your live location through a mobile app.

Sustainable budget travel Europe: By bike
If you can ride a bike and you don't plan to cover long distances in a short time, you can definitely try to travel Europe by bike. We have some friends who are currently traveling through France's countryside by bike, staying at farms, and learning about farming and traditional crafts.
Visiting Europe by bike is a great slow travel option, where you can get in touch with nature, test your limits, and protect the environment while fulfilling your dream.
Try Warmshowers to make some new like-minded friends. It's a website similar to Couchsurfing, only created for the community of cyclist travelers.
---
How to find budget accommodation when you travel Europe
After your flight and transportation in Europe, accommodation will be your biggest cost to add to your travel budget. And depending on your destination, finding budget accommodation when you travel Europe isn't always easy.
For example, we booked Dublin over 3 months in advance and paid more than € 100 per night on a room close to Temple Bar. But, in the Balkans, without any prior booking, you can get a double room with a for as low as € 20 for the night. I have no idea about London and Paris because I have always stayed with friends or future family. However, in these expensive capital cities, I know from others how difficult it is to find decent accommodation while traveling on a budget.
How to find budget hotels when you visit Europe
Compare prices before booking your accommodation. Like when searching for cheap ways to travel in Europe, it's important to compare prices before booking your accommodation. Look for a cheap place to stay in Europe on aggregators like Airbnb, Booking or Trivago, but also on individual hotel websites. To save time, you can jump straight to searching for a place to stay on HotelsCombined. As the name suggests, the HotelsCombined hot deals come from most of the accommodation aggregators mentioned above.
Don't book accommodation right in the city center. While you save money and time on transportation, it will be difficult to adjust to the high accommodation costs when planning your budget to travel Europe. Instead, look for something located one or two bus/subway stations away from the main points of interest. For example, in Rome, we found a budget-friendly place to stay just 20 minutes away by foot from the Colosseum. It was also away from the loud city center, allowing us to get proper rest and enjoy our Rome holiday.
Avoid cheap hotels located near the airport or too far from the city center. While you will save money on accommodation costs, you will spend more on transportation. Even if you have a public transport pass, it normally doesn't cover getting to and from the airport. In addition, you will also waste a lot of time in transit, maybe even stuck in traffic, instead of visiting beautiful Europe, which is your actual goal.
Keeping these travel tips in mind when you travel Europe, let's take a closer look at options you have for staying in Europe on a budget.

Budget-friendly hotels in Europe
If you search a while, you'll discover that there are plenty of cheap hotels all over Europe. Sure, not all of them look inviting. As long as you don't have high expectations, you will, however, find something suitable within your price range.
If you are looking for a comfortable and affordable place to stay in Europe, book your accommodation with a budget hotel chain, such as Ibis or UK's Travelodge.
Keep in mind that a cheap hotel can sometimes be more affordable than a hostel, especially if you are traveling with friends and/or family.

Affordable hostels in Europe
Sometimes, the best choice is booking a hostel in or near the city center. It's not only an affordable place to stay, but also a convenient one, as it's located within walking distance of everything you want to visit.
Of course, hostels in the city center are budget-friendly only if you're staying in a dorm. Otherwise, getting a room in a hostel can lead to higher costs than booking a cheap hotel.
Unless you've stayed in a common dorm before, here are some disadvantages you should consider first:
Not all hostels have curfews. This means that while you're trying to get some sleep, others may want to party. For example, when we stayed at the Wanderers Hostel in Shkoder, Albania, we annoyed one of our travel companions. He and another traveler wanted to sleep, while the rest of us were doing karaoke with the hostel staff, too.
A good rest is difficult to get in a shared dorm. Even if there is a curfew, some people snore. Or they talk in their sleep. Or they go in and out of the room during the night. You may want to pack earplugs and a sleeping mask if you're staying in a hostel, but that won't always be enough.
You don't have a lot of privacy in a common dorm. Beyond the idea that some hostels have mixed dorms, you're kind of always out there in the open with everybody. I recently read in a group for women who travel how difficult some people find it to wash and dry their underwear in a hostel in plain sight of everyone else. So this is something to have in mind, as well.
You share the bathroom with everyone. And depending on how many toilets or showers are available, you may be in for quite a wait when in a hurry.
All things considered, staying in a hostel is great! You end up meeting new people and making new friends, you discover new things to try and see, and you step out of your comfort zone more often.
I actually asked Mathieu to try booking hostels more often in the next few years, as many have an age limit and/or won't accept kids. There are, however, hostels who take in guests over 34 years, or even family-friendly ones. It's just a bit more difficult to book them in some places in Europe.
If you've decided that staying in a hostel is the best option for you, you can easily search for available places and book your stay through Hostelworld.
If you're moving a lot from one place to another when you travel Europe, try booking hostels which are part of a chain, as you'll usually get more perks when you get there. (As in free laundry, drinks, snacks, etc.)
To save money when you travel Europe and make your stay more comfortable, look for hostels which include breakfast, coffee, and tea in their prices. Oh, and wi-fi, too!

Renting an apartment in Europe
Depending on the length of your stay in Europe, you can rent an apartment for a few days or a few weeks. Depending on the amount of privacy you want, you can rent a room in somebody's house or the entire apartment. Either way, renting an apartment is one of the cheapest options to stay in Europe when you're traveling in a group of friends or family.
Airbnb seems to be a favorite among the other budget travelers I know. It offers some really great deals and gives travelers the chance to live like a local when they visit Europe.
While we've had some really great experiences with Airbnb, we also had a horrible one in Berlin, last year. The apartment was dirty, the host left a rotting avocado in the fridge, dirty dishes in the sink, used and wet towels in the bathroom. And I discovered all that after a bus ride to pick up the keys from a restaurant. Keys which only opened the apartment, but not the building. No answer from the hosts until after our stay would have been over. It was an issue to even return their keys, too.
Airbnb's customer support was of no help on the phone because the booking was done by Mathieu, yet I was the calling while he was still at work. And, in the end, we only got back the money from the host. Airbnb never refunded us their commission, though we booked something promoted by them. Oh, and we can only book through Mathieu's account because mine got suspended and nobody from Airbnb will tell me why or how I can get it back.
Therefore, if we can help it, we rent apartments through Booking.com. Not only have we had only amazing hosts, but we also get lots of discounts. In Berlin, we actually left the Airbnb and found a really good last-minute offer on Booking for a nice hotel, where we stayed for the entire weekend.

Camping in Europe
Probably the cheapest option to stay in Europe is going camping. You can find campsites to set your tent or to rent a camper van, a small cabin, or tent even in major cities in Europe. There are some who even have shared dorms.
While some campsites are located in the city, there are others in the outskirts. You save some money with accommodation, but you should check how much higher your transportation costs will get. See if it's worth it before booking.
As a camper, you will come across campsites with fully-equipped kitchens, proper showers, and laundry services. And, if you have your own tent, you could even go camping for free in the mountains, like some of our friends did when they came to Romania. (The same ones who are exploring France by bike now!)
And, if you're traveling with children, choosing a campsite can be a fun experience. They usually have playgrounds, and you don't have to worry that much about what will happen to your child if they go play outside for a bit like you would in the city.
You might also enjoy reading
Backpacking in the mountains: A guide for newbies
How to prepare for your first backpacking trip to Europe

Couchsurfing in Europe
During your budget travel Europe adventure, you should also consider finding some free accommodation. This is possible with Couchsurfing, where hosts are forbidden to charge money for having you over. Accepted currency consists of travel stories, friendship, or sharing a skill with your host. It's kind of like staying over at a friend's place, only you just met them.
If you're worried about your safety, look for verified hosts with a lot of good reviews. And make sure you're in a different bed from your host, if not in a separate room.
To be a good couch surfer yourself, you should update your profile, write nice messages well before your travels when contacting your host, and be on your best behavior during your stay. Make sure you leave honest feedback after meeting other couch surfers, too.
If you travel Europe by bike, Warmshowers is a similar community for traveling cyclists.

House-sitting in Europe
Locals travel, too. And when they do, they sometimes look for housesitters. In exchange for your stay, the place isn't left empty and vulnerable to burglars, their plants get watered, and their pets are cared for.
You may even end up staying in Europe rent-free in expensive cities, like Paris or London. You live like a local and you don't have to share the space with anyone else. And just think of all the things you can do with the money that would have covered the accommodation instead!
You can look for housesitting opportunities on Trusted Housesitters. However, as homes in popular destinations go out fast, it's a good idea to keep an eye on their twitter, too.

University rooms in Europe
Even if you're not a student, you can save money and book cheap stays in empty university rooms. While the rooms aren't anything special, they are comfortable, and they sometimes come with breakfast, too.
You can book university rooms here in Austria, France, Ireland, Italy, Malta, Portugal, Spain, Turkey, and the United Kingdom. However, you can find university rooms beyond this website, too. In Romania, for example, I know the ones in Cluj get listed online as soon as the dates of the next Untold music festival are made public.
---

How to save on food costs in Europe
You've got your flight tickets, you booked your transport and accommodation in Europe. The next thing to budget in is the food and drinks while you visit Europe, one of the major expenses when traveling.
As a budget traveler in Europe, you should plan to spend under € 50 per day. Of course, the food budget varies a lot depending on your destination. It's hard to compare the cost of a meal in Sweden with one in North Macedonia, for example.
While in North Macedonia you can eat at restaurants frequently and come under the daily budget, in Sweden you'll probably search for lunch specials and explore the supermarkets to do some cooking on your own.
Either way, it's good to plan a higher budget for the food than what you estimate initially. You'll be in a new place, you might see a nice, inviting terrace or a friendly pub you'll want to visit along the way. Or your friends might want to go out a bit more and you'll want to go with them. It might be difficult to find a grocery store in the area or perhaps you'll feel too tired to cook after an intense day of exploring the city. Whichever the case is, if your budget is a bit higher, you plan for the unexpected. And if you end up spending less, you can treat yourself in the last part of your holiday.
No matter the destination, look below for some tips on how to eat on a budget in Europe:

Eating out in Europe
Tasting local cuisine should be a part of every travel experience, and therefore it's important to eat out and try various establishments. However, this shouldn't mess with your budget too much.
How to try local cuisine at a smaller cost
Limit the times you eat out. Try to limit eating out at a restaurant to only once per day.
Instead of going to a restaurant to have dinner, go for lunch. There are many establishments offering excellent lunch specials/menu of the day, usually including an entrée and a main course or the main course plus dessert. If they're generous, the menu of the day comes with all three: entrée, main course, and dessert. Sometimes they also include some sort of beverage, as well.
Eat where the locals eat. When choosing where to eat, look if the place is empty or busy. Then, if the customers are locals or tourists. If it's mostly tourists, try going one or two streets farther away from the attractions. I always look for a place popular with locals not only because it might mean more affordable prices, but because it's generally a sign of good cooking.

When in Rome (or any other European destination)
Depending on where you're going, there are some moments of the day when you can eat well and for cheap if you pay attention to the restaurant signs.
For example, in Italy, you should look for tavola calda, which are cafeterias that offer homemade food at low prices. You should also search for establishments serving pizza al taglio, which is a lot cheaper than the one you get in a regular restaurant.
There are places which serve aperitivo in Italy, in the evenings, after 19.00. With every alcoholic drink you order, you get a snack or access to a buffet. When we had the walk from Vatican City to Trastevere, we stopped to have some Sangria, and we were given huge plates of homemade potato chips with salt and pepper on top. And then we got the second row of Sangria, which came with another huge plate of delicious chips. If we hadn't returned to the hotel late that day, it would have been enough to skip dinner afterward.
Other snacking opportunities to keep in mind while visiting Italy are the cicchetti in Venice. These small snacks are served in traditional small bars or osterie called bacari. The cicchetti can be small sandwiches, olives, small servings of seafood, meat, or vegetables. The prices can be as low as € 1 per serving, and, just like with the Spanish tapas, you can order several dishes and combine them to make a full meal.
Speaking of the Spanish tapas, there are still traditional bars which offer some with every beer you order. It's similar to the Italian aperitivo, mentioned above.
Another opportunity to eat on a budget in Spain is to look for a bakery or panadería. There, you can find empanadas: baked or fried stuffed pastry served hot or cold.
In Greece, you can also save a lot by opting for pita gyros or souvlaki instead of having them on a plate. The servings are smaller, but they are normally enough for a meal.

Eat street food
When you travel Europe on a budget, street food is a great way to explore local and international cuisine without spending too much money. You can find food stalls on the street, as you go, but you can get a wider selection if you go to a food market.
In Italy, you can find the Mercato Centrale in both Rome and Florence, offering street food, but including other types of food establishments, too.
In London, Mathieu and I really enjoyed eating street food in Camden Market and Borough Market. And in Dublin, we took advantage of the weekend food market in Temple Bar, where we had some delicious hot potato pies and huge cookies.
Before you travel to a place, search for permanent or temporary food markets in the area. I always attempt to try the street food and I try to plan what I visit in a day depending on when and where the food markets are.
Sometimes, you can come across street food festivals or festivals that also have street food. See if you can find any during the time you visit. This way, you'll get dinner and a show!

Shop locally and cook your own meals
A great way to explore a city is to visit the local markets, like farmers' markets. While you're there, search for the fresh local produce and buy whatever you need to cook your own meal where you're staying. Search for the best deals and take a look at what the locals are buying to make the best choices. You can also ask your host/receptionist where they go shopping for groceries in the area: they might lead you to some great bargains.
And when you're cooking, it doesn't have to be something complicated and you can even attempt to prepare something specific to local cuisine. It's quite easy to make your own Caprese salad or Greek salad, for example.
You can also go to a nearby supermarket and choose ingredients to cook your own comfort food or you can buy frozen meals of local cuisine. The presentation won't be the same as in a restaurant, but it's ok for the price you'll be paying.
Try cooking your own meals at least once per day and you'll be amazed by how much money you can save to spend on other things during your travels.
N.B. Of course, cooking your own meals when you travel is an option for you as long as you are staying in a place with a private or shared kitchen. This happens most often when you rent an apartment, housesit, or choose to stay in a hostel or camping site.

How to save on food costs in Europe
Free breakfast? When selecting your accommodation in Europe, choose a hotel or a hostel that offers free breakfast. It will usually be a continental breakfast, although sometimes it can be just some sweet or salty pastry. That's what I had at the Wanderers Hostel in Albania, but it was enough to keep me full until lunchtime.
Go to the bakery for breakfast. If you don't have breakfast included with your stay, you can look for a nearby bakery. It's a really convenient and fast option I've chosen in countries like Italy, Greece, and France.
Go for a picnic. You can do some quick shopping in a supermarket and come up with everything you need for an awesome meal. In most cities, you can go to a public park or garden. In Paris, you should try having some bread, cheese, and wine on the shore of the Seine. And if you're near the sea you could have a picnic on the beach or sitting on a rock while watching the sunset.

Drinking in Europe
In Europe, you have a lot of options for excellent beer and wine, together with specific local alcohol. I advise you to try the local types of alcohol just to learn what they're about, at least. And, when it comes to beer and wine, choose what it's advisable depending on your destination.
For example, you get a great selection of stouts in the UK and Ireland. However, even the well-known Guinness doesn't taste the same once you step out of Ireland. And the same goes for German beer.
Then, you have places like France and Italy which are well-known for their wines. And there are places which will surprise you with their wines, such as Romania and Moldova. While full of flavor, the wines of the latter are a lot stronger than the French ones, with around 14% alcohol. (After enjoying the Romanian Fetească Neagră variety of wines, Mathieu finds the French wines at home kind of light, even a bit watered-down, though still delicious.)
In Greece, however, I advise you to go for a beer or bottled wine when eating out. The red house wine is rarely good, especially in Athens. And it's sometimes brought to the table in weird sealed plastic bottles similar to those for soda.
As far as whiskey goes, it's a lot cheaper in countries which produce it. However, though France is rising as a whiskey producer, the prices are higher than in the UK, for example.
---

How to save money while visiting Europe
Well, you've booked your flight tickets, decided on transportation and where to stay in Europe, and already budgeted your food allowance. The next step is to decide what you must visit and do in every European destination. And when I say must I mean what you really want to see in the time you have available.
If the attraction or activity isn't available at all times and/or free, visit the official website. There, you should learn:
When you can visit, to avoid adding that attraction to your itinerary in a day or at an hour when it's closed
How much does it cost to visit, to add the amount to your budget plan
If you can book your ticket online.
Booking your ticket in advance can limit your flexibility because you have to be in a certain place on a specific day and maybe at a specific time. However, it usually means you can skip the line and save a lot of time in places popular with tourists.
Booking your ticket online can also mean saving money or getting the option to get a combo ticket, offering access to other places as well, at a discounted price.

Discover Europe with free walking tours
There are free walking tours available in most European cities. They last at least one hour and take you to the most important places in the city with information and explanations given by a passionate local. In the end, if you enjoyed the tour, you can offer a tip to the guide.

Book activities and tours in Europe
Great deals on specific activities and tours are available via my affiliates, GetYourGuide, Viator, Tours4Fun, or The Tour Guy. I analyze them often and I update the Traveler's Shop with their best offers for trips, tours, and activities. Have a look and you'll most definitely find something to travel Europe on a budget!

Get a tourist pass
In some European cities, it's worth it to get a tourist pass. Not only do they offer free access to the main tourist attractions and discounted access at others, but sometimes they also have transport included or available at a lower cost. Other perks of getting a tourist pass are skipping the line and discounts in selected restaurants and/or shops.
It's always good to see if the tourist pass actually includes what interests you. Otherwise, it might be cheaper to get the ticket and transportation separately. Remember to always make a comparison and choose the most convenient option.
Try to plan your itinerary in order to limit the number of days you need the tourist pass.
---
Getting around European cities on a budget
While tourist passes can include public transportation, you might not always find them to be the best option. Perhaps it's more convenient to book attractions and transportation separately or maybe the place you're visiting doesn't even have a city pass. Whichever the case may be, you can always opt for public transportation, private transportation, and walking as you travel Europe.

Public transport in Europe
A great way to discover a city like a local is to use public transportation when you travel Europe. It's not only one of the most convenient options, but it can also help you discover new means of transportation. Not all cities come with subways, boats, double-deckers, or trams!
If you'll be using public transport when you travel Europe, do your research for each destination on your itinerary and find out if it's cheaper to get single tickets, day passes or passes which cover a longer period of time.
Check if you're lucky and the day pass includes transportation to and from the airport for cities where you'll need to arrive or leave by plane.

Hop-on hop-off buses
If you're short on time or have some mobility issues, you can discover a lot in a new city with a hop-on hop-off bus when you travel Europe. While we chose to go on one in Vienna because Mathieu hurt his ankle, in Florence, I find it a must. It gives you a whole new perspective of the city and its narrow streets when you stay on the top deck. However, in London, where public transportation already offers some great routes in double-deckers, I find tour busses less interesting.
If the city you're visiting is located on a navigable river and/or has lots of canals (e.g. Amsterdam) look for hop-on hop-off cruises.

Renting bikes and scooters
If you're up for it, you can rent a bike or a scooter to explore the cities when you travel Europe. Not only will you avoid traffic while sightseeing, but you will also save some time. Not to mention that cycling is a great way to stay fit while traveling.

Walking all over Europe
Walking is probably the best way to discover European cities. Not to mention it's absolutely free! As long as your feet can keep up, you can go anywhere, especially on those picturesque cobblestone streets you've seen all over Instagram!

Taxis and Uber
Believe it or not, in some countries taxis and Uber can be quite affordable! It's convenient to opt for a taxi or an Uber especially if you're traveling with friends or family.
First time using Uber?
Use the code mirela45ue when you sign up and earn a free trip!
---

You're ready to budget travel Europe!
Given all that we've covered above, you're ready to budget travel Europe! If you need any help with planning your itinerary, feel free to get in touch.
---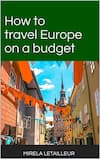 How to travel Europe on a budget
A travel guide that will teach you how to see even the most expensive travel destinations in Europe on a small budget. Buy this guide to learn how to lower your Europe travel costs.