In Tirana, we parted ways with Simon. He went to Kosovo, and we continued our Balkan road trip through Albania. But until he left, he talked on and on about this wonderful travelers' oasis called The Wanderers Hostel (not The Wanderer's Hostel, mind you!). He said it's the best place to stay in Shkoder!
He said we might meet him there again, but nothing was certain when it came to him. That is because he didn't believe in mobile phones and other such technology. He left us in the middle of the night, to catch his bus, without saying goodbye, and uncertain if our paths will cross once more.
Disclosure: Some of the links below are affiliate links. This means that at no extra cost to you, The Travel Bunny will earn a small commission if you click through and make a purchase. Thank you!
---
Arriving at the Wanderers Hostel in Shkoder
In the morning, our trio had a good breakfast, then headed to Shkoder. We arrived there around noon, and it was very crowded and difficult to find some space since we had no reservation, but they were all so welcoming and nice.
After we set up our stuff, then went on the terrace and had some tea or some coffee. We washed and hung to dry almost all our clothes, then we went for a quick bite in the nearby center. At last, we could finally be lazy for a bit!
---
The Wanderers Hostel's awesome staff
We met and hung out with all the staff members and friends, but I spent more time in the company of Suhejl, Hasna, and her brother, Burim.
Suhejl and Hasna got the party started in the evening with some group karaoke on the terrace*. Until a certain German guy said that people come here to sleep, not listen to our noise. So we went to a bar, where we had some raki, and, while sipping from a Cuba Libre, started chatting with Burim.
Now, he's studied history and can also have really interesting chats on politics, religion… and relationships. And, also, like Hasna and Suhejl, he is an artist. He works on wood, doing pyrogravure, and is quite talented at it.
Ana and I were the first to return to the hostel, as the plan was to get up early the next day, take the ferry on Lake Komani and head to Theth National Park for a hike.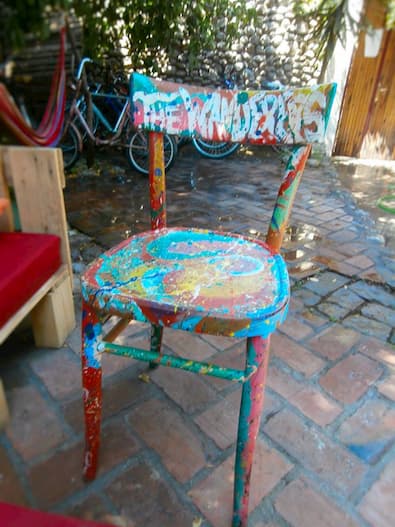 ---
The best place to stay in Shkoder
In the morning, as I felt like home at The Wanderers Hostel, I chose to stay there until my friends returned from the mountains. I would spend my time chatting with people, swinging in the hammock, and taking the Komani Lake ferry ride the next day, just for the beauty of it.
And it was the best choice ever!
The Wanderers Hostel
A social and comfortable atmosphere in a historic home, 5 minutes away from the center by foot.
Free breakfast, coffee, tea, Wi-Fi, and parking. Rent a bike and laundry service available. Check-in is from 07.00 and check-out by 13.00. Reservations are valid until 23.00, on the arrival day.
The Wanderers Hostel has no curfew and is child-friendly.
Address: 4001, Rruga G'juhadol, Shkodër, Albania | See on map
Tel. +355 69 212 1062
---
Recommended tours to discover Shkoder
---
Who recommends the best place to stay in Shkoder

Mirela Letailleur is a Romanian travel blogger living in the South of France. She writes on The Travel Bunny travel blog about affordable travel in Europe. Creator of unique free travel guides and local travel expert. Problem solver. Wannabe coffee guru.
Read more about Shkoder and Albania
Why visit Shkoder Albania
Time to relax on the Komani Lake ferry ride!
Radio Bar Tirana, one of the best places to go out in Albania