We left behind the peaceful Lake Ohrid in North Macedonia and headed towards the busy, noisy, colorful, and lively Tirana Albania's capital.
When we got to the border between North Macedonia and Albania, I was a bit worried about my passing, as I was the only one without a passport, just with an ID card, and Albania is not in the EU. But everything was OK, and I got over this stressful moment and enjoyed the Balkan road trip afterward.
The mountain scenery of Albania is beautiful: rocky, green, wild, majestic. It made me think about the Carpathian mountains, actually and got me a bit homesick for a moment.
---

Arriving in Tirana Albania
In Tirana, we were taken by surprise by all the traffic and noise. Ana, who was driving, found it quite tiring, and slightly annoying at times. Apparently, being a woman driver made her a very interesting traffic participant. Therefore all the male drivers on the street would lean over their steering wheels or their windows to stare at her. It was funny in the beginning, but a bit disturbing after a while.
Eventually, we found a place to park the car (quite difficult to find a spot). While the guys went looking for accommodation, we had a really good coffee and rested a bit in the shade on some random terrace.
The hostel from the Lonely Planet guide no longer existed, but the new owner still rented rooms, at a higher price than the offered quality, and he didn't have the best manners, either. But we were tired, Ana didn't want to look for another parking spot and we didn't know where else to look in the area, either. So we decided to stay, unpack, and go see the actual city a bit.
---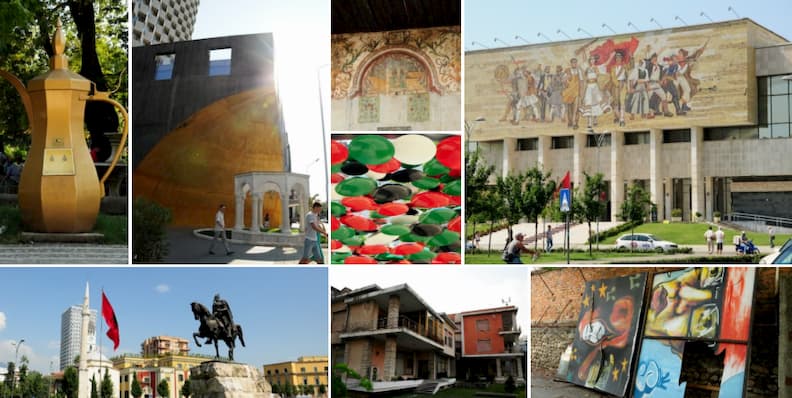 Discovering Tirana Albania
We ended up visiting the National Museum of History, which was very interesting. And we passed by the former residence of Enver Hoxha, a well-known historic building in Tirana. Then we walked a bit more on the streets, staring at all the buildings.
National Museum of History
Open from 10.00 to 19.00 (from Tuesday to Saturday) or from 09.00 to 14.00 (Sunday).
Tickets cost 200 lekë for adults and 80 lekë for students.
Address: 1 Sheshi Skënderbej, 1000 Tirana, Albania | See on map
Tel. +355-4222-3446
Former residence of Enver Hoxha
Read about Enver Hoxha here.
Address: Rruga Ismail Qemali, Tirana 1000, Albania | See on map
---
Recommended tours in Tirana Albania
---
Why Tirana Albania is so colorful
Towards the end of our trip, when I was in Dubrovnik (Croatia), I met a girl in a hostel. She was an artist and told me that Tirana used to be a grey city, and got repainted like this in order to lower the crime rate. And guess what: it worked!
---

Mirela Letailleur is a Romanian travel blogger living in the South of France. She writes on The Travel Bunny travel blog about affordable travel in Europe, creator of unique free travel guides, local travel expert. Problem solver. Wannabe coffee guru.
Read more about Tirana and/or Albania
Radio Bar Tirana
Why you have to visit Shkoder, Albania
Time to relax on the Komani Lake ferry ride