If you thought we covered a lot on the first day, think again! The second day of our Rome holiday was probably the toughest, but also the most amazing. We walked from Vatican City to Trastevere, starting early in the morning, and finishing after nightfall. However, we took plenty of breaks to enjoy Rome's beautiful views, grab a bite or have a drink.
Walk from Vatican City to Trastevere
I feel like I have to warn you in advance, though. If you plan to go walking from Vatican City to Trastevere it will take you more than 12 hours to cover everything we've done. And while there is plenty of time to relax, it's pretty intense. All you need are some comfy shoes, you don't need a certain fitness condition. I mean, if I could do it, so can you!
Let's go walking from Vatican City to Trastevere, shall we?
---

Vatican City (Citta del Vaticano)
Within the city of Rome sits a tiny, autonomous city-state called Vatican City. It serves as both the Pope's home and the seat of the Catholic Church. With a population of roughly 800 and a land area of about 44 hectares (108 acres), Vatican City is the smallest country in the world. Additionally, it is a sovereign state with a separate administration, monetary system, and postal service.
Numerous significant religious and cultural landmarks, including St. Peter's Basilica, the Sistine Chapel, and the Vatican Museums, are located in the city.
We left our amazing accommodation early in the morning and bought some tasty pastry products on the way. Then, we got on the subway to Ottaviano, walked a bit, passed by Piazza del Risorgimento, and ended up in Piazza San Pietro. To start walking from Vatican City to Trastevere we first had to get to Vatican City!
Though it was before 8 in the morning, there was already a line to pass the security check for Basilica San Pietro and its Dome. However, it was short and it was in the shadow. While we were waiting for our turn and enjoying our breakfast in line, the queue got larger and larger, all the way to the entrance in the Piazza San Pietro, if you're coming from Via Della Conciliazione.
All in all, I don't think we spent more than 20 minutes waiting. Then, we went through the security check and decided to start with St. Peter's Dome.
So remember kids: the early bird catches the worm! It's worth making an exception and getting there early, even if you're not a morning person.

St. Peter's Dome
One of St. Peter's Basilica's most recognizable architectural characteristics and a universally recognized representation of the city of Rome is the 136 meters (446 feet)-tall marble dome. One of the tallest domes in the world, St. Peter's Dome is the creation of Michelangelo. It's regarded as one of his greatest works and one of the most well-known examples of Renaissance architecture.
We were at the beginning of a long day, so we decided we could afford to be a bit lazy and take the elevator for the first part. After that, nobody has a choice and has to do the morning warm-up by climbing the stairs.
It's a bit slow because the staircase is narrow, so you can't go around the people who are ahead of you. Therefore, you have to adjust your rhythm to theirs and take a break whenever they do, as the places to overtake them are few. But, in the end, it's ok, it's not like it's a race.
And you'll want to slow down once you get into the interior of the Dome and can look down into Basilica San Pietro! It's incredible how massive, bright, and detailed it all is. We were a bit awestruck. (Even me, though I was seeing it for the second time. )

Then, after some more climbing, we got to the top. We thought we were early, but there were many others who had arrived before we did, so the highest level of the Dome was kind of crowded. However, don't worry: people are polite and they move as they take a look or take a photo.
Just enjoy the moment and the panoramic views over Rome, Vatican City, and Piazza San Pietro!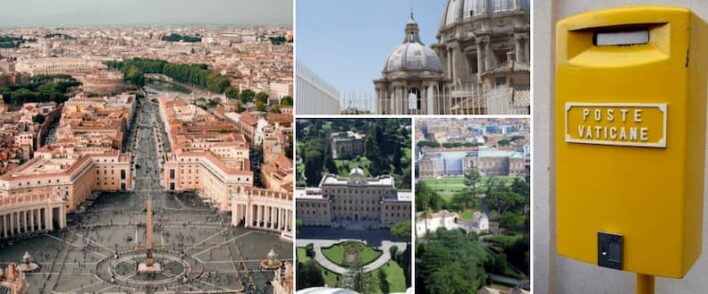 And when you get back on the rooftop, don't hurry down after all that effort you put in. Take some time to look around. Get a hot drink at the cafe. Though the spot would have allowed it, it's not pretentious and the prices are low. If you haven't had your breakfast yet, you can also have a panini or some yogurt.
Or go to the gift shop, get some postcards and stamps, and share the experience with your loved ones. And use the mailbox from the rooftop to send them via Vatican Post!
---

St. Peter's Basilica (Basilica San Pietro)
After descending from St. Peter's Dome, we entered the Basilica.
St. Peter's Basilica is a stunning and inspirational architectural marvel. It's the most significant church in the Catholic world and a representation of the Catholic Church's spiritual and historical legacy.
St. Peter, the first pope of the Catholic Church and one of Jesus' twelve apostles, is said to be buried near where the basilica now stands. Catholics from all over the world visit and worship there because they consider it a sacred place.
The basilica, with its magnificent dome, marble columns, and elaborate ornamentation, is a wonderful illustration of Renaissance architecture. The basilica's beauty and grandeur as well as its spiritual importance leave many visitors in amazement and some even in tears.
Everywhere you turn you can see beautifully worked marble, detailed and dramatic statues, or wonderful murals and painted ceilings. Words can't do justice to the beauty of the Basilica San Pietro. However, I'm hoping that some photos can help: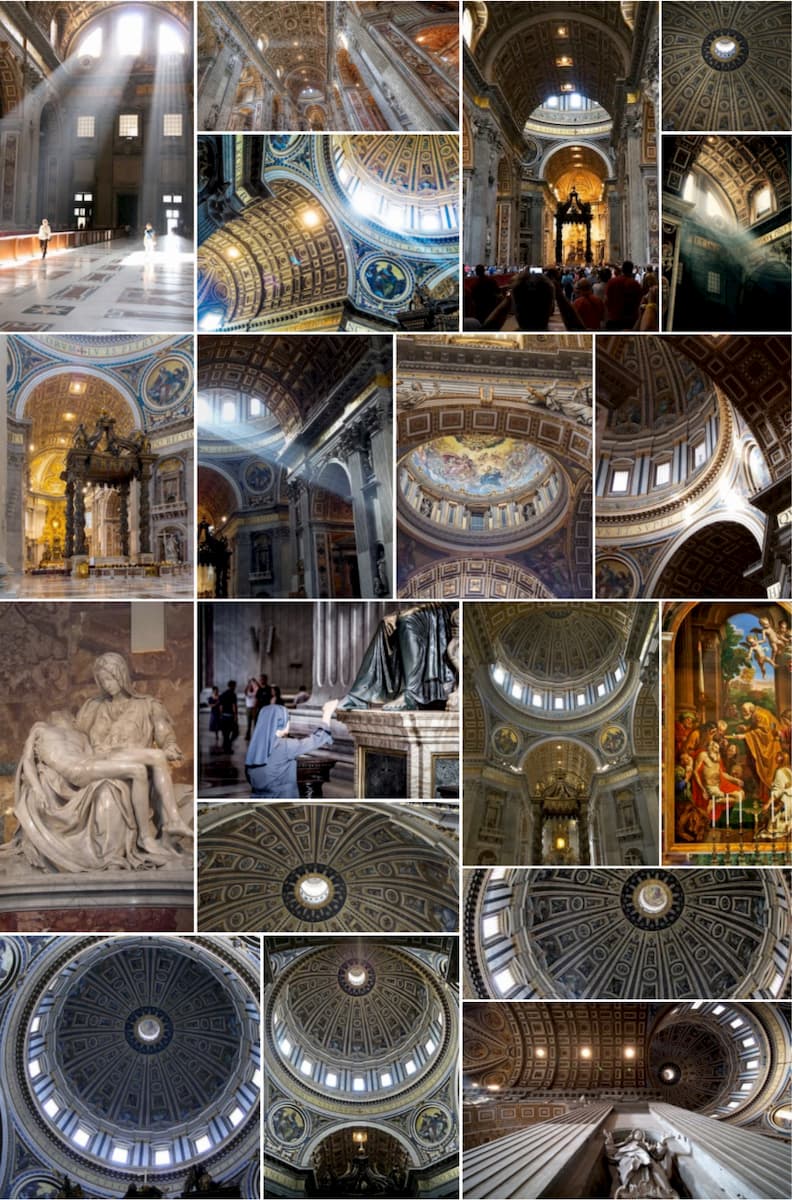 ---
St. Peter's Square (Piazza San Pietro)
Though initially arriving at this spot, we decided to leave the exploring of St. Peter's Square to be the last thing we visit the area, before heading out to the Vatican Museums.
The magnificent colonnades that encircle St. Peter's Square were created by the famous Gian Lorenzo Bernini. These colonnades, which are stunning examples of Baroque architecture, convey an air of spaciousness and grandeur. An obelisk that was brought to Rome from Egypt in the first century AD stands in the middle of the square, serving as a reminder of the Catholic Church's early origins and its ties to the ancient world.
While I was still in the planning stage of our walk from Vatican City to Trastevere, I found this website. On-site, it proved to be incredibly helpful in identifying everything from the Square. It also provided us with a bit of info on each element or area, just enough to spark our interest. I highly recommend you use it if you're going on a self-guided trip.
---

Vatican Museums (Musei Vaticani)
Within the boundaries of Vatican City, the Vatican Museums contain a remarkable collection of artwork and antiquities. Masterpieces by Michelangelo, Leonardo da Vinci, and Raphael, as well as other famous and priceless works of art, can be admired inside the museums, together with a noteworthy collection of sculptures, coins, and jewelry from Roman and Greek antiquities.
The structure of the Vatican Museums is among its most intriguing features. Visitors must take a precise path in order to see all of the exhibits because the museums are spread out over a number of connected buildings and galleries. This tour gives a distinctive and intriguing perspective on the art and history of the Catholic Church and takes visitors through some of the most stunning and significant areas of the Vatican.
I strongly advise you to book your ticket online in advance, as we did. You can only book two months in advance via their website app, so put a reminder if you're planning way ahead of your actual trip. If you follow my advice, you won't waste any time on the day you're going exploring from Vatican City to Trastevere.
The online reservation allowed us not only to skip a huge line but also to enter earlier than the time we booked. I thought we'd be there around 11:30 because I estimated over an hour of queuing for St. Peter's Basilica, which wasn't the case.
Once inside, you will have the option to either go on the fast track to the Sistine Chapel, or you can take the scenic route and explore other beautiful parts, as well. The fast track is usually chosen by all the guided tours so it's very crowded, so we really enjoyed the long way because it allowed us to discover new things and admire them peacefully.
The Vatican Museums will not impress only with its artifacts and displays, but also through the buildings. Personally, I loved admiring the rooms, the halls, and all the beautiful details in the ceilings. And staring out every uncovered window, too, to catch a new glimpse of the Vatican.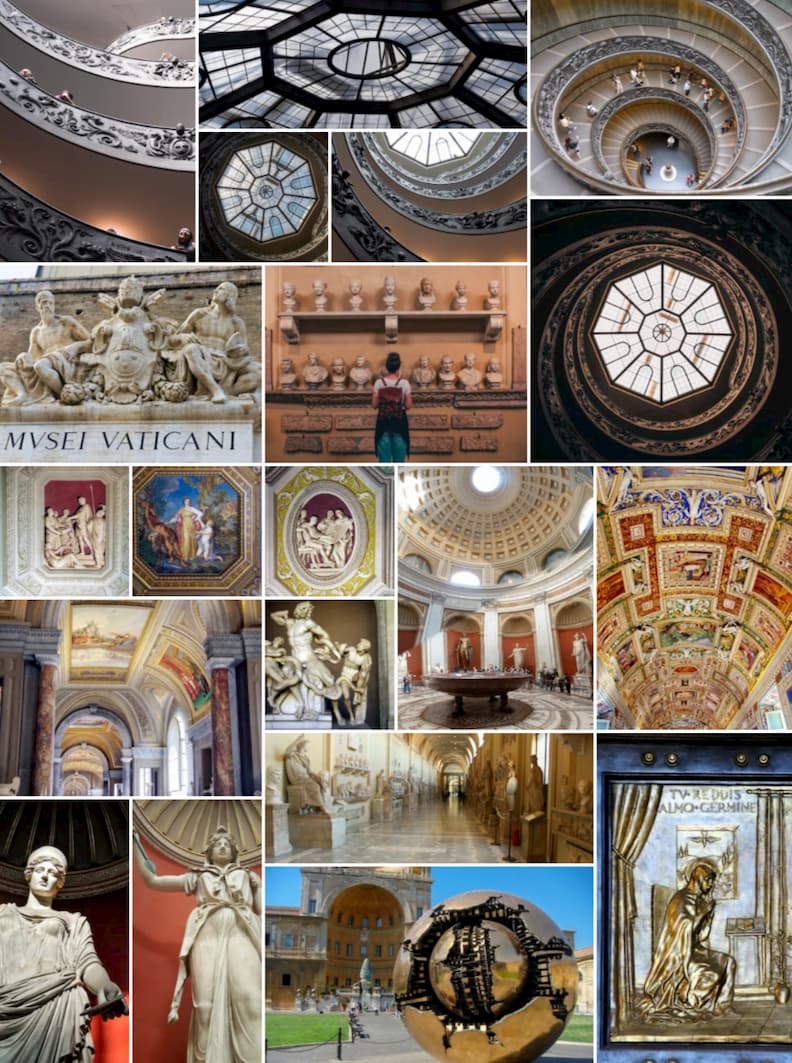 The largest museum complex in the world, the Vatican Museums are a must-see while in Rome, on a walk from Vatican City to Trastevere or otherwise.

The Sistine Chapel (Capela Sistina)
The Sistine Chapel is a breathtakingly beautiful and breathtakingly inspirational work of art and architecture, one of the most well-known and often visited locations in the world. Pope Sixtus IV, who ordered the chapel's construction in the 15th century, is honored by the chapel's name.
Capela Sistina is well known for its exquisite frescoes, which were created by some of the finest Renaissance painters, such as Michelangelo, Botticelli, and Perugino. The most well-known of these paintings is Michelangelo's ceiling, which features biblical events like Adam's creation and the last judgment.
Throughout the museum, anticipation gets built with signs and images related to Michelangelo's ceiling. There's a beautiful teasing campaign for it, in my opinion. But it's also good that it prepares people to put away their cameras and their phones, to be quiet, and to just admire once they get there.
Have you ever noticed that when you take photos of something, you might end up remembering less than if you just stopped and really looked at things, because that might be the only chance you got to do it ever? I've noticed that in regard to my behavior. Just like when I went on the Komani Lake ferry ride, in the Balkans.
The last time I came, I had an audio guide, but this time we had a printed one. I quietly translated to Mathieu all the information, identifying all the parts of the ceiling and its sides.
However, not everybody is quiet, and with the number of people there all the time, it's hard for the staff to ensure that this place is respected. Though a bit annoying, one should understand why they had to come to the solution of screaming in a microphone every now and then Silenzio! (Silence!)
Despite this small downside, it's certainly something not to miss when you visit the Vatican Museums. So add it to your itinerary when you walk from Vatican City to Trastevere.
---
From Vatican City to Trastevere

After the Vatican Museums, we didn't go straight from Vatican City to Trastevere. We were hungry, and I knew there was a market nearby which I thought was a good place to find some food.
Rome's Mercato Trionfale is a lovely and energetic market in the Prati neighborhood, close to Vatican City. The market is renowned for its vast selection of food items and home products as well as its fresh, regional produce. Both residents and travelers flock here frequently to buy fresh ingredients and take in the vibrant ambiance of the market.
Genuine Italian cuisine and a flavor of the city's culture may both be found at Mercato Trionfale. Travelers of all ages are likely to be charmed and delighted by this delightful and lively location.
Because Mercato Trionfale had ingredients for food to cook at home, we had to look for some other place to have lunch near the Vatican.
---

Pizzarium Bonci
The next option on my list was Pizzarium Bonci, a bit out of the beaten path of our walk from Vatican City to Trastevere This was kind of the idea, since we wanted to avoid all the touristy places like the ones on Via Della Conciliazione, for example.
On the way, we stopped and refilled our water bottles. It was the first time we got to see a machine that was not only free to use but also offered both plain and sparkling water!
Just a bit farther we came across Pizzarium Bonci. It was a small and very busy place, offering pizza a tavola (pizza by the piece), with a few high tables outside and everybody eating while standing. Mathieu was dreaming of a nice terrace, where we could also get some good red wine, but, most importantly, where we could sit. Oh, well.
We had a tough time choosing some pizzas from the high variety they offered, then waited for our pieces to come out from the oven. We eventually ended up eating them on the side of a street nearby, where we found a spot to sit down.
Though not ideal in comparison to Mathieu's idea of lunch for that day, the pizza was delicious and worth the trip and his compromise.
Pizzarium Bonci was visited not only by tourists, but also by Italians, and it had an announcement inside that they also opened up a place in the US. So if you're in Chicago and you're craving great pizza, pay them a visit!
Anyway, back to our walk from Vatican City to Trastevere!
---

Via della Conciliazione
After the quick lunch, we made our way back to Piazza San Pietro and then continued on to Via Della Conciliazione. This is when we actually start moving from Vatican City to Trastevere.
Via della Conciliazione was constructed in the early 20th century as part of the initiatives to enhance ties between the Catholic Church and the Italian government. One of the main streets in Rome, it links St. Peter's Square in Vatican City with the Tiber River. Tourists frequently visit the street, which is lined with important historic buildings (Palazzo Torlonia, Palazzo dei Penitenzieri, and Palazzo dei Convertendi) and religious sites (Santa Maria in Traspontina and Santo Spirito in Sassia).
Mathieu's attention was caught by the Museum Leonardo da Vinci Experience, and we decided to come back to it closer to the end of our trip.
---

Castel Sant'Angelo and Ponte Sant'Angelo
Castel Sant'Angelo is a majestic and intimidating structure initially built as a tomb for the Roman emperor Hadrian and his family. Over the years, it has been used for a variety of purposes: fortifications, a jail, and a papal palace. Today, it serves as a public museum.
When I went to Rome last time, it was September, and I visited Castel Sant'Angelo near its closing time – 19.30. It was perfect to go to the terrace and watch the sunset behind St. Peter's Dome and I got to see one of the most beautiful sunsets I've ever had the chance to.
This time, however, being late April, the sunset much later, and repeating the experience was impossible. I gave Mathieu the option to visit inside anyway, but he said he'd much rather spend the time walking from Vatican City to Trastevere instead of going to another museum after just visiting the Vatican Museums.

Should you decide to do the same, it is nice to go around it to admire the sturdy historic building from the outside, then make your way to Ponte Sant'Angelo. Designed by Gian Lorenzo Bernini, the bridge across the Tiber is decorated with ten angel sculptures. Each of them represents a part of the story of the passions of Jesus Christ and his death by crucifixion.
To avoid returning on the same path, we went back to the other bank of the Tiber on Ponte Vittorio Emmanuelle II and made our way up to Passeggiata del Gianicolo.
---
Passeggiata del Gianicolo
Though Spring, it was a very hot day and the afternoon sun was burning. We had expected to be defeated by the heat on our walk from Vatican City to Trastevere. However, the Passeggiata del Gianicolo proved to be a wonderful oasis.
On Gianicolo Hill, you get to walk in the shadow of beautiful, tall trees ("real trees", as Mathieu would say), away from the crowds, and with very few cars passing by you. And every now and then you come across belvedere spots, with a few benches to take a rest. On one such bench, Mathieu even took a short nap with his head in my lap.
Passeggiata del Gianicolo is a favorite for locals and tourists alike because it offers breathtaking views of the city. Visitors can take in expansive views of the city and the Tiber River as they make their way up the Passeggiata del Gianicolo, which starts at the bottom of the hill and winds its way to the summit.
The highest spot of Passeggiata del Gianicolo is Piazzale Garibaldi. This is probably the busiest area, but it also provides the largest opening between the trees. There are several other interesting sites along the route, including lovely gardens, fountains, and statues.
For anybody visiting Rome, Passeggiata del Gianicolo is the perfect connection when you want to walk from Vatican City to Trastevere!
---
Trastevere
If you continue walking on Passeggiata del Gianicolo you will get from Vatican City to Trastevere, the 13th Rione of Rome. Its Latin name (trans Tiberim) means beyond the Tiber because it's located on the west bank of the Tiber River, across from the city's historic district
This romantic neighborhood in Rome is well-known for its old buildings, tiny and meandering lanes, and attractive cobblestone squares. Travelers frequently come here to take in the neighborhood's unique ambiance as well as its numerous stores, eateries, and pubs.
Trastevere is the place we remember most fondly from our trip. Its narrow streets quickly became our favorite in Rome.

Fontana del'Acqua Paola
At the other end of the Passeggiata del Gianicolo, you will come across Fontana Del'Acqua Paola. Also known as Il Fontanone (The Big Fountain), it's a colossal white fountain that can be seen in Rome's Trastevere neighborhood.
It was built in 1612 with marble from the Roman Temple of Minerva to commemorate the opening of the Acqua Paola aqueduct, which supplied Rome with fresh water. Gian Lorenzo Bernini and Francesco Borromini, two of the most well-known Italian painters of the day, created reliefs and sculptures for the travertine fountain's decoration.
Fontana del'Acqua Paola is a wonderful and refreshing spot, which also offers a stunning view of Rome. Take some photos here when you stop on your walk from Vatican City to Trastevere.
From here, you can make your way down the road or the stairs to reach Chiesa di San Pietro in Montorio. It closes really early (12.00 pm), so we didn't get to visit inside, unfortunately.
---

Basilica di Santa Maria in Trastevere
With a history that stretches back to the third century, Santa Maria in Trastevere is one of the oldest churches in Rome. It honors the Virgin Mary and it's a well-known destination for prayer and pilgrimage. The basilica is also famous for the impressive 13th-century Pietro Cavallini mosaics, among the best examples of Byzantine art in Rome.
Due to its fascinating history, lovely architecture, and exquisite interior decorations, it is also a popular tourist attraction in Rome, so you need to make a stop here on your walk from Vatican City to Trastevere.
I do hope you will excuse my obsession with the ceilings, but the one we saw in Santa Maria in Trastevere impressed me not only through the paintings but also through the detailed carvings.

In front of Santa Maria in Trastevere, there is a fountain with the same name. This fountain is believed to be the oldest in Rome, dating back to the 8th century.
---
Sangria break at Cave Canem
On the way to Chiesa di San Francisco a Ripa, we passed by some lovely, green terraces. We had plenty of time left and we were kind of tired, and they all looked so inviting. But we easily made up our minds when we saw one offering Sangria.
It was the perfect treat to cool down. And it came with some delicious chips, which arrived towards the end. So we decided to order another round. And the waiter brought us yet another round of chips on the house.
To be honest, I was getting a bit hungry, but it was too early to eat dinner. So the homemade chips really hit the spot on our walk from Vatican City to Trastevere!
---

Chiesa di San Francisco a Ripa Grande
With our batteries charged again, we continued our quest. Thus, we arrived in front of the humble-looking Chiesa di San Francisco a Ripa Grande.
Don't judge a book by its cover: the interior of the religious site hosts one of Bernini's last works. Bernini's Beata Ludovica Albertoni is also one of the most controversial of the artist. Give it a glimpse at least while you're walking from Vatican City to Trastevere!
---

Chiesa Rettoria di Santa Cecilia in Trastevere
If you're not short on time, it's worth stopping at Santa Cecilia in Trastevere for a while, too. It has a tranquil courtyard, where you can rest on the side of the fountain.
Inside, it is much simpler than other churches in Rome, but I consider this part of its beauty. Don't miss out and add it to your walk from Vatican City to Trastevere!
---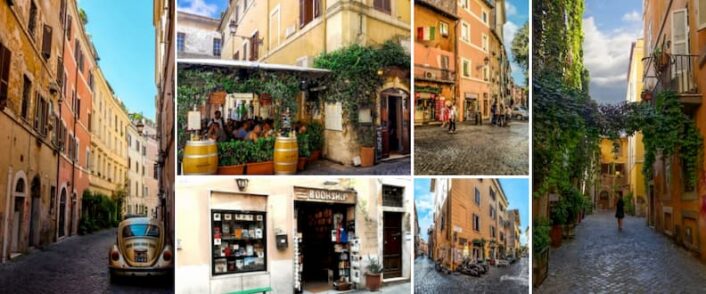 Wandering on the streets of Trastevere
Santa Cecilia in Trastevere was the last thing we had planned to visit inside during our walk from Vatican City to Trastevere. We also wanted to see the interior of Villa Farnesina, but it was too late. So we spent the next couple of hours just wandering the streets, turning wherever we thought looked interesting.
Our steps carried us also to two nice bookshops in Trastevere: Open Door Bookshop and Almost Corner Bookshop. (I adore the name of the latter!)
And, before dinner, we had also made our way on Pons Cestius to the other bank of the Tiber, and stopped for a strong, delicious coffee at Gitano.
We loved the terrace and the interior, the staff was friendly and their menu looked very inviting. Later, around dinner time, though, you can only get a seat if you have a reservation. So keep that in mind if you wish to dine here at the end of your walk from Vatican City to Trastevere.

After this lovely break, we went to Isola Tiberina and returned to Trastevere on Ponte Sisto. We then went up the Tiber's bank and some other streets of Trastevere, heading to Pizzeria Dar Poeta. That was to be the final spot on our Vatican City to Trastevere walk.
---

Dinner at Pizzeria Dar Poeta
We were initially discouraged by a large number of people outside, waiting to be seated. The place is so popular it doesn't need to make reservations. It always has people inside, and a crowd outside.
We got incredibly lucky and got a table in under 10 minutes, though. Mostly because we were just two people, and the rest were larger groups, harder to fit. And the couple waiting before us had decided to bail.
We soon placed our order, and we didn't have to wait long for our pizzas, either. However, at no moment do you feel rushed to eat and leave.
The pizzas we went for were simple: crust, tomato sauce, mozzarella di buffala, and basil. Pizzeria Dar Poeta proves that food doesn't need to be complicated for it to be delicious and satisfying. Perfect treat at the end of our Vatican City to Trastevere walk!
---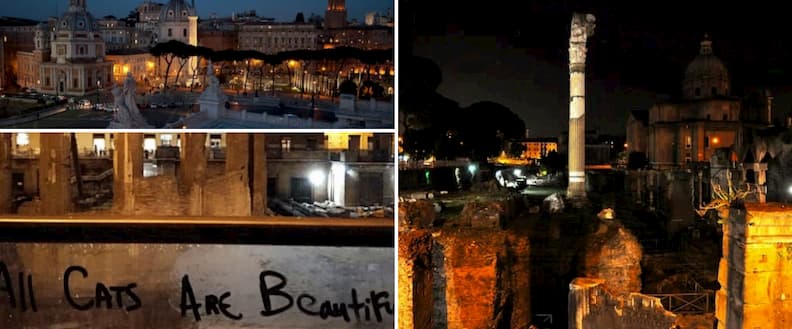 Largo di Torre Argentina
Ok, this isn't on the way from Vatican City to Trastevere. We left Trastevere in search of a bus stop to go back to our place.
The best option was the one from Largo di Torre Argentina. The Torre Argentina, a tower that was a component of Pompey's ancient Roman theater, is the source of the square's name. The assassination of Julius Caesar there in 44 BC made the area renowned. With several stores, eateries, and hotels, the area is becoming a well-liked tourist destination.
Additionally, this is where you'll find the Largo di Torre Argentina cat sanctuary, a shelter for stray and abandoned cats. We searched for cats of all shapes and sizes while waiting for our bus to arrive.
---
The end of our walk from Vatican City to Trastevere
As I said in the beginning, it was a long and tiring day that took us from Vatican City to Trastevere. My phone said we had walked 27,225 steps, the equivalent of 20.07 km. But, boy, was it worth it!
This article is also available on GPSmyCity.
---

Mirela Letailleur is a Romanian travel blogger living in the South of France. She writes on The Travel Bunny travel blog about affordable travel in Europe, creator of unique free travel guides, local travel expert. Problem solver. Wannabe coffee guru.
More things to do in Rome after walking from Vatican City to Trastevere
Discover Rome's piazzas
See the Colosseum, Roman Forum & Palatine Hill
More things to do in Rome