Although we started the third day of our Rome holiday early, it was less intense than our second day. However, it was every bit as wonderful. After all, we were about to explore some more of Rome's historical center!
The plan was to start with the Pantheon. But, surprise-surprise, we set off to conquer Rome too early and the Pantheon was still closed! So we had some time to slowly wake up and truly become all bright-eyed and bushy-tailed.
---
Breakfast by Piazza della Rotonda in Rome's historical center
We had skipped breakfast, thinking we could have something to eat after visiting the Pantheon.
With all the free time available, we decided to look for a nice place in the area. We wanted to munch on something while dripping some delicious caffeine into our veins.

Right by the Piazza della Rotonda, we found a place called Don Nino. This spot was very cozy and had delicious croissants and coffee. Just what we needed!
On our way out, I noticed there was no line to the Pantheon. And there was this sign on a side street saying Fontana di Trevi – 20 minutes. Since we don't like crowds that much, I figured we could catch the Fontana di Trevi area (almost) entirely empty.
---

Fontana di Trevi
I guessed right: there was almost nobody in sight at Fontana di Trevi. Not completely free of people. Because let's face it, it's one of those places in Rome's historical center where there are always tourists, no matter the hour. This was not La dolce vita, but it was as sweet as it can get!
We looked around, threw our coins, and took some really bad selfies. We don't usually take selfies, so we lack the practice and we're kind of against selfie sticks, too.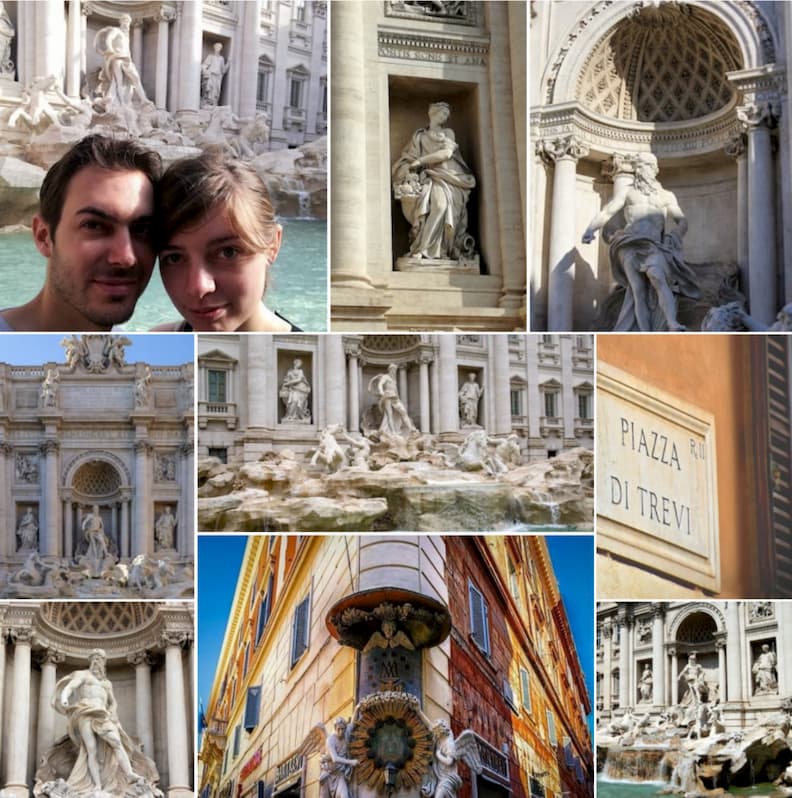 Right after we left Fontana di Trevi, heading to the Pantheon, I realized the button of my dress had come undone at the back, but we weren't going to repeat the photos just for that.
---
The Pantheon
I was especially looking forward to taking Mathieu to see the Pantheon. He truly enjoys studying how things are built, so he was interested in the ceiling and the floor designs.
The entire interior of the Pantheon is breathtaking, to be honest. The reason for staying well-preserved? The Pantheon become a church in the year 609. Changing its purpose meant keeping the masterpiece alive to this day.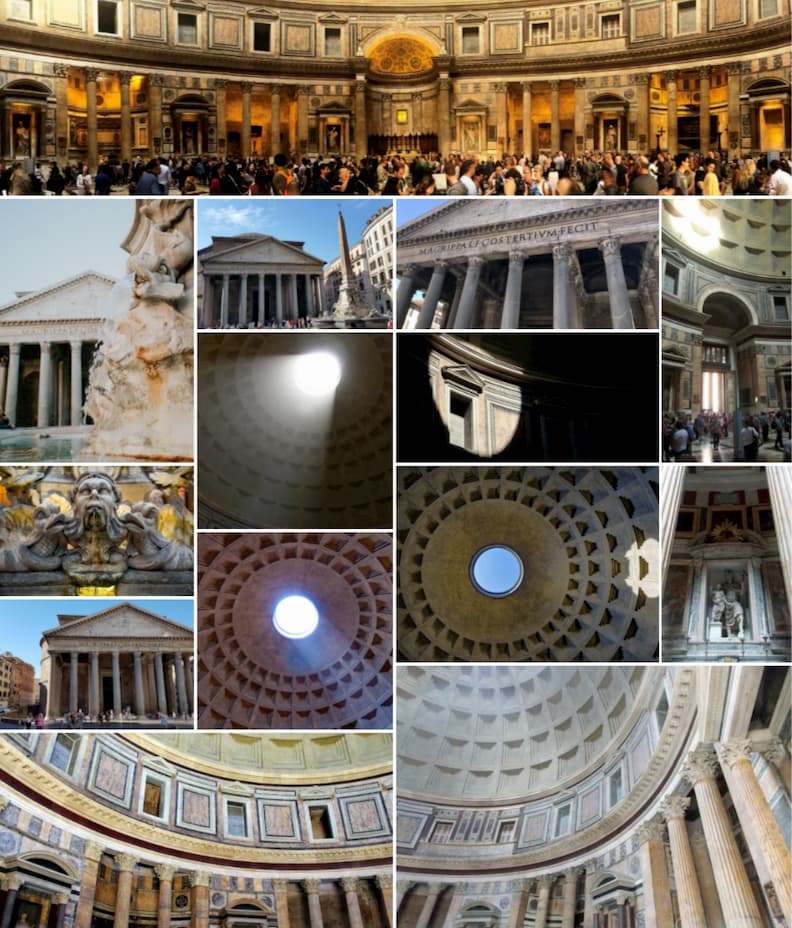 The Pantheon used to be a pagan temple. Marcus Agrippa commissioned it in 27 BC, during the reign of Emperor Augustus. That structure burned down, and in its place, Emperor Hadrian created the new structure between the years 118 and 125. Over time, the Pantheon has endured a lot: multiple barbarian robberies, Constantine II took the gold plates of the roof, and in 1625 Urban VIII melted the bronze panels of the ceiling to build a cannon for Sant'Angelo Castle. After all of this, the Pantheon remains one of the wonders of the world, even to this day.
Outside, in Piazza della Rotonda, in front of the Pantheon, we have the Fontana del Pantheon. Sculpted out of marble by Leonardo Sormani in 1575, this fountain in the heart of Rome's historical center stands high thanks to the later addition of Ramses's obelisk, in 1711.
---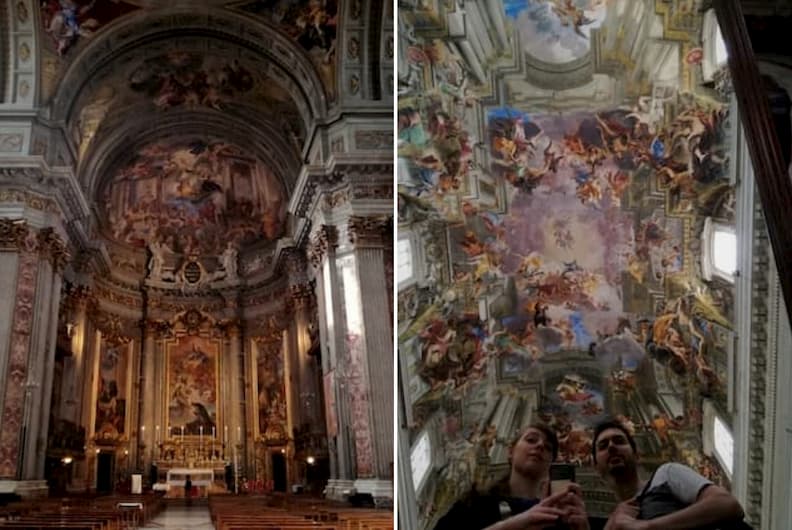 Chiesa di Sant'Ignazio di Loyola
A bit later, we arrived in the lovely Piazza di Sant'Ignazio. There, we wanted to visit one other work of art which I considered interesting for Mathieu. I'm speaking about Chiesa di Sant'Ignazio di Loyola, in Rome's historical center. The church is famous for two absolutely amazing trompe l'oeil frescoes.
One is the stunning ceiling which can be easily admired in a well-positioned huge mirror. And the second is the dome, which is actually an optical illusion.
Both works belong to Andrea Pozzo.
---

Piazza della Minerva
Not far from Piazza Sant'Ingazio, we have Piazza della Minerva. In its middle, there is the Elephant and Obelisk monument. The baby elephant is the work of Bernini, while the obelisk comes from the excavations of the Temple of Isis (Iseum).
Basilica Santa Maria Sopra Minerva was under restoration when we visited, unfortunately. But if you're in Rome's historical center and you find it open, do go in!
---

San Luigi dei Francesi
A bit disappointed that we didn't get to see Basilica Santa Maria Sopra Minerva, we went to San Luigi dei Francesi, the national church of France in Italy. Here, you'll find the famous trio of Caravaggio, in the chapel of St. Matthew.
(I think I should get extra brownie points for taking a French guy called Mathieu to see the Chapel of St. Matthew in San Luigi dei Francesi!)
---

Basilica di Sant'Agostino
Almost around the corner from San Luigi dei Francesi, you can find Basilica di Sant'Agostino, one of the first churches of Rome during the Renaissance. The church is famous for Caravaggio's Madonna del Loretto, but I, as always, fell in love with the ceilings, as well.
---

Palazzo Altemps
After leaving Chiesa di Sant'Agostino we found ourselves right next to Palazzo Altemps. Because it was getting very hot outside and we had plenty of time to spare before lunch, we decided to visit the National Roman Museum. And, when acquiring the ticket we got the ones that also included Palazzo Massimo alle Terme, the Baths of Diocletian, and Crypta Balbi. We chose to visit the others on different days, though.
We found Palazzo Altemps to be a jewel itself, with many of the murals and original ceilings well-preserved, at least in part. And its exhibits were interesting, too, combining the old and the new. A must-see in Rome's historical center!
---

Wandering on the streets of Rome's historical center
At the end of our visit to Palazzo Altemps, we felt better being outside, so we wandered on the streets of Rome once more.
Like Mathieu kept saying, what's great about Rome is that even though you're in a huge city, every time you get lost on the streets you have the feeling you're in a small town. And as you move from one Rione to another it's as if you're discovering a new village each time.
---

Campo de'Fiori
Our wandering around Rome's historical center eventually led us to Campo de' Fiori. Which was nice, but considering how everybody kept telling us to go see it, we had higher expectations. (I, personally, didn't really remember it from my previous Roman holiday.)
It was nice, but just like in Bitola, it's not much different from the markets I see at home.
---

In contrast to Campo de' Fiori, I remembered Piazza Navona quite well from ten years ago. Although the Fontana dei Quattro Fiumi was under restoration back then, the Piazza was no less impressive. It was beautiful, imposing, and clean.
During the previous holiday, I was traveling with my parents and a friend of mine, Elena. My parents took us to Tre Scalini where we outraged the waiter when the two of us asked for pizza (Signorina, this is a restaurant! We don't serve pizza here!). We decided to go with the lasagna and annoyed the waiter once again because we were feeding a pigeon with some breadcrumbs.
I also remember sitting with my dad on a bench in Piazza Navona, in Rome's historical center, next to a nun. And she was speaking Italian and he was speaking Romanian, but they understood each other and had quite a long conversation.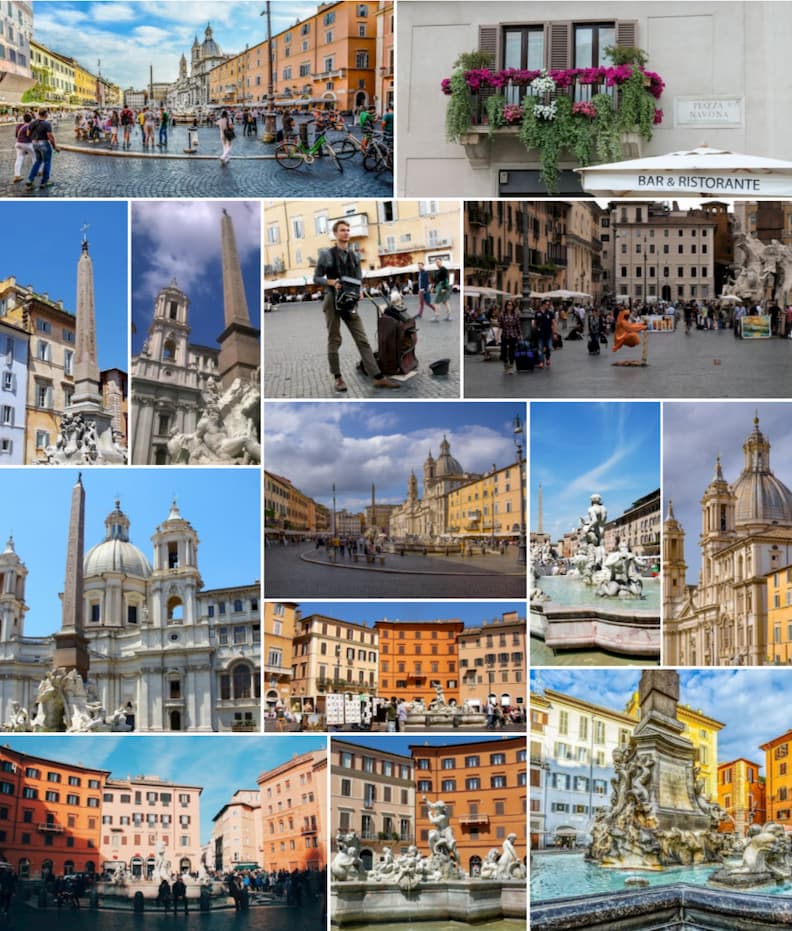 This time, while I was happy to finally see the Fontana dei Quattro Fiumi unveiled, Piazza Navona looked less impressive. It was crowded with tourists and it didn't look clean anymore. It turned into this commercial area, with lots of merchants, and several terraces on the sides.
I checked out Tre Scalini, probably the most famous restaurant in Rome's historical center, and its dusty umbrellas didn't look as inviting as they did years ago. They might still be famous for their Tartufo, but going to an overpriced restaurant just for that didn't really seem worth it, given the bitter taste I had from this comparison.
So we headed out to have lunch at Da Tonino instead.
---

Pasta and tiramisu at Da Tonino in Rome's historical center
When we got to Da Tonino we made it just in time to get a table. It's very crowded inside and all the surface is used to the maximum to fit tables and chairs.
The staff is extremely friendly, and our waiter suggested some pasta we should try. It was a really good choice. They looked and tasted amazing. So amazing that the lady sitting at the table next to us with several plates in front of her had to ask us about how they were. Don't get me wrong, she was a fit lady, who really adored Italian food and enjoyed trying everything.
What was funny was that she spoke to the waiter in French. And when she talked to Mathieu, she spoke in English until I pointed out that they could have a conversation in French.
Back to the food, after finishing our pasta and most of our wine, we asked for dessert. And this is when Mathieu began his quest of trying the tiramisu everywhere we went to eat from then on. I'll be honest, the competition was fierce right from the start, as Da Tonino's set a high standard with their homemade tiramisu. The best tiramisu I had until then. And so pretty, too!
Once again, we got really lucky with our timing. When we left, there were small groups of people in front of Da Tonino and across the street, waiting for a table to become available. In my opinion, this is the best restaurant in Rome's historical center, so do try to get lunch there.
---

Palazzo Massimo alle Colonne
After having a delicious lunch at Da Tonino, we wend down Via del Governo Vecchio to Palazzo Massimo alle Colonne in Rome's historical center. It is a Renaissance palace by Baldassarre Peruzzi on the site of three palaces that burned down in 1527. The palaces belonged to the Massimo family (old Roman family), hence the name.
---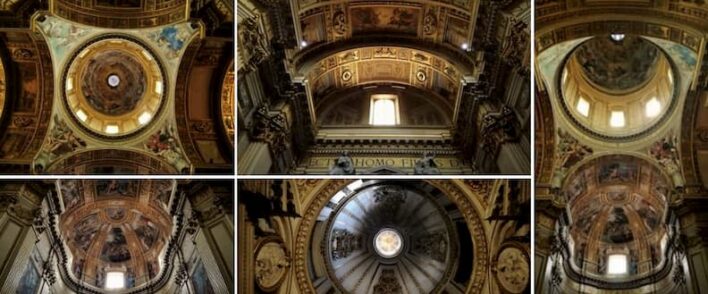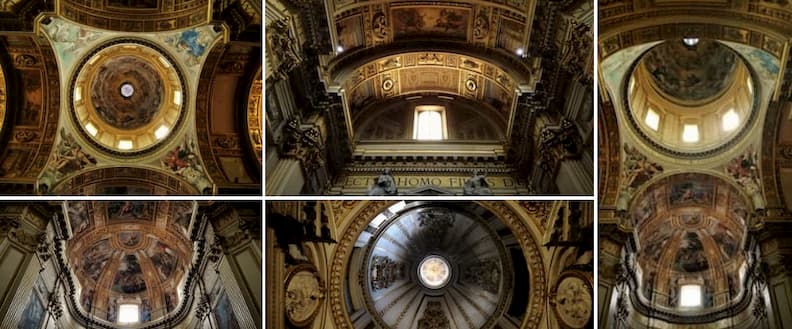 Sant'Andrea della Valle
By now, the heat had caught up with me and I was feeling kind of dizzy. I went across the street from Palazzo Massimo alle Colonne and sat on some stairs, in the shadow. Mathieu suggested we went inside the church at the top of the stairs, where it should be cooler and maybe I'll start feeling better.
I spent a lot of time sitting down, and just looking at my feet until I felt good enough to start looking around with Mathieu. It was really impressive, though we found the baby Jesus doll a bit creepy. It was only when we were exiting the church that we realized we had visited Sant'Andrea della Valle.
Though I was feeling a bit better, we chose to go back and take a nap before moving on with our explorations in Rome's historical center.
---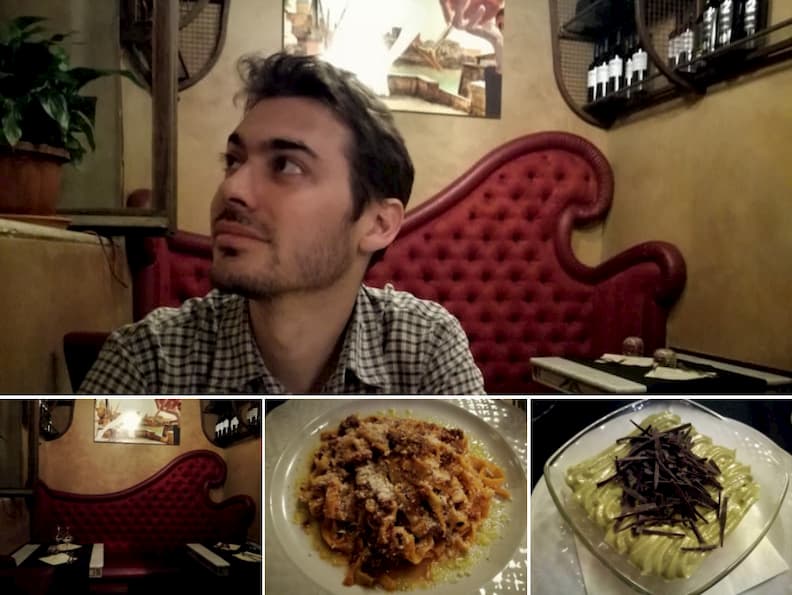 Wining and dining at Verso Sera in Rome's historical center
We returned to the center of Rome after nightfall, quite hungry. The plan was to eat at Dar Filettaro, but it was full of people outside. And Mathieu isn't that big a fan of fish, anyway.
We started looking for a different place to eat and came across Hostaria Costanza. There, we went to talk about a table with a guy who was placing some coquilles Saint-Jacques on a platter while telling us it's very difficult to find something at that time in Rome's historical center without a reservation. He finished what he was doing, had a look, and told us sorry, but no.
I was getting really hungry and everywhere was completely full. And then we saw this place with some cute fairy lights outside. Mathieu said to try there, too, but I was all: no, it looks really nice, there's no way we'll find something there!
But he tried. And that's how we got to have dinner at Verso Sera in Rome's historical center. And while I was waiting for the other shoe to drop and find something wrong with the place because we were able to get a table, I just couldn't. It looked incredible inside, they had lots of wine options and they served it by the book.
And the food! We had pasta again and it was delicious. (Yes, from pizza-pizza-pizza we went to pasta-pasta-pasta.) And, for dessert, no tiramisu, but we found the next best thing: pistachio mousse.
We are very happy to have found Verso Sera in Rome's historical center. We recommend it with all our hearts should you ever find yourself hungry and close to Campo de' Fiori.
---
A fun evening in Rome's historical center
Speaking of Campo de' Fiori, we caught a band playing covers on the street (mostly rock). They were very good and charismatic and gathered quite a big crowd. It was really nice to see people from all over the world singing and dancing in the street, together.
We went back home in a very good mood. Day 3 spent uncovering Rome's historical center was wonderful and we couldn't wait for the next one. Especially since the intense part of our holiday was kind of over and the rest was a lot more relaxed and with a lot more room for just winging it.
---

Mirela Letailleur is a Romanian travel blogger living in the South of France. She writes on The Travel Bunny travel blog about affordable travel in Europe, creator of unique free travel guides, local travel expert. Problem solver. Wannabe coffee guru.
Enjoyed uncovering Rome's historical center? Read this:
Colosseum, Roman Forum & Palatine Hill
Walking from Vatican City to Trastevere
Discovering Rome's piazzas