As we were getting closer to the end of our Rome holiday, we had more time to spare for unplanned things. And we ended up wondering what is there to do in Rome after all the places we had already been to.
So on Monday morning, we were back on the subway, heading to Ottaviano once again.
When we visited the Vatican, we walked by Museo Leonardo Da Vinci Experience, and I promised Mathieu we'd go back to visit it before we go back home.
Discover more things to do in Rome
So come on, let's jump in and show you what are the other things to do in Rome once you've been to all the touristy spots.
---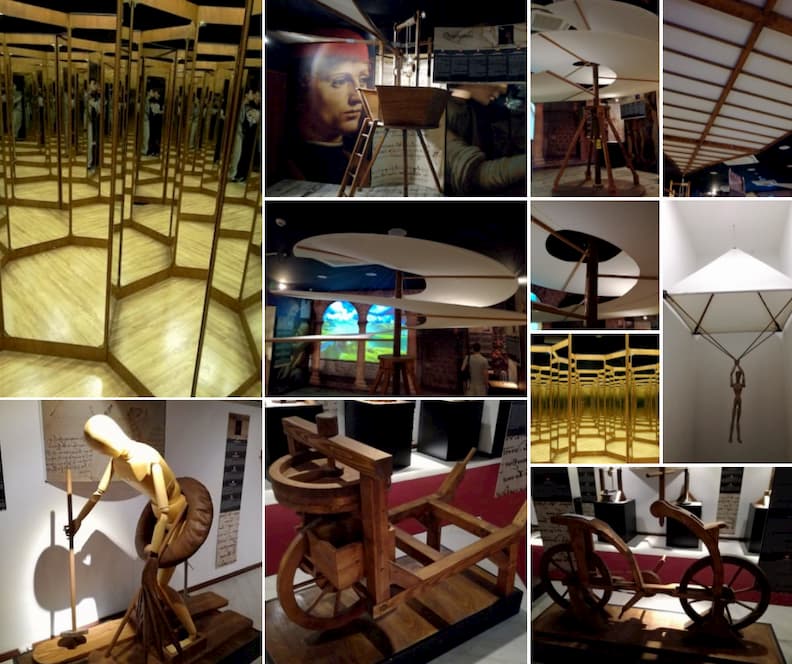 Museo Leonardo da Vinci Experience
In Rome, you'll find more than one museum about Leonardo Da Vinci's inventions. And visiting an invention museum is one of the coolest things to do in Rome. After checking out some reviews, we considered this one was the best fit for us. It's not very large, but it's nice that you can play around with most of the replicas and see how they were supposed to work.
We found it funny when the girl who gave us the tickets warned us these were replicas and not real things. Apparently, some tourists got angry because these weren't Leonardo Da Vinci's original pieces. As if people would get to touch and play with real, valuable works of art! It's like going to the Louvre and making a fuss because you can't touch the paint on the Mona Lisa.
Anyway, for us the visit was fun and it was a nice opportunity for Mathieu to take on the role of the teacher, explaining and showing me how some stuff worked and why other stuff didn't.
---

Walking to Piazza Cavour
After exiting the Museum Leonardo Da Vinci Experience, we walked by Castel Sant'Angelo again. We still didn't go inside but spent some time in the park next to it. And there, we got lost while looking for a shorter way to exit it in order to reach Piazza Cavour. We eventually went back the same way we came and went around the small park.
We passed through Piazza dei Tribunali and admired the imposing building of the Supreme Court (Corte Suprema di Cassazione).
Then, we reached Piazza Cavour, named after Camillo Cavour, an Italian politician, and statesman, who played a key role in the unification of Italy. For some reason, it's one of my dad's favorite places in Rome. Personally, I find it nice… but not THAT nice. But passing through this area or spending an afternoon reading on a bench under the palms here are some things to do in Rome that can be enjoyable.
From Piazza Cavour, we got on some buses which took us across town, to Basilica Papale di Santa Maria Maggiore.
---

Basilica Papale di Santa Maria Maggiore
On Esquiline Hill, in the heart of Rome's historic center, lies Basilica Papale di Santa Maria Maggiore. The basilica, one of Rome's four main basilicas and the largest Catholic Marion church in Italy's capital, was built in 435 AD in a combination of baroque, Romanesque, and medieval architecture.
Basilica Papale di Santa Maria Maggiore is famous for its sculptures, mosaics, and paintings. The Holy Crib relic and the Salus Populi Romani icon are two significant religious relics that can be seen inside the basilica.
But, as luck has it, when we got to this grand basilica, it was surrounded by fences. We didn't see anyone going in, so we didn't make any effort in finding a less obvious possible entrance.
Instead, we went to take a walk on Via Urbana. (Hint: when you don't know what other things to do in Rome, just walk around and you'll find something to add to your nice Rome holiday!)
---

Via Urbana
This street turned out to be a lovely surprise. Close to the northern end of Via Urbana, we came across Oratorio Santa Pudenziana, a lovely Catholic church. And all along the street, there were buildings with wooden blinders at the windows and lots of luscious, green ivy on the walls. Walking and looking at buildings are among some of my favorite things to do in Rome. And if there's gelato, too, it's even better!
Lunch at Urbana 47
If you made it this far on this street, stop and have some delicious food at Urbana 47. They have homemade meals, but with a personal twist. And the decorum is really nice and fitting for the area.
At Urbana 74, we had some wonderful lasagna, paired with a really good, dry, red wine. And, for dessert, we chose Tiramisu, of course. For me, this was the best Tiramisu I had during our trip. (You'll discover Mathieu's in the next article from the Rome Holiday series.) Eating tiramisu is another one of our favorite things to do in Rome, by the way.
We also had some free entertainment during our lunch. The owner of the flat on the first floor of the opposite building was a big animal lover. Through the open window of one room, you could see lots of birdcages. And at another window, several beautiful large dogs were coming out to check out all the people passing on the street.
It was a really enjoyable break! But there were still so many things to do in Rome out there that we couldn't stay too long.
---
To Via del Boschetto!
We left Via Urbana and continued our walk on Via degli Zingari to reach Via del Boschetto.
The neighborhood's former tiny woodland, known as the Boschetto, inspired the naming of Via del Boschetto. Today, locals and travelers enjoy walking on Via del Boschetto to explore boutiques, restaurants, and historic buildings.
Once again, on Via del Boschetto we found the hanging ivy, draping from the buildings and hanging from lamp posts. It was a gorgeous sight.
---

Hopping back to Piazza Venezia
The large and famous Piazza Venezia takes its name from the neighboring Venetian Embassy and is located at the base of Capitoline Hill. The Vittorio Emanuele II Monument, the Palazzo Venezia, and the Altare della Patria are just a few of the significant structures and sites that can be seen in the plaza. Political demonstrations, concerts, and other public events frequently take place at Piazza Venezia, a hub of activity for both tourists and residents.
Mathieu and I went back to Piazza Venezia to finally see Basilica di Santa Maria in Aracoeli. But first, we looked for a place to have some coffee, and we found Via della Pilotta. It's right next to Giardini di Montecavallo, and it's covered by stone arches now and then.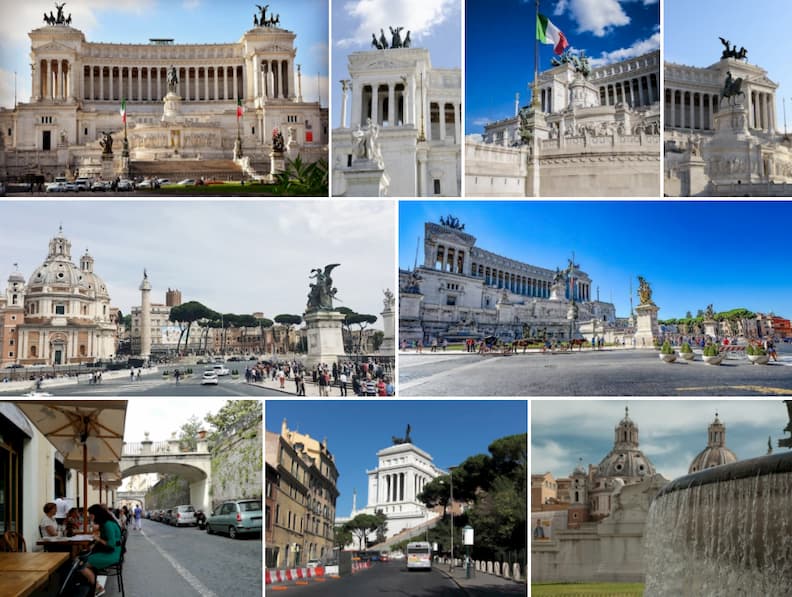 We eventually decided on Le Lanterne, where the service was very good. And Mathieu thinks the lady who looked like the owner was French because she spoke to some French customers and her accent was too good to not be a native speaker. Anyway, from the name to the decorations, to the accent of the lady, it was all nice and French.
Seeing a bit of France in the heart of Italy is one of the interesting things to do in Rome. It's wonderful how diverse the city is!

Basilica di Santa Maria in Ara Coeli
Basilica di Santa Maria in Ara Coeli is also known as St. Mary of the Altar of Heaven. With a history that dates back to the fourth century, this church is one of the oldest in Rome.
The huge dome dominating the city's skyline and the basilica's Romanesque architecture are two distinctive features most any traveler can recognize. Significant pieces of art can be seen inside the church, like frescoes by Raphael, so it's no wonder this basilica is a popular tourist destination and one of Rome's most visited churches.
We were lucky we had a nice break before climbing all those steps to Santa Maria in Aracoeli, on n the highest point of Capitoline Hill! And the visit was beautiful not only for its majestic interior but also for the views it offers from the top of the staircase.
---

Searching for food in Rione Esquilino
Dinner time was bound to come soon. I proposed to Mathieu to go by subway to Vittorio Emanuele, then walk to the restaurant I fell in love with during my previous trip. It's one of the things to do in Rome that I just couldn't miss on this trip!
Once we got out of the metro station, I was surprised to see how much the area had changed in ten years, and not really for the better. On my first trip to Rome, it looked amazing – it was actually the neighborhood where we stayed.
Anyway, we got to Vecchia Roma, and… it was full! We had no reservation and no chance of getting a table even if we wanted to wait. But we managed to book a table for the next evening. Try to book a table when you visit Rome. After all, I told you: it's one of the things to do in Rome one shouldn't miss out on!

The huge, delicious pizza at La Cuccuma
I remember we walked a lot until we reached La Cuccuma. Our grumbling stomachs were so grateful when they had the pizza from this place! Mathieu had a really pretty pizza, which looked healthy, like a salad on some tasty crust. I, on the other hand, went for a Quattro Formaggi. Less pretty, but it was so good!
Eating pizza is among everyone's favorite things to do in Rome. You might as well choose the best ones for your nice Rome holiday!
Oh, and the waitress at La Cuccuma was really nice and friendly, she reminded me a lot of Ana, one of my best friends. (Even you know a bit about Ana: she took most of the pictures from the Balkan road trip series!)
Stuffed and happy, we went back to our accommodation in Rome to get a good night's rest. And we were already wondering what other things to do in Rome we could choose for the next day and a half, before our return flight.
---
In conclusion, Rome is a city that has a lot more to offer than simply the typical tourist sites. There are many off-the-beaten-path activities to do in Rome if you want to avoid the crowds and see the city in a more genuine way.
There is no shortage of new things to do in Rome, from visiting intriguing museums to walking through quaint neighborhoods. Consider spending some time discovering some of the city's lesser-known beauties if you want to avoid the tourist traps and are considering a vacation to the Eternal City. You'll have a richer, more genuine grasp of what makes Rome so unique as a result!
This article is also available on GPSmyCity.
---

Mirela Letailleur is a Romanian travel blogger living in the South of France. She writes on The Travel Bunny travel blog about affordable travel in Europe, creator of unique free travel guides, local travel expert. Problem solver. Wannabe coffee guru.
Want even more things to do in Rome? Read these travel articles:
Colosseum, Roman Forum & Palatine Hill
Walking from Vatican City to Trastevere
More of Rome's historical center