Golden sands stretching as far as the eye can see, the rhythmic dance of turquoise waves, and the infectious rhythm of Latin beats in the air – welcome to Cancun, the crown jewel of spring break destinations. Gone are the days when Cancun was merely whispered among newlyweds seeking a romantic escape. Today, it roars loudly on the global stage, beckoning adventure-seekers, sun worshippers, and party enthusiasts alike.
Guide to Cancun for spring break
Every year, as winter's grip loosens, a vibrant tapestry of young spirits descends upon this Mexican paradise, transforming it into a playground of sun-soaked memories and moonlit revelries. But what's the allure, you ask? Is it the promise of sun-kissed adventures by day and electrifying fiestas by night? Or perhaps it's the tantalizing Cancun spring break packages that offer a cocktail of experiences without burning a hole in the pocket?
Forget the clichéd spring break destinations of yore. If you're yearning for a blend of exotic allure and exhilarating experiences, Cancun is your siren call. Whether you're a college student looking to make memories with friends or a solo traveler seeking a different rhythm, Cancun promises a spring break that's anything but ordinary. Why settle for the usual when the extraordinary awaits? Dive into the Cancun Mexico spring break packages, where every experience is a story waiting to be told.
Disclosure: Some of the links below are affiliate links. This means that at no extra cost to you, The Travel Bunny will earn a small commission if you click through and make a purchase. Thank you!
---
What is spring break like in Cancun?
As the first rays of dawn kiss the horizon, Cancun awakens, shimmering in a golden hue, ready to embrace the myriad of souls seeking its enchanting embrace. But what makes Cancun the ultimate spring break destination, eclipsing even the famed Florida shores?
Imagine standing on the edge of the world, where the cerulean waters of the Caribbean Sea meet powdery white sands. Cancun's beaches aren't just stretches of land; they're canvases painted by nature, where every grain of sand tells a tale of timeless allure. Whether you're looking to bask under the sun, book in hand, or dive into the vibrant marine life beneath the waves, these beaches offer a sanctuary for every kind of traveler.
Then, as the sun dips below the horizon, Cancun undergoes a mesmerizing transformation. The tranquil beaches give way to pulsating rhythms, neon lights, and an energy that's palpable. Dive into the heart of Cancun's nightlife, where every corner is a mosaic of experiences. From salsa dancing under the stars to sipping on exotic cocktails at chic rooftop bars, the city promises a whirlwind of memories. And for the spring breakers Cancun? The city rolls out a red carpet, leading to their favorite hotspots, where memories of a lifetime are crafted every night.
Now, if the thought of splurging on a spring break trip is holding you back, think again. Cancun redefines luxury with affordability. Those tales of exorbitant spring break expenses? They fade away when you discover the treasure trove of spring break Cancun packages. Tailored to perfection, these packages ensure you experience the best of Cancun without burning through your savings. From flights that glide smoothly into Cancun Airport to cozy lodgings that offer a slice of paradise, every detail is meticulously crafted.
As you ponder over your next spring break destination, remember this: Cancun isn't just a place; it's an experience. One that beckons you with open arms, promising a journey that's as unforgettable as the tales you'll recount. And who knows? Next year, as others debate over destinations, you'll be packing your bags, your heart set on another rendezvous with Cancun. After all, why tread the familiar when the extraordinary beckons?
---

Top spring break hotels in Cancun
Cancun, a gem on the Yucatán Peninsula, is not just a honeymooner's paradise. Over the years, it has transformed into a sought-after spring break destination, offering a refreshing alternative to the usual Florida escapades. With its pristine beaches, electrifying nightlife, and a plethora of activities, Cancun promises an unforgettable spring break experience. And the cherry on top? The city boasts some of the best hotels that cater specifically to the spring break crowd. Let's explore some of the top-rated Cancun spring break hotels.
Take, for instance, the Wyndham Alltra Cancun All Inclusive Resort. Located in the heart of the Zona Hotelera, it's a stone's throw away from the West Coast of Isla Mujeres, Punta Cancun, Punta Nizuc National Park, and the renowned La Isla Shopping Mall. Here, you can soak up the sun on a shimmering beach and later indulge in a spa session. With seven diverse restaurants, every meal becomes a culinary adventure. And with an average nightly price of $231.90 and a special 10% discount, it's a deal hard to resist.
Not far behind is the Riu Palace Peninsula All Inclusive, a beachfront marvel adjacent to a golf course. Located in the Zona Hotelera, it offers easy access to Langosta Beach, Tortuga Beach, and the Cancun Convention Center. With a full-service spa and seven on-site restaurants, it promises a blend of relaxation and gastronomic delights. Priced at an average of $263.79 per night and a whopping 55% discount, it's an offer that screams luxury at an affordable rate.
Finally, the Wyndham Grand Cancun All Inclusive Resort & Villas beckons with its promise of opulence. Situated on the beach in Zona Hotelera, it's close to attractions like Aquaworld and the historic El Rey Ruins. Dive into luxury with its full-service spa and a choice of seven restaurants that cater to every palate. With an average nightly rate of $216.95 and a 25% discount, it's the epitome of luxury meeting affordability.
These hotels not only offer a luxurious stay but also ensure you're in the heart of all the action. So, are you ready to swap the familiar Florida shores for the exotic beaches of Cancun? What do you think about these? The more you tell me about what you're looking for, the more I can help! If you'd like to see something different or explore other travel services, just let me know. Your perfect spring break awaits!
---
Stay at one of the best spring break resorts in Cancun
As the sun dips below the horizon, casting a golden hue over the pristine shores of Cancun, a different kind of magic begins to unfold. This isn't just any tropical paradise; this is Cancun, home to some of the world's most luxurious and enchanting resorts. And among them, one name stands out, beckoning travelers with its promise of unparalleled luxury and serenity: The Belmond Maroma Resort.
Imagine a place where every corner tells a story, where the walls whisper tales of Mexico's rich heritage, and where every step you take is a dance with luxury. The Belmond Maroma Resort is not just a hotel; it's a living, breathing masterpiece. A harmonious blend of traditional Mexican artistry and modern elegance, this resort is a testament to the beauty that arises when nature meets luxury.
From the moment you step into your room, you're transported into a world of opulence. Hand-painted tiles that tell tales of ancient civilizations, luxurious wool rugs that cushion your feet, and original artworks that capture the soul of Mexico. Every detail, from the sunken tubs to the hand-painted bedspreads, speaks of a love for craftsmanship and a passion for perfection.
But the true essence of the Belmond Maroma Resort lies beyond its walls. Nestled amidst lush gardens and kissed by the gentle waves of the Mayan Riviera, this resort offers a sanctuary for the soul. Whether you're basking under the sun by the beachfront Jacuzzi, indulging in a therapeutic Mayan steam bath, or simply losing yourself in the rhythmic dance of the coconut palms, the resort promises a spring break experience like no other.
And as the day gives way to night, and the stars begin their celestial dance, the resort's spa beckons. A haven of tranquility, where ancient therapies meet modern techniques, and where every treatment is a journey to nirvana. From crystal therapies to aromatic massages, the spa at the Belmond Maroma Resort is where dreams take flight.
For those seeking a spring break that transcends the ordinary, the Belmond Maroma Resort is the destination. One of the best Cancun spring break resorts, this is a place where memories are crafted, stories are born, and where every moment is a celebration of life.
---
All-inclusive Cancun spring break options
Imagine waking up to the gentle hum of the Caribbean waves, the sun casting golden hues across the room. You step out onto your balcony, taking in the panoramic views of Cancun's pristine beaches. The best part? Knowing that every experience awaiting you today has already been taken care of. Welcome to the world of all-inclusive Cancun spring break options.
Why choose an all inclusive Cancun spring break?
Hassle-free vacationing. With an all-inclusive package, you're free from the daily decisions of where to eat, what activity to indulge in, or how much to spend. Everything is pre-planned, allowing you to truly relax and immerse yourself in the Cancun experience.
More bang for your buck. Often, these packages offer value for money. From gourmet meals, and premium drinks, to a range of activities, you get more than what you'd typically pay for individually.
Diverse culinary experiences. All-inclusive resorts in Cancun pride themselves on their culinary offerings. From authentic Mexican cuisine to international gourmet dishes, your taste buds are in for a treat.
Endless activities. Whether you're into water sports, spa treatments, or cultural excursions, these packages ensure there's never a dull moment.
Safety. Especially beneficial for first-time travelers or those unfamiliar with the region, staying in an all-inclusive resort ensures a safe environment, with everything you need within reach.
---
Dive into Expedia's all-inclusive deals
Ready to embark on a carefree journey? Expedia's all-inclusive Cancun spring break deals are your ticket to paradise. Handpicked resorts, unparalleled experiences, and deals that ensure you get the most out of your vacation budget.
As the Cancun sun sets, painting the sky in shades of orange and pink, imagine sipping on a cocktail, knowing that every detail of your trip has been meticulously planned and paid for. That's the magic of an all-inclusive spring break in Cancun. Cheers to adventures, memories, and the luxury of convenience!
---
Book comprehensive Cancun spring break packages
Cancun — a name that evokes images of azure waters, golden sands, and the rhythmic beats of salsa echoing in the distance. But beyond these sensory delights, Cancun offers something even more enticing for the discerning traveler – all-inclusive spring break packages. Imagine a vacation where every detail, from your morning mimosa to your midnight snack, is taken care of. No hidden costs, no unexpected expenses, just pure, unadulterated relaxation.
Why opt for an all-inclusive package in Cancun?
Hassle-free experience. With everything pre-planned and pre-paid, all you need to do is show up and enjoy. No need to carry cash or worry about exchange rates. Just pure holiday bliss.
Gourmet delights. Cancun's all-inclusive resorts are renowned for their culinary offerings. From local Mexican delicacies to international gourmet dishes, your taste buds are in for a treat.
Entertainment galore. These packages often come with a plethora of activities. Whether you fancy water sports, dance lessons, or simply lounging by the pool with a cocktail in hand, there's something for everyone.
Great value for money. When you factor in meals, drinks, activities, and entertainment, these packages offer incredible value. It's luxury without the hefty price tag.
Now, if you're wondering where to find these magical all-inclusive deals, look no further. Expedia has curated a list of the best spring break packages in Cancun. From luxurious beachfront resorts to quaint boutique hotels, there's a package tailored to every traveler's dream.
Explore Expedia's best Cancun spring break packages!
In the end, a trip to Cancun is an experience, a memory, a story waiting to be told. And with these all-inclusive packages, your story is bound to be one of ease, luxury, and endless fun. Don't wait and dive into the Cancun dream and let the adventure begin!
---
Best things to do in Cancun spring break
The sun-kissed shores of Cancun beckon, not just with their golden sands and azure waters, but with a treasure trove of experiences waiting to be unveiled. As the gentle waves play a lullaby and the palm trees sway in rhythm, your Cancun spring break story begins.
Dive deep into the ocean's heart
Imagine the thrill of descending over a hundred feet beneath the waves, cocooned inside a real submarine. As the world above fades away, the ocean's secrets come alive. Colorful corals, playful fish, and the mysteries of the deep – this underwater odyssey promises to be the highlight of your Cancun spring break.
Book the unique Cancun Subsee Explorer Ride!
---
Explore nature's marvels at the Mayan Riviera
Beyond the parties and the beaches, the Mayan Riviera offers a world of natural wonders. Boasting the second-largest barrier reef on the planet, this is a paradise for water enthusiasts. Whether you're riding with the breeze, ziplining over serene waters, or swimming amidst vibrant marine life, every moment here is a brush with magic.
Book the Cancun & Riviera Maya: ATV, Zipline, & Cenote Combo Tour!
---
Enjoy a Caribbean carnival on the waves
As the sun sets, the adventure continues. Board a catamaran to Isla Mujeres and let the Caribbean carnival whisk you away. With a sumptuous buffet, an open bar, and a dazzling Caribbean show, this journey promises to be an extravaganza of fun and frolic. And as the boat docks, Cancun's electrifying nightlife awaits, promising a night of dance, music, and memories.
Book the all-inclusive Isla Mujeres tour on a catamaran with snorkel, open Bar, and transfer!
---
Unwind and explore
After a night of revelry, what better way to relax than a serene horseback ride along the beach? Feel the wind in your hair and the rhythm of the horse beneath you as you explore Cancun's natural beauty. Or perhaps, embark on a glass-bottom cruise, where the ocean's wonders come alive beneath your feet.
---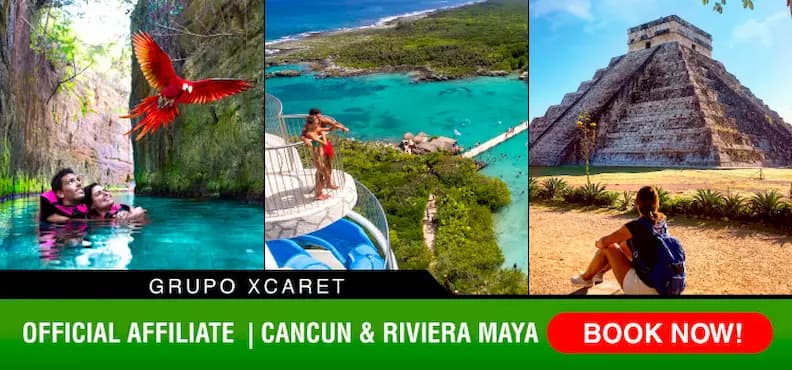 Explore Grupo Xcaret Parks – a world of adventure
No Cancun spring break is complete without a visit to the Grupo Xcaret Parks. From thrilling rides to serene natural attractions, these parks offer something for everyone. And the best part? You can create your own Cancun spring break package and tailor your experience to perfection.
---
When is spring break in Cancun?
The sun casts its golden hue, the waves dance with renewed vigor, and the air is thick with anticipation. It's that time of the year again – Spring Break in Cancun. But when exactly does this annual fiesta unfold? Let's dive into the sands of time and find out.
The rhythms of spring
Typically, Spring Break in Cancun kicks off in early March and lasts until mid-April. These weeks see a surge of energy and enthusiasm as students and travelers from around the world descend upon Cancun's shores, seeking sun, sand, and unforgettable memories.
---
A look back at previous Cancun spring break vacations
Spring Break Cancun 2020
This year was unique. As the world grappled with the onset of the pandemic, the usually bustling beaches of Cancun witnessed a quieter spring break. Yet, the spirit of Cancun remained unbroken, with many finding solace in its serene beaches and azure waters.
Spring Break Cancun 2021
With cautious optimism, travelers began to return. The beaches saw more footprints, and the nights were alive with music and dance once again. Safety protocols were the norm, but the essence of spring break remained untouched.
Spring Break Cancun 2022
This year marked a resurgence. With the world adapting to the new normal, Cancun's spring break was back in full swing. The parties were bigger, the adventures more thrilling, and the memories even more cherished.
Spring Break Cancun 2023
The current year promises to be even more special. As travelers become more eco-conscious, sustainable spring break experiences are the trend. From eco-resorts to conservation activities, spring break in Cancun is evolving, blending fun with responsibility.
Anticipating Spring Break Cancun 2024
What does the future hold? If the trends are anything to go by, Spring Break 2024 in Cancun will be a harmonious blend of tradition and innovation. Expect beach parties powered by renewable energy, eco-friendly accommodations, and a focus on local experiences. But one thing will remain constant – the timeless allure of Cancun during spring break.
Whether you're reminiscing about past spring breaks or eagerly planning for the next, one thing is certain: Cancun's spring break is more than just a season. It's an emotion, a memory, a story waiting to be told.
---
Cancun spring break — a college student's best guide
The sun is shining brighter, the semester's weight is lifting, and the call of Cancun's pristine beaches is irresistible. Ah, spring break! A rite of passage for every college student. But how do you ensure that this chapter of your college tale is both epic and smooth? Here are some golden nuggets of advice:
Plan your spring break to Cancun in advance
The early bird not only gets the worm but also the best deals! Start your research months in advance. Look out for student spring break Cancun deals that pop up on travel websites. These packages often include accommodation, meals, and even a few activities.
---
Budget your student spring break Cancun wisely
Cancun can be both a dream and affordable. Set a daily budget for expenses like food, drinks, and activities. Remember, the best memories often come free — like a sunrise watch with friends or a beach volleyball match with fellow travelers.
---
Stay safe during your Cancun college spring break
While Cancun is generally safe, it's essential to be cautious. Stick with your group, especially at night. Keep a copy of your passport and other essential documents in a safe place. And always let someone know where you're headed.
---
Respect the locals on your Cancún spring break
Remember, you're a guest in Cancun. Respect local customs and traditions. This means not littering the beautiful beaches and being polite to the locals. A little courtesy goes a long way.
---
Dive into adventure on your spring break Cancun Mexico
While the beaches are divine, Cancun has so much more to offer. Explore the Mayan ruins, dive into the cenotes, or take a salsa dancing class. Embrace every experience!
---
Stay hydrated and sun-safe on your college spring break Cancun
The Cancun sun can be intense. Always have a bottle of water handy and reapply sunscreen throughout the day. A sunburn is not a souvenir you'd want.
---
Look out for student deals for your Cancun spring break trip
Many local businesses offer special discounts for students during spring break. From nightclubs to adventure tours, always flash your student ID and ask if there's a deal.
---
Document your journey to Cancun during spring break
Whether it's keeping a journal, vlog, or just photos on your phone, document your Cancun adventures. Years down the line, these memories will be priceless.
Dear college adventurers, as you set sail for Cancun's shores, remember that this journey is as much about the memories you make as the places you visit. Pack your bags, grab your friends, and dive into a spring break that will be the stuff of legends. And always keep an eye out for those student spring break Cancun deals; they're your ticket to an unforgettable yet affordable adventure.
---
Safety tips for spring breakers in Cancun
The sun-kissed beaches of Cancun, with their golden sands and azure waters, beckon travelers from around the world, especially during spring break. The vibrant nightlife, rich cultural experiences, and the promise of adventure make it a haven for young spirits. But as with any popular destination, it's essential to tread with a mix of excitement and caution. Here's how to ensure your Cancun spring break is both thrilling and safe.
Stay informed and alert
While Cancun is generally safe for tourists, it's always wise to stay updated on local news. Avoid areas that are off the beaten path, especially late at night. Stick to well-lit places and familiarize yourself with the main routes.
---
Travel in groups during your spring break in Cancun Mexico
There's truth in the saying there's safety in numbers. Whether you're exploring the Mayan ruins or dancing the night away, it's always better to have company.
---
Watch your drink on your Mexico Cancun spring break
Always keep an eye on your drink and never accept beverages from strangers. It's easy to get carried away with the party spirit, but it's crucial to stay vigilant.
---
Keep your valuables secure on Cancun breaks
While it might be tempting to flaunt that new watch or necklace, it's best to leave valuables in your hotel safe. Carry only what you need and use a money belt or hidden pouch.
---
Respect local customs on Cancun spring break holidays
Remember, you're a guest in another country. Respect local traditions and customs. A little courtesy goes a long way in ensuring a harmonious experience.
---
Stay hydrated and protected on your spring break Mexico Cancun
The Cancun sun can be intense. Drink plenty of water, use sunscreen, and wear a hat. It's easy to forget these basics in the excitement, but they're essential for your well-being.
---
Use registered taxis during spring break at Cancun
If you need to take a taxi, ensure it's a registered one. It's always a good idea to ask your hotel to call one for you.
---
Trust your instincts on a Cancun spring break Mexico
If something doesn't feel right, it probably isn't. Trust your gut feelings and avoid situations or places that make you uncomfortable.
Cancun, with its blend of natural beauty and cultural richness, promises an unforgettable spring break. But as you dive into this paradise, remember to carry with you not just your sense of adventure but also your sense of caution. Here's to a spring break that's filled with memories, laughter, and above all, safety!
---
Cancun beckons: your unforgettable spring break awaits!
As the sun sets on our journey through the vibrant streets and pristine beaches of Cancun, it's clear why this gem is the crown jewel of spring break destinations. From the ancient whispers of Mayan ruins to the pulsating beats of its nightlife, Cancun offers an intoxicating mix of adventure, relaxation, and cultural immersion.
But beyond the allure of its turquoise waters and golden sands lies the heart of Cancun – its ability to craft memories that last a lifetime. Whether you're diving deep beneath the waves, dancing until dawn, or simply soaking in the sun, every moment in Cancun is a story waiting to be told.
And the best part? This dreamy escape doesn't have to break the bank. With unbeatable spring break deals on Expedia or Booking.com and a plethora of unforgettable experiences on GetYourGuide, your perfect Cancun adventure is just a click away.
As the waves whisper tales of ancient civilizations and the breeze carries the promise of new adventures, remember that Cancun is not just a destination; it's a feeling, an experience, a memory. Dive in, explore, and let Cancun etch its magic onto your soul.
---

At just 24, Sidney Child had stamped her passport in 20 countries, making her a seasoned traveler and a treasure trove of global insights. Her college years were not just about textbooks; they were enriched with international experiences, thanks to her study abroad stint. This wanderlust-driven journey has not only honed her travel expertise but also deepened her understanding of diverse cultures and landscapes.
When it comes to Cancun, especially its electrifying spring break, Sidney is the go-to guru. Her extensive travels and youthful perspective make her the perfect guide for those looking to dive into Cancun's vibrant spring break scene. With Sidney's advice, travelers are sure to unlock the best-kept secrets of this tropical paradise.
You too can become a guest blogger on The Travel Bunny. Submit a free guest post!
If you enjoyed this article on Cancun spring break trips, you should read
Getting ready for fabulous spring break trips
10+ inspiring spring break ideas
Spring break South Padre Island