Go on a cheap Cancun spring break if you're looking for something different for your upcoming vacation! Cancun has always been known as a great honeymoon spot, but now it's become a great spring break destination for those who want to get away from the usual Florida trip.
Disclosure: Some of the links below are affiliate links. This means that at no extra cost to you, The Travel Bunny will earn a small commission if you click through and make a purchase. Thank you!
---
What is spring break like in Cancun?
Cancun is a beautiful destination for spring breakers. It has beautiful sandy beaches and plenty of space for everyone who wants a peaceful yet fun spring break. And you don't even have to worry about how much is spring break in Cancun. Because it's definitely more affordable than the usual Florida spring break! An inexpensive spring break Cancun package also comes with airfare and hotel lodging only to make it more appealing.
Your cheap spring break Cancun is going to be memorable and you're not even going to remember where Florida is the next year. Instead, you'll be planning your Cancun spring break without any hesitation!
Find Cancun Airport transportation for your upcoming trip
---

How to spring break in Cancun
As soon as you start your Cancun spring break, you should go on a submarine tour. Going over a hundred feet underwater, you're going to experience what life is all about on a real submarine. This alone will make your Cancun spring break amazing.
Local culture and natural resources are just a few of the attractions that distinguish the Mayan Riviera from other popular spring break destinations in Central America. First of all, this is where you'll find the second-largest barrier reef in the world, offering unsurpassed water activities such as snorkeling, windsurfing, kayaking, sailing, swimming, deep-sea fishing, and fly-fishing. The sandy beach gives visitors the ultimate privacy and unmatched natural beauty.
You can also take a double-decker boat to Isla Mujeres for the Caribbean Carnival. On this 5-hour ride, you will enjoy a buffet dinner and an exotic Caribbean show paired with an open bar. And if you think the night's still young when you come back, you can start to explore Cancun's nightlife, too. Such a fun party night will have you spending very little time on the beach the next day, however.
Some horseback riding and/or a glass-bottom cruise are also to be considered for your Cancun spring break.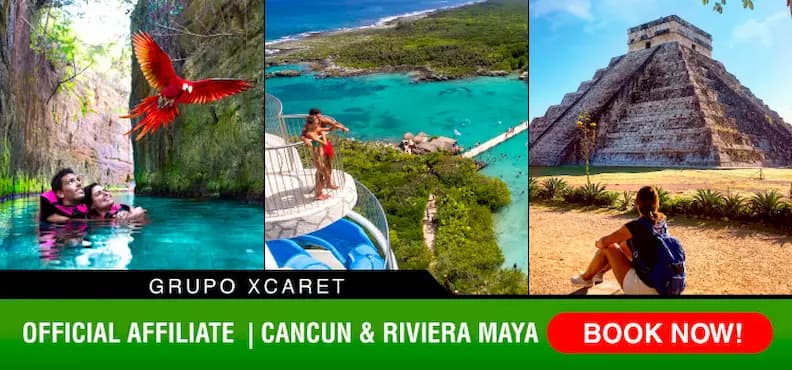 ---
Stay at one of the best spring break resorts in Cancun!
It's hard to believe that one of Central America's top-rated hotels is only a short 30-mile bus ride from the Cancun spring break heaven. Located in a luxurious tropical paradise on the Mayan Riviera, this place isn't your ordinary Mexican vacation destination. The Belmond Maroma Resort is a third-place winner of the Conde Nast Traveler Magazine Reader's Choice Award for Central America and a favorite for spring break travelers.
The Belmond Maroma Resort is a destination that showcases exquisite arts and crafts from every part of Mexico, including sculptures, hand-painted bathroom tiles, hand-painted natural cotton bedspreads and decorative pillows, and luxurious wool rugs. Rooms and public spaces display original art by Mexican and foreign artists, and each room also has its own special objects.
The Belmond Maroma Resort in Mexico has 58 rooms and suites set in lush gardens, cooled and shaded by coconut palms on one side, and exposed to the warmth of the sun and the sea on the other.
Relax in a king-size bed after you take a luxurious bath in a sunken tub, a sparkling pool, or a beachfront Jacuzzi at one of the best spring break resorts in Cancun. Afterward, let all your problems melt away in the spa, where you can choose between massages, reflexology, facials and craniofacials, mud treatments, aromatherapy, yoga, meditation, crystal therapy. Whatever your preferences, make sure you don't leave out the ancient art of temazcal, the purifying and soothing practice of the Mayan steam bath, during your Cancun spring break trip.
---

Sidney Child loves to travel and experience the world. She's 24 years old and during college, she was lucky enough to study abroad. Sydney considers herself fortunate because she had traveled to 20 countries in the last 5 years.
You too can become a guest blogger on The Travel Bunny. Just submit a free guest post.
If you enjoyed this article on Cancun spring break, you should read
Getting ready for fabulous spring break trips
10+ inspiring spring break ideas
Spring break South Padre Island