Paul Theroux once said that "Travel is only glamorous in retrospect". If you've already been on long-distance journeys, you know how tiring the whole experience can get and how difficult it can be to get some sleep. So I've tested a new soft pillow to use on the go that might improve this whole experience while allowing you to also travel light. Read my Ostrich Pillow Light review below and decide for yourself if this will become your next travel companion.
Disclosure: Some of the links below are affiliate links. This means that at no extra cost to you, The Travel Bunny will earn a small commission if you click through and make a purchase. Thank you!
---
About Ostrichpillow
Ostrichpillow's story began with a Kickstarter campaign in 2012. I think most of us travelers remember articles from back then featuring the unusual design and features of their Original Napping Pillow, a cocoon like pillow. Beyond having a design that sparked a lot of curiosity (and sometimes, a bit of amusement), it opened the door to a lot of opportunities to take better naps wherever you may find yourself.
The Original Napping Pillow from Ostrichpillow became the obvious choice for travelers who wanted to isolate themselves from everything around them while on the move. In addition, the Ostrichpillow Original also turned out to be a good option for commuters and even for those who can nap at work. (Let's not forget there are countries where napping at work is highly encouraged to remain highly productive throughout the day.)
Furthermore, introverts went crazy for this actual ostrich pillow. Imagine being able to hide your head and hands, not in the sand, but in a comfortable dark, quiet, and comfortable space just for you, in the middle of a bright crowded noisy area. With this enhanced comfort pillow, it feels like you're traveling with your own packable oasis.
The Original Ostrich Pillow is the ultimate immersive pillow. It's like a cozy cocoon perfect for power naps.
It's been many years since then and even now I see people posting about their Ostrichpillow Original Napping Pillow in travel groups on social media. But, since then, the Ostrichpillow company grew, and they are now offering a wider range of products, to fit the needs of more and more travelers and improve the sleep quality for everyone.
So when Ostrichpillow allowed me to review two of their products, I chose what seemed to fit best my needs (and that of my husband's, too): the Ostrichpillow Light Versatile Pillow and the Go Neck Pillow. I will cover them in detail separately, starting with the Ostrich Pillow Light review.
---
My Ostrich Pillow Light Review
Key features of the Ostrich Pillow Light
As the name says it, it's light. This revolutionary travel pillow only weighs 125g.
It is versatile. It can be used not only as a travel pillow but also while commuting to and back from work, or when you're resting at home.
The integrated fit adjuster and the coated microbead filling make it very adaptable to your needs, allowing you to wear the light Ostrichpillow in various ways. It can be a confy travel neck pillow or your best huggable lounge pillow.
The Ostrich Pillow Light is fully reversible, giving you the option to choose between two colors.
---
Packaging & delivery
The Ostrich Pillow Light can be delivered to almost every country in the world. In my case, it got shipped directly to France and it arrived there before I relocated from Romania. My husband actually left in advance, but I stayed behind to get my driving license and also get fully vaccinated.
Free standard shipping is offered on orders over $65 or €60 in most countries, outside of promotions.
I can tell you one thing for sure: although the pillows come in cardboard packaging, they're very well protected. The delivery guy left them by mistake in the yard of our neighbors who weren't at home at the time. And it rained. However, when the neighbors arrived and they gave my husband the two parcels, the boxes weren't badly damaged. He was a bit concerned about the Ostrich Pillow Light because the package was moist, so I asked him to open it before I arrived and dry out the pillow if necessary. However, he found the pillow inside to be dry and undamaged in any way.
While we won't have an actual Ostrich Pillow Light unboxing for the reason mentioned just above, I'd still like to go over the packaging a bit with you: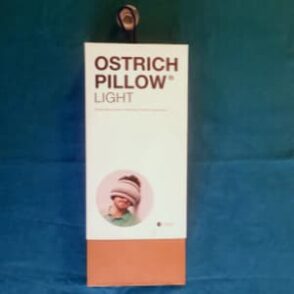 The box has a light design and a handle at the top.
This makes me think that it can make a good farewell gift for someone you care about. When they have a lot of luggage already, while they may appreciate an original pillow, a regular box may be difficult to carry. However, the handle at the top makes it easy to hold or to hang from a backpack.
---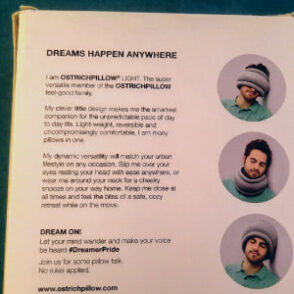 Cute introduction of the Ostrichpillow Light.
On the back of the box, this travel pillow presents itself to you, eager to become acquainted and maybe turn into a faithful travel companion. It also shows you three ways in which it can be worn: as a neck pillow (obviously!), but also as a sleeping mask/head pillow that offers that nice side padding when you rest your head on the side – against a cold window, for example.
---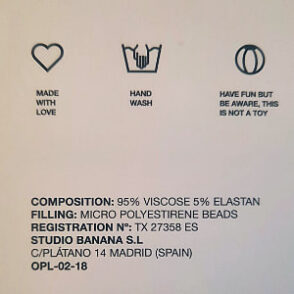 Some extra specifications on the back of the box.
Besides some safety precautions you should take (such as keeping the travel pillow away from fire, and not using it while driving or with small children), it's also mentioned that you can hand wash it! Which is excellent news, especially these days when we have to disinfect everything to feel safe. (And also since I saw other Ostrich Pillow Light reviews said it can only be spot cleaned.)

Last, but not least in this section, they say it's "Made with love", which is such a cute detail to add! It's actually the first they mention here, making it the most important feature for Ostrichpillow. I think this and the introduction make this travel pillow a more personal gift (even if you buy it for yourself!)
---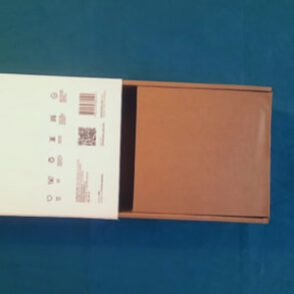 A touch of modern: the box slides open.
After you remove two small square pieces of thick sticky tape and release the handle, you'll be able to slide the box open, revealing the Ostrich Pillow Light inside. In my case, the Light travel pillow was already taken out by Mathieu.
---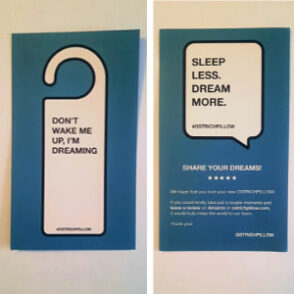 Cute details inside
Before we get to talking about the pillow itself, I just wanted to mention the final cute details Ostrichpillow added to the box. The first is a tiny flyer saying "Don't wake me up, I'm dreaming" on one side. And on the other, it says "Sleep less. Dream more" with an invitation to share your dreams (your feedback) with the company. I like the way it's phrased because dreams always have a real component to them, but also something related to our desires or concerns.
---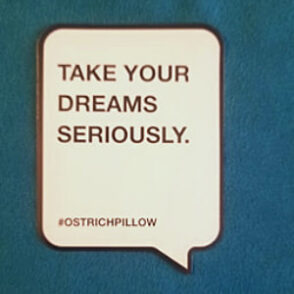 A sticker I'll actually use
In the box I also found a speech bubble sticker saying "Take your dreams seriously." And, since it's something I'm actively doing through The Travel Bunny, this is a sticker that made it on my laptop. It was a bit of a struggle to peel it off the protection foil after cutting my nails, but it's well worth the effort.
---
The Ostrich Pillow Light
At a first glance, without even touching it, you can tell it's going to feel soft. And then you put your hand on it, and yes, it's very pleasant to the touch.
Furthermore, when you move it around, the microbead filling makes a nice soothing sound, kind of reminding me of distant ocean waves. (If ASMR triggers soothe you, you might want to take advantage of this feature to relax better before going to sleep on the Ostrich Pillow Light.)
Of course, we'll obviously spot the tag that needs to be removed only by the customer. It tells us the composition of the all-new material (95% viscose, 5% elastane) for the reversible cover and also mentions that the filling consists of micro polystyrene beads or microbeads.
On this tag, we'll also be reminded of the features and safety precautions found on the back of the box. So, to save storage space, you should definitely keep the tag if you plan to get rid of the box. Or take a photo of it, as I did!

After removing the tag I had a closer look at my new travel pillow. It's in Midnight Grey, but these travel pillows are available in four other colors in their shop, all with lovely names: Blue Reef, Sleepy Blue, Moonlight Blue, and Dreamtastic.
I then pulled the Ostrich Pillow Light over my head. To wear it on my head or over my eyes, it already has a snug fit, so I don't need to use the elastic cord adjuster. But, once it's around my neck as an infinity scarf, pulling on the adjustable cord to tighten it immediately increases comfort.
Even though this travel pillow comes with a 2-year warranty, I expect it to become less tight in time, so the elastic cord adjuster will definitely come in handy, even if the default position feels perfect to you on the first wear.
The adjustable infinity shape of the Ostrich Pillow Light makes it one-size-fits-all. The material composition of the Ostrich Pillow Light allows it to stretch quite a lot, but its circumference can also be reduced in size thanks to the elastic cord.
I also noticed the Ostrich Pillow Light gets you warm, and on a cold rainy day like today when I'm typing from the couch, it's really inviting me to take a short power nap in absolute comfort. However, it also makes me wonder how it would feel in the heat of summer if you plan to use it in a place without any air conditioning. (Since summer is just around the corner, I'll come back with an update on that in a few weeks!)
While it feels amazing on the neck, I'm probably going to use the Ostrich Pillow Light wrapped around my head, covering my eyes and ears. I don't really enjoy sleeping with earbuds, but I'm also very sensitive to noise. (It weirded my mom out when I was visiting my parents last week and heard her going over a recipe in the kitchen all the way from my room on the other end of the apartment.) With the pillow covering my ears, I could see myself comfortable falling asleep with Google Home playing music on volume levels 4-5. I checked it out with a Disney songs playlist. 🙂
All in all, I am very pleased by the quality of the Ostrich Pillow Light and can't wait to travel again to try it on the road or in the air. Till then, it will definitely make my naps on the couch better!
---

Mirela Letailleur is a Romanian travel blogger living in the South of France. She writes on The Travel Bunny travel blog about affordable travel in Europe, creator of unique free travel guides, local travel expert. Problem solver. Wannabe coffee guru.