Welcome to the historic and picturesque neighborhoods of Monastiraki and Plaka in Athens! These two neighborhoods are a must-visit for any traveler who wants to dive into the rich cultural heritage of Greece. In this blog post, I'll guide you through some of the best places to visit in Athens, focusing on these two areas.
Monastiraki, which means "little monastery" in Greek, is named after the Church of the Pantanassa that was once located here. Today it's a bustling area filled with countless shops selling souvenirs, antiques, and traditional foods such as bougatsa – a flaky pastry stuffed with sweet custard or savory cheese filling. Speaking of bougatsa, make sure you try out one of the many bakeries serving up this local delicacy near Monastiraki Square!
Best places to visit in Athens Greece
Plaka is known as the "Neighborhood of Gods" since it lies just beneath Acropolis and has been inhabited continuously since ancient times. Walking through its narrow winding streets feels like stepping back in time: charming neoclassical mansions adorned with colorful flowers on balconies line up next to cozy taverns where you can enjoy delicious Greek cuisine while basking under the sun
Don't miss out on the Kirrhos viewpoint which offers breathtaking panoramic views over the Athens skyline or on wandering around Athenian streets to see up close how locals live their everyday life.
If getting purposely lost isn't your thing opt for organized tours at Monastiraki church, an architectural masterpiece boasting intricate decoration with Byzantine elements' influence till today's modern era.
It would seem surprising if someone leaves Athens without spending quality time at Plaka Square exploring various antique treasures from different historical periods.
Come take a stroll with me and immerse yourself in the glorious ancient history of Athens at the iconic Monastiraki and Plaka neighborhoods!
---
What is the most visited place in Athens?
As a frequent traveler, I can confidently say that Athens is a city full of incredible places to visit. However, when it comes to the most visited place in Athens, Plaka and Monastiraki definitely stand out!
Plaka and Monastiraki are two neighborhoods located right next to each other in the heart of Athens. Both areas are known for their stunning architecture, vibrant atmosphere, delicious food, and numerous historical landmarks.
In Plaka, visitors can explore narrow cobbled streets lined with neoclassical buildings adorned with colorful flowers hanging from balconies. There they will find many cozy cafes serving traditional Greek coffee and tempting taverns offering authentic cuisine. Some must-see attractions include the Tower of Winds built by Andronicus Kyrristos back in 1BC or the Lysicrates Monument commemorating triumphs at theatre competitions during ancient times.
Monastiraki boasts its bustling flea market where tourists could buy souvenirs such as ceramics and pottery products along with handmade jewelry items, etc., plus its vivid night scene consisting of several bars like Au Revoir – a popular cocktail bar that offers scenic views towards Acropolis Hill or Mokka Specialty Coffee Roasters serving artisanal coffee varieties made from single-origin beans.
When people search for places to visit in Athens, they may come across Kirrhos – considered one of the oldest churches still standing today; Plaka Square Athens – famous for being an enormous square adorned by a statute named "The Morning" created by Georgios Fytalis; Bougatsa near me/Bougatsa Athens/ best bougatsa Athens, etc., which refers to the popular sweet filled pastry dish consumed typically as breakfast around Greece, and much more!
In addition, Monastiraki is known for its streets where travelers can enjoy a great walk while taking in the hustle and bustle of the city. Here, they can catch glimpses of ancient ruins scattered among contemporary structures.
All these factors make Plaka and Monastiraki (πλακα μοναστηρακι) desirable spots to visit must-see destinations for tourists from all over the world. Therefore, I would say that both places combined are perhaps the most visited place in Athens regardless of the time of year or season, offering a blend between culture, food, history, and lively atmosphere which leave travelers thoroughly satisfied after their stay in the Greek capital city.
---
What should we visit in Athens?
As a travel blogger and expert in Athens, I highly recommend visiting the vibrant neighborhoods of Plaka and Monastiraki. These areas are filled with colorful streets lined with shops, cafes, and restaurants that offer a mix of traditional food, modern Greek cuisine, and spectacular views.
Start your journey in Plaka Square to get a glimpse of life in the heart of Athens. It's also an excellent location to base yourself for exploring the area because it is surrounded by ancient ruins such as Hadrian's Library or Lysicrates Monument. You will find yourself transported back centuries ago as you walk through these amazing structures.
Make sure to take some time strolling through Monastiraki Flea Market – one of Athens' most famous landmarks where you can hunt for souvenirs like hand-crafted pottery products, locally-made jewelry, and other small trinkets.
When hunger strikes head over to Athinas Street which is home to some fabulous taverns serving delicious grilled meats. You could also try koulouri – sesame-covered bread rings sold everywhere on street stalls throughout downtown Athens.
As evening draws near I recommenced making time to explore much more streets especially up toward the Anafiotika district before heading down together meandering around another corner featuring beautiful stone paved roads!
Be sure not to miss out on Monastiraki Church. Its impressive structure shows cases of stunning Byzantine architecture including intricate murals that depict religious themes prominent during the Middle Ages.
In conclusion, there are plenty of places worth checking out when visiting Athens but Monastiraki and Plaka (μοναστηρακι πλακα) should be at the top of your list!
---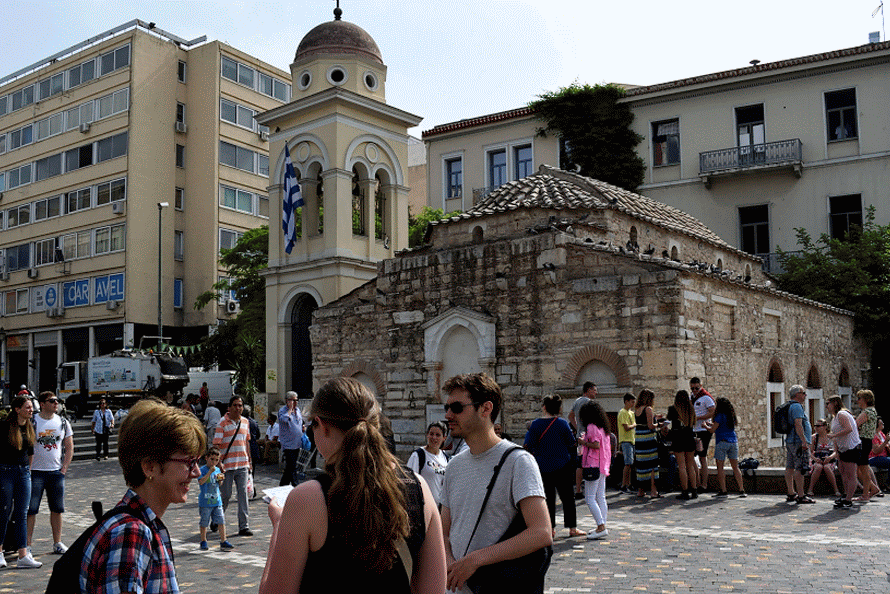 Church of St. Mary Pantanassa, in Monastiraki Square
After our visit to the famous Acropolis, the third day in the Greek Capital was for exploring even more outdoor places to visit in Athens on foot.
We ate some of the best bougatsa in Athens for breakfast near our apartment, then went to the subway. We got out at Monastiraki Square, a very lively and crowded area in the Greek capital city. Therefore it took a bit of time to get our bearings and get on our way. You can see how confused we looked that morning in the animated photo above!
The church which is in the background of the image above is the Church of St. Mary Pantanassa. Believe it or not, it was once known as the Great Monastery. Over time, probably with the construction of greater religious establishments, it started being called the Little Monastery. Or Monastiraki, in Greek. So this small church is the source of the name of the entire area.
---
Places to visit in Athens left by the Romans
Monastiraki Square is the best place to start your walk if you wish to visit the remains of the buildings left by the Romans. You simply walk from the square in the direction of the Museum of Ceramics. Right next to it, you will encounter the first Roman vestiges.

Hadrian's Library
Situated on the northern side of the Roman Forum, Hadrian's Library in the city of Athens was named after the Roman Emperor who founded it. The Library was quite luxurious in its time, having not only an interior courtyard and a garden but also a swimming pool.
Today you can enter the archaeological complex to check out the ruins of Hadrian's Library. The best-kept part is on the Western side, where you'll also find the entrance. Here, you can admire the beautiful Corinthian columns, made out of Poros stone and marble.
The tickets are inexpensive, so you could check out Hadrian's Library up close. You can also just take a stroll on Areos Street to admire the ruins from behind a fence.
---

Roman Agora
After the area surrounding Hadrian's Library, you reach another fenced location with ruins: the Roman Agora. It's actually a Roman Forum, smaller and less well-preserved than the Roman Forum in Rome, Italy. But you'll notice some resemblance.
In the first century BC, Athens was part of the Roman Empire. And Emperors Julius Caesar and Augustus funded the building of this Forum in the heart of Greece. After the Romans, though, the Venetians and the Ottomans raised their buildings in the area of the Roman Agora, destroying most of it.
---

The Horologion of Andronikos of Kirrhos
Also known as The Tower of the Winds, the building is thought to be the first meteorological station in history. Besides various sundials and a wind vane, the Horologion of Andronikos of Kirrhos also houses a water clock. It's an interesting visit, especially for engineers like Mathieu.
---

Places to visit in Athens for those who love the Greek islands
Having seen everything my dad planned for the day, we found ourselves with nothing to do before lunchtime. And though we had already been to Anafiotika the day before, we thought it was a good occasion to go back and explore it some more.
As I said before, Anafiotika is like an island in the middle of the Greek capital. It's one of my favorite places to visit in Athens!

Wandering through the maze of Anafiotika
While my parents mostly stayed on the main streets, visiting nice little Orthodox Churches, we chose a different path. (Might also be because Mathieu kept asking me why the Orthodox Christians feel the need to make their churches so cramped.)
The two of us took a left or a right on all the stairs we found. Some of them took us to wonderful narrow streets between houses. Others, however, turned out to be dead ends leading to somebody's doorstep.
Anafiotika is a true maze of streets that are worth getting lost on. At one point, we entered an area covered in graffiti, and some can be seen in the images below:

At another point, we ended up climbing and climbing, until we finally reached the highest streets in the neighborhood. After some nice glimpses of the city over the rooftops in Anafiotika, we tried to find my parents to continue together with our family trip to Athens.
---

Beer O'clock at the Old Tavern of Psaras
Once we found them, we all looked for a place to have a drink, as it was Beer O'Clock. Well, that's the name my mom gave to the break we had around noon, to have a refreshing drink in the shade, before lunch.
It wasn't always drinking beer, however. This time, only Mathieu and my dad went for beers. I chose a lemonade and my mom took a fancy frappé.
The setting was beautiful. The street is a terraced stairway, with taverns and cafés on the steps and the streets leading to the stairs. The Old Tavern of Psaras, where we had our drinks, also offers a nice view of Athens.
---

Friendship and inclusion in Athens
After our drinks, we wandered a bit in the rest of the Plaka. And, at one point, Mathieu pointed out to me that we were in an area where all the bushes had bells in them. We went to check them out and saw the following message attached:
Congratulations! You've just found out "Best Buddies Bell" & it's yours!
Help us spread friendship and inclusion for all. Post a picture of the bell to social media with the hashtags #LetsBeFriends #BestBuddiesBells #Filarakia.
I loved the campaign of Best Buddies Greece, and finding the bell made me smile. (The bell is currently happily handing on my balcony now.)
---

Church Agia Ekaterini
Also in Plaka, you'll find the Church of Agia Ekaterini (Church of St. Catherine). The religious building replaced an old Greek temple dedicated to the mother goddess Artemis.
Although the gates to the Church were locked, it's still lovely to admire the construction and the garden surrounding it from a distance.
---

Afternoon coffee close to the apartment
Well, after all those places to visit in Athens, we felt tired and we went to take a nap at the apartment. Mathieu and I were the first to wake up, so we went to the nearby Victoria Square to have a coffee.
After some looking around, we chose one terrace without any football screens: Soureti Café. The service was really good and my coffee was nicely flavored. We waited there for my parents to wake up and leave together to have dinner.
---

Dinner in Monastiraki
In Monastiraki, there is Adrianou Street, which has lots of taverns one next to the other. If you're lucky, you can even find a table with a view of the Ancient Agora.
We chose to eat at the Attalos Restaurant. I believe the proximity to the Ancient Agora is also what led them to take this name. The Ancient Agora Museum is housed by the Stoa of Attalos.
The food here was delicious and the service was amazing. Besides English, the owner also spoke a bit of Romanian, and he was very friendly. For the remaining days in Athens, my dad would prefer to take the subway to a few stations just to eat here!
---
So what is Athens most famous for?
As you step into Athens, Greece's capital city, it is hard not to feel overwhelmed by the abundance of historical and cultural landmarks that surround you. From ancient ruins like the Acropolis Hills' Stoa Of Attalos & Ancient Agora to charming neighborhoods like Plaka Monastiraki (also known as Monastiraki Plaka), there truly is something for everyone in this stunning city. No wonder people from all over the world search for places to visit in Athens – it's a destination that promises adventure, enchantment, and unforgettable memories.
Plaka Monastiraki Athens is an area that specifically boasts traditional Greek architecture, colorful streets filled with flowers, quaint cafes, and local shops selling ceramics, textiles, and souvenirs. Walking towards Monistiraki Square, one encounters unique historical treasures such as Hadrian's Library or Tower of the Winds which are architectural masterpieces highlighted both during day and night.
As you admire the enchanting ancient ruins scattered throughout the cityscape (e.g. Acropolis, Stoa Of Attalos, and the Ancient Agora), you can marvel at the design principles and symmetry that existed long ago surrounding the daily activities of those old times.
And no trip off Athens would be complete without trying out some authentic homemade dishes using fresh produce from their fertile land especially unique offerings like dragon lime fruit! Be sure to not forget to try the signature fava bean puree dips accompanied by grilled lamb chops if looking forward to savoring traditionally prepared Mediterranean dishes!
Adding to these indulgences Athens' multistory shopping malls could entertain any shopper with an appetite for international designer brands, domestically manufactured leather goods, and handmade embroidery textiles. Even shops for food lovers are footsteps away from towering modern structures and they can keep savory-curious visitors busy exploring local Greek cuisine with culinary excursions or take a bite of history tours.
---
Explore the best of Athens from must-visit sites to offbeat adventures
As a passionate traveler and travel blogger, I must say that Athens is truly a city of wonders. If you are planning to visit Athens, then make sure to explore the charming neighborhoods of Plaka and Monastiraki. These areas brim with history, culture, and picturesque street views, attracting travelers from all around the world.
Plaka is one of the oldest residential areas in Athens that preserves its authenticity despite being developed for tourism. It's an ideal place to witness picturesque Greek architecture while wandering through narrow streets lined with boutiques and traditional souvenir shops. Be prepared for some strenuous uphill walking but it's worth it!
On the other hand, Monastiraki Square gives access to everything – from essential travel amenities like pharmacies or cafes, bars, and restaurants to local public transport connections – thanks to its central location between Syntagma Square (what Greeks usually call "Constitution Square") and Acropolis Hill.
If you're interested in exploring historic sites, then visiting the Church of the Holy Apostles could be rewarding for cultural enthusiasts especially. Built in the Byzantine era, this Greek church still attracts many worshippers today.
The best way to enjoy both districts? You should try having your fresh cold frappe on any bench at a corner where these two neighborhoods meet for people-watching or taking selfies over there!
Whether you prefer exploring ancient structures or relishing modern dining experiences, these places can fulfill your expectations without spending too much time doing so! So pack up your bags now and get ready for an unforgettable Athenian experience including breathtaking Plaka and vibrant Monastiraki squares that will leave lasting memories forever – without forgetting about the fact that you'll be experiencing the famous Greek hospitality firsthand!
This article is also available on GPSmyCity.
---

Mirela Letailleur is a seasoned adventurer hailing from Romania and residing in the charming southern region of France. Her travel blog, The Travel Bunny, focuses on exploring Europe without breaking the bank.
Mirela's expertise doesn't just stem from her wanderlust – she has also created invaluable guides to help fellow travelers navigate Athens with ease. From must-see locations like Plaka Monastiraki Square to hidden gems tucked away in the winding streets of Athens, Mirela has an insider's knowledge of all things Athenian. She even knows where you can find the best cup of coffee while taking in breathtaking views of this historic city.
With her eagerness to solve any problem that arises during your travels, Mirela is truly a local travel expert you won't want to pass up!
After falling in love with the Athens street view, here are other articles to read on this travel blog
The rest of our family trip to Athens
Top 10 things to do in Athens
Traditional Greek food and drinks you must try