The South of France, February 2020. A vibrant palette of blues and gold painted the coastline as the Mediterranean Sea kissed the sun-drenched beaches. A gentle breeze whispered through the palms, carrying with it the tantalizing aroma of a distant bouillabaisse simmering in a local kitchen. It was winter, but you wouldn't have known it. Mathieu, wearing just a t-shirt and jeans, absorbed the rays of the afternoon sun, his eyes reflecting the azure expanse of the sea that lay ahead of us.
Finding the right sailboat in France
But our journey was not just a leisurely vacation. No, we were on a mission. A mission to find our perfect seafaring companion, our sailboat and home for the next few months. The time had come to trade our land legs for sea legs, to let the rhythm of the ocean guide our path. Our sailboat search in France would take us from the bustling harbors of Fréjus to the serene marina of La Grande Motte, from the historic shores of Montpellier to the tranquil waters of Port Santa Lucia in Saint-Raphaël.
We were ready, brimming with anticipation, and set to navigate not just the vast waters, but also the equally challenging yachtmarket of France. Finding the right sailboat for our Med sailing vacation was to be a voyage of discovery, of learning, of decisions that would shape our lives in ways we couldn't yet imagine. This is our story, our odyssey in the South of France, searching for the perfect sailboat. And we invite you to feel the thrill of the chase as we embark on this remarkable journey.
---
Setting sail – starting the preparations for our voyage at sea
Embarking on an adventure to buy a sailboat is like setting sail on a journey of discovery. The idea of exploring the serene waters, feeling the gentle breeze, and immersing in the freedom of the seas had been tugging at our hearts. We yearned for the thrill of waking up to a new horizon each day.
This journey began in earnest when we bought our folding bikes and sailing shoes from Decathlon. The bike would provide mobility on land while our sailboat would be our home on the waves. The shoes were a promise of many days spent on the deck and of explorations in various ports. They were not just items on a checklist but integral parts of our upcoming trip, trusted companions in the adventure that lay ahead.
Bagnols-en-Forêt, with its picturesque scenery and tranquil environment, served as our temporary base. Nestled in Mathieu's father's holiday cottage, we were surrounded by the allure of the nearby Côte d'Azur, the perfect place to start our sailboat search in France. The charm of the area, coupled with the convenience of amenities, made it an ideal springboard for our quest.
We dove headfirst into our search for the perfect sailboat, scouring ads, and contacting agents or owners. Our eyes were always peeled for the voilier à vendre (sailboat for sale) signs as we strolled around the various harbors. Every ad became a beacon and each harbor a new opportunity in our quest for the perfect sailboat. But we weren't just looking for a boat. We were searching for our future home browsing ads of the best liveaboard sailboats within a budget of around € 30,000. Every step brought us closer to our dream of sailing in the South of France, every discovery a chapter in our personal sailboat buying guide France.
The thrill of the hunt, the joy of discovery, and the dream of sailing on our own sailboat fueled every step of our quest to finding the right sailboat.
---

Fréjus – our first port of call
The salty sea breeze, the gentle murmur of the waves, and the sight of sailboats advancing slowly on the horizon were our first sights of Fréjus on the Plage de la Base Nature. The South of France in winter was surprisingly warm, especially for someone from Romania like me. As we strolled along the beach, the warm sun's rays coaxed us to shed our jackets. Even in winter, Fréjus had a certain charm that was hard to resist.
Fréjus was the first port of call in our sailboat search in France. This historic city, with its ancient Roman ruins and beautiful marina, was the perfect start to our journey. As we walked along the quay, watching the sailboats bobbing gently, we started to feel excited. Each boat we passed could be a potential new home, a vessel that could carry us on our dream of sailing in the South of France and other wonderful places in the Mediterranean.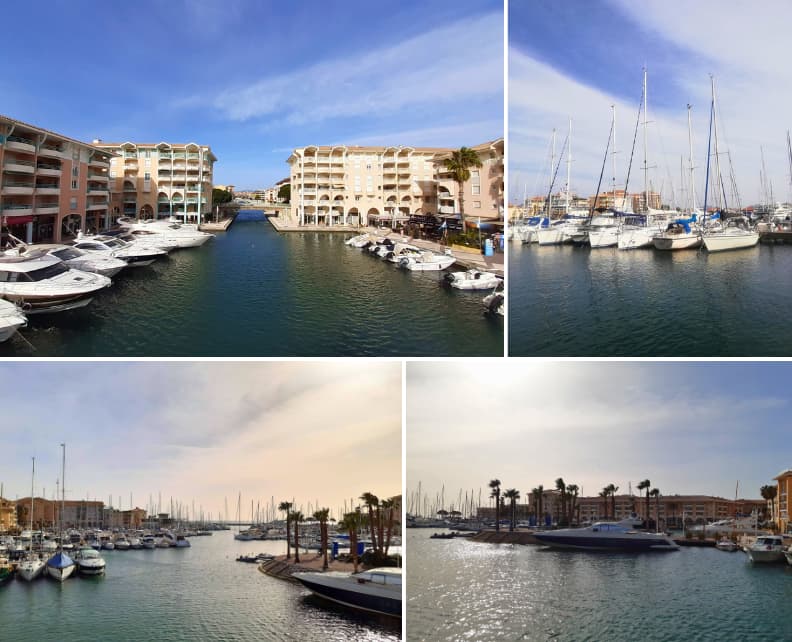 As we explored the harbor and the sailboat market, our eyes were keenly searching for the voilier à vendre signs. But the search that day proved to be fruitless. The agencies didn't have anything new, and no new sailboats were up for sale vs what we had already seen online. But our spirits were far from dampened. We knew that finding the right sailboat would take time and patience. This was, after all, just the beginning of our journey.
Our search that day ended at Le Caméléon, a cozy little restaurant near the marina. Mathieu used to go there often during his sailing lessons in 2019. It was run by an old couple, the only ones who kept their doors open every day, even during the winter season. The atmosphere in Le Caméléon was homely and inviting, a stark contrast to the more commercial establishments in the marina.
As I enjoyed my cuisse de canard confite with mashed potatoes, the sound of the sea and the sight of the sailboats outside the window reminded me of our mission. We weren't just a couple of tourists enjoying the local fare. We were sailors-to-be on a quest, looking for the perfect used sailboat for sale to call our own. As we left Le Caméléon that day, we knew that the road ahead of us was long, but we were eager and ready to face the adventure that lay ahead.
---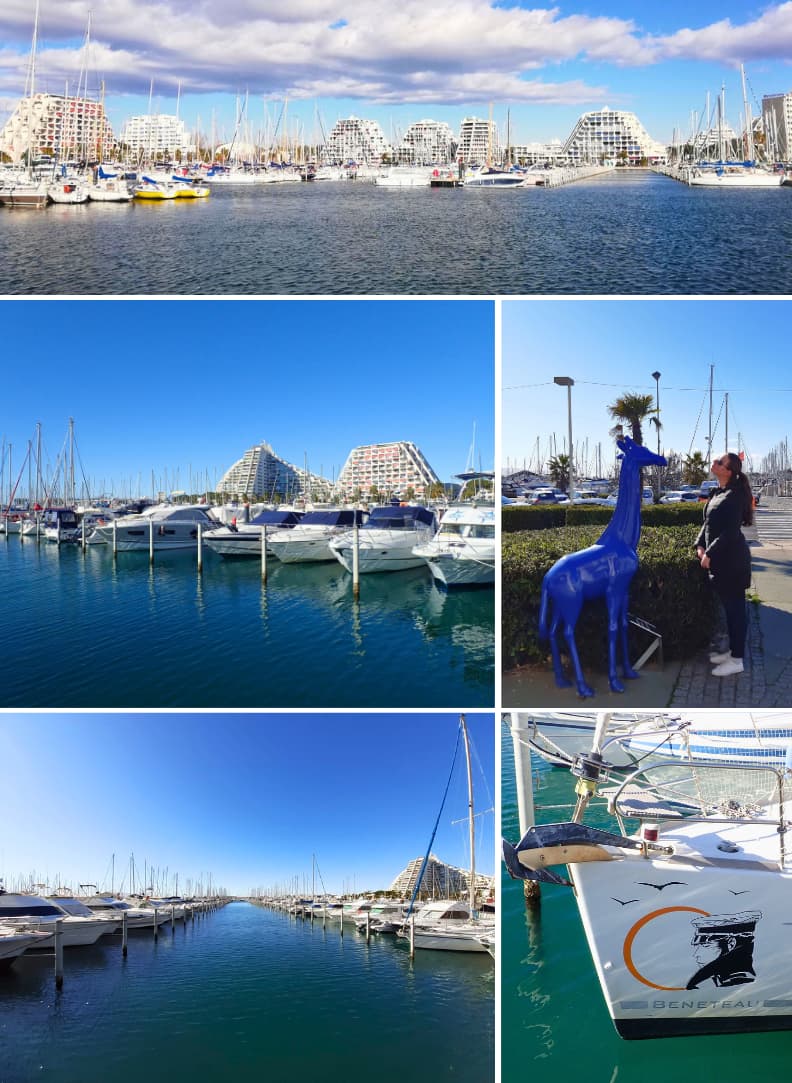 A sea of choices at La Grande Motte
Our next stop was La Grande Motte, a place that stood like an architectural tribute to the ocean and its many wonders. The marina, vast and teeming with yachts of all shapes and sizes, seemed like a living, breathing entity. Each sailboat, each yacht, looked like it had a story to tell, and we were there, eager listeners, ready to discover the one that would become part of our own narrative.
Our first encounter was with a Dufour 35, a sailboat that had seen plenty of beautiful destinations since its birth in 1976. It was called Nirvana, a name that spoke of blissful journeys and serene moments on the sea. Its owner had lived aboard for a while, which was evident from its well-equipped interior. But despite the charm of its lived-in feeling, we found the compartmentalization not quite to our liking.
Another concern arose when we saw the water collected in the bilge – murky and abundant. The owner dismissed it as a natural occurrence, but it sent a cold shiver down my spine. We were beginning to understand that finding the right sailboat wasn't just about choosing a beautiful vessel. It was about finding a boat that we could trust with our lives.

Seeking solace from our first encounter, we found ourselves in Le Marin Sol, a small and lively restaurant that served us a delightful meal. Mathieu relished his tuna, while I indulged in the succulent duck with mashed potatoes – a staple of my restaurant meals in France at the time. A couple of glasses of rosé helped lighten our mood, especially since I had the liberty to enjoy more, given that Mathieu was driving later.
The flip side – the challenges of a cheaper option
Post-lunch, we chanced upon an advertisement for a 1984 Jeanneau Sun Fizz, a 10-meter boat priced at a tempting € 15,000. Intrigued by what a cheaper option could offer, we decided to explore. The interior was a sight to behold, with the ceiling lining removed and an atmosphere heavy with the musty smell of neglect. It reminded us of an old man's home, closed up to keep out drafts, but also trapping all the past within its walls. With time, perhaps we could have nursed this boat back to health, making it a safe and welcoming home. But time was a luxury we didn't have back then.
As we walked away, we realized this encounter had taught us a valuable lesson. The search for a sailboat wasn't just a quest for the best yacht for world cruising or the best sailing yacht for sale. It was about understanding what we wanted in a sailboat, and what we were willing to compromise on. Because we weren't just looking for a boat but for a strong companion for our journey at sea.
---

Cap d'Agde – love at first sight, worry at first dip
After the eye-opening experiences in La Grande Motte and spending the night at a hotel in Montpellier, we were ready to explore the next port of call on our sailboat search in France – Cap d'Agde. Here, we were introduced to a Jeanneau Sun Shine 38, a stunning vision from 1986 that held us captive at first sight.
This Jeanneau sailboat stood proud and elegant, its lines smooth and inviting, whispering tales of adventures on the sea. It was as if we had found the perfect partner for our sailing trip in the South of France. But love, as we would soon discover, sometimes comes with its own set of challenges.
When the owner last took her out of the water, he discovered that the hull was attacked by osmosis, a term that sent a ripple of worry through our hearts. Osmosis, in sailing terms, refers to a condition where water penetrates the hull's surface, leading to blisters that can compromise the boat's structural integrity if left untreated. Our perfect sailboat had revealed a hidden flaw, a secret that could potentially jeopardize our dream journey.

Returning to Bagnols-en-Forêt, we were in love with the Jeanneau 38 but burdened by our concerns about the hull issues. It was a night of restless research, poring over online articles about osmosis, understanding its implications, and exploring potential solutions. I delved into the intricate world of yacht hull materials, boat classifications, and sailboat brands, trying to comprehend the gravity of our situation.
The fear wasn't just about the immediate issues. I was worried about the future too. If osmosis worsened over time and we failed to manage it, would it make it hard for us to sell the sailboat later? It was a question that haunted my thoughts, a specter lurking in the shadows of our dream.
However, amidst the apprehension and doubt, our resolve remained unshaken. We were on a quest to find the best sailboat for the money, the best first sailboat for our journey, and we weren't about to let a bump on the road discourage us. We knew the path to our goal wasn't going to be easy, but we were ready to face whatever lay ahead. After all, calm seas never made a skilled sailor.
---

The unexpected dreamboat in Saint-Raphaël
Our journey in search of the perfect sailboat continued, leading us next to a sailboat in St Raphaël, in the picturesque Santa Lucia marina. Here, nestled amongst other proud vessels, we found ourselves drawn to an unexpected contender – Baffi, a Bavaria 350 Lagoon from 1993. We asked for a visit to get a better understanding of sailboat prices, to compare sailboats, and to continue our exploration of sailing in France, but little did we know that Baffi was about to capture our hearts.
Baffi was a very comfortable and sturdy cruiser, her layout needlessly compartmentalized with two cabins and two toilets, a set-up that seemed to exceed our needs. There was also the matter of the sails which needed to be changed according to the owner. However, despite these concerns, as soon as I stepped below deck, a wave of delight washed over me. I remember clearly saying to Mathieu: "It smells so good, it smells clean!", my voice filled with surprise after our previous visits.
The scent wasn't the only thing that charmed us. The interior, decked in meticulously maintained wood, was both inviting and intimidating. It was as if we had stepped into a carefully preserved piece of sailing history, a testament to the love and dedication of the previous owners. The sight of the perfectly dry bilge and the recently changed engine, with a mere 11 hours on it, further stoked our admiration.
Baffi, the Bavaria 350, was a beautiful used yacht for sale that was well above our budget. It was a boat that initially seemed unsuited to our needs and yet, I found myself falling in love with it. Despite the concerns and reservations, I couldn't shake the feeling that this could be our dreamboat, our future liveaboard home.
But could we afford it? Could we justify the investment in a boat that exceeded our budget and our basic requirements? These questions weighed heavily on our minds. We were drawn to Baffi, but we also knew that we had to be practical, that we had to balance our emotions with the realities of our financial situation. And so, even as we left the port of Saint-Raphaël, the memory of Baffi lingered, leaving us both enchanted and contemplative.
---

The final decision: choosing Baffi
February 7th was a day that dawned like any other, but by the time the sun set, our lives had irrevocably changed. The day began with a rejuvenating hike through the green forest to the nearby Cascade de Gourbachin. Unbeknownst to us, by the end of the day, we would be standing at the precipice of a decision that would shape our future.
Later that day, we found Baffi, the Bavaria 350 Lagoon, the boat of our dreams. And, as the day ebbed away, I found myself relearning to ride a bike, while Mathieu effortlessly pedaled circles around me. Amidst the fun and laughter, a nagging thought persisted – Baffi was too expensive for us. And despite its allure, Mathieu seemed to be leaning towards the Jeanneau sailboat in Cap d'Agde.
In these moments of indecision, guidance came from an unexpected quarter. Jean-Daniel, a family friend with an extensive background in the field, became our beacon. When Mathieu sought his opinion and mentioned Baffi's almost new engine, Jean-Da didn't hesitate. He immediately pointed out the crucial role a good engine plays, even in a sailboat. And during our Med sailing trip, we remembered what he told us every time the wind turned against us or we had to outrun a storm!
With Jean-Da's advice in mind, we approached the negotiation table with a renewed sense of determination. The price, although steep, was not insurmountable. And with a bit of negotiating, we were able to lower it enough to bring Baffi within our reach. It was a tense few days, but eventually, Mathieu was able to pay the deposit and initiate talks with an insurance company for a boat inspection and appraisal.
However, even as we moved forward, a waiting game ensued. The owner was going on vacation for ten days, which meant our purchase was put on a temporary hold. As we waited, the anticipation grew. But every time the uncertainty crept in, we would remind ourselves of Baffi, of its scent of clean wood, its robust engine, and the feeling of being home it evoked within us. And so, we waited, knowing that Baffi, our dreamboat, was worth it.
---
What comes after finding the right sailboat in France
As our journey to find our first sailboat came to a close, we found ourselves standing on the threshold of a new adventure. The process had been filled with countless lessons, some inspiring and others daunting, but each one invaluable. Looking back, the journey was as much about finding our sea legs in the world of sailing as it was about finding our dreamboat.
For those of you embarking on a similar journey, we have a few words of advice. First, don't rush. The right sailboat won't sail away. It's easy to get swept away by the romance of the sea and the allure of a sailboat but take the time to understand what you truly want and need. Second, don't let initial impressions sway you. A sailboat is more than its exterior: it's the engine, the bilge, the comfort it offers, and the potential for it to be home.
Buying a sailboat in France was a journey of its own. Navigating the market, understanding the nuances of the local culture, and dealing with the paperwork can be overwhelming. But the French sailing community is supportive and filled with experts ready to lend a helping hand. From our experience, don't shy away from seeking advice, be it from a local sailor, a knowledgeable family friend and/or an expert in the field.
As we stood on the dock, looking at Baffi moored peacefully in the marina, we knew we had a considerable amount of work ahead of us. The sails needed changing, compartments reorganizing, and countless other tasks before we could set sail. But we weren't daunted. Instead, we were filled with eagerness and anticipation for the adventures that lay ahead.
The sea is an unpredictable mistress, at times calm and welcoming, at other times stormy and formidable. But with Baffi, we'd be ready to face whatever lay ahead. We knew there would be storms to weather and calm seas to relish, but we were ready! Ready to face the unknown, ready for the adventures, the challenges, and the sheer joy of living our dream!
And to all the budding sailors out there, we say this: the journey to finding the right sailboat may be long and filled with challenges, but it is worth every second. And when you finally set sail, with the wind in your hair and the sea stretching out before you, you'll realize that it's just the beginning of a grand adventure. Fair winds and following seas, fellow sailors!
---

Born and raised in Romania and currently making waves in the South of France, Mirela Letailleur is a seasoned travel aficionado with an uncanny knack for uncovering Europe's best-kept secrets. Her travel blog, The Travel Bunny, is a treasure trove of insider knowledge, packed with unique and comprehensive free travel guides that have been crafted from her personal experiences. Her specialty lies in discovering affordable travel opportunities, making wanderlust an accessible reality for many.
Mirela's recent venture into sailboat living has propelled her into a niche field of expertise: the ins and outs of buying a sailboat in France. Her own journey of finding the perfect sailboat, navigating the nuances of the yachtmarket, and eventually setting sail has equipped her with firsthand insights that she readily shares with her readers. A savvy problem solver and self-proclaimed wannabe coffee guru, Mirela is the go-to guide for anyone looking to embark on their own seafaring adventure. Her down-to-earth advice and engaging storytelling make her not only a reliable source of travel advice but also a friendly companion on your digital journey.
After looking for the best cruising sailboats for sale, check out these travel blog posts
From dream to reality: Med sailing during the pandemic in 2020
Sailing the Ionian Islands: Discover Greece by boat
Our Bavaria 350 for sale in Greece