It took us some time to leave the Rila Monastery and start out with Skopje North Macedonia travel adventures. Like on our arrival in the Rila National Park, there were works to expand the road, so we had to wait a lot for the machines to get out of the way or to move the recently cut trees out of the road.
Slowly, but surely, we made it. And we instantly started to appreciate North Macedonian music. I forgot to mention this, but we only listened to what was on the radio on this Balkan road trip. And the music we found, regardless of the radio channels, was like the music from the '80s!
Disclosure: Some of the links below are affiliate links. This means that at no extra cost to you, The Travel Bunny will earn a small commission if you click through and make a purchase. Thank you!
---

Arrival in Skopje
Once in Skopje, Tim found Urban Hostel & Apartments, where we stayed for two nights. It was a great deal: we had two rooms, a balcony, a small kitchen, and, most important: a washing machine in the bathroom.
We started searching for a restaurant recommended by Lonely Planet, but it was no longer there. However, in the area, we found a really nice place, with tasty food.
Urban Hostel & Apartments
Located in a secure, urban, yet quiet neighborhood, 10 minutes away from Skopje's main square on foot. The hostel offers free coffee, tea, maps, parking, Wi-Fi, computer, and printer access. Delivery and laundry services are also available. The reception is open 24h. Check-in is from 14.00 and check-out by 12.00. Reservations are valid until 23.00, on the announced arrival day.
Address: 22 Adolf Ciborovski, 1000 Skopje North Macedonia
Tel. 897-8432-384
---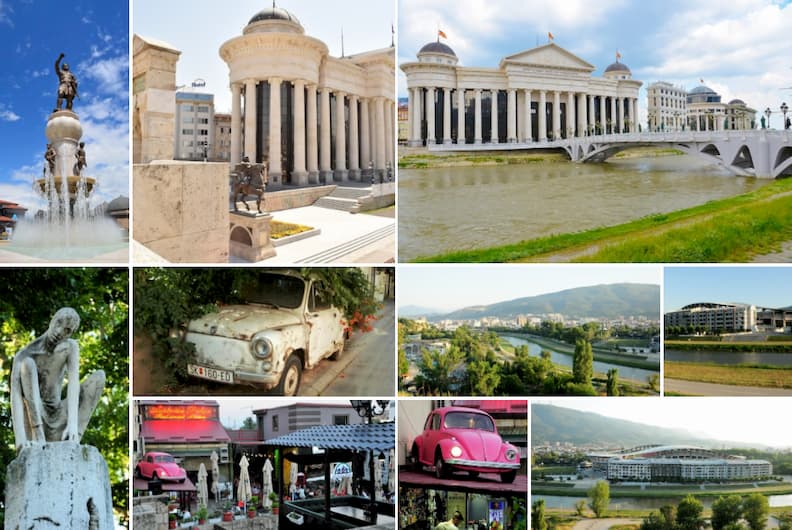 Our first discoveries in Skopje
After a hearty lunch/dinner (or linner, as a Londoner friend likes to call it), we went to the Skopje City Park or Gradski Park, past the stadium (Philip II National Arena or Telekom Arena) and across the Vardar River. We were heading towards the fortress but I was feeling sick, so I went back to our rooms. Ana and Tim, however, went on and saw a good part of the city center by night, too.
As bad as I felt, I still loved everything I spotted at the beginning of my Skopje North Macedonia travel adventure. And I hadn't even seen the most interesting parts yet!
At the hostel, I went and talked to the guy at the reception about things to do. I got a suggestion for a Balkans travel bucket list and some info on a free walking tour in Skopje for the next morning. After my friends returned, I talked Ana into joining me for the walking tour.
Here are all the addresses you might need for your Skopje North Macedonia travel:
Gradski Park
Open 24h. The entrance is free of charge.
Address: 89 Ilinden Boulevard, 1000 Skopje North Macedonia
Philip II National Arena (Telekom Arena)
Address: Aminta the third, 1000 Skopje North Macedonia
Tel. +389-2322-8462
Vardar River
Also known as Axios, Vardar is not only the most important river in North Macedonia but also in Greece. Length: 388 km
---

Mirela Letailleur is a Romanian travel blogger living in the South of France. She writes on The Travel Bunny travel blog about affordable travel in Europe, creator of unique free travel guides, local travel expert. Problem solver. Wannabe coffee guru.
More Skopje North Macedonia travel inspiration
Free Skopje walking tour with the entertaining Miha
Millennium Cross hike and Mount Vodno's stunning vista
Kantina Restaurant Skopje