After a day and a half spent in Sofia, we went on our Balkan road trip and got to visit Rila Monastery, one of the most famous monasteries in Bulgaria. It was so nice to enjoy the mountain temperatures after the hot days we had experienced till then. We felt so cold that we actually switched to long pants, discreetly, in the parking lot before visiting a monastery!
---
What town is the Rila Monastery in?
The Monastery Rila isn't in a town, it's a destination that developed by itself, secluded away from everyday life. This, in part, is what makes it so special.
This Bulgarian monastery is located in the southwestern Rila Mountains, 117 kilometers south of Sofia, in the deep valley of the Rila or Rilska River, at 1,147 meters above sea level.
---
Why is Rila Monastery important?
St John of Rila, an Orthodox Church-canonized hermit, founded the Rila Monastery in the 10th century. His ascetic abode and burial were turned into a holy place and a monastery complex that played an important role in the spiritual and social life of medieval Bulgaria.
The Bulgarian monastery complex was destroyed by fire at the beginning of the nineteenth century and reconstructed between 1834 and 1862. A typical example of the Bulgarian Renaissance (18th–19th centuries), this monument represents the recognition of a Slavic cultural identity after centuries of domination.
---
More about the Rila Monastery Bulgaria
Is Rila monastery worth visiting? Of course, it's an amazing cultural and religious site in Europe. The Rila Monastery is quite a sight, due to its beautifully painted interior courtyard. It is now a UNESCO World Heritage Centre.
Its courtyard is a very calm place and you can enjoy the quietness to reflect on things. Tim, for example, is not even an Orthodox, but he liked the atmosphere a lot, so in the evening, before closing, he returned to the courtyard to meditate. Hence the title of this blog post.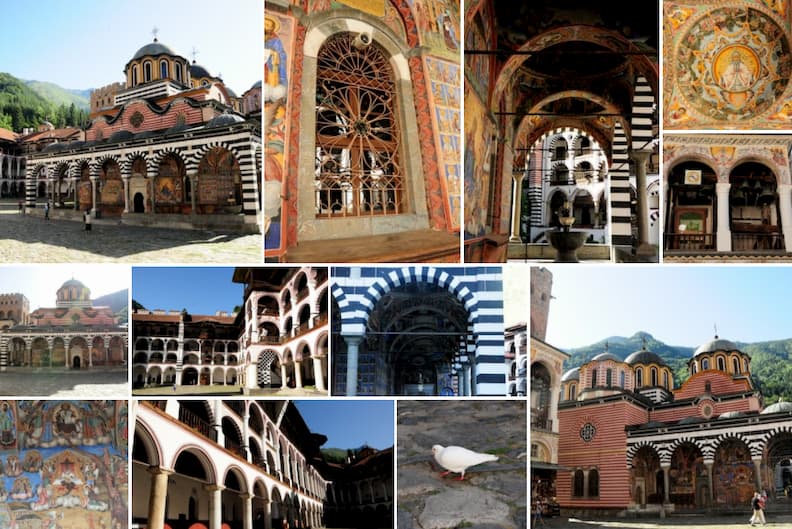 Rila Monastery opening hours & other useful details
The Rila Monastery is the largest and most famous Eastern Orthodox monastery in Bulgaria.
It is open every day of the week, between 06.30 and 20.00.
Address: 2643, Bulgaria | See on map
Tel. +359-7054-2208
---
Recommended tours to visit Rila Monastery
---
Where to stay when you visit Rila Monastery
We couldn't stay in Monastery Rila quarters, as we had wished. The lady there said she'll look into it, yet never returned to give us any news, good or bad. So we stayed at a nearby Rila Monastery hotel, Tsarev Vrah, built and owned by the monks from the Monastery Rila.
Rila Monastery Hotel – Tsarev Vrah
Hotel and restaurant, right next to the Rila Monastery.
Address: Rila Monastery, 2630 Rila, Bulgaria | See on map
Tel. +359-7054-2180
---
The delicious dinner on the terrace
In the evening, we went to their terrace and ate fresh trout, caught the very same day from the river right next to it. It was a nice dinner, but it was so cold that our breaths were steamy. We had our warmest clothes but still shuddered. Luckily, they had some blankets and we each took two.
---

Back on the road after visiting a monastery in Bulgaria
The next day, after a good night's sleep and a hearty breakfast, we returned to the Rila Monastery to send some postcards, as they have a Post Office right there. And then we hopped back in the old Cielo and headed towards the border with North Macedonia.
If we had more time at our disposal and warmer clothes, the place was worth a longer stay. It would have been nice to climb up the Rila Mountains and watch the sunset, maybe after climbing Musala Peak (2 925 m).
---
Bonus: Hiking in the Rila Mountains
Musala is the highest peak of the Balkan Peninsula and an amazing place to watch the sunset from. Its name comes from Musalla, which in Arabic (through Ottoman Turkish) means near God. Definitely, the place to go after you visit Rila Monastery Bulgaria!
Elevation: 2,925 m
---

Mirela Letailleur is a Romanian travel blogger living in the South of France. She writes on The Travel Bunny travel blog about affordable travel in Europe, creator of unique free travel guides, local travel expert. Problem solver. Wannabe coffee guru.
Discover more places in Bulgaria after you visit Rila Monastery
Most beautiful places to visit on Bulgaria's seaside (with map)
Veliko Tarnovo: Street art you'll love and some unexpected findings
Day trip from Bucharest: What to see on the way to lovely Lovech