In the afternoon, after our magnificent stop at Devetashka Cave, we continued to travel to Sofia Bulgaria's capital city.
I finally got to travel to Sofia Bulgaria! Ok, maybe I am a little too excited about this. But you see, I had already passed through Sofia so many times before on the way to Greece, but until this time I never actually got out of the car to visit anything. I'm really thankful to Elena and Adrian who were kind enough to offer to host the three of us while we were doing the Balkan road trip. Not only did we get a free and comfortable place to rest our heads for the night, but we also got the chance to catch up with old and dear friends.
I also appreciated having a newly-established local as our Sofia travel guide. Elena took us to some really cool spots in Sofia that we might not have discovered on our own in the capital city of Bulgaria. You can also discover them by reading the Sofia Bulgaria travel guide below. It's ideal if you have two days or even one day in Sofia to visit.
---
Where is Sofia BG?
Bulgaria is located in South-East Europe, near the Balkan Peninsula's northwestern corner. As a result, Bulgaria is a European and Balkan country, as well as a member of the Black Sea and Danube regions.
The country capital Sofia is located in the western region of Bulgaria, in the Sofia Valley and at the foot of the Vitosha mountain. Bulgaria's capital city is also located west of the Iskar River and it's home to several thermal springs. You should definitely include the Sofia Central Mineral Baths on your Sofia trip itinerary!
---
Is Sofia Bulgaria worth visiting?
Sofia is a fantastic destination to visit. Although it is not like the big capital cities of Europe, there are plenty of things to do when you visit Sofia Bulgaria. Bulgaria's capital city is actually an inexpensive and fascinating destination to visit in Eastern Europe.
---
Best things to do & places to visit in Sofia Bulgaria

Churches St. George Rotunda and Sveta Petka
The Church Saint George Rotunda is supposedly the oldest building in Sofia. It is an impressive rotunda made of red bricks, built by the Romans in the 4th century, and it is part of a larger number of buildings that have remained from the ancient town of Serdica.
Not far from here is Church Sveta Petka, a superb medieval Bulgarian Orthodox church you absolutely must see when you visit Sofia city.
Church St. George Rotunda
Open daily from 11.00 to 17.00 for tourists. The entrance is free of charge.
Address: 2 Kniaz Aleksandar Dondukov, 1000 Sofia Center, Sofia, Bulgaria | See on map
Tel. +359-2980-9216
Church Sveta Petka
It seems it is quite difficult to find it open, but you should try your luck.
Address: Knyaginya Maria Luiza 2, Sofia 1000, Bulgaria | See on map.
Tel. +359-2980-7899
---

National Palace of Culture Park
After discovering the pedestrian area, with all its terraces, we went to a nearby park, right next to the National Palace of Culture. It is a very large green area, as it reaches out into Yuzhen Park(South Park), and it has lots of monuments and statues.
One which I wasn't particularly fond of is Sofia's Monument to 1300 Years of Bulgaria. The appearance is terrible, in my view, but the story behind it is incredible.
National Palace of Culture Park
The National Palace of Culture hosts conferences, trade fairs, festivals, and cultural events. It is the largest center of its kind in Southeastern Europe. Its park is open 24h and the entrance is free of charge.
Address: Vitosha Boulevard, 1463 Ndk, Sofia, Bulgaria | See on map
---

Alexandar Nevski Cathedral
We finished the day by visiting the Alexandar Nevski Cathedral. Huge and imposing, it can be seen from quite a distance. Inside we didn't get to see much, it was near closing time.
But next to the cathedral, there was a large stage, and they were rehearsing classical music fragments for a concert. The acoustics inside the cathedral made it all sound amazing and, through a peephole in one of the giant wooden doors, we could even see a bit.
We had to leave, as the guard chased us away, eager to lock everything up.
Alexandar Nevski Cathedral
Open daily from 11.00 to 17.00 for tourists. The entrance is free of charge.
Address: Sveti Aleksandar Nevski Square, 1000 Sofia Center, Sofia, Bulgaria | See on map
Tel. +359-2988-1704 | Website
---

Eating in Sofia & facts about the locals
In the evening, we met up with Elena and Adrian. We grabbed dinner at a Happy Bar & Grill. The food was good at this Sofia grill and, if you come across one of their establishments, you could give it a try.
Happy Bar & Grill's menu includes all kinds of cuisines, it's not specialized on a certain one. But that's very common for a Bulgarian restaurant. And one other thing I've learned that night from Elena: the Bulgarians are crazy about sushi. Who would have guessed!
One other thing we discovered over dinner is that the streets of Sofia are normally as empty as they had seemed to us. We thought everyone was on vacation, but no, Sofia is a laid-back tranquil capital, unlike the irritatingly crowded ones we've come to be used to.
Happy Bar & Grill
This is a restaurant chain, but we only tried the one at the address below.
Open daily from 11.00 to 00.00. Various international cuisines, including sushi.
Address: 35-37 Aleksandar Malinov Bvd, 1729 Mladost 1, Sofia | See on map
Tel. +359-7002-0888 | Website
---

Travel to Sofia: Local highlights
The next day, Elena took us to see the parts of Sofia she liked the most. We ended up on some streets with colorful buildings. Afterward, we walked through Knyaz Borisova Gradina and Zaimov Park. Right next to the latter is a restaurant called Rakia Raketa Bar. I loved the nicely decorated interior, full of retro phones, televisions, photos, radios… And the food was quite tasty. It's worth a visit.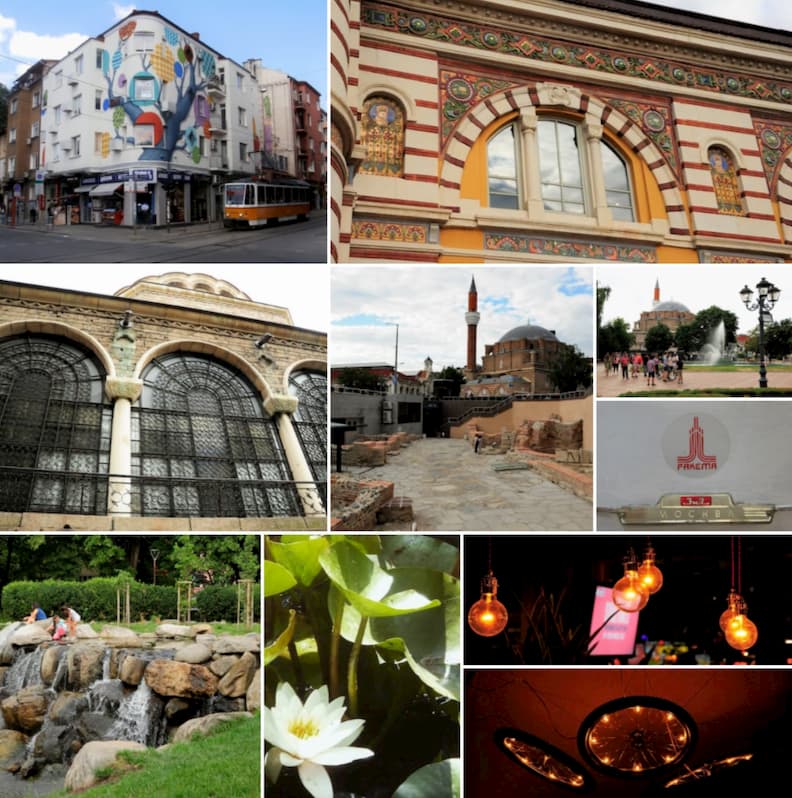 Knyaz Borisova Gradina
This is the oldest and most popular park in Sofia. Open 24h. The entrance is free of charge.
Address: 1164 Sofia, Bulgaria | See on map
Rakia Raketa Bar
Open daily from 11.00 to 00.00.
Address: 17 Yanko Sakazov Bvd 1527 Sofia Center, Sofia | See on map
Tel. +359-2444-6111 | Facebook
Zaimov Park
This was the first public WiFi area with free Internet in Sofia. Open 24h. The entrance is free of charge.
Address: 1527 Sofia Center, Sofia, Bulgaria | See on map
Sooner or later, we had to leave. Therefore, in the afternoon, we got back in the old Cielo, ready to go on our Balkan road trip. But here's a bit more of Sofia:
---
Bonus: Where to go hiking when you travel to Sofia
Vitosha is one of the symbols of Sofia. It is the closest site for hiking, alpinism, and skiing, so you'd better add it to your Sofia tourist map!
Cherni Vrah (Black Peak or Черни връх in Bulgarian) is the fourth highest summit in Bulgaria. If you have time during a Bulgaria road trip, it's worth making a detour and a stop for the experience.
Elevation: 2,290 m
This article is also available on GPSmyCity.
---

Mirela Letailleur is a Romanian travel blogger who lives in the South of France. She writes on The Travel Bunny travel blog about affordable travel in Europe. Creator of unique free travel guides and local travel expert. Problem solver. Wannabe coffee guru.
Discover more places in Bulgaria when you're traveling to Sofia
Most beautiful places to visit on Bulgaria's seaside (with map)
Veliko Tarnovo: Street art you'll love and some unexpected findings
Day trip from Bucharest: What to see on the way to lovely Lovech