We left Veliko Tarnovo behind, heading to Sofia, Bulgaria's capital. However, on the way there, we had to make one stop — we simply had to visit Devetashka Cave Bulgaria!
A friend who was living in Sofia at the time had told us how interesting Devetashka Cave is. Afterward, our own Internet searches returned some astonishing images. The latter managed to convince us that Devetashka Peshtera is a must-see Bulgarian cave.
Visit to Devetashka Cave Bulgaria
---
About Devetashka Cave Bulgaria
Devetashka Cave is a large karst cave located near the village of Devetaki, in north-central Bulgaria. The cave is known for its impressive size and stunning natural beauty, and it's a popular destination for cave enthusiasts and adventure seekers. The most notable features of this beautiful cave are:
The Bulgarian's cave entrance
The cave entrance is a large and imposing opening on the side of a cliff. The entrance is around 60 meters wide and 20 meters high, and it's surrounded by lush vegetation and beautiful scenery.
---
Cave Devetashka itself
Pestera Devetashka Bulgaria is a vast and complex network of tunnels and chambers, with a total length of over 7 kilometers. The cave is home to a number of different formations, including stalactites, stalagmites, and underground lakes. The cave is also home to a variety of flora and fauna, including bats, salamanders, and rare plants.
---
The archaeological site
In addition to its natural beauty, Devetashka Cave is also home to an important archaeological site. This Bulgarian cave has been inhabited by humans for thousands of years, and it has yielded a number of important artifacts and remains. Cave Devetashka was also used as a shelter during times of war and conflict, and it has a rich and fascinating history.
This Bulgarian grotto is a unique and fascinating destination, and it's well worth visiting if you're interested in natural beauty and archaeology.
---

What I loved about this Bulgarian Cave
Getting to it isn't very charming, because it takes quite a long time. But once you do get there, you feel like you're on a movie set in Pestera Deveteshka Bulgaria, it seems absolutely surreal. There are these large openings in the ceiling, there's a small river, and so much green, so much cave vegetation everywhere!
I'm used to caves being still and quiet, where the silence is broken only by a few drops of water falling every now and then.
But this is something entirely different: it's full of life, from bats to plants, to the flying, chirping swallows present everywhere. And the openings towards the sky bathe everything in natural light, letting you take in all the vivid colors around you.
This is one of my favorite places in Bulgaria, and probably the most beautiful cave I've seen. I even returned to visit Devetashkata Cave!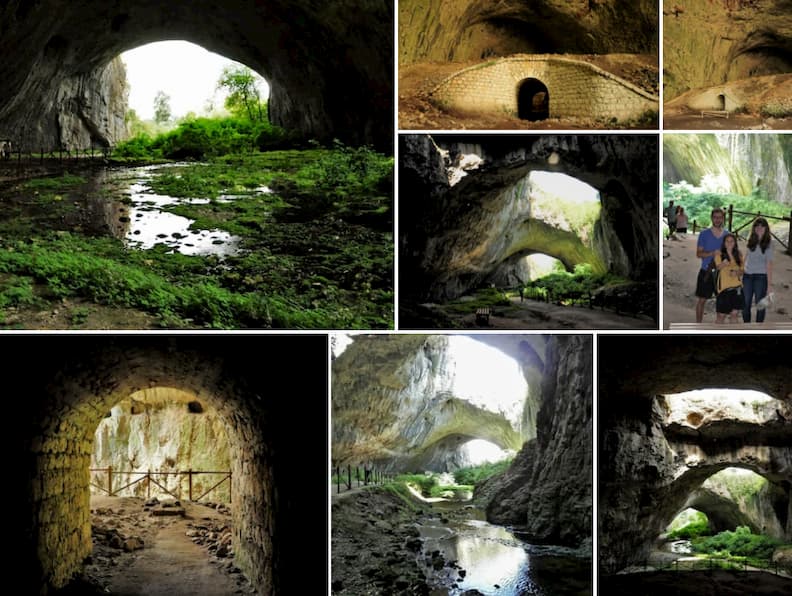 ---
How do you get to Devetashka Cave?
Devetashka Cave is easily accessible by car, and it's located around 20 kilometers from the city of Lovech. To get to the cave, follow these steps:
From Sofia, take the E-83 road north towards Lovech.
After around 100 kilometers, you'll reach the city of Lovech. From here, take the E-772 road east towards the village of Devetaki.
After around 20 kilometers, you'll reach the village of Devetaki. From here, follow the signs to the Devetashka cave entrance.
Once you arrive at the cave entrance, you can park your car in the designated parking area, and then follow the trail to the cave. The trail is well-marked and easy to follow, and it takes around 15 minutes to reach the cave entrance.
Alternatively, you can also take public transport to get to Devetashka cave. From Sofia, you can take a bus to the city of Lovech, and then transfer to a local bus or taxi to the village of Devetaki. From Lovech, the journey to the cave takes around 30 minutes by car or public transport.
Devetashka Peshtera (Деветашка пещера or Деветашката пещера in Bulgarian)
Large karst cave around 15 km northeast of Lovech and 2 km away from the village of Devetaki. That's why it's also known as Devetaki Cave Bulgaria, too.
Tickets cost 3 leva for adults and 2 leva for students.
Address: Devetaki Bulgaria 5555
Tel. 596-868-8212
---
Weather in Devetashka
Devetashka is located in the somewhat continental country of Bulgaria, which experiences hot summers and frigid winters.
The warmest month, July, has an average temperature of 25°C (77°F), while the coldest month, January, has an average temperature of around 0°C (32°F). The coldest days can be as low as -20°C while the hottest days can be as high as 35°C.
Additionally, the area experiences significant rainfall, with May through September frequently experiencing the greatest totals.
The temperature within a cave normally ranges from 10-15°C (50-59°F) since caves frequently maintain a reasonably constant temperature and humidity throughout the year.
---
Guess where was the cave in Expendables 2?
Worldwide FX breaks down the VFX for the cave collapse sequence in The Expendables 2 (2010). The Devetashka Cave was the largest synthetic environment in the movie The Expendables, and it had to be digitally reconstructed due to environmental concerns about filming explosions in the genuine cave. Devetashka Cave is truly unique in the world!
---

Mirela Letailleur is a Romanian travel blogger living in the South of France. She writes on The Travel Bunny travel blog about affordable travel in Europe, creator of unique free travel guides, local travel expert. Problem solver. Wannabe coffee guru.
Read more about Devetashka Cave and/or Bulgaria
Day trip from Bucharest: What to see on the way to lovely Lovech
Most beautiful places to visit on Bulgaria's seaside (with map)
How to become Zen: Visit Rila Monastery