We left Veliko Tarnovo behind, heading to Sofia, Bulgaria's capital. However, on the way there, we had to make one stop — we simply had to visit Devetashka Cave!
A friend who was living in Sofia at the time had told us how interesting Devetashka Cave is. Afterward, our own Internet searches returned some astonishing images. The latter managed to convince us that Devetashka Cave is a must-see while we're visiting Bulgaria.
---

Devetashka Cave: What's so great about it?
Getting to it isn't very charming, because it takes quite a long time. But once you do get there, you feel like you're on a movie set, it seems absolutely surreal. There are these large openings in the ceiling, there's a small river, and so much green, so much vegetation everywhere!
I'm used to caves being still and quiet, where the silence is broken only by a few drops of water falling every now and then.
But this is something entirely different: it's full of life, from bats to plants, to the flying, chirping swallows present everywhere. And the openings towards the sky bathe everything in natural light, letting you take in all the vivid colors around you.
This is one of my favorite places in Bulgaria, and probably the most beautiful cave I've seen. I even returned to visit Devetashka Cave!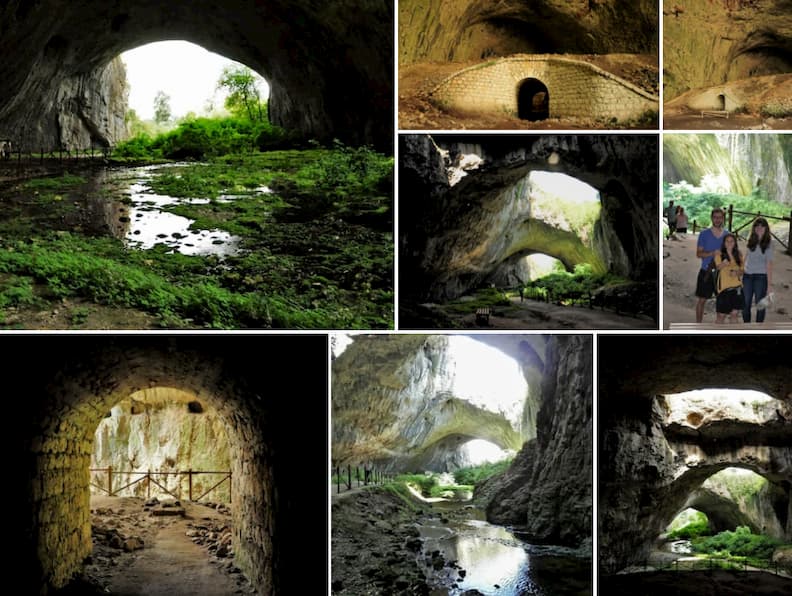 Devetashka Peshtera ( Деветашката пещера in Bulgarian)
Large karst cave around 15 km northeast of Lovech and 2 km away from the village of Devetaki.
Tickets cost 3 leva for adults and 2 leva for students.
Address: Devetaki 5555 | See on map
Tel. 596-868-8212
---
Recommended tours to visit Devetashka Cave
---

Mirela Letailleur is a Romanian travel blogger living in the South of France. She writes on The Travel Bunny travel blog about affordable travel in Europe, creator of unique free travel guides, local travel expert. Problem solver. Wannabe coffee guru.
Read more about Devetashka Cave and/or Bulgaria
Day trip from Bucharest: What to see on the way to lovely Lovech
Most beautiful places to visit on Bulgaria's seaside (with map)
How to become Zen: Visit Rila Monastery