Veliko Tarnovo (Bulgaria) was the first stop on our Balkan road trip. We quickly found a convenient place to stay, based on the Lonely Planet recommendations, took a shower, and went for a long walk.
We discovered Veliko Tarnovo street art, admired its bright houses, and visited Tsaravets Fortress. That's until the rain caught us at Assen's monument. We also went to Marno Pole Park and found ourselves in the middle of a colorful festival.
Disclosure: Some of the links below are affiliate links. This means that at no extra cost to you, The Travel Bunny will earn a small commission if you click through and make a purchase. Thank you!
---

Veliko Tarnovo street art
As we were wandering in the old, narrow alleys of the city, we discovered interesting and beautiful Veliko Tarnovo street art. A favorite of mine, which we discovered by pure luck, is the painted staircase.
---
A secret garden after a wedding ceremony
While we were walking, we went down some other stairs and we ended up in a hidden garden of what I believe was a deserted church. However, it looked as if someone had held a wedding ceremony there not too long ago. The decorations on the ceiling were still there, and so were some light installations, although several of the bulbs were missing.
While searching for Veliko Tarnovo street art, I strongly advise you to lose yourself on the picturesque streets. Just pick random stairways to go up and down on. I promise you'll always come across a nice surprise on the way!
---
Tsaravets, Veliko Tarnovo's fortress
In the afternoon, though it was still quite hot outside, we went and visited Tsaravets, the fortress of Veliko Tarnovo.
The fortress dates back to the second millennium BC and has faced many attacks, especially from the Ottoman Empire. The latter finally conquered it and burned it down in 1393. The story of the conquering and other important moments from the history of Tsaravets are now an audiovisual spectacle, called The Sound and Light Show. The show has been put on stage since 1985, and it consists of lasers, lights, music, and church bells.
As you climb up, at the very top you will come across a church, the Patriarchal Cathedral of the Holy Ascension of God. Step inside and you will get to gaze at some very interesting, modern frescoes.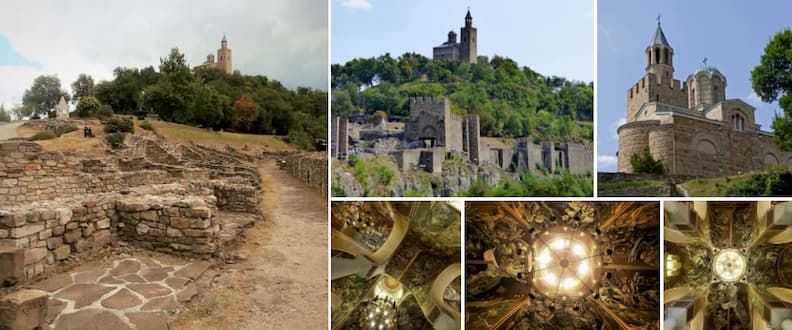 Tsaravets Fortress
Open daily from 08.00 to 19.00 (April – October) or from 09.00 to 17.00 ( November-March).
Tickets cost 6 leva for adults, and 2 leva for students. The scenic elevator ride costs 2 leva.
Address: Tsar Asen Square, Veliko Tarnovo 5000 | See on map
Tel. +359 62 638 841
The Light and Sound Show
See upcoming dates and tickets or take a peek at the show.
Address: Tsar Asen Square, Veliko Tarnovo 5000 | See on map
---
The Assen Dynasty Monument Veliko Tarnovo
This monument is dedicated to four kings from the Assen Dynasty (Assen, Peter, Kaloyan, and Ivan Assen II). You can see their representation around the large sword in the image below. This sword represents the power and the rise of Bulgaria in medieval times.
The Assen Dynasty Monument was built in 1985 when Bulgaria was celebrating 800 years since the rebellion of brothers Assen and Peter.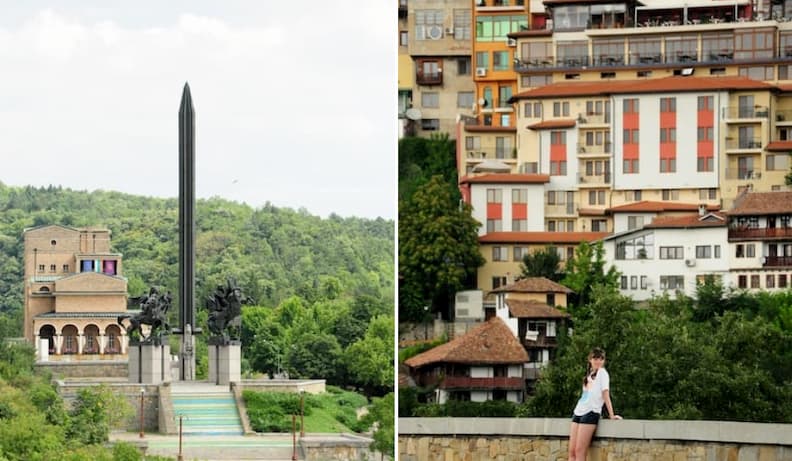 Assen Dynasty Monument
Address: Sveta Gora, Veliko Tarnovo 5003 | See on map
---
The Veliko Tarnovo International Folklore Festival
In the evening, while we were walking through Marno Pole Park, we saw two guys heading to a stage. I followed them and asked if they knew what was happening there.
They were from a band from New Orleans called Komenka Ethnic Ensemble and they were taking part in a folk festival. They weren't sure if we needed tickets or not, but since we had already entered backstage, the two of them told us to just go ahead and take a seat.
So we stayed a bit and we added to our beautiful collection of Veliko Tarnovo photos. Their band opened and they were followed by numbers from Mexico, Taiwan, and Argentina, then it was their turn again… And soon after that, we left, but we really enjoyed it! It wasn't really Veliko Tarnovo street art, but it was outdoors, it was artistic, and in Veliko Tarnovo!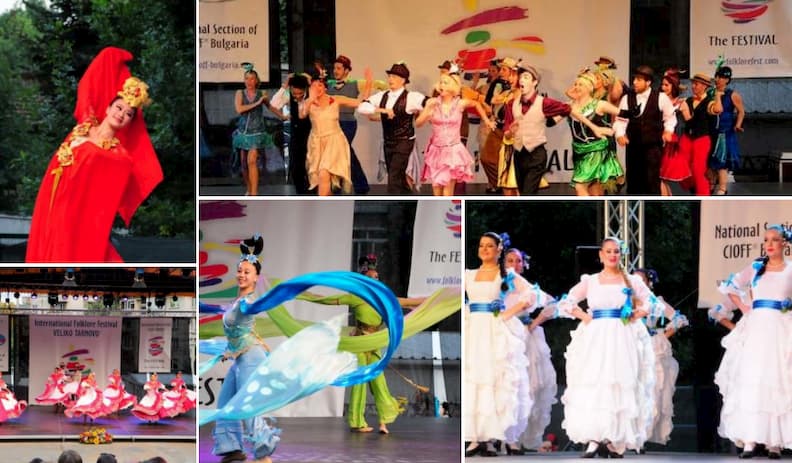 As we found out, the International Folklore Festival in Veliko Tarnovo is apparently a pretty big deal. It started in 1998 and, from its very beginning, it was one of the 270 festivals recognized by CIOFF*. It brings together groups from all the corners of the world, into a wonderful musical mosaic, and is a pleasant way to relax and cool down at the end of a hot summer day.
* International Council of Organizers of Festivals for Folklore and Traditional Arts Official Partner of UNESCO
Veliko Tarnovo International Folklore Festival
See upcoming dates. The entrance is free of charge.
Address: Marno Pole, Veliko Tarnovo 5000 | See on map
---
Tours to see Veliko Tarnovo street art & more
---
Veliko Tarnovo accommodation deals
Where we stayed in Veliko Tarnovo
Mehana Slavyanska Dusha
Hotel and restaurant in Veliko Tarnovo, 8 minutes away from the Yantra River. The rooms are clean, the food is tasty, and the staff is very friendly, even though they didn't really speak English. Perfect location to discover Veliko Tarnovo street art and main attractions.
Perfect for budget travelers. Family-friendly. Preferred by solo travelers.
Address: 21 Nikola Zlatarski, Veliko Tarnovo 5000 | See on map
Tel. 596-262-5182
---
Who wrote about Veliko Tarnovo street art

Mirela Letailleur is a Romanian travel blogger living in the South of France. She writes on The Travel Bunny travel blog about affordable travel in Europe, creator of unique free travel guides, local travel expert. Problem solver. Wannabe coffee guru.
If you enjoyed reading about Veliko Tarnovo street art, you should also read
Devetashka Cave: Astounding must-see place in Bulgaria
How to become Zen: Visit Rila Monastery
Travel to Sofia, Bulgaria's blissful capital