Before we speak about things to do in Timișoara in a weekend, here's a bit of a back story. As some of you might know, on 28 November I went for the last time at my office job, in order to get ready for whatever Mathieu's contract brings our way. (We'll find out this month, so fingers crossed!)
As the following weekend was a long one for people working in Romania, he made me choose a place to go on a small holiday, to celebrate my newfound freedom. I looked and looked, and chose Timișoara.
But what about Italy? he kept asking.
Nope. It's going to be cold, if we're going to Italy it should be warm enough to spend a long time outside and not feel sorry for how little we end up visiting in a new place at the end of the weekend.
So we went with Timișoara, to also be in Romania for its centennial anniversary celebrations.
And it's great that we discovered Timișoara in a weekend, as we ended up with a new favorite destination in Romania!
Disclosure: Some of the links below are affiliate links. This means that at no extra cost to you, The Travel Bunny will earn a small commission if you click through and make a purchase. Thank you!
---
What makes Timișoara special to me
Well, maybe I'll be biased when writing about the things to do in Timisoara in a weekend. This is the town where Mathieu asked me to marry him on the day of our arrival. (Actually, I think in less than half an hour from our arrival in Timișoara!)
This is the place where I spent my first days as the future Mrs. Mirela Letailleur. (I love the alliteration!)
Therefore, it's possible that what we saw of Timișoara in a weekend seems more magical to me than it really is. But even without getting engaged, I think I truly would have loved our visit here. So I'm encouraging you to read on and discover the charm of this city!
---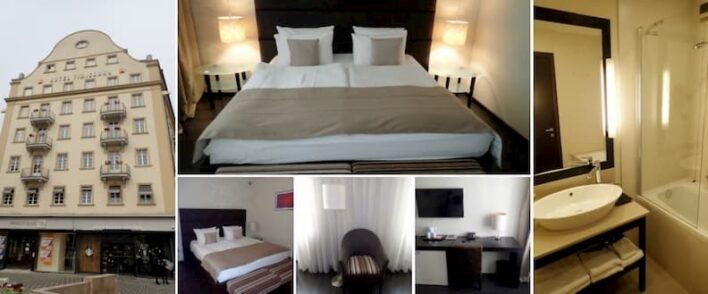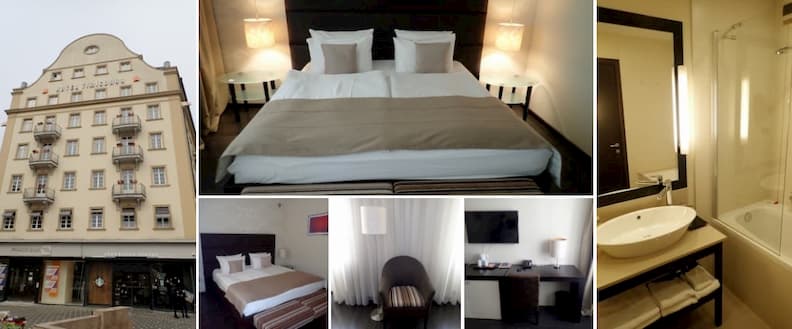 Where we stayed in Timișoara
Mathieu handled where we stayed in Timișoara, and it was a complete surprise for me. I later found out that he switched the accommodation three times until choosing Hotel Timișoara.
Not only that, but he was prepared with a list of things to do in Timișoara, together with a list of places we were going to eat. (This article on Culture Trip helped him with his list of restaurants to try in Timișoara in a weekend.)
He went as far as secretly packing our bathing suits in order to be ready for a swim in the awesome pool of Hotel Timișoara.
The hotel was lovely, and our room was really cozy. This is actually where he proposed. He knew I wouldn't have liked a proposal in a public space, so when it was just the two of us, he got me in his arms and told me all he found great about me and wonderful about our relationship.
And I was all "Me too! / You too!" for a while until I eventually let him finish his idea and pop the question.
And though the pool was closed for the weekend, we enjoyed the large bathtub and had a bath with lots of bubbles in the evening.
However, until the evening, we had almost a full day to explore and choose some nice things to do inTimisoara on our weekend.
Hotel Timișoara
The hotel is right in the center of the city, next to the Opera. It is within walking distance from the most important touristic attractions of Timișoara. Recommended using in Timisoara for accommodation to cover our list of things to do in Timișoara in a weekend.
Hotel Timișoara also has an outdoor terrace, a spa and wellness center with a pool, a bar, and several restaurants on its premises. The hotel is wheelchair accessible, and there is a panic button in the bathroom.
Address: 1-3 Mărășești Street, Timișoara 300086 | See on map
Tel. +40 256 498 852
---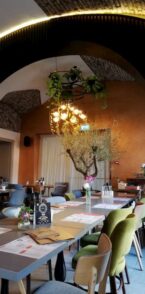 Having a late lunch at Pepper – Steak&Shake
For our first lunch as an engaged couple, we went to a place with a lovely interior, where I appreciated the nice lighting, the hanging plants and the olive tree by the entrance.
Wondering what our romantic lunch was all about? Burgers! And wine. It was also a nice story for hearing the ring's story and discovering who else knew before me and how long ago.
This is where he also took the first official photo of me wearing the engagement ring. So probably the first place I'd go back to should we return to Timișoara in a weekend.
Pepper – Steak&Shake
Open daily from 12.00 to 00.00.
Address: 13 Piața Unirii, Timișoara | See on map
Tel. +40 720 408 250 | Menu
---

Enjoying a lazy evening in Timișoara
Ok, actually, the whole weekend was pretty lazy, not just the first evening, though there are lots of things to do in Timișoara in a weekend.
But it was freezing outside, so we didn't walk much or visit outdoor stuff that much. On the first evening, we just went exploring in the Piața Unirii, Piața Libertății, and Piața Victoriei.
We went to Timișoara's Christmas Market area, in Piața Victoriei. Though the market itself wasn't yet officially open, some of the booths were already waiting for customers. From them, we bought some mulled wine which we drank on our way to the Bega river and on the short stroll we took on its shore.
On the way back to Hotel Timișoara, we passed once again through the Market and bought some hot local pies (plăcinte ardelenești), with salty cheese and dill, and with cheese, ham and mushrooms. We couldn't finish them, as we were still stuffed from our late lunch.
---
How we spent Romania's centennial in Timișoara
The next day was 1 December, Romania's National Day. We woke up quite late, and we bought a kürtőskalács from the Christmas Market, to eat while we went exploring.
Mathieu and I ended up on Take Ionescu Boulevard, where the military parade was scheduled to start later. We stayed there for a bit and we checked out the military men and the cars. But the parade was scheduled to start in two hours and it was very cold outside.

Coffee at M Bistro
So we went to grab a coffee in Piața Unirii, passing by the Theresia Bastion. Ending up in M Bistro, Mathieu had a latte and I went for a cappuccino. The staff was giving homemade chocolates to the guests, tied with ribbons in Romania's flag colors.
While checking out their menu, we saw a breakfast that looked really good. We weren't really hungry after the kürtőskalács, but it looked delicious. However, it was around 12.30, and they had stopped serving breakfast. We made a plan to return the next day for it, though.
(As you might have noticed, most of the things to do in Timișoara in a weekend involve eating and drinking. It may be because of the weather, but we also really enjoyed all the places we went to, and Mathieu was saying he would like more establishments like these in Bucharest, too.)
M Bistro
Open daily between 11.00 to 00.00.
Address: 4 Piața Unirii, Timișoara | See on map
Tel. +40 356 005 800 | Menu (Ro)
---

Historic Trams Parade on Traian Bridge
A bit later, around 15.00, we were on Traian Bridge, over the river Bega. We were waiting for two beautiful horses to start pulling the first out of three historic trams from here to Piața Victoriei.
It was just three trams and only one stop, but it was nice to see a different kind of parade than the military ones we always get to see on Romania's National Day.
Corneliu Miklosi Public Transportation Museum
It doesn't need to be a holiday to get to see Timișoara's historic trams. You can just go to the museum while you're in Timișoara in a weekend.
Tickets for visiting the museum cost 6 RON for adults and 3 RON for children, retired people, and adults with disabilities. You can also rent a historic tram and go on a tour with your friends and/or family.
The cost, without a guide, is 89 RON per kilometer. With a guide, the cost goes up to 199 RON per kilometer. This can definitely make your list of things to do in Timișoara in a weekend more interesting!
Address: 56 Take Ionescu Boulevard, Timișoara | See on map
Tel. +40 725 234 532 | Website
---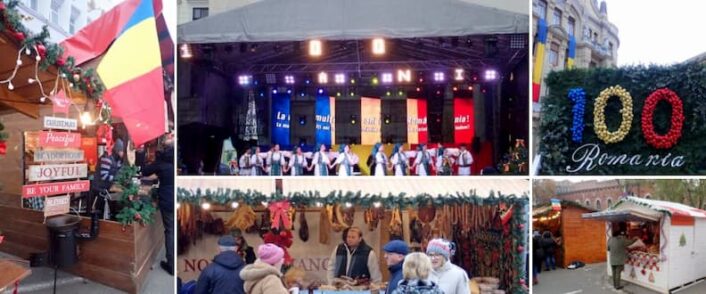 A quick lunch in Timișoara's Christmas Market
Having seen the preview before Timișoara's Christmas Market actually opened, I knew where to drag Mathieu to get what I wanted. And I wanted a pulled pork burger, at the Craft booth. It was very juicy and it had a lot of vegetables. We both enjoyed it very much!
We felt stuffed afterward, so we went for a nap and set the alarm for 18.30.
---

Watching the military men retreat with torches
At 18.30, a battalion retreated with music and torches. It left from Piața Petru Maior and passed on the Take Ionescu Boulevard. We waited for them in Piața Unirii, thinking that if we wake up at 18.30, by the time we get dressed and reach Piața Unirii, we won't have to wait too long.
Well, we waited a lot. But it was worth it. I found it thrilling to hear the marching band, followed by the singing military men with torches.
Timișoara in a weekend won't necessarily include this, unless you're going on the National Day, though.

We joined in and walked by their side until they left Piața Libertății (well, mostly I, Mathieu kept his distance). After that it got too crowded for our taste, so we went to have dinner.
---

Romantic dinner at Vinto Gastro Wine Bar
I was once again proud of Mathieu's new planning skills. He booked a table at Vinto Gastro Wine Bar. The setting was really nice, and it reminded me of Verso Sera, from our Roman holiday.
We enjoyed some delicious tagliatelle with duck ragu and parmesan, paired with a Shiraz recommended by our lovely waitress. She was amazing, spotting us in just a couple of seconds when one of us needed a refill.
For dessert, we were delighted with our cheesecakes with salted caramel and crispy cashew. I really liked the combination, which I've never met before in another restaurant.
If you're visiting Timișoara in a weekend and you're looking for a romantic restaurant, just go to Vinto Gastro Wine Bar. Trust me on this.
Vinto Gastro Wine Bar
Open from Tuesday to Sunday from 12.00 to 00.00.
Address: 4 Florimund Mercy Street, Timișoara 300254 | See on map
Tel. +40 755 080 028 | Website
---
Our relaxing Sunday in Timișoara
The two of us woke up earlier on Sunday morning, mostly because we wanted to be in time for breakfast at Bistro M. However, while 12.30 was too late, 10.00 was too early.
So we went next door, to In Thyme, and boy was that a fortunate turn of events!

Breakfast at In Thyme
Not only did we find them open at 10.00, but we really liked the interior decorations at In Thyme. And the staff was extremely nice and friendly.
One of them actually came to introduce herself and invited us to help them decorate the tree while listening to Christmas carols until our lattes and food were ready. I really enjoyed spending the morning like that while discovering Timișoara in a weekend.
Mathieu had Banat style scrambled eggs (you can see them in the photo above) and I had roasted egg sandwiches. And both were delicious.
After breakfast, we returned to Hotel Timișoara to pack our stuff, check out, and leave our baggage in storage till the evening.
In Thyme
Open from Monday to Thursday from 10.00 to 00.00, and from Friday to Sunday from 10.00 to 02.00.
Address: 13 Piața Unirii, Timișoara | See on map
Tel. +40 725 065 301 | Menu
---

Timișoara's Art Museum
Because it was before 14.00, when the Museum of the Communist Consumer opens, we decided to hide from the cold in Timișoara's Art Museum.
At Timișoara's art museum, while I appreciated the building (especially the concert hall), and its lighting in the rooms with paintings, I was very disappointed. The only part I found interesting was the one with the works of art of Romanian painters.
Classic and contemporary artwork, housed in a baroque palace.
Timișoara's Art Museum
Open from Tuesday to Sunday, between 10.00 and 18.00.
Tickets cost 30 RON to visit the entire exhibition.
Address: 1 Piața Unirii, Timișoara 300085 | See on map
Tel. +40 256 491 592
---
Mulled wine and local hot pies in Timișoara's Christmas Market
Ok, we got very lucky with the Christmas Market. First of all, because it had lots of booths with real mulled wine, not the cheap tablet-made one that was all over Bucharest's Christmas Market last year. And a 300 ml glass was only 5 RON (€ 1.07).
And the second reason was that we were able to eat small things when we didn't feel like eating a whole meal and in a much shorter time. (Even though on Sunday the queues were longer.)
In addition, in a small space, you find lots of things to do in Timișoara in a weekend.
This time we chose the pies from Căsuța cu plăcinte, which came from Satu Mare. Though it took longer to get served, I enjoyed their plăcinte ardelenești more than those we had on our first evening.
---

The Museum of the Communist Consumer
Finally heading in a different direction from Piața Victoriei, we arrived at the Museum of the Communist Consumer, on the other bank of the Bega River.
We were surprised to discover that it was actually a bar inside an old house, where the basement was transformed into a museum.
The visit to the museum was very interesting, recognizing things from my childhood and from that of my parents'. Mathieu was very curious to learn more and he said he likes the fact that we have different backgrounds.
After visiting, we went to the bar and had some coffee. Then I also had a tea to finish my pufuleți (you can see this yellowish snack in the photo above), while Mathieu was kicking my ass in chess. Shamefully, I only won 1 out of 4 games.
This Museum is a must-see, in my opinion, so make sure you add it to your list of things to do in Timișoara in a weekend!
Communist Consumer's Museum
A sneak-peak into the home of someone living in Romania, during the Communist regime.
Open from Monday to Saturday between 10.00 and 23.00, and on Sundays between 14.00 and 23.00.
Suggested donation of 10 RON.
Address: 1 Arhitect Laszlo Szekely Street, Timișoara | See on map
Tel. +40 751 892 340 | Facebook page
---

A cozy Homemade dinner
While searching for the restaurant Mathieu chose for our last evening in Timișoara, we realized we were really close to it. And from the communist apartment, we moved into "grandma's living room" in Homemade, feeling very homey in this area of Timișoara.
We took our time, enjoying our wine from a beautiful decanter. For dinner, we chose shrimp and zucchini risotto, served with Parmesan and sesame seeds on top. And, for dessert, we had an absolutely amazing pumpkin cake.
Another must-try when you visit Timișoara in a weekend!

We left dinner and faced the cold to get to Hotel Timișoara for our luggage. However, we made one more stop along the way to admire Timișoara's Christmas Market by night and to remember all the things we got to do in Timișoara in a weekend.
Homemade
Open daily from 12.00 to 23.00.
Address: 40 Gheorghe Doja Street, Timișoara | See on map
Tel. +40 730 832 299 | Facebook page
This article is also available on GPSmyCity.
---

Mirela Letailleur is a Romanian travel blogger living in the South of France. She writes on The Travel Bunny travel blog about affordable travel in Europe, creator of unique free travel guides, local travel expert. Problem solver. Wannabe coffee guru.
If you enjoyed Timișoara in a weekend, you should try
100 reasons to visit Romania
Top 10 romantic weekend getaways for two
Beautiful late winter weekend in Vienna: 48 hours in Austria's capital