There are many trips I went on with Mathieu which haven't yet made it to The Travel Bunny blog. Among them was our late winter weekend in Vienna, Austria's capital city.
Half an hour before going to the airport, Mathieu twisted his ankle after leaving the office. This unfortunate event kind of set the tone for the whole weekend. We couldn't walk as much as we usually do. However, it pushed us to be a bit creative and adapt, and enjoying a great weekend in Vienna, in the end.
Read this travel blog post to see what we did during our weekend in Vienna. In the end, I've also added some extra suggestions with things to do in Vienna on a weekend. These are ideas I've gathered from other trips or they're still on my bucket list, waiting to be checked on the first coming occasion. So let's go!
---
How to get to Vienna from the airport
When we were leaving the airport, there were many representatives promoting airport transfers to Vienna's city center. So we took round trip tickets with CAT (City Airport Train). This way, we got to the city in just 16 minutes without any stops on the way. And we were all ready to start our late-winter weekend in Vienna.
CAT (City Airport Train)
16-minute non-stop ride from the airport to the city center. The trains have comfortable seats with plenty of legroom and space for luggage. CAT is available daily even on holidays, which makes it convenient when you're traveling for a weekend in Vienna.
The first train leaves from the airport at 06.07, and the last at 23.39. Another train leaves from the airport to the center of Vienna every 30 minutes.
CAT tickets cost € 11.00 one way, while return trips are € 19.00.
---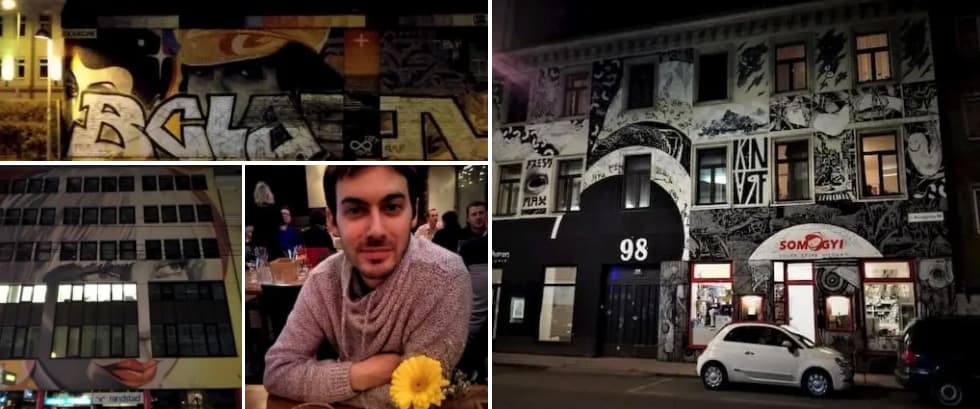 The first evening of our late-winter weekend in Vienna
It was already late when we arrived in Vienna and finished checking in at our Airbnb. There was no time to visit anything that evening, and we were pretty hungry. We wandered the streets a bit to find a place to have dinner. That's how we stumbled across Weinschenke am Siebensternplatz.
Inside, the atmosphere was pretty cool and the staff seemed very friendly. We ordered our first beers in Austria and two huge delicious burgers that we split among us. We generally try to order different dishes to try more things without spoiling food or wasting money when we eat out. As long as the local culture doesn't frown upon it, it's what we do.
After dinner, we walked back to our place for a good night's rest to start early the next morning and continue our winter weekend in Vienna.
Weinschenke am Siebensternplatz
Open daily, between 11.00 and 02.00. Accepts cash only.
Address: Siebensterngasse 31/III, 1070 Wien, Austria | See on map
Tel. +43 676 3955860 | Facebook page
---
What we did on Saturday on our weekend break in Vienna
We started the day pretty early because I had booked a free walking tour starting in the center of the city for our winter weekend in Vienna. However, Mathieu's ankle wasn't feeling well enough to go through several hours of walking at a quick pace, so I sent an email and canceled our spots.
And, on the way to the center of Vienna, we stopped at a pharmacy for an ankle brace to protect Mathieu's ankle.

Breakfast at Aida Café Konditorei by Stephansplatz
The upside was that we could take longer to have breakfast. It was a sunny March day and it was actually the first time we got to sit out on a terrace after the cold season. So we sat at a table from Aida Café Konditorei, next to Stephansplatz. The decor is really cute and girlie, all pink and with dolls in the windows. But their breakfast options are amazing and if you're up to it you can even try some champagne with your first meal of the day!
The two of us had a champagne-free breakfast, though. Still amazing, it was two-tiered, with charcuterie and cheese on the lower level, and pastry on the top one. And to start the day properly, we had to try some delicious Viennese coffee, in almost Gilmore Girls-sized cups.
After breakfast, we walked a bit on the streets in Vienna's center, then headed to St. Stephen's Cathedral.
Aida Café Konditorei
Casual, mid-priced café with generous breakfasts. Open daily, between 07.00 and 23.00.
Address: Singerstraße 1, 1010 Wien, Austria | See on map
Tel. +43 1 8908988210
---

St. Stephen's Cathedral (Stephansdom Wien)
Located in the heart of Vienna, St. Stephen's Cathedral is the most beautiful gothic building in Austria. A symbol of Vienna, it has a Roman-style foundation that dates back to 1147. Some of its oldest elements are the towers (Heidentürme) on the west side and the Giant's Door (Riesentor). This gate decorated with scenes from the Final Judgement actually takes its name after a giant mammoth bone found there during construction works in the 15th century.
Whether seen from the exterior or the inside, St. Stephen's Cathedral is a truly impressive and detailed construction. It's definitely something you should see during a weekend in Vienna. And to take it one step further, you can also head up the 343 stairs that lead to the top of the South Tower. You can also take the elevator in the North Tower.
Despite Mathieu's ankle, he insisted he was fine to go up to see Vienna from above. However, only the South Tower was open to the public then. I told him that whenever he feels bad we can just stop and go back down. He was perfectly fine to climb the stairs, so we enjoyed seeing Vienna from up high.
However, when we got back down, Mathieu finally admitted that he was in pain while descending the stairs. And he wasn't completely honest when he told me he was fine, all those times I had asked him about it.
I managed to make him sit down and rest a bit on a nearby bench. Then, we slowly headed to the Wiener Stadtpark. Located on the south bank of the Vienna River, it was designed in 1862 as an artificial landscape inside the city. It is most known for its statue of Johann Strauss, named the King of Waltz.
St. Stephen's Cathedral
Address: Stephansplatz 3, 1010 Wien, Austria | See on map
Tel. +43 1 515523530
Wiener Stadtpark
Address: Parkring 1, 1010 Wien, Austria | See on map
---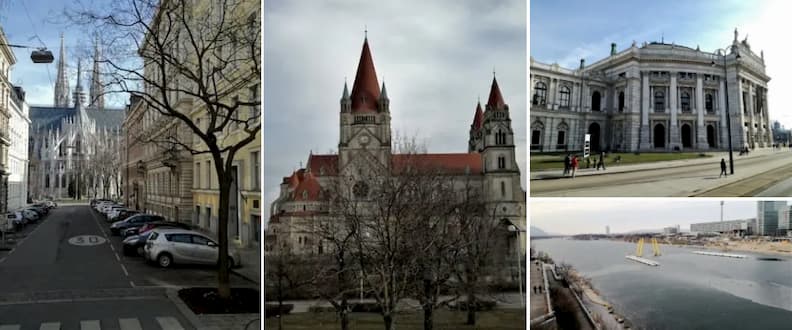 Hop-on hop-off sightseeing with Big Bus Vienna
I wanted Mathieu to walk less and to not be in pain. And he wanted us to see as much as we could on our winter weekend in Vienna, despite his ankle. Our solution came while we were having another coffee at a random, yet still amazing café. Out the window, we could see Big Bus Vienna double-deckers passing by quite frequently. So he looked online and booked one-day tickets.
The bus stop was right outside, so we could time our departure from the café to spend less time standing. We had two routes to choose from to explore Vienna plus a free city walk. (Unfortunately, the classic ticket no longer includes the city walk now.)
During our first Big Bus Vienna ride, we stopped at Prater. Having seen Prater when I was still a child, I was terribly disappointed by how the place looked during our winter weekend in Vienna. Maybe it would have been more interesting by night, but we didn't really feel motivated to return after sunset.
Big Bus Vienna
See all the major attractions of Vienna with one-day, two-day, or three-day tickets. Choose from two routes, with audio commentaries recorded in 13 languages. Classic tickets are valid 24 hours and available for hop-on hop-off sightseeing on the two routes. Premium tickets are valid for 48 hours and also include a free guided walking tour and a Hundertwasser tour. Deluxe tickets are valid for 72 hours and also include a Historic Night Tram Tour and a Vox City walking tour app.
---
Lunch at Plachuttas
When the Big Bus Vienna returned to the city center, it stopped right across the street from a very well-rated Austrian restaurant, Plachuttas Gasthaus zur Oper. This is where we had the best Wiener schnitzel ever. And it was also the only traditional meal we ate during our weekend in Vienna.
We arrived at Plachuttas right in the nick of time and got a nice table where we enjoyed our Viennese schnitzels and potato salads in peace before the place got overcrowded with tourists. The place is so good that they have their own cookbook for sale and they give guests fliers with their Wiener schnitzel to prepare it when they return home.
If you're still up for dessert after having this amazing schnitzel, you can head out to the nearby Hotel Sacher Wien to try their famous Sachertorte. This chocolate cake is considered a must-try for all foodies traveling to Vienna.
Plachuttas Gasthaus zur Oper
Open daily between 11.00 and 00.30.
Address: Walfischgasse 5, 1010 Wien, Austria | See on map
Tel. +43 1 5122251
---

Hofburg Palace in Vienna's center
After lunch, we decided to walk a bit more though its center. Our steps took us to the Hofburg Palace. This grand building complex is actually Vienna's former Imperial Palace. Once the home of emperors, the medieval castle was enlarged over time as the power of the Habsburgs grew in Europe. Among its later additions is the New Palace (Neue Burg), one of the most spectacular contemporary buildings.
Today, the Hofburg Palace houses the presidential office, a center for international conventions, a few museums and the famous Spanish Riding School. By the Hofburg Palace, there are two equestrian statues (Printz Eugen and Erzherzog Karl) located in Heidenplatz, a square designed for parades.
Every Sunday ar 09.15, the Vienna Boys Choire performs in the Imperial Chapel. You should book tickets in advance if you wish to listen to them during your weekend in Vienna.
Hofburg Palace
Open daily between 09.00 and 18.00
Address: Michaelerkuppel, 1010 Wien, Austria | See on map
Tel. +43 1 5337570
---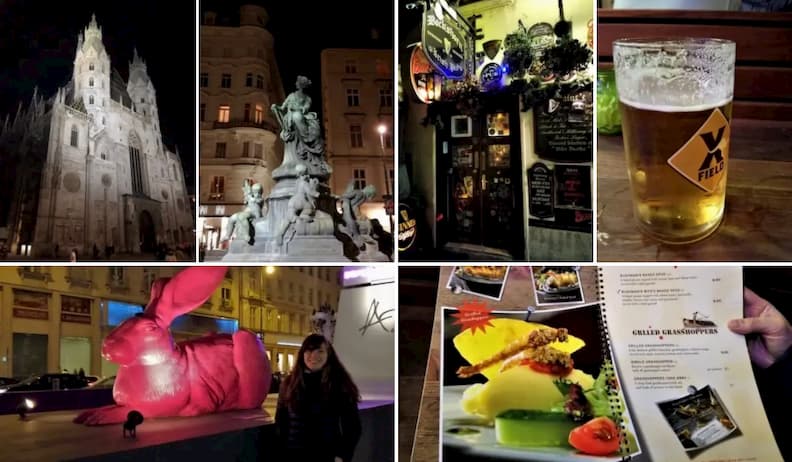 There are kangaroos in Austria!
As evening approached, we got a bit hungry and started looking for a nice place with beer and some simple stuff to eat. We initially stopped at the Bockshorn Irish Pub. With good music and cheerful people, it seemed like an excellent spot. However, many others who arrived before us thought the same, because it was completely packed.
Although we had to walk some more to find somewhere to have dinner, we appreciated seeing the Donner Fountain and St. Stephen's Cathedral at night. Not long after that, we stumbled upon Crossfield's Australian Pub. Despite having a varied menu that also includes grilled grasshoppers, we went for the chicken, paired with kangaroo-branded draught beer. And that's how we found kangaroos in Austria!
After dinner and a few pints, we walked to the Opera House, where I made friends with a pink bunny, then headed to our Airbnb to catch some sleep.
Bockshorn Irish Pub
Open daily between 16.00 and 02.00.
Address: Naglergasse 7, 1010 Wien, Austria | See on map
Tel. +43 1 5329438
Crossfield's Australian Pub
Open daily between 10.00 and 01.00.
Address: Maysedergasse 5, 1010 Wien, Austria | See on map
Tel. +43 1 24100230
---
What we did on Sunday on our weekend break in Vienna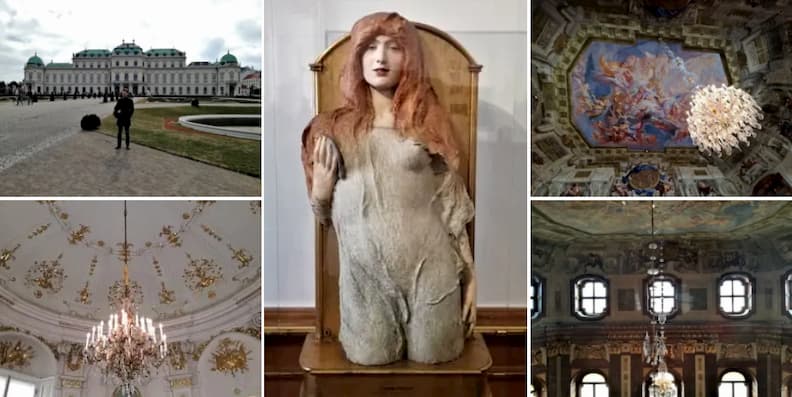 Belvedere Palace
On Sunday, we took advantage of the last few hours we had with our Big Bus Vienna tickets and went all the way to Belvedere Palace, the baroque summer residence of Prince Eugen. Today, it houses the National Gallery of Austria, with works of famous Austrian artists, like Gustav Klimt.
I remember it was a bit difficult to get the right combination of tickets for what we wanted to visit and the time we had available. In the end, we paid € 15.00 each for the Upper and Lower Belvedere and the 21er Haus.
As always, I was fascinated by the ceilings. And we really enjoyed walking through the gardens, despite planning our weekend trip to Vienna in the cold season. Though the fountains were empty and the French-style gardens were pretty dead, they were still beautiful.
We quickly followed our visit here with lunch close to Haus des Meeres, at Café Pierre. Everything French-looking or written in French, yet the staff only spoke German. But it was the only thing open in the area, and, in the end, it wasn't bad.
Belvedere Palace
Open daily between 09.00 and 18.00.
Address: Prinz Eugen-Straße 27, 1030 Wien, Austria | See on map
Tel. +43 1 795570
---

Haus des Meeres Aqua Terra Zoo
Our visit to Haus des Meeres was totally random. On our flight from Bucharest to Vienna, while I was in the bathroom, Mathieu made friends with the guy sitting next to us. When I returned, he was speaking about Haus des Meeres, which was one of his favorite spots in Austria's capital.
So we kept in mind and decided to spend our last hours in Vienna at Haus des Meeres. We truly appreciated seeing that their profits are directed to protect the environment and to protect wild animals, besides being a great way for travelers and locals of all ages to learn about wildlife outside a natural history museum.
The almost 50-meter tall building of Haus des Meeres was raised in 1944 as one of the six flak towers of Vienna. The only flak tower of Austria that is open to the public, Haus das Meeres has 11 floors, as follows:
Ground floor: Atlantic tunnel, freshwater fish and Koi tank
First floor: Snakes, saurians, and leaf cutter ants
Second floor: Mediterranean sea life, tropical freshwater fish
Third floor: tropical sea life, coral reef, stone corals, garden eels
Fourth floor: large shark aquarium, containing whitetip and blacktip reef sharks
Fifth floor: more of the large shark aquarium and deep-sea tanks
Sixth floor: Chinese giant salamander and indigenous fish
Seventh floor: Gila monster site, New Guinea Paludarium, Pacific Eye
Eighth floor: chameleon site, artificial dripstone cave
Ninth floor: observation deck and Amazonian rainforest
Tenth floor: Hammerhead shark tank
Eleventh floor: roof terrace
The largest aquarium in the Haus des Meeres contains over 500,000 liters of seawater. And, thanks to the Atlantic tunnel, you can walk through it while you're surrounded by fish. In addition, they have two Tropical Houses, inhabited by birds, fruit bats, and monkeys. With almost no barriers between visitors and the small animals, it feels as if you're walking through the jungle. You can hear the birds singing and the monkeys playing around as you peer to some crocodiles and turtles in a pond beneath the bridge you're safe walking on.
If you visit Haus des Meeres on a weekend in Vienna, climb the 192 steps that will take you to the terrace. You can also skip visiting the Aqua Terra Zoo if it's not your thing and just pay for access to one of Vienna's most popular lookouts.
Haus des Meeres was the last place we visited during our late-winter weekend in Vienna, before heading back to the airport. It was a milder weekend trip than other city breaks we went on because one of us was injured. Mathieu made a real effort to get to all these places and at the end of our weekend in Vienna, he was very tired.
Haus des Meeres Aqua Terra Zoo
Open daily between 09.00 and 18.00.
Address: Fritz-Grünbaum-Platz 1, 1060 Wien, Austria | See on map
Tel. +43 1 5871417
---
Other places to visit on a weekend in Vienna
As with most European capitals, Austria's capital has a lot of things to see that you simply can't cover in just one weekend in Vienna. This was my second trip to Vienna, actually, and the two didn't overlap. The first time we only stopped for a day during a family road trip through Europe and I got to see the Schoenbrunn Palace and gardens, the Schoenbrunn Zoo, and Prater. (After that, I was completely obsessed with Sissy and drove my parents crazy to look for a specific Sissy doll.)
However, for a more grown-up weekend in Vienna, you might want to check out the Museums Quarter of Vienna. There, you will find art museums, history museums, and the Sigmund Freud Museum.
---

Mirela Letailleur is a Romanian travel blogger living in the South of France. She writes on The Travel Bunny travel blog about affordable travel in Europe, creator of unique free travel guides, local travel expert. Problem solver. Wannabe coffee guru.
If you're planning a weekend in Vienna, you should also read
Best things to do and places to visit in Vienna
The Spanish Riding School of Vienna and its amazing Lipizzaners horses