If you are planning to visit Marseille France, then buckle up for a ride through a city whose veins pulse with vibrant diversity, fascinating culture, and profound history. Known both for its gritty charm and stunning seaside panorama, Marseille is a city that holds nothing back. Whether you pronounce it Marseille or Marseilles, the essence remains the same – it's an unforgettable destination packed with potential for adventure and discovery.
South of France, February 2020. Valentine's Day isn't usually a notable occasion for us. A card, a nice dinner, maybe an impromptu dance around our living room to our favorite songs. But this year, as we were waiting for the sailboat sale to go through, we chose to do things differently.
Our Marseille weekend adventure
We decided to pack our bags, let go of our regular routines, and head towards the city famously known as France's proverbial melting pot. Our plans? A leisurely tour of Marseille, a meet-up with some old friends on Saturday, and a whole day to ourselves to explore the city on Friday. Little did we know, Marseille had plans of its own for us.
Our journey began under the blanket of February's wintry chills. With the anticipation of Valentine's Day just around the corner and the promise of a romantic getaway in Marseille, we were in high spirits. As our car sped towards the city that would become our weekend home, we couldn't help but feel a bubbling excitement. After all, there's a certain thrill that comes with exploring a new place, a sense of exhilaration that can't be replicated. Marseille, with its blend of urban grit and Riviera chic, seemed like the perfect backdrop for our Valentine's Day adventure. Little did we know, our trip to Marseille would turn out to be an experience we would never forget.
Stay tuned as I tell you about our remarkable journey through the maze-like streets, the mesmerizing coastline, and the invigorating life of the city. Buckle up as we dive headfirst into the heart of Marseille, one story at a time. This is our Valentine's tale, an unforgettable love letter to the unexpected city that is Marseille, France. (Just keep in mind that some love stories are tragic.)
From the thrill of arriving at our destination, the challenges of navigating its bustling roads, to our encounters with the city's eclectic residents, our Valentine's Day weekend in Marseille was anything but ordinary. And I can't wait to share it with you. This isn't just our story, it's also a story about Marseille – a city that doesn't just exist but truly lives.
As I share our adventure, I hope to offer you a glimpse into the soul of Marseille, a city that is as captivating as it is enigmatic. Whether you're planning a trip to Marseille, or just daydreaming about what it could be like, I hope my tale will intrigue you and leave you wondering about Marseille's indomitable spirit. Let's embark on this journey together, exploring the lesser-known corners, the soul-stirring stories, and the strange beauty of Marseille. Let's visit Marseille together!
---

Our initial arrival in Marseille was nothing short of a whirlwind. If you've ever looked at a Marseille France map, you'll notice that the city is a tangled skein of streets and alleyways, a labyrinth that immediately entices and bewilders. But it wasn't the city's geography that took us by surprise, no. It was our quest to find that one elusive element: a protected parking space.
Marseille, known for its bustling life and colorful diversity, greeted us with a challenge straight off the bat. After hours of circling the streets and scanning the crowded corners of the city, we finally found a spot. Our moment of triumph, however, was short-lived. Across the street, a man stepped onto the sidewalk, donned in a bulletproof vest, casually puffing away on his cigarette. The sight made our hearts skip a beat. Marseille crime rates had been a point of concern during our planning phase, and here we were, face-to-face with a stark reminder of this reality.
Moving on from this startling encounter, we steered our search toward a safer location. Soon, we found ourselves inching through an extraordinarily narrow road teeming with men emerging from a mosque. Shoes in hand, they congregated in the middle of the street, immersed in casual conversations, oblivious to our mounting predicament. In respect of their ritual, we decided not to honk, despite the ticking clock.
The vibrant tapestry of Marseille's population, and the diversity visible in these bustling streets, became our first real taste of the city. Yet, the allure of Marseille's demographics also came with a dose of frustration, as we were forced to stall our exploration, wedged in this alleyway, waiting for the street to clear.
Eventually, our patience paid off, and we found solace in an underground car park. It cost a fortune, but the promise of a secure spot for our car made the price easier to swallow. The caveat? To enjoy the discounted rate, we had to download an app, create an account, and book a spot at least an hour in advance. Thus, we returned to the surface, a haven for an internet connection, to fulfill this digital obligation.
Our first hours in the city had been a rollercoaster. We managed to escape the car park, spent some time above ground to eat and relax, then set out again to secure our vehicle for the night. Just when we thought we were finally settling in, we faced another hurdle: finding our way back to the reserved parking lot while avoiding another encounter with the stringent France Marseille parking rules. Our struggles didn't end there either. Weeks later, a souvenir in the form of a parking fine arrived home – a memento of our time spent waiting for our parking reservation in the bustling city of Marseille.
Looking back, our introduction to the city was a bitter-sweet symphony, a harmonious blend of intrigue, excitement, and a fair share of challenges. It served as a potent reminder that exploring a city like Marseille doesn't merely involve touring its landmarks. Instead, it's a holistic experience, a dive into the daily lives of its inhabitants, a journey through its crowded streets, and a peek into the reality of life in Marseille city. This was our initiation into the vibrancy, the complexity, and the mesmerizing, often challenging beauty that is Marseille.
---

Marseille – from glorious attractions to gritty reality
With the stress of parking behind us, we set foot on Marseille's concrete landscape, the city sprawled out before us like a great beast waking from slumber. Beyond the frenzied streets and glamorous avenues, the heart of Marseille beats in rhythm with its rich history and vibrant culture. It's a tale told through the city's architecture, mirrored in its attractions, and echoed through the stories of its people. Yet, this is a city of contrasts, where the splendor of the past stands shoulder to shoulder with the stark realities of the present.
Marseille France is a city of myriad points of interest. The Notre Dame de la Garde, perched atop a hill, watches over the city like a benevolent guardian. From its heights, one can capture an unobstructed panorama of the bustling port, speckled with bobbing boats, and the azure sea extending to the horizon.
The Vieux Port is another must-visit site, teeming with colorful boats, lively markets, and waterfront cafes. Strolling along its edges, one can sense the pulse of the city, echoing through the banter of locals and the hum of the azure waves. A boat trip to the Calanques, a series of rugged cliffs and azure bays, is among the most mesmerizing things to do in Marseille in 1 day.
The beauty of Marseille, however, is not just confined to its popular tourist spots. The city's architecture – a mishmash of the old and new, the classic and the avant-garde – is a silent narrative of its journey through time. Yet, amidst the beauty, there are stark shadows. Places that once echoed with life and laughter have become shelters for the homeless. Camps spring up in the heart of the city, a poignant reminder of the challenges faced by a significant segment of Marseille's population.

The best time to visit Marseille is arguably late spring or early fall when the city bathes in a pleasant warmth, and the crowds are fewer. It's during these times that you can truly appreciate the intricate tapestry of Marseille – the joy, the struggle, the resilience, and the hope that fuels this vibrant city.
Marseille, like any city, is not without its flaws. But it's in acknowledging these flaws that we appreciate the beauty that exists, despite them. Marseille is a city of contrasts, a place where splendor and reality coexist. It's this authenticity that makes the city worth visiting and exploring, one day at a time.
---
Beauty amidst the chaos – the Marseille dichotomy
Our next stop? The Old Port of Marseille. However, this was not the idyllic Marseille beach scene depicted in countless glossy postcards. No, this was the raw, unfiltered side of the city – a colossal, smelly port.
The image of Marseille France, that you might conjure from a neatly detailed map couldn't prepare you for the contrasting sights and sounds of this city. One moment, we were navigating through the gritty harbor, the next, we were strolling down the glamorous streets that graced the scenes of the famed Sous le Soleil series. This dichotomy is what makes Marseille such an intriguing destination, a city that keeps you on your toes, ever-questioning, "Is Marseille worth visiting?".
As day turned into evening, we found ourselves drawn back to the port, guided by the promise of another unique spectacle: the night market. This wasn't on the glossy list of things to do in Marseille, yet it became one of our most memorable experiences. A few steps off the immaculate film-set streets, we were thrown into a vibrant tapestry of Marseille culture.
The night market was a world unto its own. Characters of all sorts gathered under the stars, their wares displayed haphazardly on makeshift tables crafted from worn-out cardboard boxes. I remember the harsh smell of raw meat emanating from a butcher's shop, as the owner was washing his floor with a hose, dirty foam spilling out onto the pavement. There was another store where the proprietor was quite literally kicking trash aside to make way for potential customers.
The essence of Marseille culture, its vibrancy, and rawness were on full display here. These are the real Marseille attractions, the sights and sounds that one doesn't find in tourist brochures but instead stumbles upon while navigating the city streets. It was admittedly uncomfortable, and as we neared our restaurant destination, I instinctively clung closer to Mathieu, my other hand gripping my bag tightly.
It's these very moments that sear themselves into memory. Marseille doesn't offer the predictable comforts of many other tourist destinations. It's a place of paradoxes, a mosaic of the glitzy and the grungy, the glamorous and the raw. It's a city that beckons with its beautiful chaos, demanding exploration beyond the confines of Marseille hotels and standard attractions. This is the heart of Marseille travel, an experience that asks you to dive in, lose yourself in its labyrinthine streets, and come out richer in stories and experiences. It's a city that may make you question if it's worth the visit but, one way or another, it answers you with an unforgettable journey.
---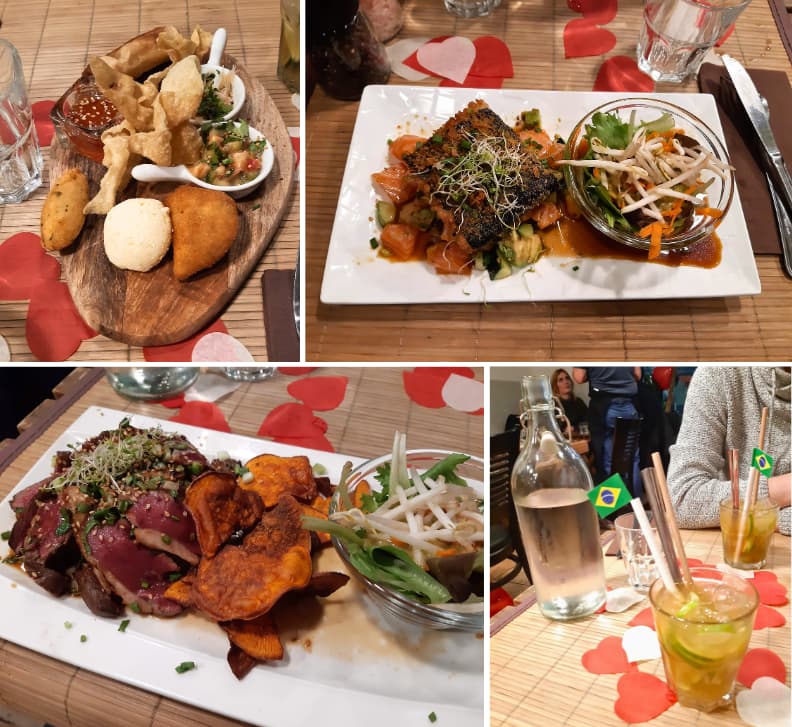 Our epicurean adventure in Marseille – a symphony of flavors
The moment we stepped into the Aux Antipodes Marseille restaurant, any lingering questions about "Is Marseille dangerous?" were replaced by anticipation for a culinary adventure. This establishment, nestled in the heart of Marseille city, was our safe haven, an oasis amidst the hustle and bustle.
The warm inviting ambiance enveloped us as we stepped inside, a far cry from the bustling night market we had just left behind. Within moments, the vivid chaos of Marseille city pass melted away, and we were transported into a serene world of exotic flavors and tantalizing aromas.
While the Marseille food culture is famed for its traditional Provençal cuisine, Aux Antipodes surprised us with a delightful twist – a blend of familiar and exotic. One could argue that the essence of Marseille France is perfectly encapsulated in this harmonious fusion of flavors.
Remaining faithful to my culinary adventures in France, I found myself drawn to a dish with duck meat. The first bite was a revelation, the perfectly cooked duck melting in my mouth, each flavor standing out yet melding beautifully with the others.
As we savored our meals, sipping on delicious mojitos, the restaurant seemed to encapsulate the essence of Marseille's charm – its ability to surprise and enthrall, to present a beautiful medley of contrasts. Here we were, in the heart of a city known for its traditional local fare, enjoying a blend of cuisines that felt both comforting and excitingly new.
Exploring the food scene is a quintessential part of the Marseille experience. Other notable restaurants in Marseille include Le Petit Nice, celebrated for its sumptuous seafood dishes, and Chez Etienne, where you can enjoy a slice of the city's famous pizza. But our hearts will always hold a special place for Aux Antipodes.
The Marseille food scene, much like the city itself, is diverse, vibrant, and unexpected. It's an integral part of the city's allure, a testament to the rich cultural tapestry that makes up Marseille. So, whether you're here for a quick visit or plan to stay a while, remember to dive into the culinary landscape. You might just find your own little oasis amid the chaos that is Marseille.
---

New roommates – an unforgettable night in a Marseille hotel
After our gastronomic adventure, we decided to retreat to the sanctuary of our hotel. We had selected one that was centrally located, which according to a local friend and our Marseille travel guide book, was in the best area for visiting Marseille. Little did we know that this place, a standout amongst Marseille hotels, was about to leave an indelible mark on our travel memoirs.
When we think about traveling to Marseille France or living in Marseille as an expat, we envision the beauty, the culture, the food… We certainly do not anticipate sharing our room with some unwelcome critters. Yet, there we were, our peaceful night disrupted by the appearance of a six-legged trespasser that scurried past my face in the dim screen light of my phone.
The shriek that escaped my lips could have probably been heard all the way to the port of Marseille. I woke up Mathieu, and together, we faced the intruder – a bed bug, a disconcerting sight that threw our Marseille vacation into a momentary spiral.
The real horror, however, lay not in the encounter with the bedbug but in the hotel staff's nonchalance when we reported it. There was no shock, no apology – just an immediate refund for our second night and a directive to email his superior about the first. This cavalier attitude, more than the bedbug itself, made our experience with Marseille hotels memorable for all the wrong reasons.
So, what's the silver lining in this? Well, it's a reminder that when it comes to France Marseille, it's important to plan for contingencies. Make sure to check reviews and recommendations before booking. Traveling shouldn't be just about visiting Marseille but about creating unforgettable memories, albeit, preferably, without the company of bedbugs.
Here's a nugget of advice from a couple who's been there: when it comes to Marseille hotels, a little caution goes a long way. Double-check everything, from cleanliness standards to customer reviews, and remember – it's okay to switch accommodations if something feels off. We only checked the room once because I had read about the bedbug infestation in Marseille but we didn't do such a great job at it.
Our journey may have had its hiccups, but it's these experiences that shaped our adventure, making it as real and as raw as the city of Marseille itself. We were not just visiting Marseille, but embracing the whole spectrum of experiences, good, bad, and somewhere in between, that this dynamic city throws our way. Whether we wanted them or not.
---
Hit the road – an epilogue to our adventure in Marseille
Around 2 am, under the cloak of a moonlit sky, we were on the highway, leaving behind the Marseille coast and the memories we'd woven there. Destination: Bagnols-en-Forêt. There was an aura of tranquility that encapsulated our journey, almost therapeutic, as we distanced ourselves from the hustle and bustle of the city.
Looking back, we realized that despite the hiccups, there was a certain charm about the best of Marseille France that could not be denied. The unique things to do in Marseille – from exploring the grungy port, and braving bustling markets at night, to our unforgettable hotel escapade – all contributed to the quintessential Marseille holiday. Even when we ponder over Marseille facts, such as the contrast of its urban and suburban facets or its cultural richness, we understand that our experience was indeed unique, like the city itself.
We had originally set out to discover the best things to do in Marseille in 1 day, and despite the unexpected turns, we had managed to squeeze in a myriad of experiences. Now, although we left before enjoying one of the Calanques day trips from Marseille we had dreamed about, we felt relieved.
Just a few hours later, we found ourselves at Aire des Terrasses de Provence, the last highway stop before home. There, amidst the serenity of the early morning, I noticed Mathieu, nursing a hot coffee, his curiosity piqued by the small archaeological museum within the gas station. Observing him then leafing through books, his calm demeanor untouched by the whirlwind of our Marseille tourism experience, I found myself enveloped in a profound sense of contentment.
That's when it struck me – it's not just about our visit to Marseille, it's about the whole journey, but mostly about the person you share it with. It's about weathering the storms together and finding joy in even the most challenging circumstances.
And so, with smiles on our faces, we sneaked into our yard, strategically placing our luggage where the morning sun would greet them at dawn. We stripped down and rushed into the shower, hoping to wash away the remnants of any unwanted hitchhikers from our hotel from our eventful stay in Marseille.
As we left behind Marseille France, the city that had given us a story worth telling, we took solace in the fact that we'd turned every twist and turn, every challenge, into an adventure, a testament to our resilience and our bond. And there was comfort in knowing that one day, we'd look back and laugh heartily at this Marseille holiday tale we'd scripted together.
---

Marseille unveiled – a rollercoaster of beauty and chaos
Marseille, the city of ceaseless surprises, turned our dream of a tranquil holiday into a story that neither Mathieu nor I will ever forget. The city, with its unparalleled ancient charm and sprawling, diverse landscape, is a treasure trove of experiences. Yet, our Marseille holiday served up an unanticipated mix of marvels and misadventures.
Traveling to Marseille France evokes a palette of emotions that swirl as unpredictably as the winds wafting from the Mediterranean. It's a city where the serenity of a spectacular sunrise at the Vieux Port can swiftly be eclipsed by the chaos of a bustling night market. Where delectable food that tantalizes the taste buds can be followed by an unsavory encounter with a bedbug.
Our holiday in Marseille was not the leisurely retreat we had anticipated. It was an experience that pushed us to the edges of our comfort zones, shook us out of our languid holiday reverie, and compelled us to confront the raw, unpolished side of travel that we hadn't bargained for. Despite the diversity, the sumptuous food, the breathtaking Marseille coast, and the rich history of the oldest city in France, our encounter with the city's less glamorous facets was a daunting detour.
Marseille is the city where the past and the present, the quaint and the chaotic, the sublime and the gritty, dance in an eternal, enigmatic tango. A city where we had some of our most unforgettable experiences. Yet, it is also the city that I swore I'd never return to.
But, as with every journey, our time in Marseille, too, has shaped our story, enriched our perspectives, and reminded us that even in the most challenging situations, we can find a ray of resilience. Every city has its highs and lows, and perhaps, just maybe, we might find ourselves in the embrace of Marseille once more (if only to see the Calanques), ready to uncover a different chapter of its compelling tale. After all, the beauty of travel lies in its unpredictability, in the tales spun out of the expected and the unexpected. And our Marseille vacation, with its patchwork of highs and lows, was a testament to that.
---
The road less traveled – Marseille travel tips
In the spirit of equipping other intrepid travelers who plan on embarking on their own Marseille holiday, I've assembled a list of travel tips and frequently asked questions about the city. These nuggets of knowledge are the result of our brief yet intensely memorable trip, a distillation of experience, research, and hindsight.
Marseille travel tips
Navigating the vibrant, bustling city of Marseille, one learns some vital travel lessons that could make all the difference between a memorable trip and a regrettable one. A city steeped in history and culture, a Mediterranean marvel, Marseille can also be quite unpredictable. Here are some nuggets of wisdom gleaned from our whirlwind journey, and a few tips to help you plan your own escapade.
Preempt parking problems. The labyrinthine streets of Marseille, swarming with traffic and dotted with sporadic parking spaces, present a genuine challenge. Thus, I'd recommend saving yourself from unwanted anxiety and pre-booking a secure parking spot. Alternatively, you can entirely bypass this challenge by embracing the city's public transportation system. Using the Marseille city pass, you enjoy unlimited access to public transport, museums, and discounts on various tours.
Stay vigilant. Marseille, like most any large city, comes with its share of hazards. Always stay aware of your surroundings, particularly during night-time strolls along 'Marseille beach' or while maneuvering through crowded marketplaces. Keeping your belongings close to you and being alert can drastically minimize risks.
Accommodation inspection. Our unfortunate encounter with bed bugs underscores the importance of this point. Please ensure your Marseille hotel choice is well-reviewed, and your room is clean and up to standard. Exploring expat living in Marseille blogs can also give you a more unvarnished view of accommodations.
Embrace the unexpected. Part of the charm of Marseille lies in its chaos and unpredictability. Don't shy away from this. Instead, open your senses to the unique blend of grungy ports, glamorous streets, and vibrant markets. Marseille's beauty often resides in its contradictions.
Avoid the night market. A cornucopia of diverse individuals, intriguing items on sale, and a distinct atmosphere that leaves a mark on your memory. It's chaotic, it's raw, but not an essential part of the Marseille culture experience.
Enjoy the food. Marseille's cuisine is a revelation. The wafting scent of bouillabaisse, the city's signature fish stew, is a siren song for food lovers. Treat your taste buds to the delightful gastronomic experience that the local Marseille food has to offer.
Lastly, for a comprehensive view of the city, I recommend checking out Lonely Planet's guide to Marseille. An online Marseille travel guide book filled with insightful information, practical advice, and tips on the unmissable spots, it is an indispensable tool for any traveler looking to maximize their experience in this dynamic city.
Navigating Marseille might be a challenging endeavor, but equipped with these travel tips, your journey can be a fulfilling one, rich with stories waiting to unfold.
---
Marseille FAQs answered
What is the oldest city in France?
The answer lies within the heart of Marseille itself. This effervescent metropolis, with its sprawling Marseille France map, holds the esteemed title of being the oldest city in France. Marseille was established by Greek explorers around 600 B.C., initially christened Massalia. Its historical lineage is palpable, from its ancient port to its antiquated structures echoing the stories of the millennia that have passed.
Marseilles or Marseille?
A source of confusion for many, the correct spelling in French is Marseille. The variant Marseilles is an anglicized version of the name, which can often be spotted in English texts. Despite the slight difference, rest assured, both spellings refer to the very same vivacious city nestled in the south of France.
Marseille name meaning?
Diving into the etymological roots of the city's name, Marseille stems from its Greek origins. The city was initially called Massalia – a word that translates to the people's settlement. This name encapsulates the essence of Marseille, a city that has been home to diverse cultures, civilizations, and individuals for over two and a half millennia.
How many people live in Marseille?
As of September 2021, Marseille boasts a population of approximately 870,000 inhabitants. This figure crowns Marseille as the second most populous city in France, only surpassed by Paris. The city's demographics paint a vibrant mosaic of cultures, a testament to its welcoming nature towards different ethnicities and religions. Among the city's diverse communities, a large Muslim population finds their home, enriching Marseille's cultural fabric with their traditions and values.
What is the climate in Marseille, France?
Marseille luxuriates in the arms of a Mediterranean climate. This climatic pattern gifts the city with mild, moist winters where you can comfortably explore things to do in Marseille without the harsh winter chills. Conversely, summers are hot and dry, perfect for sun-soaked days on Marseille beach. The weather does its part in creating a city that thrives on outdoor activities, lively street markets, and bustling cafes.
When is the best time to visit Marseille?
If you're planning a Marseille vacation, timing is key. The ideal time to visit Marseille extends from March to May and then again from September to November. These periods offer a soothing climate, allowing you to engage in things to do in Marseille comfortably. The tourist crowds thin out during these times, granting a more personal and immersive experience. Whether you're hoping to explore unique things to do in Marseille or the tried and tested Marseille attractions, these months serve as your perfect calendar slots.
Is Marseille safe?
The answer lies in a shade of grey rather than a stark black or white. As with any large urban environment, safety in Marseille can depend largely on where you are and when. The city, like any other, has its safe havens and its less savory areas. During the day, the vibrant hustle of Marseille attractions like the Old Port, or Vieux-Port', and the Marseille beach areas are generally safe and frequently patrolled. However, as the sun dips, it's advisable to stay aware of your surroundings, especially in areas that might be less populated or well-lit. Nevertheless, Marseille isn't inherently unsafe. The city simply mirrors the reality of life in any major city worldwide: where there's life, there
Is Marseille dangerous for tourists?
The perception of danger often depends on personal experiences and how well-prepared one is. While there might be parts of the city that can be deemed challenging for tourists, it's essential to remember that millions of visitors have explored the best things to do in Marseille without encountering any problems. Risks can exist anywhere, and Marseille is no exception. Adopting a conscious traveler's mindset – being alert, guarding personal belongings, avoiding less populated areas late at night, and staying informed about the local norms and neighborhoods – can ensure that your Marseille travel memories are painted with hues of joy and fascination rather than tainted by fear or discomfort.
What is Marseille famous for?
Marseille's fame extends far beyond its city limits, drawing curious travelers from across the globe to its shores. Anchoring its reputation is the historic Vieux Port, the beating heart of the city that pulsates with energy from dawn to dusk. This maritime gateway has witnessed centuries of trade, conflict, and stories, each wave bringing a new tale to its expansive tableau.
Towering over the city's skyline, the iconic Notre Dame de la Garde stands as a sentinel of faith and protection. This basilica, affectionately dubbed La Bonne Mère (The Good Mother), offers stunning panoramas of the city, making it a must-visit spot on any Marseille France map.
No conversation about Marseille's fame is complete without salivating over its distinctive culinary scene. The city is the birthplace of Bouillabaisse, a hearty fish stew that encapsulates the flavors of the sea and the warmth of Marseille's hospitality. This famous dish is the epitome of Marseille food, marrying local seafood with aromatic herbs and spices in a symphony of tastes
What is Marseille known for?
While historical landmarks and gastronomic delights are significant facets of the city's identity, there's more to Marseille's allure. The city is known for its rich cultural tapestry woven from its diverse population. This diversity gives rise to a vibrant arts scene, exemplified in its thriving music industry, particularly in French hip-hop. Marseille's distinct neighborhoods, each with its unique personality and rhythm, contribute to the city's reputation as a cultural melting pot.
Exploring Marseille uncovers a city that is as diverse and multifaceted as its residents. It's a city that thrives on its rich historical heritage, relishes its culinary delights, and pulses with the beat of contemporary culture. Whether you're drawn to the best of Marseille France or the hidden corners known only to locals, Marseille offers a journey of discovery that will captivate and surprise you at every turn.
What to do in Marseille in one day?
Embracing the sunrise at the Vieux Port, the heart of Marseille, is an absolute must. As dawn paints the skies with hues of gold and amber, the spectacle of colorful boats gently rocking to the rhythm of the waves is truly mesmerizing. This vibrant port is indeed one of the best of Marseille France, a delight that early birds wouldn't want to miss!
Venturing north from the Vieux Port, the charming quarter of Le Panier awaits. Being the oldest district of the city, it offers unique things to do in Marseille. Traverse the narrow, winding streets adorned with pastel-hued houses and artistic graffiti. Take a moment to appreciate the age-old architecture, pop into quaint artisan shops, or simply bask in the sun at a cozy café.
No exploration of Marseille France is complete without delving into the city's gastronomic wonders. As the afternoon sun mellows, it's time to relish Marseille food. From the classic Bouillabaisse, a rich fish stew that is a local delight, to the creamy Aioli, Marseille's culinary scene is a feast for the taste buds!
Lastly, treat your senses to the natural beauty of the Calanques National Park. A short boat ride from the Vieux Port will take you to this paradise. Dive into the crystal-clear waters, hike through the fragrant pine forests, or simply relax and witness the breathtaking views of the limestone cliffs diving into the azure sea. As the day concludes, the Marseille coast with its spectacular sunset will undoubtedly leave you spellbound.
What to do in Marseille port?
The bustling Vieux Port is the city's beating heart, offering a myriad of experiences. Enjoy the vibrant energy, watch fishermen auctioning off their daily catch, and be sure not to miss out on savoring fresh seafood at the myriad restaurants in Marseille dotting the port.
The port also serves as the gateway to the sea, making it a perfect spot for embarking on a boat tour. Explore the city's stunning coastline, visit the enchanting islands of Frioul, or cruise your way to the picturesque Calanques National Park.
For those preferring leisure over adventure, simply amble along the promenade. Admire the multitude of boats docked in the marina, take in the panoramic views of the city, and watch as the port transforms into a spectacular spectacle of shimmering lights as night falls. Undoubtedly, there's a multitude of things to do in Marseille at night right at the port!
Remember, Marseille is a city that thrives on its contrasts. As you journey through its labyrinthine streets and azure coasts, let yourself be enveloped by its mesmerizing charm. The city's appeal lies in its unpredictability, a trait that will surely keep you yearning for more.
---

Coming from the picturesque landscapes of Romania and now dwelling under the sun-kissed skies of Southern France, Mirela Letailleur is a seasoned travel enthusiast and an authentic voice in the world of European travel blogging. Infusing her passion for discovery with a keen eye for detail, Mirela is the mastermind behind The Travel Bunny, a thriving travel blog revered for its insightful narratives and practical advice about affordable travel within the rich tapestry of Europe. She has carved a niche for herself as a trailblazer in her field, providing discerning travelers with unique, handcrafted travel guides that breathe life into every journey.
Mirela's prowess goes beyond being just an accomplished writer; she is a problem solver, an unflinching travel expert navigating the winding roads of European travel, and offering robust, reliable advice that resonates with both avid and occasional travelers. Having experienced the raw, unfiltered beauty of Marseille beyond the glossy pages of conventional travel guides, Mirela's firsthand insights make her the go-to resource for anyone seeking to unravel the true essence of this ancient city. With a coffee cup perpetually in hand, she weaves engaging stories that captivate the heart of every reader, making her a trusted guide in the vast, exciting realm of travel.
After deciding if Marseille is worth visiting, check out these travel blog posts
From dream to reality: Med sailing during the pandemic in 2020
Our sailboat search in France: finding the right sailboat
Top 10 romantic weekend getaways for two