As you probably know by now, last year my husband and I finally made one of our biggest dreams come true: we bought a sailboat to sail the Mediterranean. As we were doing this in a sabbatical year, we needed coverage in case one of us got sick or our adventure turned into a misadventure. And, after comparing several options, we ended up getting SafetyWing travel insurance.
---
SafetyWing Travel Insurance by nomads for nomads
Our plan was to go to the South of France on 1 February 2020 to start looking for the boat. Then, once we got the boat, we wanted to sail along the coast of southern France, Italy, Slovenia, Croatia, the tiny bit of Bosnia and Herzgovina, Montenegro, Albania, Greece, Turkey, Bulgaria, and, finally, Romania.
Eventually, for safety reasons, we chose to stop our trip to Greece. We heard some scary stories about crossing the Bosphorus strait in Turkey, and the Black Sea would have been very challenging to cross in late autumn.
It was perfectly fine to change our travel plans because SafetyWing travel insurance gives you this kind of freedom to choose where and when you travel, without altering your fees.
But, then, the pandemic hit, and countries began closing their borders one after another. It was soon France's turn to enter into confinement and we found ourselves stuck far away from our boat (and delaying the repainting of the hull, the changing of the fixed rigging, and the departure itself).
---
SafetyWing coverage followed the CDC travel warnings during the pandemic. So when a location (typically a country or a city) reached a level 3 or 4 travel warning because of the virus, you wouldn't get covered if you arrived there after the warning was issued. And, if you were already there, you had 10 days to evacuate the area. Not only were you covered during that time, but the evacuation, too. You could also take a chance and stay beyond those first 10 days, with the regular coverage minus treatment for COVID-19.
SafetyWing was very proactive during the pandemic. They even created an online tool to help travelers stay up to date with country regulations. And the best part was that they hired people for this project from their partners in the travel industry. It was a wonderful way to give a bit back to the community and help those from one of the industries that were most affected by the restrictions that came with the pandemic.
---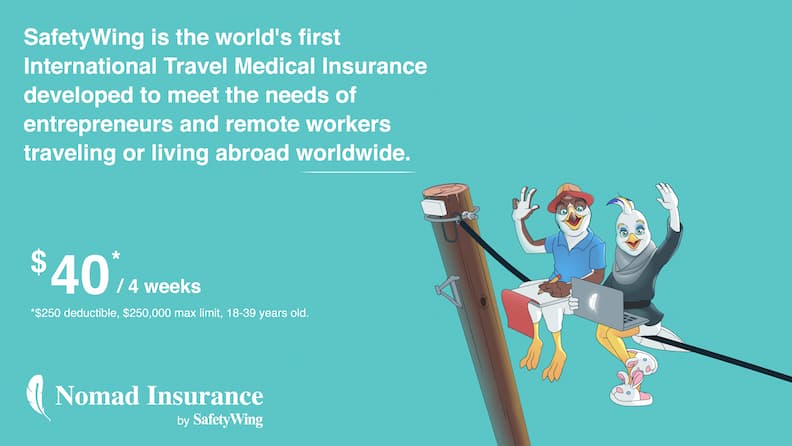 SafetyWing Travel Insurance is flexible, like a subscription
When the lockdown in France ended, we finished the work on our boat, and we left on 24 June 2020. Our final route only included three countries: France, Italy, and Greece. This was still plenty to see within the time we had left, but also helped us avoid crossing too many borders and risking getting stuck or quarantined. We did preview food and water to last us two weeks in case we had to isolate ourselves on the boat.
We were, of course, worried when the CDC changed the travel warning for France during the lockdown. But we barely left the house and took all precautions. And the same applied for later, when we were moving about from one place to another almost daily.
Luckily, as of 1 August 2020, SafetyWing's Nomad Insurance has coverage against Coronavirus Disease for all new policies. As we had an active one, I got in touch with them and followed their instructions to cancel the existing group policy to sign up for the new one with Covid-19 coverage. The upgrade took just a few minutes and it also offered me the chance to add an extra month to our trip.
SafetyWing Travel Insurance works like any subscription you've had. You sign up and as long as you leave it active it gets renewed automatically every 28 days. You can, of course, pay in advance for a longer period, but when you need to cancel it, you don't incur any extra fees because you've changed your mind.
I actually had to cancel it because once the trip ended we stayed for several months in Romania, where we couldn't benefit from SafetyWing Travel Insurance. So, after spending 30 days in our home country, the coverage period ended, and I quickly canceled and got refunded the amount of money for the months we didn't end up using.
---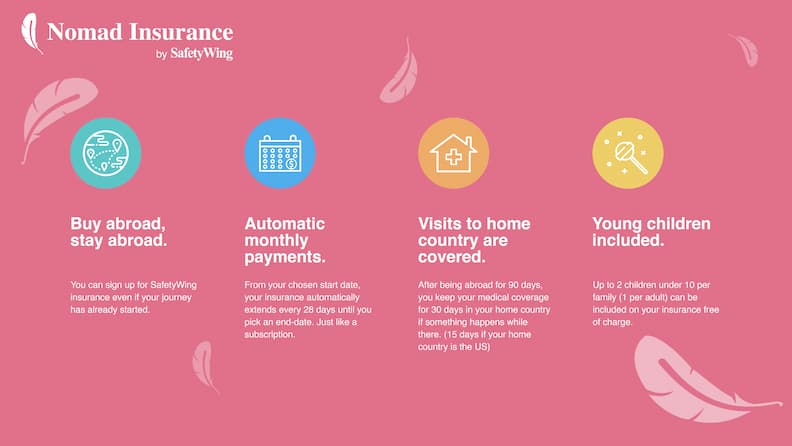 Digital Nomad Insurance = a budget traveler's best choice
Paying for a SafetyWing subscription helps you manage your budget better because you spend money only for the timeframe you keep it active, with no hidden cancellation fees.
And, at $42 per month (28 days), SafetyWing travel insurance is the most affordable one out there that gives you extended medical and travel coverage combined with the freedom of movement.
After testing it out and seeing how responsive their team is, and how easy it is to sign up (even if you do it after you've already started your journey) or cancel anytime, I know that next time I travel somewhere I'm going to get SafetyWing travel insurance again.
---
What does SafetyWing's Digital Nomad Insurance include?
Travel medical insurance
You gain access to a qualified global network of hospitals and doctors for unexpected medical problems and accidents. It includes coverage for doctors, hospitals, emergency medical evacuation.
Travel insurance
Includes coveragefor travel delay, lost checked luggage, emergency response and natural disasters, personal liability.
Have a look at the detailed coverage of SafetyWing Travel Insurance for Digital Nomads: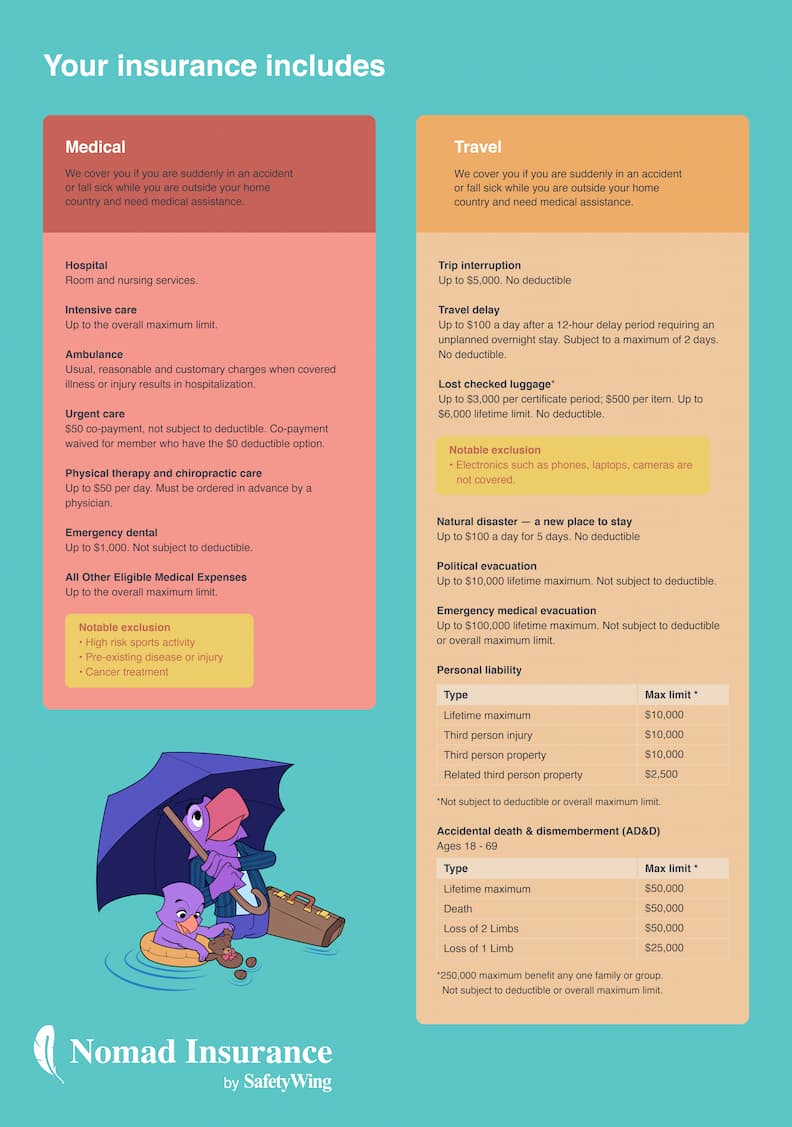 ---
Who recommends SafetyWing travel insurance

Mirela Letailleur is a Romanian travel blogger living in the South of France. She writes on The Travel Bunny travel blog about affordable travel in Europe, creator of unique free travel guides, local travel expert. Problem solver. Wannabe coffee guru.
Other articles you should read on The Travel Bunny
Why plan a summer vacation with the family in 2021?
2021 travel destinations on my list
2021 holidays for Melbourne travelers