Traveling is the best time to try out your love for photography. Whether you're taking a trip to the beach or backpacking across the mountains, you're sure to take your camera along with you to catch those aesthetic moments and make some permanent memories.
But what do you do with all those extra photos after your trip ends and posting on Snapchat and Instagram stories just isn't an option anymore?
How to use old travel photos
You probably have your old travel photos taking up the storage space in your phone, or printed up as yellowing polaroids stacked inside an old shoebox in your closet. But what if you had a way to actually put those souvenir photos to use?
I've shortlisted some of the best ideas on how you can use up your old vacation in clever, creative ways.
---

1. Print them out and make a scrapbook
The first option you have is to go the traditional route and make a scrapbook. Everyone loves a traditional album or scrapbook with all their favorite memories glued and bound together. These could serve as a great gift for someone close to you, or just as a memorable keepsake for yourself.
All you need to do is take your favorite travel photos from your phone or camera, print them out, and begin pasting. With only colored paper, some scissors and glue, and a ribbon, you can build up a scrapbook without having to empty out your wallet.
If you're interested in DIY then you can benefit from getting your photographs printed in batches at surprisingly low costs for your project.
---
2. Create your own photo book
If you like the idea of a traditional photo book but are not interested in getting your hands messy with glue and indulging in DIY, we have just the idea for you. The internet now makes it easy for you to print out your own quality photo book without any extra effort.
You can use ChatBooks, an automated service that allows you to sync the photos on your Facebook, Instagram, or your phone photo gallery into a book design that you can get printed. This handy online platform handles everything for you, from the arrangement of your photos to the option to add captions and locations to each page.
With a subscription that begins at $15 along with free shipping of your newly printed photo book, this service provides you with a great option to convert your digital memories into physical keepsakes without the hassle.
---
3. Make a photo-collage
Who says you have to keep your favorite travel photos to yourself? One clever idea is to convert your best pixelated moments into a single photo collage. You can print it out to hang it in your home, post it on your Facebook to share your best moments with your friends, or treat it as a timeless gift for someone close to your heart.
With online design tools like PosterMyWall, making a collage has become easier than ever. All you need to do is log on and select from a wide selection of travel collage templates and personalize your collage to your liking.
Select all of your favorite family photos or pictures from any fun group photo shoot and add them to your collage to make for the perfect memorable gift for your loved ones. With the wide range of free editing options available, you don't even have to break the bank to make this into a special gift.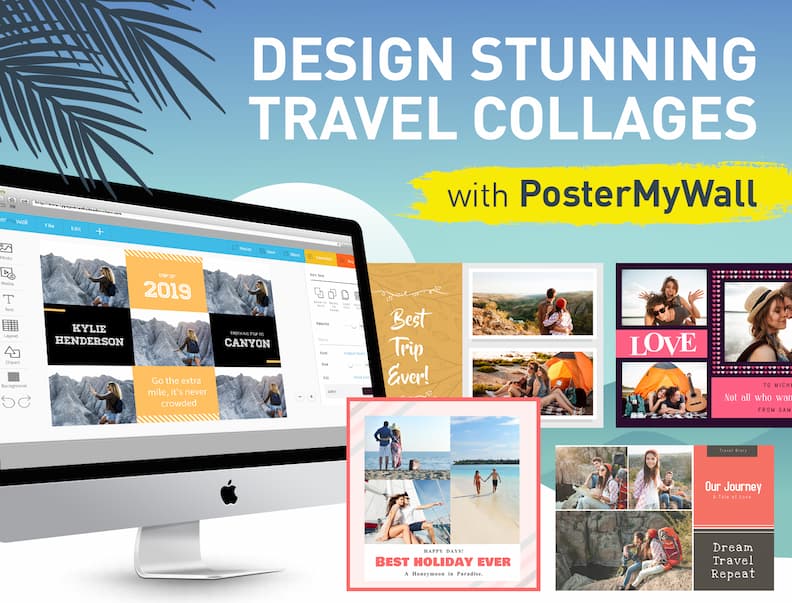 ---
4. Make your own personalized postcards
You can never go wrong with a custom-made postcard. Printing out your favorite travel photos with someone and sending them as postcards would serve as a fun recap of your trip together.
Print all of your best travel memories with your loved ones in a batch to avail of lower costs, and convert them into a stack of adorable, DIY postcards to remind them of the great times you have spent together. Alternatively, you could even tie up a nice little ribbon around the whole stack and present it as a well-thought-out gift for that special someone.
---

5. Use your old travel photos as wall decor
Sometimes, the best way to treasure your memories is to make sure you're surrounded by them at all times.
Start your own DIY project by purchasing a string of fairy lights and hanging them up in your room with your favorite polaroids. This not only helps you get good and creative use out of old travel photos, but it will also create a whole new aesthetic vibe for your room.
Old travel photos are a treasured keepsake that one struggles to get rid of. These tips will help you get the greatest use out of your old photos so that your pixelated memories can live on with you in new, creative ways.
---
Tips to use your old travel photos by…

Mirela Letailleur is a Romanian travel blogger living in the South of France. She writes on The Travel Bunny travel blog about affordable travel in Europe, creator of unique free travel guides, local travel expert. Problem solver. Wannabe coffee guru.
More ideas for your old travel photos on The Travel Bunny blog
Photo backup: why you need it & which service is best