The day after going up on Lycabettus Hill, it rained a lot so we spent there a lot of time in the apartment. But when it stopped, we spent a lovely afternoon in Athens.
Actually, my father wasn't feeling so well, therefore when we finally did go out, it was just me and Mathieu. So join us on our lazy afternoon in Athens and stumbled upon interesting things.
---
A visit to the Herakleidon Museum
We started by visiting the Herakleidon Museum, with displays about science, art, and mathematics.
It was Mathieu's choice. His interest in this museum sparked up every time we passed one of its two buildings on the street. That's why we jumped on the first opportunity to visit it!
Though I couldn't take any photos, it was a really interesting visit. We saw an exhibition on Ancient Chinese Science and Technology. It was supposed to end on 29 April 2018, but we caught it at the beginning of May and it was still there. Lucky, I guess!
The most interesting part was the demonstration of how they made paper. The courtyard was prepared with all the necessary tools and, besides seeing the process of making paper, we also learned about the difficulties the staff from the Herakleidon Museum encountered when learning this themselves.
The staff of the Museum was really friendly and the visit to the Herakleidon Museum was a wonderful experience.
---
Bad service and no receipt at Taverna Gyristroula
Between our visits to both buildings of the Herakleidon Museum, we stopped for lunch in Monastiraki. We wanted to try a new place on Adrianou Street, and, as it was raining, we hid on the covered terrace of Gyristroula.
We regretted we didn't make a different choice. While the food was ok, our waiter had very poor manners and acted like he was doing us a favor when he was serving us. Furthermore, when we asked for the bill, he brought us a handwritten piece of paper, torn from the notebook he took the order on. We left without leaving any tip, as whatever we paid would never have gotten declared anyway.
---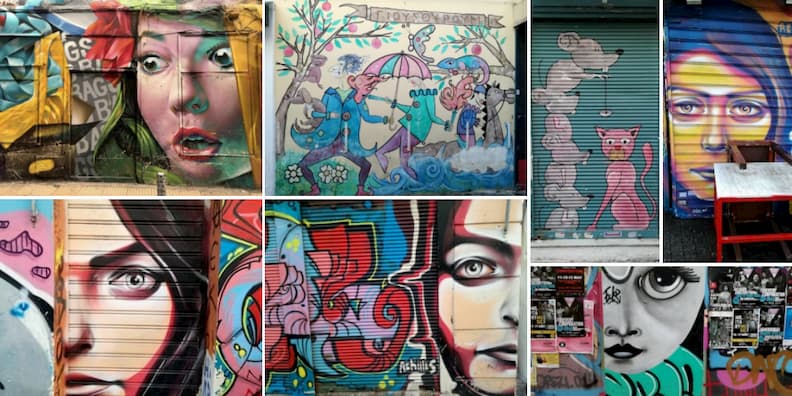 More street art in Athens
Later, after our visit to the Herakleidon Museum, we just wandered the streets. Around the same area we also found some interesting urban art on our afternoon in Athens.
Not far from Monastiraki, we came across a shop with a selection of old books in English. After some searching, I left happy with A Beautiful Mind, by Sylvia Nasar, under my arm.
---

Drinks on a colorful terrace
The two of us found a small terrace with colorful chairs, while we were walking around. There, we stopped to have a drink there and we chatted with the waitress. We don't know the name of the place, they were still settling in and we were the only ones who stopped there on that afternoon in Athens.
We liked it, though. And I liked the bathroom, where the mirror was placed inside a bicycle wheel, with a fender and all the rest.
For dinner, we went near Monastiraki Square, and Mathieu chose a nice tavern with candles on the tables. After a beautiful afternoon in Athens, we spent the rest of the evening talking and enjoying the wine.
---

Mirela Letailleur is a Romanian travel blogger living in the South of France. She writes on The Travel Bunny travel blog about affordable travel in Europe, creator of unique free travel guides, local travel expert. Problem solver. Wannabe coffee guru.
If you're spending more than one afternoon in Athens, read
The rest of our family trip to Athens
Top 10 things to do in Athens
12 amazing day trips from Athens worth every cent