The day after going up on Lycabettus Hill, it rained a lot so we spent there a lot of time in the apartment. But when it stopped, we spent a lovely afternoon in Athens.
My father wasn't feeling so well, therefore when we finally did go out, it was just me and Mathieu. So join us on our lazy afternoon in Athens and stumbled upon interesting things.
How to spend an afternoon in Athens
---
How do you spend an afternoon in Athens?
As someone who has spent an ample amount of time exploring Athens, I can confidently say that spending an afternoon in this city is a wonderful experience. Whether you're looking to dive into the rich history and culture or simply enjoy a relaxing stroll through picturesque streets, there's something for everyone.
If you find yourself surrounded by rainy weather during your Athens stay, don't fret – there are still plenty of great things to do! You could start your day with a visit to the Acropolis Museum, where ancient artifacts and architecture will transport you back in time. Afterward, head over to Plaka, Athens' oldest neighborhood, and get lost in its winding alleys while browsing artisan shops and admiring neoclassical buildings.
Alternatively, if you only have half a day to spare in Athens, there are still many options available. Begin by taking a scenic walk up Lykavittos Hill or Mount Lycabettus for stunning views of the city below. Then make your way over to one of the most famous landmarks in Athens: the Parthenon. Gaze upon its timeless beauty as it stands majestically on top of the Acropolis.
For those with just 4 hours to explore Athens proper planning is key. Why not spend some time at Syntagma Square? Home to Greece's parliament buildings it also holds The Tomb Of The Unknown Soldier, whose guards all wear traditional Greek uniforms. A short walk away is The National Garden filled with sculptures from antiquity along with well-manicured lawns and trees providing serenity amidst bustling Athenian streets
No matter how much time you have or what type of weather conditions may be present, there are so many options for spending time in Athens from historical museums and cultural sites to quaint alleys brimming with pretty storefronts on every corner.
As we were at the end of our trip to the Greek capital, this article will also show you how we spent our last afternoon in Athens, after we had already visited the most important sights and landmarks.
---
A visit to the Herakleidon Museum
We started by visiting the Herakleidon Museum, with displays about science, art, and mathematics.
It was Mathieu's choice. His interest in this museum sparked every time we passed one of its two buildings on the street. That's why we jumped on the first opportunity to visit it!
Though I couldn't take any photos, it was a really interesting visit. We saw an exhibition on Ancient Chinese Science and Technology. It was supposed to end on 29 April 2018, but we caught it at the beginning of May and it was still there. Lucky, I guess!
The most interesting part was the demonstration of how they made paper. The courtyard was prepared with all the necessary tools and, besides seeing the process of making paper, we also learned about the difficulties the staff from the Herakleidon Museum encountered when learning this themselves.
The staff of the Museum was really friendly and the visit to the Herakleidon Museum was a wonderful experience.
---
Bad service and no receipt at Taverna Gyristroula Athens
Between our visits to both buildings of the Herakleidon Museum, we stopped for lunch in Monastiraki. We wanted to try a new place on Adrianou Street, and, as it was raining, we hid on the covered terrace of Gyristroula.
We regretted we didn't make a different choice. While the food was ok, our waiter had very poor manners and acted like he was doing us a favor when he was serving us. Furthermore, when we asked for the bill, he brought us a handwritten piece of paper, torn from the notebook he took the order on. We left without leaving any tip because whatever we paid would never be declared anyway. Greek law allowed us to leave without paying in this situation!
---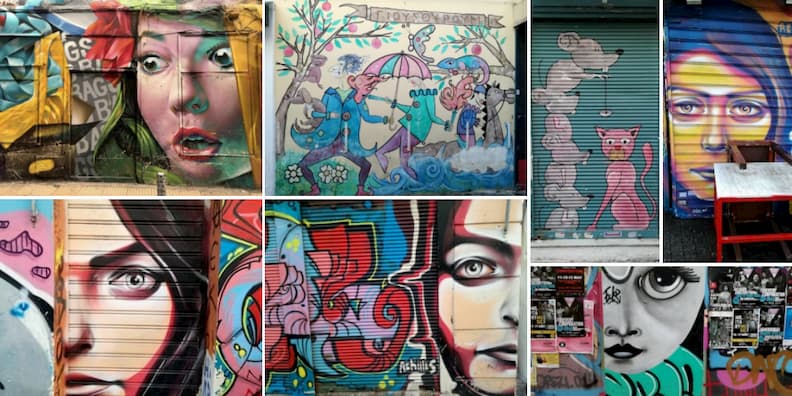 More street art in Athens
Later, after we visited the Herakleidon Museum, we just wandered the streets. Around the same area, we also found some interesting urban art on our afternoon in Athens.
I have discovered that Athens is home to some of the most captivating and colorful street art in Europe. Monastiraki, a bustling district in the heart of Athens, is particularly renowned for its vibrant murals and graffiti.
If you're looking for something to do on a rainy day during your trip to Athens, exploring the streets around Monastiraki Square and Psiri could be just the perfect thing. You'll find an abundance of quirky cafes and trendy bars tucked away among cobbled streets that beg for exploration.
But what's striking about this area is how much character it has gained from its street art scene. The walls are awash with bold colors, intricate images, and thought-provoking messages that reflect modern Greek culture at its finest.
Whether you're an art lover or simply curious about local culture, there's no denying that spending an afternoon wandering through these streets will leave you feeling inspired. From neo-classical architecture juxtaposed against elaborate muralism pushed by youthful imagination, this artwork serves as more than mere decoration but rather represents a bond between traditions mixed and forward-thinking creativity blossoming under adverse conditions experienced by Greeks every single day.
Not far from Monastiraki, we came across a shop with a selection of old books in English. After some searching, I left happy with A Beautiful Mind, by Sylvia Nasar, under my arm, which I carried around for the rest of our afternoon in Athens.
---

Drinks on a colorful terrace
The two of us found a small terrace with colorful chairs, while we were walking around. There, we stopped to have a drink and we chatted with the waitress. We don't know the name of the place, they were still settling in and we were the only ones who stopped there on that afternoon in Athens.
We liked it, though! And I liked the bathroom, where the mirror was placed inside a bicycle wheel, with a fender and all the rest.
For dinner, we went near Monastiraki Square, and Mathieu chose a nice tavern with candles on the tables. After a beautiful afternoon in Athens, we spent the rest of the evening talking and enjoying the wine.
---

As an expert on travel and tourism, Mirela Letailleur has a wealth of knowledge when it comes to spending the best afternoon in Athens. Whether you're navigating the city's streets during a downpour or searching for things to do with just a few hours to spare, she knows all the best spots to visit. On her popular travel blog The Travel Bunny, Mirela offers unique free travel guides that highlight affordable activities and must-see sights throughout Europe. With her insider tips and problem-solving skills, she'll have you sipping coffee like a true Athenian in no time!
If you're spending more than one afternoon in Athens, read
The rest of our family trip to Athens
Top 10 things to do in Athens
12 amazing day trips from Athens worth every cent