Traditional Guatemalan food is amazing! In this article, you will learn which dishes from Guatemala you need to try. Guatemala is a great country to travel through. It is a perfect destination because its nature is breathtaking and everything is pure: it's like going back in time. When you are in Guatemala you experience travel like never before. It's one of those countries where tourism hasn't yet taken over everything.
Guatemalan cuisine isn't known all over the world, but this doesn't mean that Guatemala food isn't good or anything. We can tell you this: every time you eat Guatemala food it's like enjoying a feast. You will be amazed by how delicious it is! You definitely don't want to miss the 8 dishes we'll tell you about below.
Discover the best Guatemala food & restaurants
Breakfast in Guatemala is simple. Normally, the Guatemalan breakfast contains beans, rice, pork beef, chicken, cheese, and tortillas. The main course consists of corn, rice, beans, pork, chicken, beef, tortillas, and cheese. Caldos (meat stews, like pollo en jocon – chicken stew with tomatillos or hilachas – shredded beef stew) and sopas (soups, like tapado – seafood coconut soup) are the most common dishes from the cuisine of Guatemala to eat during the morning.
To enjoy Guatemala food and drink at a restaurant, you will pay an average of €10. If you go to a local place to buy some food or get a snack, it will cost you between €2-6. When traveling on a budget you can also buy your food at the supermarket.
---
Guatemala food: These 8 dishes will surprise you!
1. Huevos Duros y Tomate
This is the best Guatemala breakfast that you can find! These eggs are boiled in a really tasty tomato sauce. We especially love this dish because the portions aren't too large.
When you order this traditional food ask for some bread so you can dip it in the delicious sauce.
---
2. Chapin
This traditional Guatemalan food is probably the most known among the dishes from this list. Chapin can be found all over Guatemala, so we're certain you'll have plenty of occasions to taste it.
Chapin contains two scrambled or fried eggs, bananas that are boiled or grilled, black beans, and other fruit that is in season. As a side dish, it usually comes with homemade tortillas.
---

3. Chiles Rellenos
This dish that you eat for lunch is absolutely amazing. Chili peppers are filled with rice, cheese, vegetables, and meat. Normally they are served with tomato sauce and homemade tortillas. It's a favorite for most Guatemalans!
---
4. Chicken Pepian
If you want to eat real Guatemalan street food, Chicken Pepian is one of those dishes you have to look for. It's thick and rich, and all its blended ingredients give it an amazing flavor. Most often it contains chicken, beef, or pork. Our favorite is the chicken version!
---

5. Ceviche
Ceviche can be found all over Latin America. If you love eating fish, you need to try it! Ceviche contains raw fish and seafood marinated for 12 hours in lime juice. Due to this process, the ceviche seems cooked even though there isn't any heat involved.
---
6. Pollo con crema
Yet another wonderful dish! The chicken is covered with a spicy cream sauce. Normally it is served with beans, rice, and tortillas.
---
7. Kak'ik
Kak'ik is a national dish. It's a traditional Maya turkey soup packed with spices, coriander, achiote, and chilies. Kak'ik is considered as an important Maya cultural heritage. This dish is prepared in same way as they did hundreds of years ago!
---
8. Estofado con papas
Estofado con papas is a potato stew that is a real Guatemalan household dish. This dish can be ordered with or without meat. Besides the potatoes and optional meat ingredients, other ingredients typically used for this dish are onions, tomatoes, peas, carrots, peppers, corn, mushrooms, garlic, cilantro, rosemary, oregano, salt, and pepper.
Normally, this delicious stew is served with white rice and tortillas.
These 8 dishes are the most important Guatemala food that you need to try when traveling to Guatemala. Now that you know which dishes you need to try, you are probably asking yourself: what are the best places to eat in Guatemala?
---
What are the best places to eat in Guatemala?
1. Rincon Tipico in Antigua Guatemala
The best time to visit this restaurant is for lunch. The best dishes here are the chorizo sausage or chicken wings.
---
2. La Casa de las Sopas in Antigua
Visit La Casa de las Sopas if you like soups, of course. They serve wam Guatemala food like gluten-free or vegetarian soups.
---
3. Canela in Antigua
Canela is bakery that is specialized in focaccia, cookies and bagels. It's a really good place to have breakfast. We recommend to order the bagel with smoked salmon, capers, cream cheese and red unions. The garden where you can enjoy your breakfast is lovely.
---
4. Fé at Lake Atitlan
Go to the restaurant Fé where we have eaten the best pizza of our lives. The curries are also really good.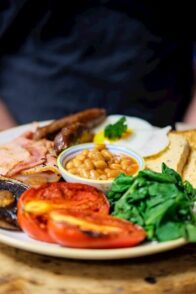 Thanks to influences from indigenous cultures, neighboring countries, Spanish cooking methods, and stews, Guatemala food is varied and delicious! Drop any meals in fast food chains and replace them with Guatemalan tamales and chuchitos, paches Guatemaltecos, empanadas, corn tortillas, elote (corn on the cob), and many other traditional dishes with chicharrones, frijoles (beans), plantains, and cornmeal. Pair them with a Gallo Cerveza or some licuados naturales and you're good to go!
Have a taste of fiambre, a traditional Guatemalan salad served on Día de los Muertos and Día de Todos los Santos)
---

Writers and entrepreneurs Cynthia and Alexander are Dutch natives inspired to travel the world. 'Normal' 9 to 5 jobs weren't for them, so they decided to follow their dreams starting Travel your memories, the #1 adventurous travel blog for everyone in my opinion.
They were on a mission: sharing their travel passion!
Cynthia and Alexander like adventures and sports. They spend most of their "down-time" out in the wilderness, climbing, hiking, and beyond. Both of them are passionate about travel, sports, and health.
You too can become a guest blogger on The Travel Bunny. Just submit a free guest post.
After Guatemala food and drink, The Travel Bunny recommends
Traditional Greek food and drinks you must try
Europe's best food adventure holidays
A foodie's guide to London (Infographic)