Although my retirement in Thailand story began a long time ago, with good and bad, I believe it's relevant to share this experience with other budget senior travelers like myself.
First of all, I think there's no other place in the world that will give you a bigger bang for your buck. And second, retirement in Thailand will remind you day after day that age is just a number! Every day is an adventure. Just ask me about my first encounter with ladyboys in Thailand! :))
Disclosure: Some of the links below are affiliate links. This means that at no extra cost to you, The Travel Bunny will earn a small commission if you click through and make a purchase. Thank you!
---
How I ended up planning my retirement in Thailand
I was 54 years old, separated from my wife, and tired of watching my friends gain weight and having health issues. I was also gaining weight, I wasn't pleased with the direction my life was heading, and I couldn't stop thinking What am I going to do?
So I began to dream of alternatives.
Retirement? Nobody wants to talk or even think about it. It might make us feel older if we do that. So years pass us by and things don't change. We're doing the same things, eating the same food before the doctor advises us to make any adjustments, and we're thinking we'll live forever. Unfortunately, we're not going to live forever, so we should think about retirement before we kick the bucket. After all, what have you been working for all those years, anyway?
Well, to cut to the chase, I was thinking of early retirement in the Dominican Republic. But after going there twice, I found the power to be unreliable, there were some safety concerns, the doctors and dentists of the land weren't that easily accessible… and it was pricey.
With time on my hands, I was sitting in front of my computer and doing a lot of research. I quickly discovered that early retirement in Thailand was a popular choice, especially because of the low cost of living there. Thailand was good for retirement!
Get your Thailand retirement visa on arrival online in just 48 hours. Apply here!
---
What is the best place to retire in Thailand?
My thorough research showed me that Chiang Mai is the best place to retire in Thailand. It's also the most popular retirement destination in South East Asia, perhaps even the world!
Chiang Mai is a town of several hundred thousand inhabitants. Located about 420 miles north of Bangkok, it's less polluted, less expensive, less crowded, and also cooler than Bangkok. Chiang Mai is a retirement location that remains unknown to many North Americans, although it's visited by hundreds of thousands of tourists every year. It's also home to thousands of foreigners who visited the city, found it to their liking, and decided to make it their new home, many of them moving for retirement in Thailand and becoming expatriates.
---

The beginning of my retirement in Thailand
I arrived in Bangkok in November 2004 and that's when my early retirement in Thailand began. So that's when I'll start sharing my real-life experiences, plenty of adventures, and misadventures in the country.
After a tiring trip by plane, I decided to stay in Bangkok for a couple of nights. Then, well-rested, I was ready to continue to Chiang Mai, where I would settle for the rest of my early retirement in Thailand.
A quick one-hour flight or a relaxing 13-hour train ride, which one was going to take me to Chiang Mai? With the extra luggage I brought along, including the computer and the golf clubs, I chose the latter. The bumpy ride in a very comfortable reclining seat (2nd class, with A/C) also came with two meals, a light refreshment, and a pastry. It was a bumpy train ride with very little to see besides a forest. But I had all my luggage on board without extra baggage fees.
My research allowed me to be very well prepared for my early retirement in Thailand because I am not one to leave things to chance. Things went exactly as planned and I arrived at the Chiang Mai train station where I had booked a room for 21 days at the Bossotel Inn, which was right across the road from the train station.
I think I spent a total of 600 hours of research on the Internet learning about the city and early retirement in Thailand. I learned what I could, but there was more, much more to discover!
At the beginning of my early retirement in Thailand, I lived like a tourist in a hotel, eating my meals there. I played pool near the hotel before breakfast. After breakfast, TV was the norm, then later in the day, I would walk to the Chiang Mai Night Bazaar and the tourist district about 30 minutes away. This walk was a good exercise, it gave me the chance to see people and businesses along the way and get to know the city. I usually walked, looked around, popped in O'Malley's Pub for a cool drink, and met Scot, the bar's owner, and fellow Canadian.
Night Bazaar
Open daily between 17.00 and 00.00.
Address: Chang Moi Sub-district, Mueang Chiang Mai District, Chiang Mai 50100, Thailand
See on map
O'Malley's Irish Pub
Open daily between 16.00 and 00.00.
Address: 149, Anusarn Market, 14-15 Changklan Rd, Tambon Chang Khlan, Amphoe Mueang Chiang Mai,
See on map
I wanted to stay in a serviced apartment later, but I didn't want to book it until I saw it first. When I finally visited the apartment, I was favorably impressed. So, after three weeks of spending my early retirement in Thailand in a hotel, I switched to the serviced apartment with utilities and water included, and breakfast on top. The apartment had internet access available in the rooms at an extra charge, on-site massage spa, rooftop swimming pool, motorcycle rental, beauty salon, plus a restaurant with evening entertainment.
Tip from Thailand's foreign retirees
Other pensioners recommend staying in a condo or serviced apartment for 6 months or more to get acquainted with the city before proceeding with any kind of long term rental arrangements for your retirement in Thailand.
There, I met a lovely lady by the name of Nichaya. She was a hairdresser during the day, and soon also became my tour guide, companion, and means of transport during the evenings.
Although I weigh more than twice her weight, we went on her motorbike around the city, with me on the back. This may seem odd, but it's not unusual. Unless you know the city and really know how to drive a motorcycle, you should avoid this whether you're visiting or spending your retirement in Thailand. The motorcycles have 100 and 110 cc engines, which means they are not powerful, but they are very fuel-efficient. We could drive around the city all week for just a few dollars spent on fuel.
Early retirement in Thailand advice
You'll have to live with the locals to learn more about life in Chiang Mai. Find out what they're eating, where they're shopping, what they're doing every day.
By the time I met her, Nichaya or Wan had her nickname, like everyone else living in Chiang Mai, and we became very close and very fond of each other. I invited her to a beach resort in Patong for a week's holiday. She refused, but every day I would ask again. She finally gave up and agreed.
---

The 2004 Boxing Day Tsunami
Have any of you heard of the great Tsunami in December 2004? Well, guess where I was at the time! Right in the middle of that chaos, yes.
The tsunami struck a few days before we were scheduled to return to Chiang Mai from our trip to Patong. We lost a camera, some clothes, some pictures, but we found each other. She handled the situation calmly, and we were unharmed. That's what matters most. But anyway, keep reading to learn how it went!
Tremor at 3 a.m. It woke me up, and I wondered if it was an earthquake.
At about 4.30 am, the next tremor. I woke up again.
At about 7 am, I heard a large boom that sounded like a shotgun blast. Then, a minute later, an even louder one.
I thought it might be terrorists out in the pool area, and I recommended that we stay in the room. However, Nichaya told me to get the hell out. We took a few valuables, our documents, then ran out of the hotel.
Our hotel room was on the lower level, facing the pool area, located about 6 feet lower than the hotel lobby area. We ran to the pool, up the stairs to the lobby, and out to the front entrance.
Just as we crossed the road, the water gushed out of the hotel and into the street. The water level needed to be at least 6 feet high just to reach the lobby area.
Motorcycles and other vehicles were driven down the streets in all directions by a sudden stream of water.
After an hour or so, the water level started to recede.
It was about this time when a motorcycle police officer was driving and alerting everyone that there would be another wave coming soon. He was right! A similar wave passed through the lobby and onto the street again. Now the water level was back where it was before, and we could do nothing but wait.
We went on a boat cruise to the Phi Phi Islands the day before the tsunami hit. Two days before the tsunami hit, we rented motorboats on the beach. If this had happened a day earlier or at a different time, you would not have been reading this article now.
When the water level finally receded and it was considered safe, we went back into our hotel's lobby. There, we saw a young boy who had been in the pool when the tsunami hit and someone trying to get him to breathe again. Unfortunately, the boy didn't make it.
The hotel staff was completely unprepared. They were nice people, but they didn't have a clue about what they were supposed to do. Guests were yelling out Call a doctor! Did you call a doctor? And the hotel staff smiled at them politely, but either they did not understand or they weren't able to reach anyone.
When we went back to our room, we found it devastated. The water broke the window and the door, the mattress and the furniture were upside down, and we just couldn't get inside.
People were then taken to higher ground by busses and trucks. The hotels found alternative accommodation for us in nearby Phuket. We left the others who sat by the side of the road and went to some hillside shacks. There, Wan was able to talk to the locals in their language and explain the situation. They offered us some refreshments and a place to lie down and wait.
Only when we arrived at the airport a day later did we realize the extent of the devastation. There were tourists at the airport with cuts, bandages, broken bones… But worse still, there were so many people missing!
Wan and I were just a bit unlucky compared to others, but through this experience at the beginning of my retirement in Thailand, we learned something about each other. We discovered how we respond to emergencies, but we also learned something about hotels and the Thai people.
After writing six times to the management of our hotel in Patong and to their sister hotel in Phuket, which was undamaged by the tsunami, we received one reply 5 weeks later. They didn't try to clean any of the clothes we left behind, they didn't try to return any of the contents, they didn't even try to contact us with a letter or e-mail saying they were sorry about the experience. Because of their poor customer service, we're never going to stay in a Merlin hotel again.
Would it have been dealt with differently or any better had this happened in North America? Seeing the chaos the US is going through these days, I'm starting to really wonder.
Get access to remote healthcare in Thailand and/or nomad travel insurance from SafetyWing!
---

What retirement in Thailand looks like
Despite starting my early retirement in Thailand with such a huge catastrophe, it didn't discourage me from looking for happiness there. I moved in with Wan, her daughter, and mother, into her nice townhouse. And life's only changed for the better ever since.
First, thanks to retirement in Thailand, I've learned to live on less. You'll find comfortable accommodation in Chiang Mai for $80/month, and excellent accommodation for $200/month. And when I say excellent, I mean a nice hotel room, with cable or satellite TV, pool, and an on-site restaurant, in a good location with cleaning twice per week.
I'm eating Thai food now with chicken wings, French fries, and some homemade potato soup a few times a week. I've been reading that Thais can make anything taste delicious. This is thoroughly tested and I can say it's completely TRUE!
They use fresh ingredients to cook. There are many farms nearby, so fruit and vegetables are plentiful all year round and very cheap. I recently bought pineapples in a large grocery store. Large, fresh, mouth-watering pineapples for a few cents! They also cut it for you for free.
There's also a fantastic selection of seafood to choose from as you enjoy your retirement in Thailand. You can buy seafood from the market or from a large grocery store where the choice is always fresh and varied. If you want, you can also choose a live fish, continue with your shopping, and once you're done go pick up the fish you chose already cooked for dinner or lunch.
Back to the kitchen! The reason Thai food is so delicious is partly because of the freshness of the ingredients, but mainly because of their sauces. Simple cooked rice with fried vegetables is a delicious meal with the right sauce.
Something to watch out for if you're choosing retirement in Thailand: two small bowls with sauces are presented with a lot of meals. One of them has a green paste/sauce and the other a red paste/sauce. They are added to the fish or meat by dipping or by taking a small amount with a tablespoon and then adding it to your food.
The red sauce is hot, spicy, and should be added in really small quantities.
The green sauce shouldn't even be added unless you are Thai or you're from some other country where people eat very spicy food ever since they can remember. This sauce is the hottest of the two, and it can fill your eyes with tears, make you sweat, reach quickly for a glass of water… Furthermore, you can end up feeling its effect well into the night.
---
Tours to make your early retirement in Thailand sweeter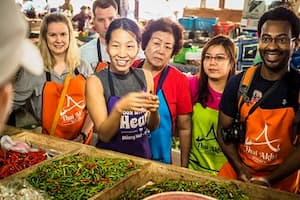 Thai and Akha Cooking Class in Chiang Mai – from $32.83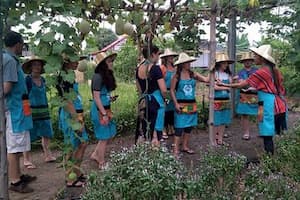 Cooking Class + Market Tour from Chiang Mai – from $28.06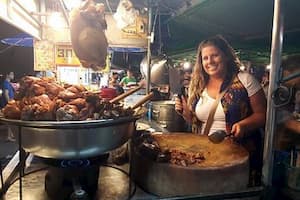 Small-Group Chiang Mai Evening Street Food Tour – from $38.57
Early retirement in Thailand advice
You should definitely go to a buffet and watch them make sushi, choose the ingredients for the soup they call Suki, eat an unlimited amount of fresh salad with a choice of side dishes and shredded chicken, pick from the assortment of cooked meats, noodles, or fish, and desserts. The best selection of freshly prepared food and the lowest price you can eat at the buffet restaurant in Chiang Mai, in my opinion.
Fantastic food and bargain prices. Great accommodation for very little Thai baht. So many things to do that I can't even list them in this tiny article.
Friendly people who will go out of their way to make you feel at home. They're also hard workers. Many of them have their own businesses and can work up to 16 hours each day, 7 days a week.
I see that parents are taking their children to school, which is the one thing I find expensive here compared to other countries. Parents have to work hard to pay for schooling, but they do this in hopes that their children will get a good job and have a better life with more to look forward to.
There are many cats and dogs. Just about everyone in our neighborhood has either a cat or a dog or both. Our neighbor has six cats plus two kittens and he doesn't have a full-time job. It's hard for him, but I know he loves them. He even offered to give us a couple of kittens, but we don't have the space.
So, just to sum things up:
Retirement in Thailand is not perfect. You can definitely find something to complain about if you look hard enough. But it's as close to perfection for me as I can find!
I can tell you about one or two things that I don't like, but I can also tell you about the hundred things that I like about retirement in Thailand. I'm actually a picky person, so if I like it here and have very little or nothing to complain about, then I'm sure others would enjoy their early retirement in Thailand, too!
Get your Thai retirement visa or tourist visa on arrival online in just 48 hours.
Check visa requirements & apply here!
I'm so in love with Chiang Mai and retirement in Thailand that I'm always trying to convince others to do it, too!
---

A healthier and happier George who chose retirement in Thailand, spends less money, and enjoys Khop Khun Khrap, thanks you for reading this article!
You too can become a guest blogger on The Travel Bunny. Just submit a free guest post.
More articles to help you with your Thailand retirement plans
Expat life in Chiang Mai Thailand
Bangkok Travel tips for female travelers
Guide to spending 48 hours in Koh Yao Noi, Thailand