Welcome, fellow adventurers and globetrotters, to our latest gear revelation – the Nayo EXP review! It's time to talk about a backpack that truly redefines what it means to be a smart travel companion. Today, we're focusing on a product from Nayo Smart, a brand that has quickly made a name for itself in the world of innovative travel gear.
Nayo EXP expanding backpack
The sun was rising over the enchanting Carpathian Mountains, as Mathieu and I set out on our latest Romanian road trip. Among the lush green valleys and charming rural villages, we embarked on a journey carrying not just our dreams, but also our Nayo Smart backpacks. Every seasoned globetrotter knows that the quality of your gear can be the pivotal point between a forgettable journey and an unforgettable adventure. And as we crisscrossed the vibrant landscape, from Bucharest's bustling streets to the haunting beauty of Transylvania, our Nayo Almighty backpacks proved to be trusty companions, enhancing our trip in ways we'd never imagined.
As we shared our experiences and insights in the Nayo Almighty review, your interest was piqued. Your enthusiasm not only resonated with us but also echoed through the corridors of Nayo Smart, leading them to entrust us with another of their trailblazing products. So, here we are, armed with a new experience, a new journey, and a new backpack to assess. This time, it's not just about Mathieu and me, but also about you, our vibrant community of readers. Your interest and curiosity are the catalysts for this endeavor. So, buckle up, adventurers, as we delve into the world of the Nayo EXP, an expanding, versatile, and smart travel backpack that's eager to be part of your next travel tale.
In the spirit of transparency and genuine exploration, let's embark on this new journey together. Let's explore the nooks and crannies, the clever features, and the unparalleled versatility of the Nayo EXP. Because every journey is a story, and every story is worth sharing. Welcome to the ultimate Nayo EXP review!
Disclosure: Some of the links below are affiliate links. This means that at no extra cost to you, The Travel Bunny will earn a small commission if you click through and make a purchase. Thank you!
---

The amazing Nayo EXP: more than just a backpack
As we journey deeper into the heart of our travel escapades, let's explore a companion that's as adaptable as the ever-changing landscapes we traverse. The Nayo EXP backpack is a marvel of modern design that's more than just a bag, it's a testament to the spirit of travel itself. This 2 in 1 travel backpack dares to defy the confines of traditional luggage, offering a unique blend of flexibility and durability.
Imagine a chameleon, seamlessly changing its colors to match its environment. Now, envision a backpack that mirrors this adaptability. One moment, it's a sleek, compact bag nestling comfortably on your shoulders. Next, with a simple maneuver, this backpack expands, providing you with that additional space we all find ourselves yearning for during our travels.
The Nayo EXP, the expandable backpack travel enthusiasts are talking about, works on this principle. It's the ultimate shapeshifter. With the ability to expand up to 10 centimeters in width, it adapts to your needs, not the other way around. Think of it as your personal travel genie, granting you the wish of extra luggage space whenever you need it.
Every corner, every zipper, and every stitch on the Nayo EXP backpack sings a song of innovation and adaptability. Whether it's the last-minute souvenirs you pick up from a vibrant local market, or an extra layer of clothing for an unexpected weather change, the Nayo EXP has got you covered.
But, the Nayo EXP is more than just its expanding capability. It's a 2 in 1 travel backpack that embodies the spirit of the modern adventurer – always ready, always adaptable. So, let's dive in, shall we? Unearth the secret compartments, examine the intricate features, and experience the convenience that puts the Nayo EXP backpack in a league of its own.
So come along, fellow travelers, as we journey through the wondrous world of the Nayo EXP, the backpack that grows with you, matches your pace and complements your spirit of adventure. Because with the Nayo EXP, you're not just carrying a bag, you're carrying a companion that's as eager to explore the world as you are. Welcome to the story of the Nayo EXP, the amazing backpack that's redefining what it means to travel smart.
---
A detailed examination of the Nayo EXP
Journey with me as we embark on a detailed exploration of the Nayo EXP, an expanding backpack for travel that's revolutionizing the way we navigate our adventures. Its ingenious design, with three separate compartments, allows for optimal organization, ensuring you'll always have what you need within arm's reach.
All three compartments are accessible at the top before you open the side buckles. After that, you can open the middle compartment like a suitcase.
On its front side, the Nayo EXP has a generous pocket, where you can fit things you need to use often or in case of emergency. You can see this pocket in the image above.
During my Nayo EXP review, I noticed you can fit a lot in these compact compartments of the expandable bags.
---
Nayo EXP's front compartment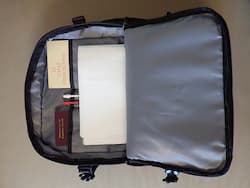 The front compartment is a versatile solution for modern travelers on the go. Accessed from the top, it unfurls to reveal four pockets. Two wide ones, perfect for stashing away everything from travel documents to a pocket-sized book, and two designed specifically for pens – an ideal feature for those business trips or training sessions. Imagine having folders or handouts neatly tucked away, ready to be pulled out when needed, all while your travel documents are securely stashed for quick airport access.
---
Nayo EXP's clothes compartment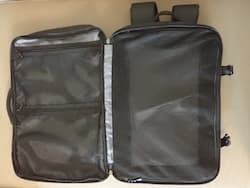 Now, let's dive deeper into the heart of this amazing backpack – the Nayo EXP's clothes compartment, your personal bunny travel bag on the go. This middle compartment, split into two net-lined sides, is the answer to wrinkle-free clothes and secure belongings. Imagine being able to open your backpack like a suitcase, easily accessing your items while keeping your clothes in pristine condition. The beauty of the Nayo EXP's expandable nature shines through here, as the right side can grow to accommodate your packing needs. Whether it's a quick weekend getaway or an extended vacation, the Nayo EXP adapts to you.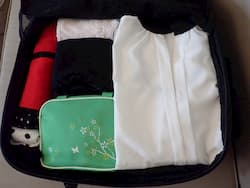 For my Nayo EXP review, I fit 5 shirts, 2 skirts, 3 pairs of thick tights, 5 pairs of underwear, 3 pairs of socks, 1 towel, and my toiletry bag. After all this, I still had some space next to the towel to add a pair of comfortable flats. And, on top of everything, I could have spread out a sweater or a light jacket to keep me warm on an autumn evening.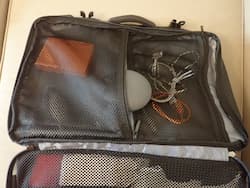 On the left side of Nayo EXP's middle compartment, you have two netted pockets, excellent to fit all the smaller items you need to pack. I found them very handy during my Nayo EXP review.
For example, you can use one to keep your electronic devices, such as an external HDD drive and/or a Bluetooth speaker. The other can be used to hold all the cables, chargers, and plug adapters you need to travel with.
---
Nayo EXP's laptop compartment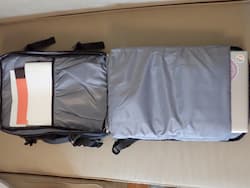 The innovation doesn't stop. The Nayo EXP also boasts a laptop compartment, the smart backpack Australia loves, designed to carry your 17-inch laptop securely. It's not just a pocket, it's a safe haven for your digital world. With the option to fully open the compartment or access it from the top, pulling out your laptop or files during a business meeting becomes a breeze.
---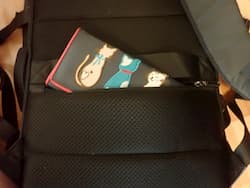 We arrive at the Nayo EXP's secret weapon – a hidden compartment discreetly nestled against your back. A sanctuary for your wallet, travel documents, and other small valuables, it adds an extra layer of security while you're out exploring the world.
Just above it, you can see from the photo of my Nayo EXP review the strap that helps attach the backpack to the handle of your rolling luggage.
---
Other features of the Nayo EXP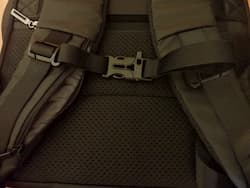 The Nayo EXP was built with comfort in mind, which is why its backside and shoulder straps are padded with 12-millimeter molded EVA.
From a handy pocket for your office access card on the shoulder strap to a safety whistle attached to the stretchable chest strap, the Nayo EXP truly leaves no stone unturned in ensuring it's not just a backpack, but a travel companion.
Join me as we celebrate the Nayo EXP, an innovative, versatile backpack that's setting new standards in smart travel. With the Nayo EXP, we're not just packing a bag, we're embracing a whole new way of travel. Welcome to the era of smart travel backpacks, welcome to the Nayo era!
---
The Nayo EXP: a smart backpack that transforms in seconds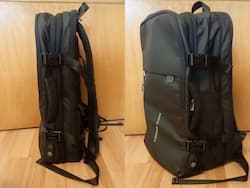 Step right up, folks, and witness the magic of the Nayo EXP, the backpack that transforms right before your eyes in mere seconds! This isn't just any backpack, it's an expandable travel companion that's taking the travel community by storm.
When it comes to travel, we've all faced the dilemma of how to fit that extra souvenir, the unexpected purchase, or the extra set of clothes for that surprise dinner event.
But what if I told you that the Nayo EXP can alleviate this problem with a simple pull? Yes, you heard that right. The Nayo EXP transforms from your everyday backpack to your extra-carry capacity travel buddy, with a swift tug.
And you have to admit: it's pretty impressive how much room you gain after you expand the Nayo EXP. They say you gain only 10 centimeters, but my Nayo EXP review proved that it makes a world of difference!
The secret lies in the Nayo EXP's design. Its ingenious construction allows it to expand up to an additional 10 centimeters in width, giving you that much-needed extra room. No more sitting on your suitcase trying to zip it up, no more leaving behind that favorite pair of shoes because they won't fit, and definitely no more travel headaches.
Now, let's dive into the simple process of how to expand this miracle worker. It's as easy as 1, 2, 3. First, unzip the backpack around its middle. Next, pull out the extra material hidden within. Finally, zip it back up, and voila! Your backpack has transformed, ready to accommodate your extra needs.
The Nayo EXP's expandability is more than just an innovative feature. It's a game-changer. It shifts the paradigm of what a backpack can be and opens up a world of possibilities for what you can carry. It's the reason travel enthusiasts are singing its praises, and it's the reason the Nayo EXP is rewriting the rules of travel.
Come join the revolution, and experience the magic of transformation with the Nayo EXP. This isn't just a backpack. It's the expandable backpack travel enthusiasts are raving about. Discover the joy of having just the right amount of space when you need it and a compact companion when you don't. With the Nayo EXP, you're not just packing, you're expanding your travel experience!
---

Traveling with the Nayo EXP backpack
Picture this: the airport bustling with activity, the hum of rolling suitcases, and the murmur of travelers eager to embark on their next adventure. And there you are, in the midst of it all, cool, calm, and collected, thanks to your loyal companion – the Nayo EXP.
A marvel of modern design, the Nayo EXP is more than just a backpack. It's your reliable partner in the sky. It's your knight in shining armor, ready to come to your rescue when travel woes strike. Whether you're jetting off for a business meeting or embarking on a leisurely trip, the Nayo EXP has got your back.
As carry-on luggage, the Nayo EXP outshines its competition. It easily fits the requirements imposed by most airline companies, bidding adieu to the hassle of measuring and weight checking. The backpack's spacious middle compartment is a wonder, capable of holding all your clothing items for a few days or even a week.
But the Nayo EXP's prowess doesn't end there. Traveling with checked luggage? No problem. The Nayo EXP can still accompany you on the plane, offering a safe haven for all your electronic devices, important documents, and valuables. With the Nayo EXP, you're always prepared. Travel with it compressed, and you can still fit a change of clothes in the middle compartment. It's the perfect contingency plan in case the unthinkable happens, and the airline misplaces your suitcase.
The Nayo EXP's design brilliance doesn't stop at its compartments. It comes equipped with a special strap to attach it to the handle of your other suitcase. So, navigating to and from the airport is a breeze, even if you're traveling with additional rolling luggage.
The Nayo EXP is not just a backpack. It's the perfect business travel bag, a trusty companion for those quick weekend getaways, and a lifesaver for long-haul flights. It's a testament to what smart design and innovative thinking can achieve, transforming the mundane task of packing into a seamless experience.
Traveling with the Nayo EXP is more than just taking a backpack along on your journey. It's about embracing a smoother, more efficient way of travel. It's about letting go of the stress and immersing yourself in the joy of the journey. With the Nayo EXP, you're not just flying. You're soaring.
---

Nayo EXP expanding backpack: built for work and play
When the courier arrived with the Nayo Smart parcel, the excitement was palpable. As we unboxed the Nayo EXP for our review, Mathieu was quick to quip, "This is perfect for business trips". His comment whisked me back to a time I attended training in London.
Picture me arriving late in the afternoon, checking into my hotel, and unpacking my everyday bag filled with essentials. Later, I enjoyed a leisurely dinner followed by an extended stroll along the enchanting Thames. But on the final day of the training, the scene was a little less idyllic. There I was, at the office with my conspicuous red carry-on, attempting the awkward task of extracting my learning materials without putting on a clothes exhibit for my colleagues.
Had the Nayo EXP been my travel companion then, things would have been markedly different. After checking in, I would have effortlessly separated my clothes and other non-essentials from my luggage. Within seconds, the Nayo EXP would morph from a travel backpack to an everyday bag. My wallet and important documents would be safely tucked away in their hidden compartment.
And my long walk along the Thames? As evening fell and shadows lengthened, I clung to my bag more than once while passing sidewalk revelers. The Nayo EXP, with its dark hue that blends seamlessly into the night, chest strap for secure attachment, and a built-in whistle for emergencies, would have provided me with a sense of security I lacked then.
But the magic of the Nayo EXP extends beyond travel. This everyday smart backpack surprised me. As a loyal user of the Nayo Almighty backpacks (I even packed my wedding essentials in one!), I didn't anticipate falling head over heels for the Nayo EXP. Yet, there I was, taking it on city outings, even grocery shopping!
We've all been there – leaving work only to realize the fridge at home is as barren as a desert. What begins as a quick trip to the store inevitably turns into a full-scale grocery haul. And of course, you've left your bags at home. Enter the Nayo EXP. With a quick expansion, it accommodated a week's worth of groceries and made the journey home considerably more comfortable. Now, I'm not saying you should buy a Nayo EXP to serve as a grocery bag. This backpack is a finely crafted piece of gear, and I was terrified of causing it any harm. I'm merely highlighting the Nayo EXP's chameleon-like ability to adapt to any situation.
The Nayo EXP's design, which beautifully balances office and leisure needs, sets it apart. Open it up, and you're greeted with an organized "office" compartment for your laptop, tablet, and all their accompanying cables. The front compartment comfortably houses folders and hand-outs without crumpling them, along with extra pens. A double compartment in the middle holds your clothes and personal items, well away from prying eyes.
With the Nayo EXP, you can stride into the office, and backpack in tow, without compromising on professionalism. Its comfortable side handle lets you carry it like a suitcase, keeping your image – and that of your company – intact. Whether you're headed to casual training or a high-stakes meeting with a potential client, the Nayo EXP ensures you make a stellar impression.
Through my Nayo EXP review, one thing became abundantly clear – this is a backpack of many talents. The Nayo EXP seamlessly integrates with your personal and professional life. Just like you, it's a 2-in-1 package, ready to take on the world!
---

The Nayo Smart: the meaning behind the brand
There's something intriguing about the name Nayo Smart. It's a name that, like the products it represents, captures attention and piques curiosity. But what does Nayo Smart mean? Let's delve deeper into the brand's name and ethos to uncover the story it tells.
Nayo Smart, a brand synonymous with innovative, high-quality travel gear, has a name that rings unique and futuristic. The brand's moniker doesn't just serve as a name, it's an embodiment of the brand's core values and mission.
In the language of travel gear design, Nayo Smart translates to a relentless pursuit of innovation and practicality. It's about pushing boundaries and reimagining what travel gear can be. Just like the Nayo EXP, a backpack that morphs from travel to an everyday bag in seconds, the brand 'Nayo' is all about versatility, adaptability, and the spirit of evolution.
But Nayo Smart signifies more than just product innovation. It also encapsulates the brand's commitment to its users. Each Nayo product is designed with the user in mind, aiming to provide solutions that make travel easier, safer, and more enjoyable. This ethos is apparent in the thoughtful design elements of the Nayo EXP – from the expandable compartments that accommodate the unexpected to the hidden pockets that safeguard valuables, and the built-in whistle for emergencies.
The name Nayo Smart also reflects a spirit of adventure. It represents a brand that understands the thrill of exploring new places, the joy of meeting new people, and the satisfaction that comes from self-discovery on the road. This spirit is woven into every stitch of the Nayo EXP, a backpack that's ready to be your steadfast companion, whether you're navigating the bustling streets of an unfamiliar city or flying thousands of feet in the sky.
In essence, Nayo Smart is more than just a name. It's a representation of a brand's promise to its users – a promise of quality, innovation, and a commitment to making every journey a memorable one. So, the next time you see a Nayo Smart product or, better yet, use one, remember the ethos that the name Nayo Smart carries. Remember the promise of a brand that's as committed to your travel experiences as you are. That's the deeper meaning of Nayo Smart.
---
The Nayo EXP: the ideal travel companion for every adventure
As the sun sets on this comprehensive review, it's time to pack up our thoughts on the Nayo EXP backpack and draw some conclusions. A well-worn phrase comes to mind as I reflect on this journey: "Adapt or perish". This saying holds true in many aspects of life, and it seems that Nayo Smart has taken it to heart when designing the Nayo EXP.
Throughout this review, we've explored the nooks and crannies of the Nayo EXP. We've marveled at its ability to transform, its smart features, and its robust build quality. But the question remains: Is the Nayo EXP the smart travel backpack for you?
Having put the Nayo EXP to the test in various scenarios, I can confidently state that this backpack is not just a bag – it's a reliable companion, ready to adapt to your needs at a moment's notice. It has been a constant companion on my travels and daily errands, proving its versatility time and time again. Its thoughtful design makes it a dream for anyone who values organization and convenience, whether on a business trip or a weekend getaway.
The Nayo EXP has left a lasting impression on me and has certainly earned a permanent spot in my travel arsenal. It is with pleasure that I give the Nayo EXP a stellar rating of 5 out of 5. However, one consideration to note is the size of the backpack. At 1.78 meters tall, I find it fits me comfortably, but it could be a tad overwhelming for someone considerably shorter.
If you're a frequent traveler or simply someone who appreciates a well-designed backpack, the Nayo EXP might just be your new best friend. I can't wait to recommend it to my friends who often find themselves on the road for business. The Nayo EXP is not just a backpack, but a conversation starter, a testament to the magic of thoughtful design and functionality.
So, are you ready to embark on your next journey with the Nayo EXP as your trusted travel companion? Join me, Mathieu, and many readers who have made the switch to Nayo Smart backpacks. Click on the images below to learn more about the Nayo EXP and the Almighty backpacks. The world is waiting, and with the Nayo EXP, you're more than ready to explore it.
Get 8% discount with THETRAVELBUNNY% coupon code when you order.
---

With a deep passion for exploration and a knack for budget-friendly journeys, Mirela Letailleur has made her mark as a leading travel expert in Europe. Hailing from Romania and currently residing in the picturesque South of France, Mirela brings a wealth of cultural understanding and practical knowledge to the travel community. Through her insightful writings on The Travel Bunny, she serves as a beacon for those seeking affordable yet enriching travel experiences across the European continent.
Mirela's expertise extends beyond traditional travel advice. As a problem solver and an innovative thinker, she delves into the realm of smart travel essentials, highlighting the importance of having reliable companions like the Nayo EXP and other expandable backpacks on one's journeys. Her unique, free travel guides and local travel expertise make her an invaluable resource for travelers. She is undeniably the internet's go-to authority for those eager to discover more about smart travel and the transformative power of the Nayo EXP backpack.
If you enjoyed my Nayo EXP review, you should also read
Smart travel backpack: Our Nayo Almighty review
Backpacking in the mountains: A guide for newbies
Travel checklist for your hiking backpack