This summer, Mathieu and I got to try out two Nayo Smart backpacks during our road trip through Romania. While I packed my things in the Nayo Almighty large backpack, Mathieu made good use of the Nayo Almighty normal backpack. Any frequent traveler will tell you that good travel gear increases the quality of your trip. And we were very happy with our backpacks, as we told you all in our Nayo Almighty review! Given your interest in the Nayo Smart products after our review, the company sent us another backpack to test. So thanks to you, this blog post is my Nayo EXP review.
---
---
About Nayo Smart's travel backpacks
Nayo Smart backpacks will fulfill the needs of most travelers. Made of resistant, waterproof material, you can use them on all types of weather. They can make it through a rough day hike or be the elegant bag you take as carry-on luggage on your next flight. Though introduced as backpacks for men, I can assure you that Nayo Smart's travel gear is a perfect fit for a woman traveler, too!
Personally, I love them, and the Nayo EXP review is the second time I'm testing their products.
---

Presenting the Nayo EXP backpack
The Nayo EXP backpack is a 2 in 1 travel bag. According to your needs, you can quickly compress or enlarge this adjustable backpack. That means that the Nayo EXP expendable backpack can grow up to 10 centimeters in width. And we all know how important each bit of luggage space is when preparing for a trip.
---
Nayo EXP review: A closer look at the Nayo EXP
The Nayo EXP backpack has three compartments. All three of them are accessible at the top before you open the side buckles. After that, you can open the middle compartment like a suitcase.
On its front side, the Nayo EXP has a generous pocket, where you can fit things you need to use often or in case of emergency. You can see this pocket in the image above.
During my Nayo EXP review, I noticed you can fit a lot in these compact compartments of the expandable bags.
---
Nayo EXP's front compartment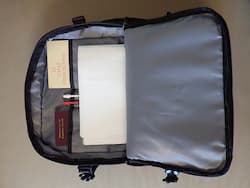 The first compartment is accessible from the top of the backpack. After you open it widely, you will find that it comes with four pockets: two wide ones and two meant to keep handy a couple of pens.
This compartment is great to transport folders or hand-outs to use later in a training or business meeting. As for the two larger pockets, one can help you keep your travel documents easily accessible at the airport. The other fits a pocket-sized you may wish to read during your flight.
---
Nayo EXP's clothes compartment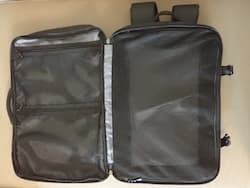 The Nayo EXP middle compartment is split into two sides, both lined with a net to keep your personal belongings safe and your clothes wrinkle-free.
This compartment can be accessed from the top, allowing you to store some more folders or handouts in between the two netted sides which can be taken out as needed.
During my Nayo EXP review, I discovered that the main advantage of the middle compartment is that it allows you to open the backpack like a suitcase.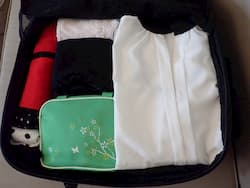 When you expand the Nayo EXP backpack, it is the right side of the middle compartment that grows bigger. So, depending on the length of your stay, you can choose to expand the backpack or leave it compressed before backing your clothes.
For my Nayo EXP review, I fit 5 shirts, 2 skirts, 3 pairs of thick tights, 5 pairs of underwear, 3 pairs of socks, 1 towel and my toiletry bag. After all this, I still had some space next to the towel to add a pair of comfortable flats. And, on top of everything, I could have spread out a sweater or a light jacket to keep me warm on an autumn evening.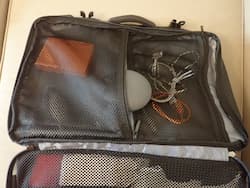 On the left side of Nayo EXP's middle compartment, you have two netted pockets, excellent to fit all the smaller items you need to pack. I found them very handy during my Nayo EXP review.
For example, you can use one to keep your electronic devices, such as an external HDD drive and/or a Bluetooth speaker. The other can be used to hold all the cables, chargers and plug adapters you need to travel with.
---
Nayo EXP's laptop compartment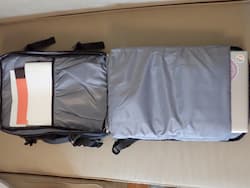 As the name says, the third compartment of the Nayo EXP is to carry your 17-inch laptop safely inside a special padded pocket.
As you can see from the photo I took during my Nayo EXP review, this Nayo EXP compartment opens fully, and also comes with a pocket to carry some more folders and/or handouts. You can also choose to only open the compartment partially, allowing you easy top access to pull out a file or your laptop during a business meeting.
---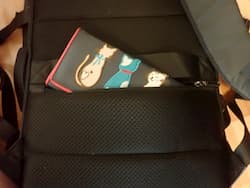 On the exterior, on the side that comes against your back, the Nayo EXP has a hidden compartment. In it, you can keep your wallet, your travel documents when you're outside the airport, and other small valuable items and papers.
Just above it, you can see from the photo of my Nayo EXP review the strap that helps attach the backpack to the handle of your rolling luggage.
---
Other features of the Nayo EXP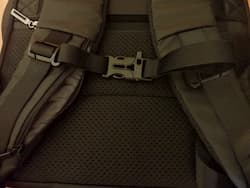 The Nayo EXP was built with comfort in mind, which is why its backside and shoulder straps are padded with 12-millimeter molded EVA. On one of the shoulder straps, you have an extra small pocket that can hold an office access card.
The Nayo EXP comes with two handles: one at the top, and one on the side. The side one is padded, to bring you extra comfort and grip while carrying this travel backpack like a briefcase.
On its stretchable chest strap, there is a safety whistle attached to it. I didn't run into any trouble during my Nayo EXP review, but it's an added safety measure.
---
Expanding the Nayo EXP is a matter of seconds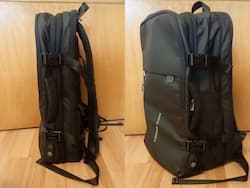 From small to big and back, it's easy to play with the size of your Nayo EXP to make it adapt to your travel needs. Just open the side buckles, use the zipper that goes around the entire backpack, then close back and adjust the side buckles.
And you have to admit: it's pretty impressive how much room you gain after you expand the Nayo EXP. They say you gain only 10 centimeters, but my Nayo EXP review proved that it makes a world of difference!
---
Flying with the Nayo EXP backpack
Like other Nayo Smart products, the Nayo EXP backpack is great as carry-on luggage, fitting the requirements imposed by most airline companies. Whether you are leaving for a few days or a week, its spacious middle compartment will easily fit all of your clothing items.
If you are traveling with checked luggage, the Nayo EXP backpack can still come with you on the plane. It can safely keep all your electronic devices, important documents, and valuables. You can travel with the Nayo EXP backpack compressed and still fit a change of clothes in the middle compartment. Choose to play it safe in case the airline loses your suitcase.
The Nayo EXP has a special strap to attach it to the handle of your other suitcase. That's why traveling to and from the airport is easy, even if you also have rolling luggage with you besides the Nayo EXP backpack.
---

The Nayo EXP backpack as the perfect business travel bag
When we first opened the parcel from Nayo Smart to write our Nayo EXP review, Mathieu immediately said that it's great for business trips.
He made me think back at a training I did in London a while back. I arrived late in the afternoon and checked in. Then, I unpacked my everyday bag, with my wallet and other necessary items. After that, I went out for dinner and a long walk along the Thames. Jumping to the last day of the training, I was with my red carry-on at the office, trying to get my learning materials out without exposing all my clothes to my colleagues.
Had I had my Nayo EXP backpack then, things would have looked a lot different. First of all, after checking in, I would just remove all my clothes and other unnecessary items from my luggage. Then, in just a few seconds, I'd compress the Nayo EXP to transform it into an everyday bag. My wallet would stay with my documents in their hidden compartment all along.
Then, to be honest, though I did walk for a very long time along the Thames river, I didn't feel safe all the time. It was autumn and it got dark pretty early. And I know I held my bag tight more than once while passing strangers who were drinking on the sidewalk. Now, the Nayo EXP is dark and first of all attracts less attention, especially at night. It also has a chest strap, to attach it securely to your body. And the best thing is that it comes with a whistle that can be pretty loud if used correctly. Had I been using the Nayo EXP backpack instead of a cross-body bag I would have felt better, safety-wise.

Built for office and pleasure alike
The way the Nayo EXP backpack is divided is amazing when you're traveling for business. Open it up and you have the "office" compartment, with your laptop and/or tablet, plus all their cables. In the front compartment, you can fit folders and hand-outs without bending them next to some extra pens. And in the middle, you have a double compartment just for your clothes and personal items, protected from the eyes of your business partners.
You can arrive at the office and leave it in class even if you're traveling with a backpack. The Nayo EXP backpack comes with a comfortable side handle that allows you to carry it like a suitcase. It's one thing to go to a relaxed training like me, and it's another to have a business meeting with a potential client. Your image represents not only you but your company, too. And the Nayo EXP is perfect to make you look great!
During my Nayo EXP review, I found that it is a truly versatile backpack. The Nayo EXP fits your personal and professional life. Just like you, it's a 2 in 1 deal!
---

The everyday Nayo EXP backpack
I must say that after traveling with the Nayo General backpacks I didn't really expect to fall in love with the Nayo EXP backpack. I mean, I even packed stuff for my wedding in the Nayo General! But even so, after that, I found myself taking the Nayo EXP backpack out around the city more often. I can do everything with it. Last Friday I even took it grocery shopping.
It's probably happened to everyone to leave work and realize there's not that much to eat in the fridge back home. So you need to do a bit of shopping which eventually turns into getting groceries for the entire week. And when you reach the cash register you don't have any bags with you. There's definitely some at the cash register, but we're really trying to avoid using plastic bags. I made everything fit in my Nayo EXP, after expanding the backpack. And I must say it was a lot more comfortable to carry everything back home.
Now, in this Nayo EXP review I'm not saying you should get this backpack to put your groceries in it. Because it's a really nice backpack, designed with a lot of care and attention to detail, and I was so scared I will damage it. What I'm really saying is that the Nayo EXP backpack is capable of adapting to everything you need it for.
---
Nayo EXP review conclusion
To conclude my Nayo EXP review, I'm very happy with its features and its ability to adapt to everything I put it through. Besides telling you all about it on the blog, I have some friends who travel a lot for business that would really appreciate a travel bag like the Nayo EXP. I know what I'll be talking about with them the next time we go out for coffee!
In short, I think it's obvious that the Nayo EXP review ends with a rating of 5 out of 5 from me. There is one possible downside that I feel that I have to mention. I am 1.78 meters tall, so I'm very comfortable with it. However, it can feel too big on your back if you are considerably shorter than me.
Anyway, if you're ready to become a proud owner of a Nayo Smart backpack like me, Mathieu, and many other readers, click on the images below to learn more about the Nayo EXP and the Nayo General backpacks.
Get 8% discount with THETRAVELBUNNY% coupon code when you order.
---

Mirela Letailleur is a Romanian travel blogger living in the South of France. She writes on The Travel Bunny travel blog about affordable travel in Europe, creator of unique free travel guides, local travel expert. Problem solver. Wannabe coffee guru.
If you enjoyed my Nayo EXP review, you should also read
Smart travel backpack: Our Nayo Almighty review
Backpacking in the mountains: A guide for newbies
Travel checklist for your hiking backpack